Everything About FedEx Late Delivery Policy
What should you do if your package shipped by FedEx exceeds its estimated delivery date? Not knowing where your parcel is can spoil the excitement for a new order and completely ruin your mood.
While you can't do much to speed up the delivery, you can report the issue to the shipper and request your money back. Usually, this procedure takes a lot of time, but with our guide, you will learn how to get a refund in a few taps! Find everything about FedEx's late delivery policy in one place and learn how you can report the issue within minutes by .
Why Is My FedEx Package Taking So Long?
Even though FedEx is one of the couriers with the widest network of distribution, shipment delays happen regularly. The parcels dispatched by this courier may be late for various reasons, such as:
Reasons
Details
Weather-related situations
In 40% of cases, delivery is late because of bad or severe weather conditions, such as rain, hail, and thunderstorms
Bad performance of the courier
Errors made by the deliverer are another reason for late packages. The courier may prioritize other parcels or be unwilling to go to the addresses that aren't near
Incorrect address
It often happens that a sender provides the wrong suite number or a misspelled or incorrect street name. Even if you pay a pretty penny for correction and rerouting—and FedEx may charge you up to $13 for such service—it doesn't guarantee that your parcel will be delivered on time
Recipient is unavailable
The courier might have tried to deliver your parcel, but you may have been absent or moved to another location. In such cases, they will reschedule the delivery
Insufficient documentation
Retailers and other senders may forget to attach the required documents to the package. The parcel gets dispatched without them, but it can't be delivered until the sender provides the missing documents. This paperwork includes:

Packing list
Tracking label
Shipping label
Commercial invoice
Certificate of origin
Electronic export information
You can check the status of your delivery and the reason for the late parcel by tracking it down via the official FedEx website.
How To Check the Status of My FedEx Delivery
To track down your parcel and check its status, proceed as follows:
Visit the official FedEx website
Pick the Track tab
Enter your tracking number, FedEx office order number, or door tag number in the search field
This way, you can review all delivery status updates categorized by dates and check if there are any recent changes. If FedEx says the parcel is delivered, but your mailbox is still empty, or if the last update was a few days ago, you may want to contact the shipper and report the issue.
Does FedEx Offer Refunds for Late Deliveries?
On the 6th of April 2021, FedEx decided to suspend a money-back guarantee for numerous services within FedEx Ground, FedEx Office, FedEx Express, and FedEx Freight services. The courier's policy now states that you can get a refund only for the late parcels shipped via:
FedEx International First
FedEx Priority Overnight
FedEx First Overnight
FedEx Standard Overnight
FedEx International Priority
FedEx International Priority Freight
According to the latest information, FedEx will provide a full refund of shipping costs even if your package is only 60 seconds late.
Ways To Apply for a FedEx Refund for Late Delivery
There are a few ways to request your money back from FedEx:
Filing an online claim on the courier's website
Contacting customer support via phone or email
Sending a letter to the courier
Whichever option you choose, note that you must file a refund claim within 15 days from the invoice date.
Requesting a Refund by Filing an Online Claim
Here's how to submit an online application for a late FedEx delivery refund:
Go to the official website of the courier
Choose the Support tab
Click on File a Claim and hit the red Start a Claim button
Enter your tracking number and choose the claim type
Provide as much information about the problem as possible
Submit your claim and note the case number
Once you raise the claim, you can check its status by logging into your FedEx account and entering your case number. It's also possible to request email updates.
Requesting a Refund by Calling Customer Support
To request your money back via phone, call (800) 463-3339 or (800) 247-4747 for international customer service. Explain the issue to the representative and disclose as many shipment details as possible. If the claim gets approved, FedEx will pay you back in seven to ten business days.
Requesting a Refund by Writing a Letter to FedEx
If you prefer to send a letter to the courier and file a refund claim this way, write to FedEx and inform them about the delayed delivery. Make sure to include all the necessary shipment specifics. The letter must be mailed within 14 days from the shipping date to the following address:
FedEx Customer Relations
3875 Airways, Module H3 Department 4634
Memphis, TN 38116
Avoid Contacting Customer Support—Get Your Refund Fuss-Free With DoNotPay
The procedure of demanding a refund from FedEx is more complicated than you may expect, and the company doesn't put much effort into making it easier. Waiting in phone queues for hours can be exhausting, and even if you manage to get in touch with a customer care rep, they may not be willing to negotiate. Your best bet is to skip stressful phone calls and procedures and demand your money back in a snap with DoNotPay!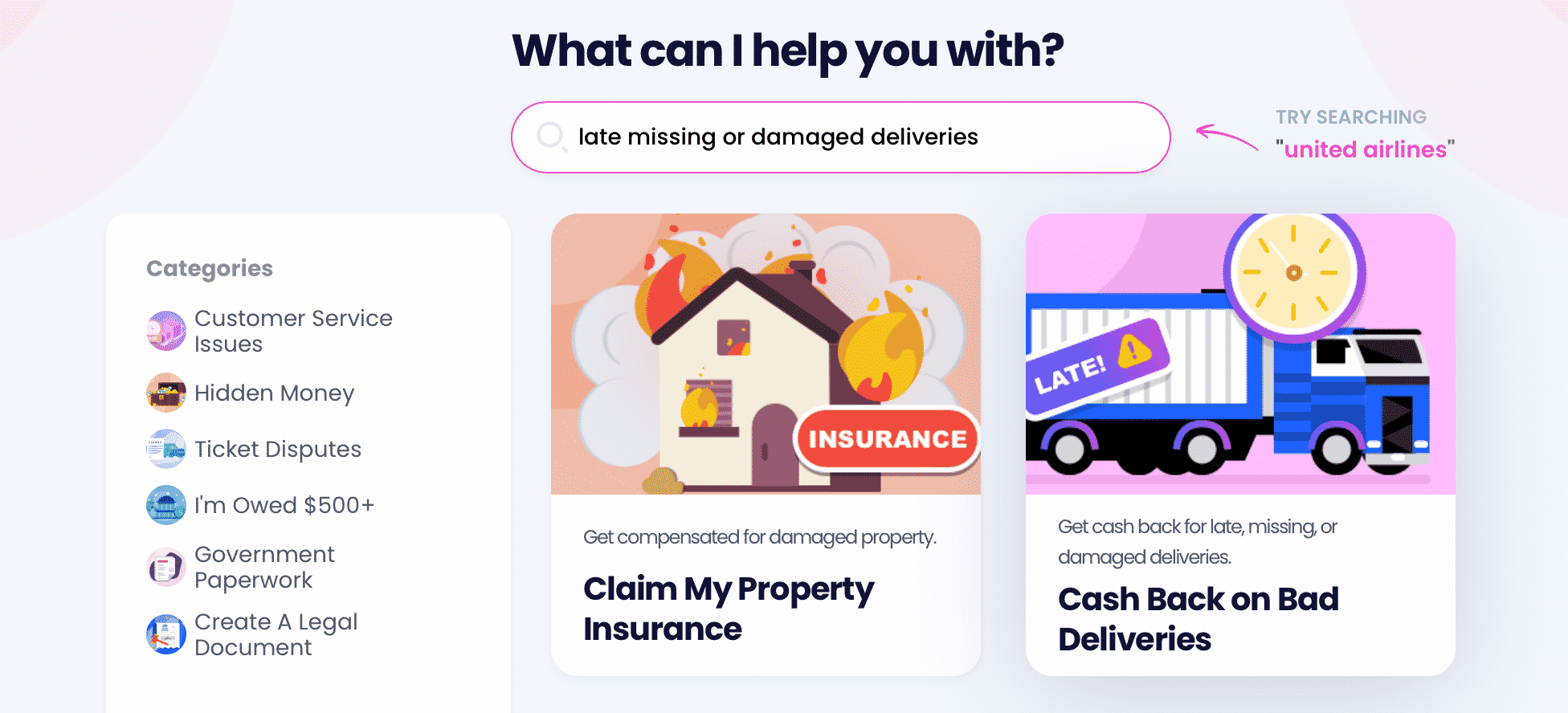 We can help you report late deliveries without getting in touch with the courier's customer support and raise a refund claim in less than five minutes!
Here's how this feature works:
Navigate to the Late Delivery Refund product
Pick the courier
Input the key shipment details, such as tracking number and estimated delivery time
We will automatically forward your refund request to the claim department of the courier in question!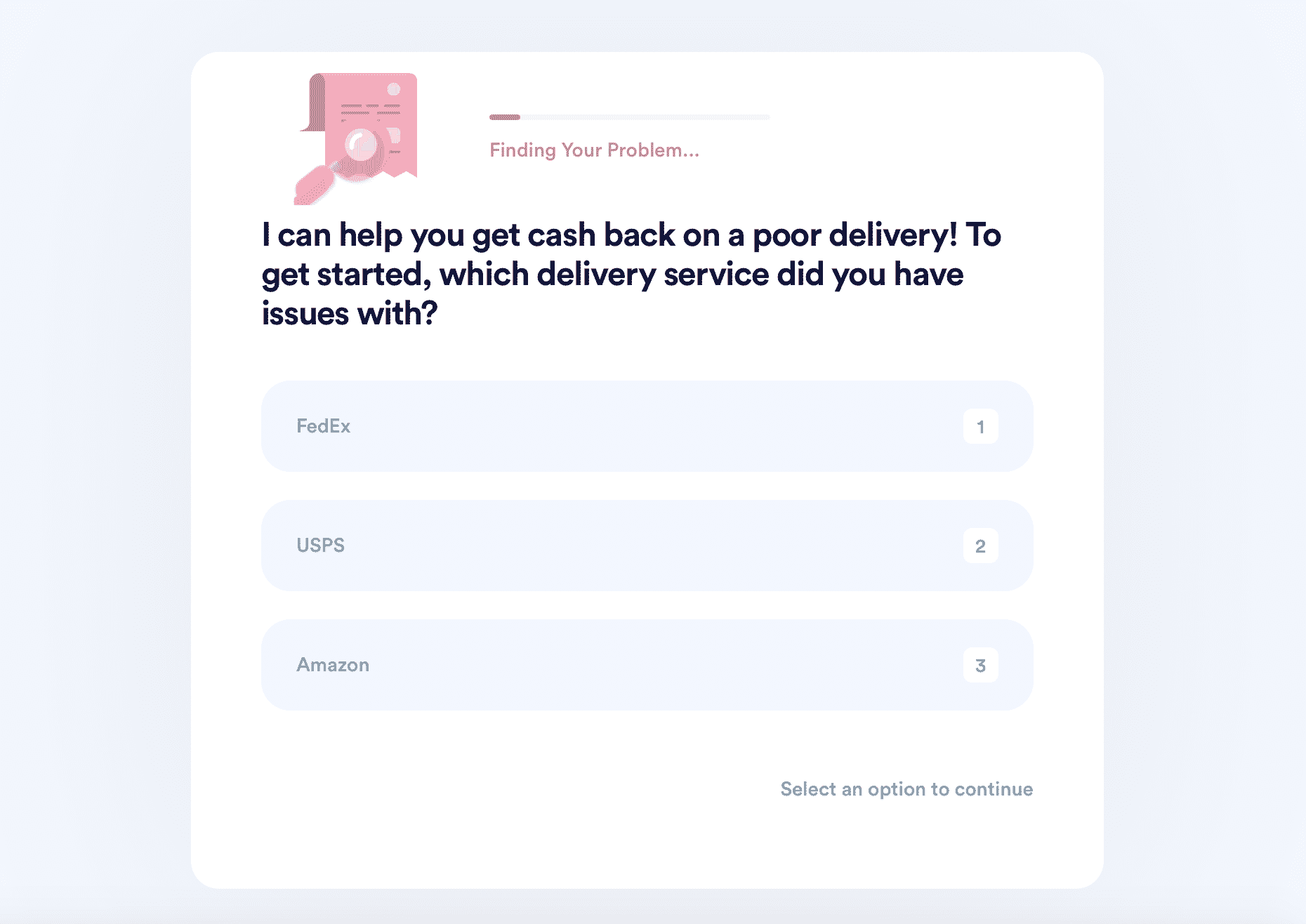 Besides providing excellent guides on coping with late FedEx parcels, our learning base also offers answers to numerous related questions, such as:
Check Out the Scope of DoNotPay's Services
DoNotPay is capable of way more than handling late or missed deliveries. We are experts in securing refunds and chargebacks, gift card cash backs, airline compensation, as well as making returns on unsatisfactory purchases. We have a way of dealing with hard-to-reach customer services and hard-to-get-out-of mailing lists.
If you need to deal with important paperwork, our app can assist you every step of the way. We can draft legal documents for you and show you how to write them yourself; we can connect you with a remote notary who can notarize your documents 24/7; we can also help you send the docs to any recipient using our convenient online fax functionality!
For a full scope of our services, check out our learning center.
Stay Safe at Home and Enlist DoNotPay To Do Your Bidding
It's not easy to keep tabs on your obligations during these trying times ridden with uncertainty. That is why DoNotPay has developed numerous features to help you cross tasks off your list while staying safely in your home. Here's what else you can get done from the comfort of your armchair through our app: