Amazon Item Not Shipped Yet? Fret Not—DoNotPay Has Your Back
Your Amazon item is not shipped yet, and now you're unsure whether you'll receive your package? Don't worry because DoNotPay comes to the rescue!
We'll break the problem down for you and provide the easiest and most efficient method of getting a refund if your delivery is late. Our app will save you from talking to customer service representatives and filling out long forms because we'll do it all in your stead!
Reasons Why Your Amazon Package Hasn't Been Shipped Yet
Here are the frequent reasons why Amazon's shipping is pending:
| | |
| --- | --- |
| Reason | Details |
| COVID-19 | Amazon has seen an increase in online orders because of the pandemic. The company currently prioritizes household items, medical supplies, and other essential products |
| The item you ordered is out of stock | Your item might be unavailable at the moment, and Amazon is awaiting restocking |
| You didn't order via Amazon Prime | If Amazon has a spike in deliveries, it will prioritize shipping to Prime members |
| The order request hasn't been processed yet | Some orders take more to process, especially if you purchase from a third-party seller and Amazon doesn't handle the delivery |
What Can You Do if Amazon Hasn't Shipped Your Item?
In case you haven't received your package three days after the estimated delivery date, it's time to take action. You should:
Contact the third-party seller if you ordered from one
File a complaint to Amazon
Cancel your order
Contacting the Third-Party Seller
If you ordered your item from a third-party seller, you need to contact them directly. Here's how you can do it:
Log in to your Amazon account
Go to Your Orders
Select your order from the list
Choose Problem with order
Select your topic
Click on Contact seller
How To File a Complaint to Amazon
Reporting your issue to Amazon is possible via:
Phone—Call 00 1 206-922-0880 and explain your problem in details to Amazon customer support reps
Website—Go to the Amazon website and answer the chatbot's questions to file a complaint
Cancel Your Amazon Order That Hasn't Been Shipped
Amazon won't take money off your credit card until it ships the item, which means that you can cancel your order at any time. To do so, follow these steps:
Sign in to your Amazon account
Go to Your Orders
Select the check box next to the order you want to cancel
Click on Cancel checked items
Once you submit your cancellation request, Amazon will send you a confirmation email. To confirm your order has been canceled, go to Your Orders and locate your item in the Canceled Orders section.
Order Status Says Shipping Soon, but I Still Haven't Received My Package
If you can't cancel your order or your order status says shipping soon, you are eligible to get a refund from Amazon. You can do so via:
Amazon website
How To Get a Refund From Amazon
To get a refund for your order, you will have to:
Sign in to your Amazon account
Go to Your Orders
Locate your order
Select Problem with order
Select Request a refund
Type in your problem in the text box
Hit Submit
It can take Amazon up to seven days to process your request. To speed up the process, use DoNotPay because we will add a deadline to get your request reviewed faster.
How DoNotPay Can Help if There's a Delivery Problem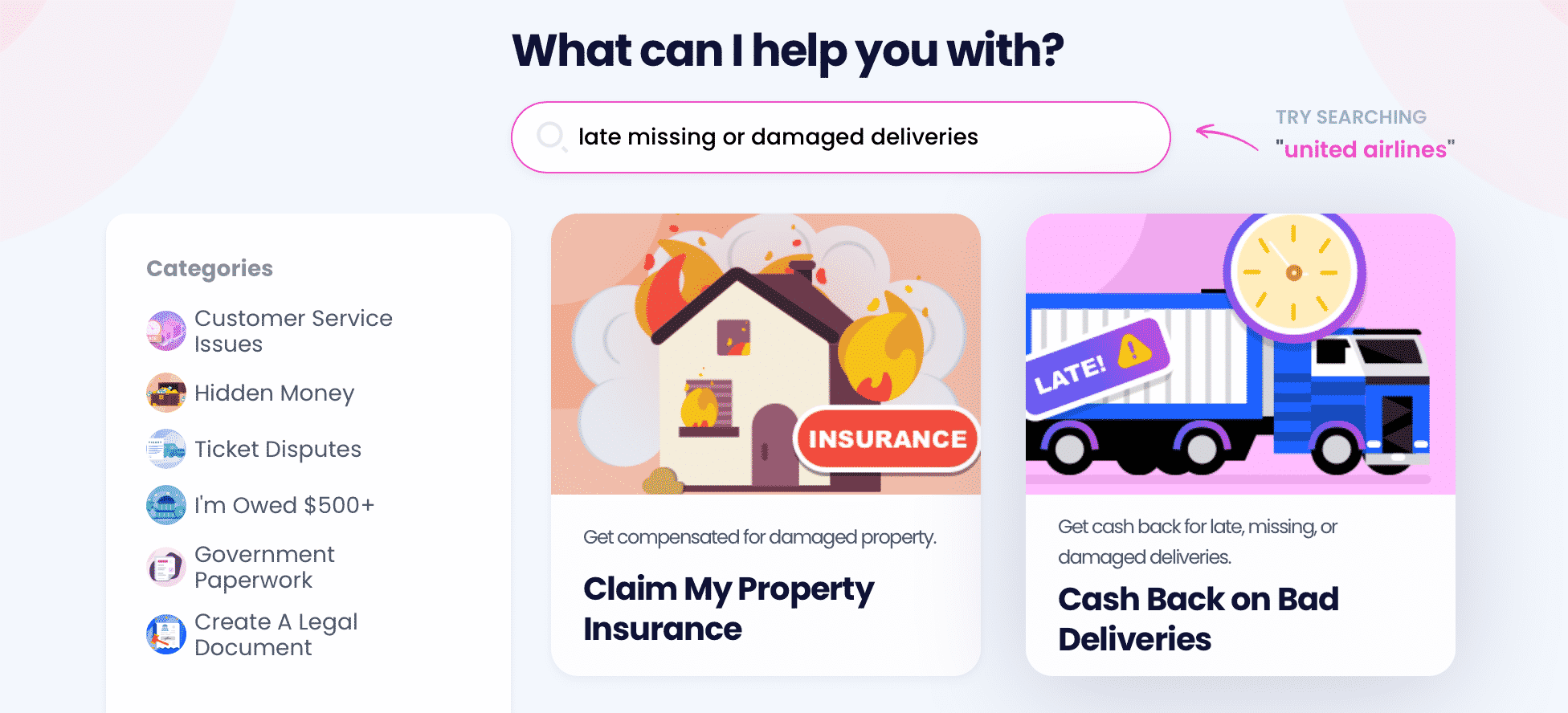 DoNotPay turns the process of requesting a refund into a breeze. Our Late Delivery Refund product is the simplest and most effective way of filing a claim and getting your money back!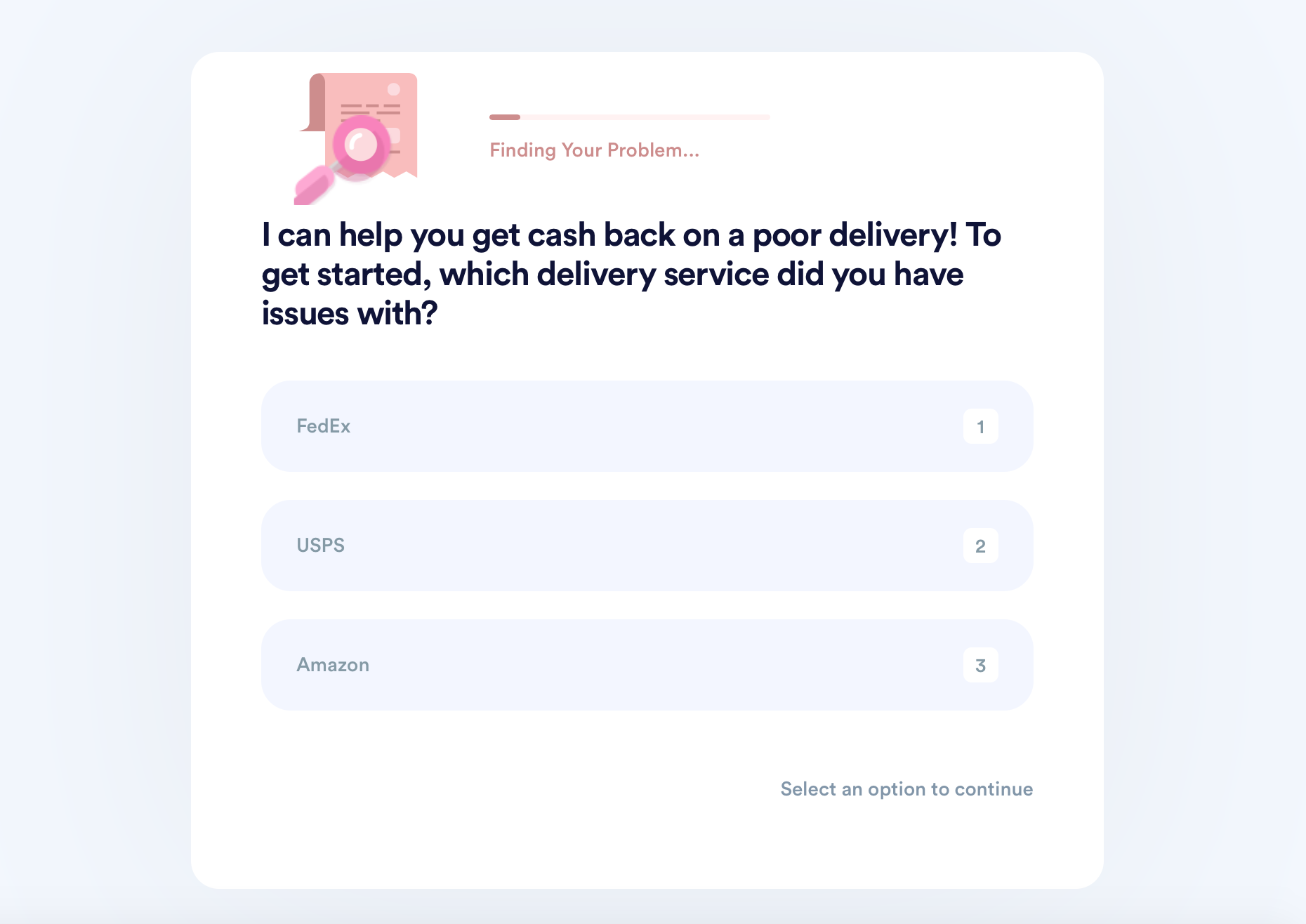 Here's how it works:
Locate the Late Delivery Refund product
Add the courier and provide details about the issue
Submit
Once we receive your request, we'll automatically file a complaint to the courier's claims department.
Other Delivery-Related Issues DoNotPay Can Help You With
DoNotPay offers various articles that cover Amazon shipping and delivery issues you might find helpful, including:
Our assistance doesn't end there because we can help with other carrier services. With DoNotPay, you can get answers to the following frequently asked questions:
DoNotPay Takes Care of Your Consumer Rights
Whether the products you ordered are late, missing, or faulty, you can ask for your money back through the DoNotPay app. We can help you get refunds from any delivery service or company you purchased from, and we can also digest any seller's return policy so that you can both send the product back and get a refund!
DoNotPay is an advocate of consumer rights and can help you bypass time-consuming and tedious processes when dealing with small-time sellers and multinational retailers alike! Check out some of what we can do for you in minutes:
Use Our AI-Lawyer App to Your Advantage!
Apart from protecting your consumer rights, DoNotPay can break down and fast-track many legal procedures for you. Use our app to do any of the following and more: