Where Is My Package—How To Track Your Parcel and Get a Refund for It With Zero Fuss
Tracking down a package can sometimes be a real hassle—starting from finding a tracking code on the parcel to deciphering status updates you don't understand.
You don't have to wonder "Where is my package, and when will it arrive?"—we prepared a detailed guide on locating your items successfully and dealing with all potential issues. You will also learn how can work in your favor when filing a complaint or a refund claim for lost UPS, USPS, or FedEx deliveries and late or damaged parcels!
How Can I Track My Package?
The most common method for pinpointing the location of your package is using couriers' online tracking systems. These apps are usually found on the shippers' websites, and they allow the recipient to track down up to 30 parcels at once.
To find out where your order is, you need a tracking number—a unique ID code of the package with as many as 40 digits. In most cases, if you can't find it, you can use the following:
Barcode
Door tag number
Reference number
Transportation control number (TCN)
The procedure is often simple and includes the following steps:
Go to the courier's website
Find the tracking section on the homepage or search the website for it
Enter the tracking number or any other accepted code
Once you hit the Search button, you should be able to see the newest status of your delivery and all previous updates from the moment it was sent.
What if I Don't Have a Tracking Number?
The best way to locate your package without a tracking code and other acceptable alternatives is to contact the customer support of the courier. Explain the issue and be ready to provide them with more details—the shipping address, the name of the sender, your phone number, and so on. The info you disclose will help them determine the status or location of your package.
A Rundown on Package Status Updates
Package status terminology can vary slightly from shipper to shipper. The following table represents an overview of the most common updates you can get from the courier:
Status
Explanation and Solution
In transit
'In transit' means that your parcel is being processed at the given moment and that it hasn't reached the post office yet. Don't despair if this seems too vague. Once it reaches the facility, you will get additional tracking info
No access/Delivery attempted
You will get this update if the courier has tried to deliver the parcel but couldn't do it because:

You weren't home
It was a non-delivery day
You have a dog in the yard
Your address is in a gated community
The mailbox was stuffed with other mail or unreachable

If this happens, the courier often reschedules the delivery for the next working day. In case this status lasts for more than 24 hours, you should raise a claim with a courier and check the whereabouts of your parcel. At times, the deliverer may leave a notice so that you can pick up the package at the local post office

Delivery status not updated
You know that your package reached the post office, but there were no updates since the last time you checked? This means that it hasn't been processed for delivery yet, which is why you should be patient and wait to get the next update. If you don't have any by the end of the next business day, you should contact the courier
Delivered
If the status of your UPS, USPS, or FedEx parcel says 'delivered,' but the package isn't in your mailbox, there may be a few reasons for that:

The package was delivered to your neighbors or the wrong address
One of your family members has received the package in your stead
The deliverer left the parcel somewhere else in the yard (porch, back door, or any other safe place)
The delivery status changed before the package reached you

It's recommendable to wait for at least 24 hours before you contact the courier. If there aren't any changes, they will raise an investigation and help you locate the order
How To Know Which Post Office Has My Package?
In case of unsuccessful deliveries of the parcels that require a signature or physical presence of the recipient, packages usually get returned to the post office. In most cases, they end up in the nearest courier's facility.
If you aren't sure what object that is, you can check the notice from the deliverer if they left any—it should contain the exact location of your package. Without notice, it's best to contact the designated mail carrier and ask them where they took the parcel after a failed delivery attempt.
The Courier Says My Parcel Got Lost—What Should I Do?
If you raise an investigation with the courier and they inform you that your parcel got lost, you may be entitled to get your money back. Different shippers—USPS, FedEx, Amazon, and others—propose different ways to apply for a refund. The most common ones are:
Contacting customer support via phone or email
Sending a letter to the official address of the courier
Visiting the nearest post office and completing specific forms
Completing an online refund claim on the official website of the shipping company
Make the Courier Return Your Money Stress-Free With DoNotPay
Filing a compensation claim if your order gets lost or arrives faulty is usually an exhausting procedure, but DoNotPay can make it simpler and less burdensome! We created an AI-powered system that reports missed or damaged packages and raises a refund claim in the blink of an eye. You won't need to contact customer support representatives or waste your time in long queues in the post office—we will do everything in your stead!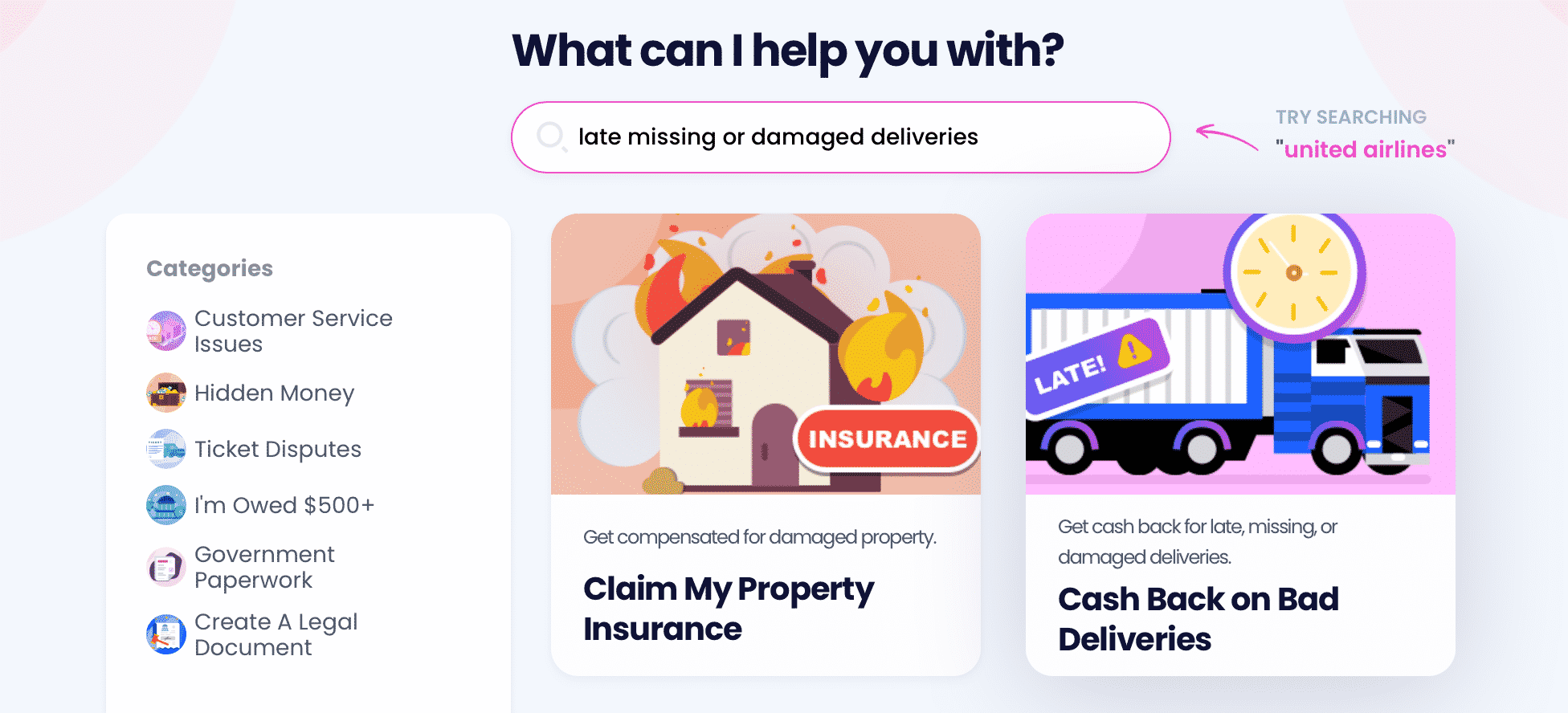 Here's how this feature works:
and log in to it
Choose Late Refund Delivery
Pick the courier
Provide more details about the parcel—tracking code, estimated delivery date, sender's address, or any other required info
We will generate a complaint letter and a refund request and forward them to the courier. This way, the procedure will be completed within minutes!
Reading through our learning base can help you find out how to deal with: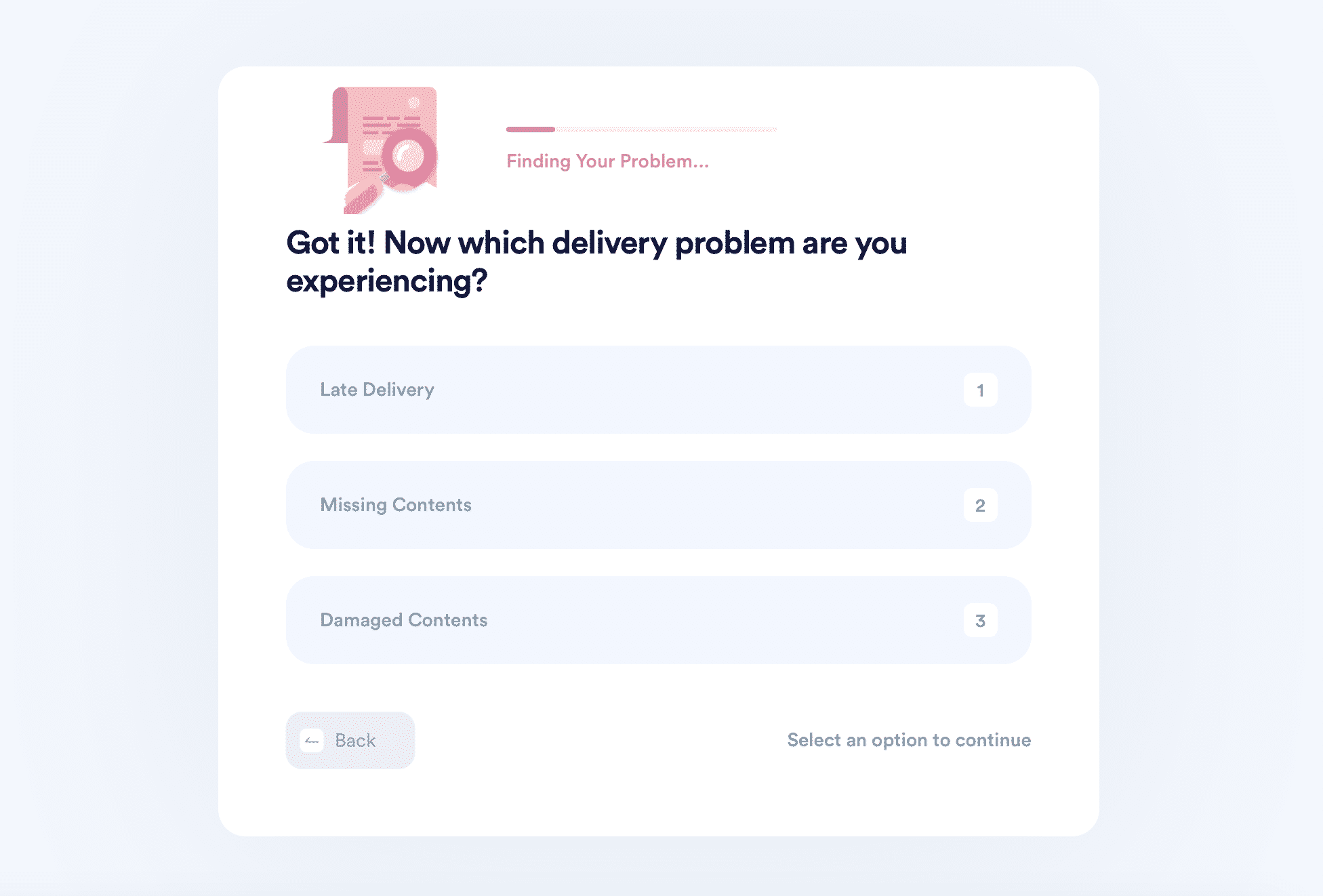 How Else Can DoNotPay Be of Assistance?
DoNotPay will help you take care of your item delivery problems and send a delivery refund request in your stead, but we can do so much more along the way. Use our app to find out how you can return an unwanted item to any company or get a refund for any service.
Not only can we clear a path to your rightful refunds, but we can get you the cash that's left on your gift card balance and secure any compensation you deserve. Use our app to get compensation for:
How To Use DoNotPay the Right Way
Many companies start spamming you with unwanted correspondence as soon as you start using their products or services, but our app can put a stop to that. If you use DoNotPay's Burner Phone and Virtual Credit Card products, you'll never have to supply your real info to random companies again. We'll make sure that you can subscribe to any free trial risk-free or cancel a service you don't use in a matter of minutes!
We'll also help you do boring tasks quicker or take care of them entirely on your behalf. Use our app to draft documents and contracts, get them notarized, or send them using an online fax functionality of our app. We'll schedule a DMV appointment for you, help you get access to public records, or find out what property tax exemptions you qualify for and how to apply in record time.