How To Deal With a DHL Lost Package Without Going Crazy
Just like any other courier, DHL often experiences delays and shipping issues due to various circumstances. If you believe that your package is missing, this article will give you excellent tips for making the right steps toward getting your cash back. Besides dealing with your DHL lost package, you will learn how to tackle the same issue with other popular shipping companies by !
Ways To Check the Status of My DHL Package
If you suspect that DHL may have misplaced your package, you need to track its last known whereabouts and gather evidence of a potential problem. DHL provides two ways to track down your parcel:
Method
Instructions
Online tracking system

Go to the official DHL website for the USA
Select the Track tab
Enter your tracking number
Hit the Track button

DHL eTrack

Compose an email stating the waybill number or attach the confirmation email you got once the parcel was shipped
Email the message to track@dhl.com
Wait for the return email with the results
Once the system takes you to the delivery status page, you will get a full list of all status updates from the moment your parcel was accepted by the courier. There's also information about the current location of the package and the estimated delivery time frame. Here's what you can do if your DHL parcel is on hold.
How Will I Know if My DHL Parcel Is Lost?
Regular checks of the delivery status are a vital part of following your parcel. The status gets updated every time the package reaches a different depot or a new stage of the delivery process. Bearing this in mind, no wonder that the lack of new information can make you think that something is wrong with your order or that it may be lost.
Here are two situations that can raise suspicion:
The status of the package hasn't changed for more than 48 hours even though the estimated delivery date is approaching or has already passed
The tracking update says "delivered," but you can't find the parcel despite checking the entire area around the house and asking your neighbors
What Can I Do if DHL Lost My Package?
The fact that your package hasn't shown up yet doesn't mean it's definitely lost. The best option is to wait for a couple of days, especially if the tracking status already says "delivered." At times, couriers change it even before the parcel reaches the recipient, so there's a chance that it may still arrive within 48 hours.
If the status doesn't get updated or the package remains missing, get in touch with the DHL customer support center in the USA and inform them about the problem. The shipping company won't raise an investigation on their own, which is why it's crucial to let them know what happened immediately. You can contact them by calling (800) 225-5345.
The customer care representatives will ask you for more information. Be ready to disclose the tracking ID number, the name of the person who sent the parcel, or the original shipping address. As soon as the reps get all the required information, they will start an investigation procedure to find out what happened to your package. If the courier doesn't manage to locate the order within a few days, they will pronounce it lost.
How To File a Claim for a Lost Parcel With DHL
DHL allows the recipients to raise a cargo claim for a missing package sent by DHL Express within 30 days of the date when the courier shipped the parcel. You can do it in two ways—by:
Completing an online form
Submitting a completed form via email
Raising a Claim by Filling Out an Online Form
Here's how you can submit your cargo claim with DHL online:
Visit the Holders and Shippers section of the DHL Express homepage
Select Missing Content or Lost Shipment under the Select the claim you need to file section
Complete the e-form with the required information
Attach the supporting documentation if necessary
Click on Submit
Raising a Claim via Email
If you prefer to fill a cargo claim via email, proceed as follows:
Visit the Missing Content or Lost Shipment page
Click on DHL Express Claim Form
Fill out the form manually
Scan the claim and send it to dhl.cargoclaims@dhl.com
Make sure your writing is legible since the courier may have trouble deciphering it.
Regardless of the method you opt for, DHL should process your claim and solve the matter within 10–30 business days. The estimated time frame depends on the case specifics. The shipper will send you an official resolution letter via email.
Avoid Drawn-Out Refund Negotiations and Get Your Money Back Fast With DoNotPay
DoNotPay—the world's first virtual lawyer—will assist you in finding justice and getting compensation for lost, damaged, and late deliveries stress-free!
Avoid enervating back-and-forth email correspondence and phone calls. All you have to do is provide us with the essential details regarding your parcel—we will contact the courier in your stead and request your money back!
Here's the drill:
and log in to your account
Navigate to the Late Delivery Refund feature
Select the courier
Complete a short questionnaire related to the shipping information
This way, you can demand a refund from the most sought-after U.S. shippers and sellers, such as USPS, FedEx, and Amazon.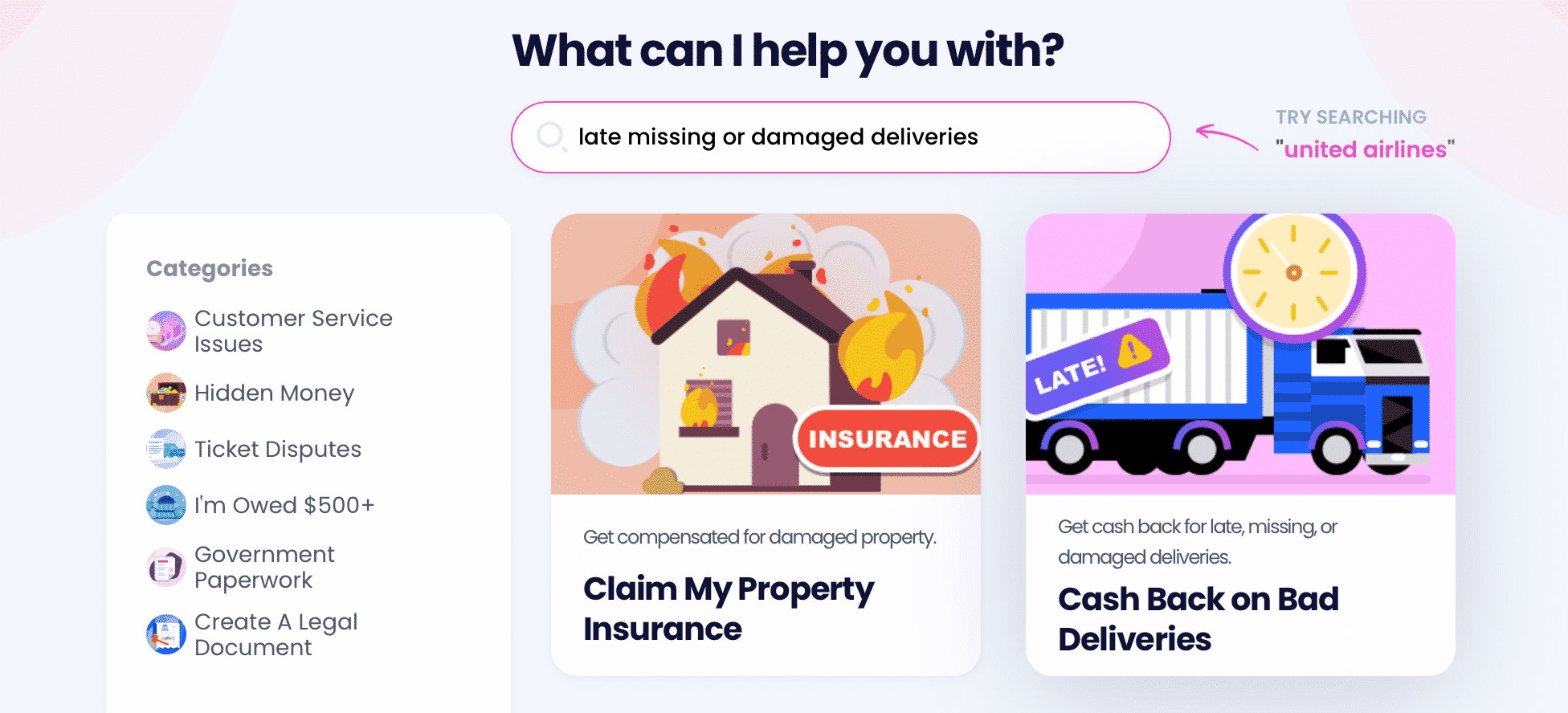 We also offer many useful guides from our knowledge base that can help you cope with delivery problems caused by various couriers. Some of them are listed in the table below:
| | |
| --- | --- |
| Courier Company | Potential Issues |
| UPS | |
| USPS | |
| FedEx | |
| Amazon | |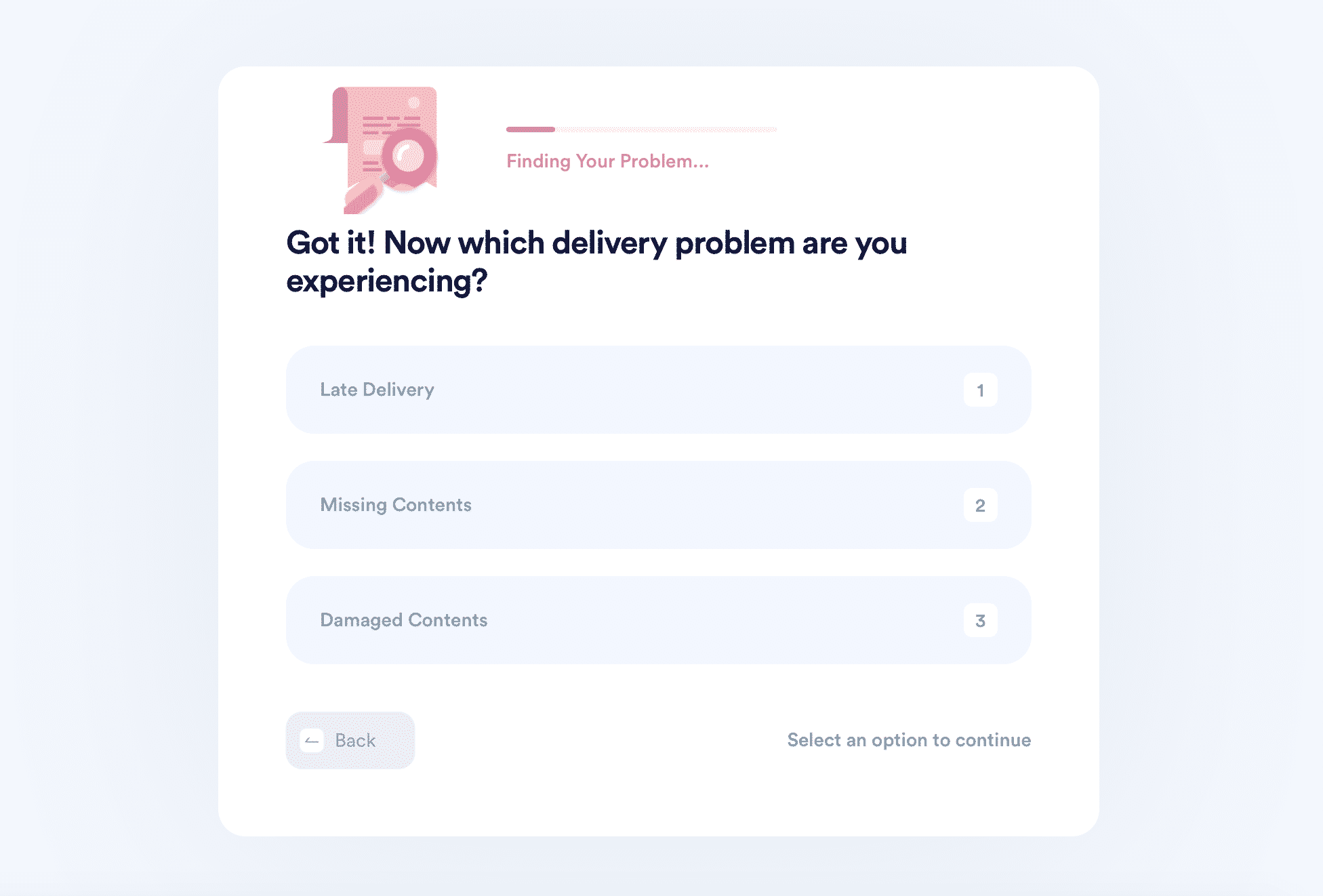 How Else Can DoNotPay Be of Assistance?
DoNotPay will help you take care of your item delivery problems and send a delivery refund request in your stead, but we can do so much more along the way. Use our app to find out how you can return an unwanted item to any company or get a refund for any service.
Not only can we clear a path to your rightful refunds, but we can get you the cash that's left on your gift card balance and secure any compensation you deserve. Use our app to get compensation for:
How To Use DoNotPay the Right Way
Many companies start spamming you with unwanted correspondence as soon as you start using their products or services, but our app can put a stop to that. If you use DoNotPay's Burner Phone and Virtual Credit Card products, you'll never have to supply your real info to random companies again. We'll make sure that you can subscribe to any free trial risk-free or cancel a service you don't use in a matter of minutes!
We'll also help you do boring tasks quicker or take care of them entirely on your behalf. Use our app to draft documents and contracts, get them notarized, or send them using an online fax functionality of our app. We'll schedule a DMV appointment for you, help you get access to public records, or find out what property tax exemptions you qualify for and how to apply in record time.