What To Do if USPS Says Delivered in Mailbox, but No Package Came
Did you get notified that your USPS parcel is delivered, but you couldn't find it in your mailbox? Don't despair—these situations happen with most shippers regularly, including UPS, FedEx, and Amazon.
If USPS says "delivered in the mailbox" but no package was left at the specified place, our guide will help you determine whether your parcel is somewhere around, late, or lost. We will also walk you through reporting the issue and raising a refund claim without a hitch by .
How To Track Down My Package With USPS
To locate your package, the first step you need to take is to check the status of your parcel. Here's how you can do it:
Go to the official USPS website
Find the Search or Track Packages section
Input your tracking number or the barcode
You can find the tracking number on your sales or shipping receipt and in the confirmation email from the retailer or shipper. Once you enter the tracking code and hit Search, you will see the status of the parcel and all shipping updates.
The Status of My Parcel Says Delivered, but No Package in Sight—What Should I Do?
Based on the specific status of your package, you can find out why your parcel hasn't reached your mailbox yet. If it says that your package has been delivered, but you can't see it, you can do the following:
Have a second look at your mailbox, as some parcels may come separately from the standard mail you receive
Check around the house—At times, the courier finds it more convenient to leave a parcel out of the mailbox or at a safer location. Safe places include:

Porches
Garages
Backdoors
Exterior doors

Ask your family if someone has accepted the parcel on your behalf
Wait for 24 hours—Sometimes the status may change even before the parcel gets delivered
In case it's still missing after 24 hours, you must raise a claim with the courier so that they can inspect the issue. Once you report the problem, they will provide you with a confirmation number and get back to you within three days with an update and tell you if your parcel is lost or late.
When Does USPS Offer Refunds?
USPS grants refunds only if your parcel shipped with Priority Mail Express service is late. If the delivery exceeds its estimated due date, you should file a refund claim.
Methods of Requesting a Refund From USPS
You can demand your money back in two ways:
Online
In person
Check out the instructions in the following table:
Method
Instructions
Online

Go to the official USPS website
Click on the Help tab and choose Requesting a Refund
Tap on Request a Refund under the Apply Online section
Sign in to your USPS account
Enter the necessary shipment details
Submit your claim

In person

Find the Locations tab on the homepage of the USPS official website
Search for the nearest USPS location by entering your ZIP code
Visit the chosen post office
Complete and submit Form 3533 to request your money back
What if Your USPS Parcel Is Lost or Damaged?
USPS doesn't offer a refund for lost or damaged packages, but it provides insurance coverage in the amount of up to $100. This means that you can file an insurance claim if your parcel arrives faulty, misses some contents, or doesn't reach you at all.
There are two ways to do it:
Online—via your USPS account
Via mail—by requesting a special form from USPS, completing it, and sending it to the address specified on the sheet
Report Late, Lost, and Damaged Parcels in a Snap With DoNotPay
If getting in touch with customer support seems like too much hassle for you, DoNotPay can help. With our app, you can report the issue with your parcel in a few clicks—no need for phoning or emailing the courier! All you should do is provide a few key details, and we will contact the courier service and file a refund claim in your stead so that you can get your money back fast.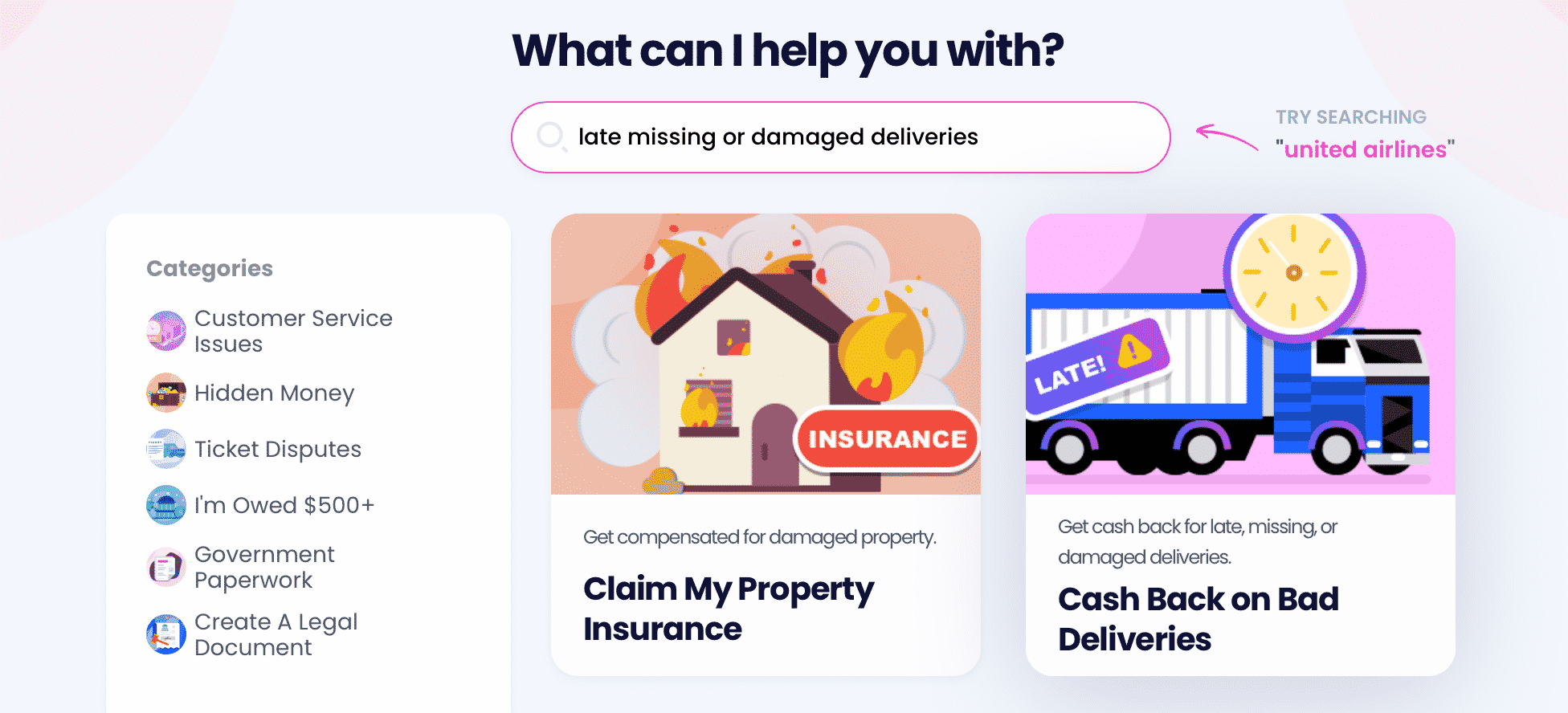 To use our service, follow the steps below:
from your browser and log in to your account
Go to Late Delivery Refund
Choose the courier responsible for your parcel and give us additional shipment details, such as your tracking number or estimated delivery date
Our system will forward your claim to the right department automatically and help you get a refund with zero hassle!
Our learning base can teach you what to do in case your USPS parcel:
You can also use our Late Delivery Refund feature to get your money back if your UPS or FedEx packages get lost.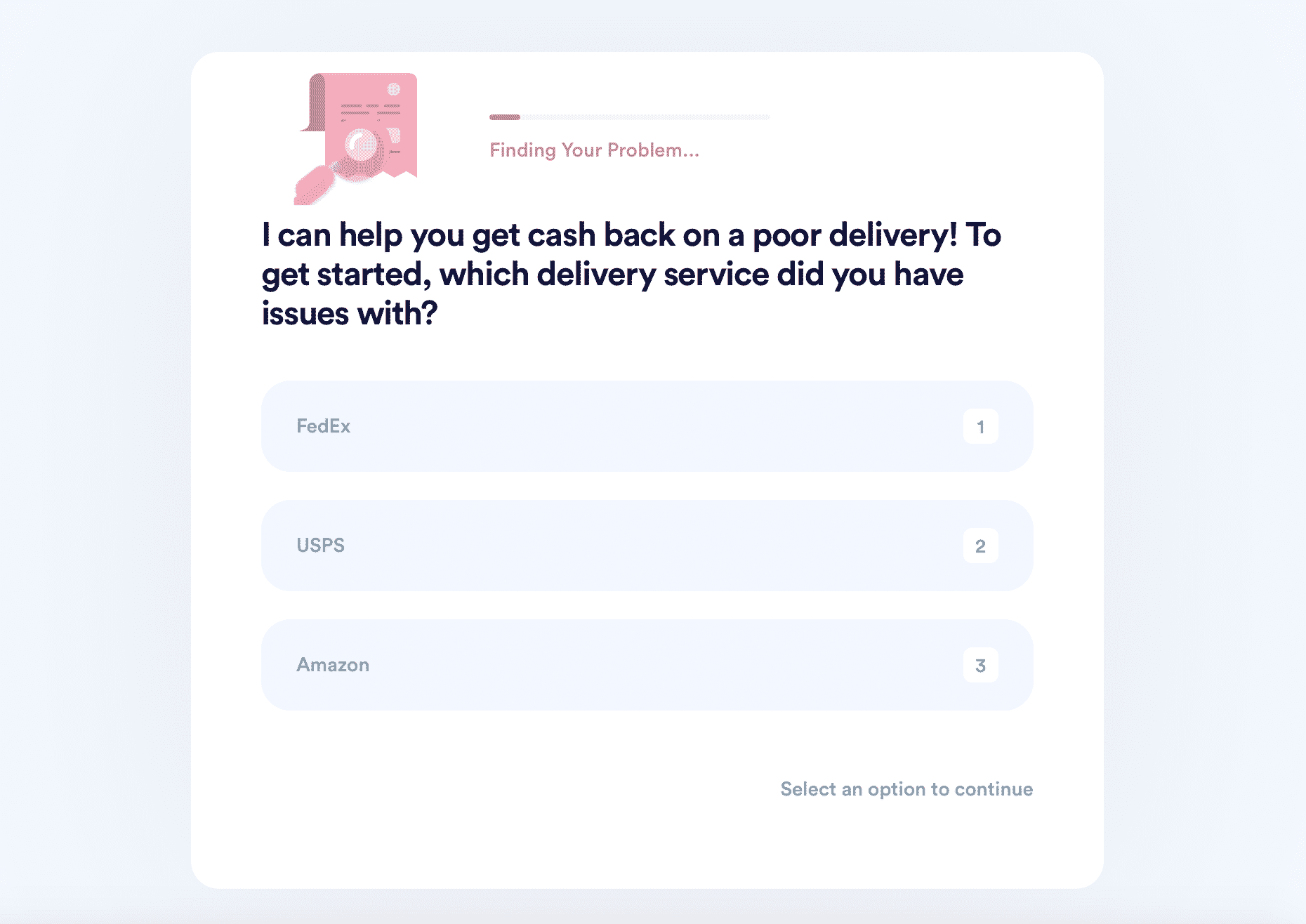 Deal With Companies on Your Terms Using DoNotPay
Claiming late, missed, and damaged item delivery refunds is only one in a sea of services you can get with our app. We can show you how you can:
As if that were not enough, we can also unsubscribe you from a company's email list, stop any annoying robocalls or robo texts they are bothering you with, and cancel any service or free trial you're unhappy with or are no longer using. Our Free Trial Card and Burner Phone products can help you try out any service without being spammed or auto-charged later on.
What Other Services Can DoNotPay Extend?
DoNotPay is invaluable when dealing with companies and their confusing policies, but we can also help you bypass tedious government procedures. If you use our app, you'll have no trouble filing FOIA requests, passing government exams, reducing property taxes, as well as drafting legal documents and getting them notarized in a single app!
To top it off, we'll also help you claim lost assets, delay bills, locate an inmate, report stalking and harassment, or take anyone to small claims court in any U.S. state.