What To Do When You Receive a Damaged Package
A damaged package is the last thing you want to receive after you've been waiting for a gift or an ordered item. There are several ways to deal with a damaged parcel—we'll walk you through your options and suggest an all-in-one solution to help you get what you deserve.
If you want to handle the issue right now, sign up for DoNotPay!
You Got a Damaged Item or Package—What Now
If you receive a damaged item, but the packaging is fine, the seller is probably at fault. In this case, you need to contact them and discuss further steps. In case both the package and the item are damaged, you can reach out to the seller or the courier service.
To make the process smoother, make sure you:
Take notes about the damage in detail
Jot down the exact time and date of the delivery
Take pictures of the package before you open it and of the item as well
Contact the Seller To Report a Damaged Package
Before you get in touch with the retailer, check their website—it should have a section about policies regarding damaged items or packages. The info that you should look for is the following:
What details the seller needs when a customer reports a damaged shipment
When and how you should file your claim
How returns and refunds work
Who covers the return shipping costs?
When you can expect to receive a refund or a replacement
A Package Damaged by USPS—How To Contact Them
In case your damaged package was delivered by USPS, you can file a claim only if it's insured. Before you submit the insurance claim for your damaged package, do the following:
Make sure you're reporting the issue within the filing period—you can submit the claim immediately and no later than 60 days after the mailing date
Gather the required info and documents:

Tracking or label number
Evidence of purchased insurance (e.g., original mailing receipt or printed electronic online label record)
Proof of value—e.g., the paid invoice, sales receipt, or credit card billing statement
Proof of damage—photos of the damaged package and items
Here's how you can report a damaged package to USPS:
Online
Via Mail

Sign in to your USPS account
Click on Filing a Claim under Help
Scroll down to File Your Claim
Tap on Start an Online Claim
Follow the prompts to finalize your submission

Call USPS at 1-800-332-0317 and request a Domestic Claim PS Form
Fill out the form
Mail the form, proof of value, and proof of insurance to the address stated on the form
DoNotPay can fast-track your USPS insurance claim. Our AI-powered app can help you file insurance claims with other services as well, including FedEx and UPS.
You can also check out our articles and find out how to report a damaged package to various companies and services, such as:
Opt for the Fastest Solution—Use DoNotPay To File Your Claim
If your head is spinning from all the steps you need to take to report your damaged parcel, you're not alone. Out of 13.5 billion delivered packages in 2018, 11% were damaged. This is where DoNotPay steps in.
We have created a tool that will submit both a complaint and a compensation claim in your stead.
Here's how it works:
Navigate to the Late Delivery Refund product
Select your delivery service
Answer a few questions and upload a photo of your damaged package
Our app will forward your complaint to the claims department immediately.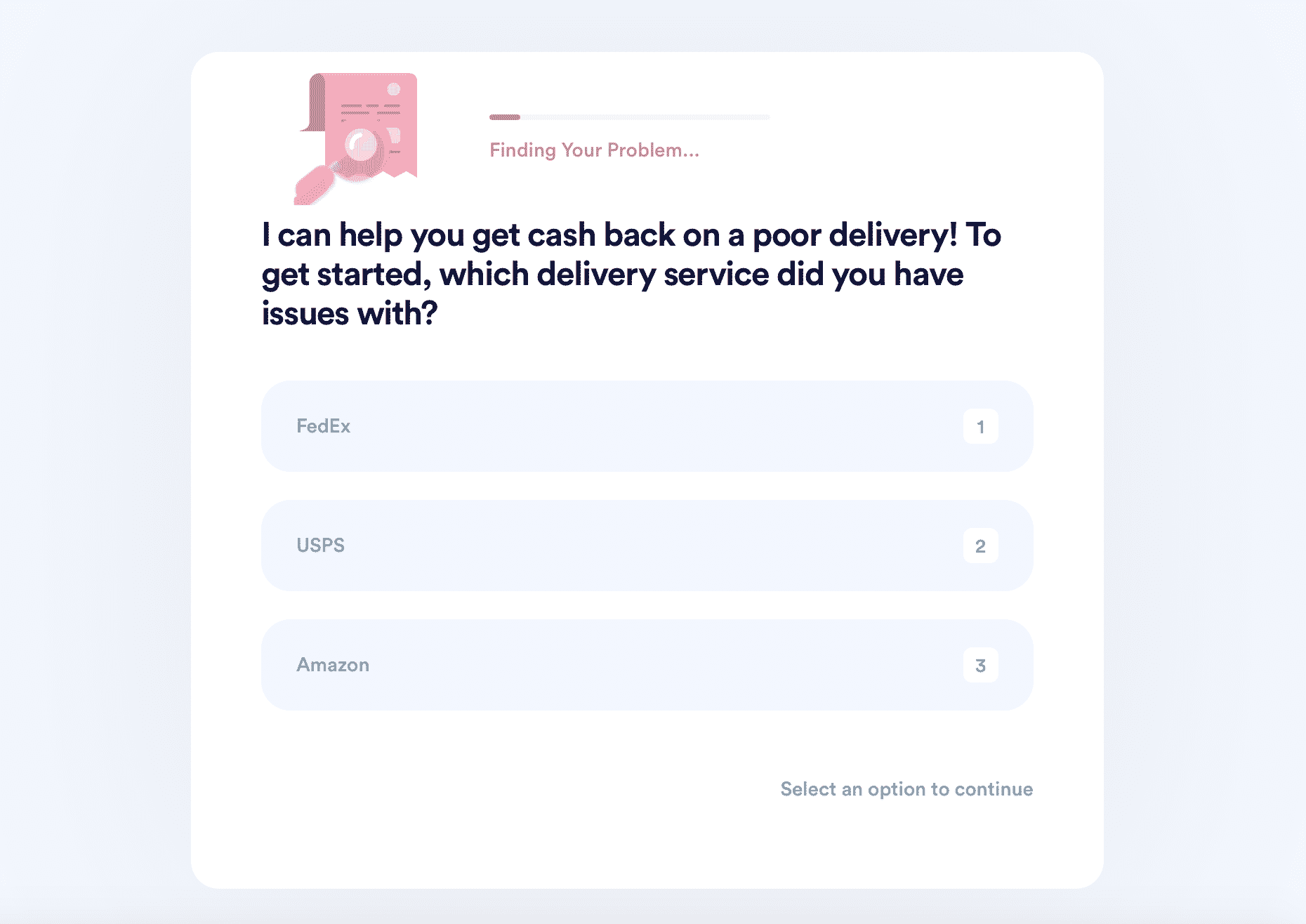 You can count on our assistance with late, lost, or damaged packages. If you have any questions, you can turn to our learning center and find out more about the following:
DoNotPay Strikes Again—Return Your Package With Our Help
Once you create a DoNotPay account, you can enjoy all the perks of using our app. One of them is the Item Return Request product, which can help you streamline the process of returning your damaged package.
All you have to do is follow these steps:
Select our Item Return Request feature
Provide a few details about the purchase
Include photos of your damaged package
Submit your request
Our app will generate a personalized return request and send it to the seller. The letter will include the following:
Description of the damage and photos as evidence
Your request—a refund or a replacement
Deadline when you want the company to respond to your claim
Request for a return label—this way, you can return your package for free
DoNotPay Has Your Back Every Step of Your Customer Journey
Helping you apply for a late, damaged, or missed delivery refund is only a fragment of what we can do for you. If you aren't satisfied with the service you've received or an item you've purchased, all you need to do is fire up your DoNotPay app.
We can bypass any company's customer service, draft a refund demand letter, or initiate a chargeback process in your stead. Our app can also digest the company's return policy and help you send the faulty product back. You won't have to lift a finger as our app does everything automatically after you answer several essential questions related to your purchase. If you decide to mail a letter to the company yourself, we'll tell you how you need to draft it to get exactly what you need.
It doesn't matter whether you bought a package for an incarcerated loved one, expected an insured mail delivery, or made a purchase to redeem a gift card but still have a few bucks left on it—we'll help you make the most of the situation. Our app can get your gift card cash back, file an insurance claim, and connect you with the loved one in jail.
How Far Do DoNotPay's Services Go?
Our app can prove handy in a variety of other situations, such as:
Visit our learning center for a full range of our services.