File Your FedEx Lost Package Claim and Request a Refund the Easy Way!
Waiting for your package to arrive seems like forever, even in normal circumstances. What happens when FedEx fails to make your delivery at the expected time, or even worse, loses your package? We help you file a FedEx lost package claim without any delays!
, and you won't have to stress about filing claims or requesting refunds again!
How Can I Track My Missing FedEx Package?
Tracking your package can help you understand what went wrong and where it got held up. If you want to see where your FedEx package is and track it at any given time, you can do so by using any of the following methods:
Tracking Method
Description
Visiting FedEx website
You can track your delivery using a tracking number. Here's how to get started:

Go to the FedEx website
Provide the tracking number
Tap the Track button

You'll be able to see if your package is sent, in transit, picked up, or delivered

Sending an email
If you want to track your package via email, all you need to do is send your inquiry to track@fedex.com and wait for a reply. Customer support typically answers within a few minutes
Signing up for FedEx InSight
FedEx InSight gives you an option to track your package without the tracking number. What you'll need to do is:

Visit the website
Sign up for FedEx InSight

You can use your account to track your package in real-time. FedEx InSight will display the current status of all shipments related to your account
How To Get a Refund for Your FedEx Missing Package
Wondering if FedEx is willing to compensate you for the missing package? Check out the list below to see in which circumstances they'll agree to issue a refund. FedEx permits refunds if:
Your package is missing
There are billing errors
Your delivery is late
The package arrived damaged
FedEx can deny your refund request for a number of reasons. If your package was ordered by a third party or you can't prove that your package was damaged while in FedEx's possession, they can deny your claim.
To get your refund, you will have to start by filing a claim. It's best to gather as much evidence as possible to back your request.
How Can I File a FedEx Missing Package Claim on My Own?
Filing a claim by yourself can be confusing and difficult. You have to figure out where to start and complete various steps. This is what you would have to do to file a missing package claim on your own:
Visit the FedEx website
Click on Start a Claim
Type in your tracking/PRO number
Choose your claim type
Fill out the online claim form
Provide the required documentation
Review the information
Submit your claim
The good news is that you can skip the overbearing procedure explained above and choose a simpler option instead. If you want an easy and efficient way to file claims and request refunds, rely on DoNotPay to take the burden off your back by doing both tasks on your behalf!
Filing a FedEx Missing Package Claim With DoNotPay Is a Piece of Cake!
Avoid the hassle of filing claims and requesting refunds by yourself, and turn to DoNotPay for assistance!
You won't have to worry about the paperwork or dial a million numbers to speak to a rep—we'll contact the courier and set everything in place.
Complete the following steps and let DoNotPay file your claim in a jiffy:
Choose the Late Delivery Refund feature
Select the courier and provide details about the shipment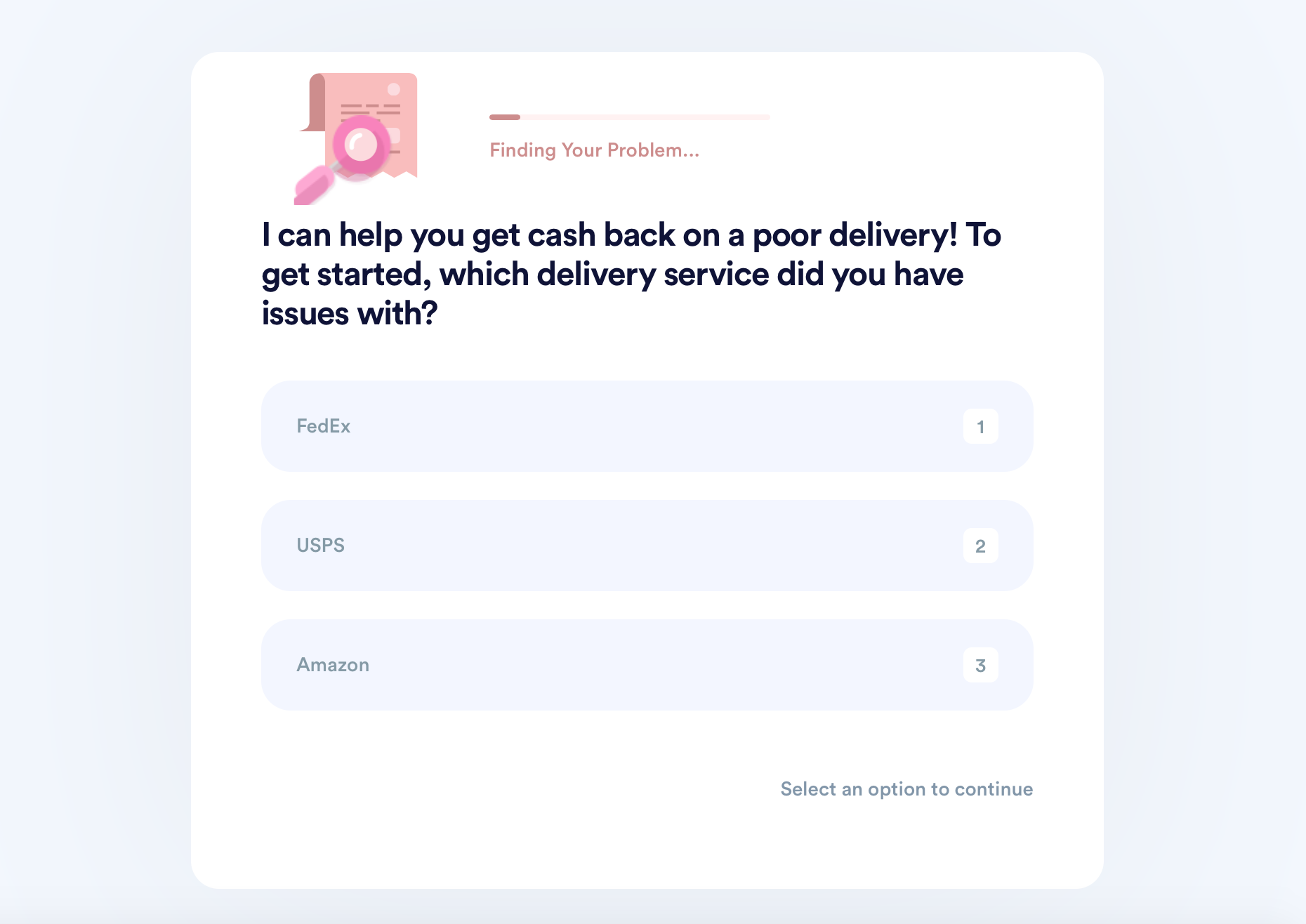 We will submit your claim to the courier's claims department quickly, and you can avoid waiting in lines or for a rep to pick up the phone and help you resolve the issue.
DoNotPay can also help you with USPS and UPS lost packages, as well as with filing claims for Amazon, USPS, and UPS late deliveries.
File a FedEx Insurance Claim Quickly!
If you want to file a FedEx insurance claim, you'll need to do it within 60 days after the incident. Here are the available methods of filing your claim:
Online—Visit the official FedEx website and provide the necessary paperwork, along with other required info (such as your tracking number)
Over the phone—Call (800) 463-3339 and explain your request to the rep. They'll provide the instructions you should follow to finalize the process
With DoNotPay—Sign up for DoNotPay and answer a few simple questions about you and your claim. Our app will submit your claim in a few minutes, and you'll be all set
In case your insurance claim gets denied, DoNotPay can provide further assistance! We'll help you appeal a denied insurance claim in no time.
Deal With Companies on Your Terms Using DoNotPay
Claiming late, missed, and damaged item delivery refunds is only one in a sea of services you can get with our app. We can show you how you can:
As if that were not enough, we can also unsubscribe you from a company's email list, stop any annoying robocalls or robo texts they are bothering you with, and cancel any service or free trial you're unhappy with or are no longer using. Our Free Trial Card and Burner Phone products can help you try out any service without being spammed or auto-charged later on.
What Other Services Can DoNotPay Extend?
DoNotPay is invaluable when dealing with companies and their confusing policies, but we can also help you bypass tedious government procedures. If you use our app, you'll have no trouble filing FOIA requests, passing government exams, reducing property taxes, as well as drafting legal documents and getting them notarized in a single app!
To top it off, we'll also help you claim lost assets, delay bills, locate an inmate, report stalking and harassment, or take anyone to small claims court in any U.S. state.