Is Your Package Delayed in Transit? Find Out How To File a Complaint!
If your package gets delayed in transit, chances are an unexpected issue occurred. We'll help you get to the bottom of what happened and show you how to file a USPS lost package claim if need be.
to handle issues with deliveries the easy way!
Why Is My Package Delayed?
Before you start stressing about your package being late, double-check the delivery standard for the mail class you chose. Look at the table below for details:
| | |
| --- | --- |
| Mail Class | Delivery Standard |
| First-Class Mail | 1–3 business days |
| Priority Mail | 1, 2, or 3 business days |
| Priority Mail Express | 1–2 calendar days |
| USPS Retail Ground | 2–8 business days |
| Media Mail | 2–8 business days |
| Bound Printed Matter | 2–8 business days |
| Parcel Select parcels | 2–9 business days |
| Parcel Select Lightweight parcels | 2–9 business days |
| USPS Marketing Mail | 3–10 business days |
If your package is taking longer than estimated, it likely got delayed, which can happen for a number of reasons. These are the most common ones:
You gave an incorrect address
The package was sent from overseas
You failed to provide the required documentation
The ordered items are restricted and prohibited from selling/buying
Poor weather or roadblocks
The package got lost or wasn't properly packed
The shipment is either heavier or bigger than allowed
USPS Package Delayed in Transit—Can I Track It?
You can track your delayed USPS package to see where it got held up. Here are the available tracking methods you can use:
Tracking Method
How It Works
Phone
You can call USPS customer service and ask where your package is. Here are the instructions:

Dial 1-800-222-1811
Tell the rep you want to know where your package is
Follow the instructions they provide

USPS website
To track your package online via the UPS website, follow these steps:

Visit the USPS website
Provide your tracking number
Click on Enter

If you want to use this method, you must provide your tracking number. Ask the shipper to send it to you if you don't have it

Text message
To track your package via text message, text your tracking number to 28777 (2USPS)
USPS mobile app
You can use the official USPS app to track your delayed package. You have to download it on Google Play or Apple's App Store and use it to track your parcel
How Do I Reach Out to USPS Customer Service?
If you want to contact a USPS representative and inquire about your delayed package, you have two available choices. You can contact them by calling or visiting the nearest USPS location in person:
Calling the USPS customer support—Dial 1-800-275-8777 and explain your issue to a rep. Tell them your parcel is delayed and ask for further instructions
Visiting a nearby USPS location—Go to the nearest USPS location and ask for help with your request
Can I File a Complaint if My USPS Package Is Delayed in Transit?
If you want to file a USPS claim, you can do it in case your package is lost or damaged. They don't accept claims for missing packages, but if the courier doesn't succeed in locating your parcel, it will be declared lost. That's when you can file your claim—keep in mind that you have to do it within 60 days of the date of mailing.
You Can File a Claim and Request a Refund With DoNotPay in Minutes!
If you're looking for a super quick and simple way to file claims for late, missing, or damaged parcels, you're in the right place! DoNotPay can cut your work in half by using the info you provide to file a claim and request a refund in your stead! Forget about waiting in lines or spending hours talking to a customer rep—work smarter, not harder! Complete the following instructions to get started:
Select the Late Delivery Refund feature
Pick the courier and provide the required info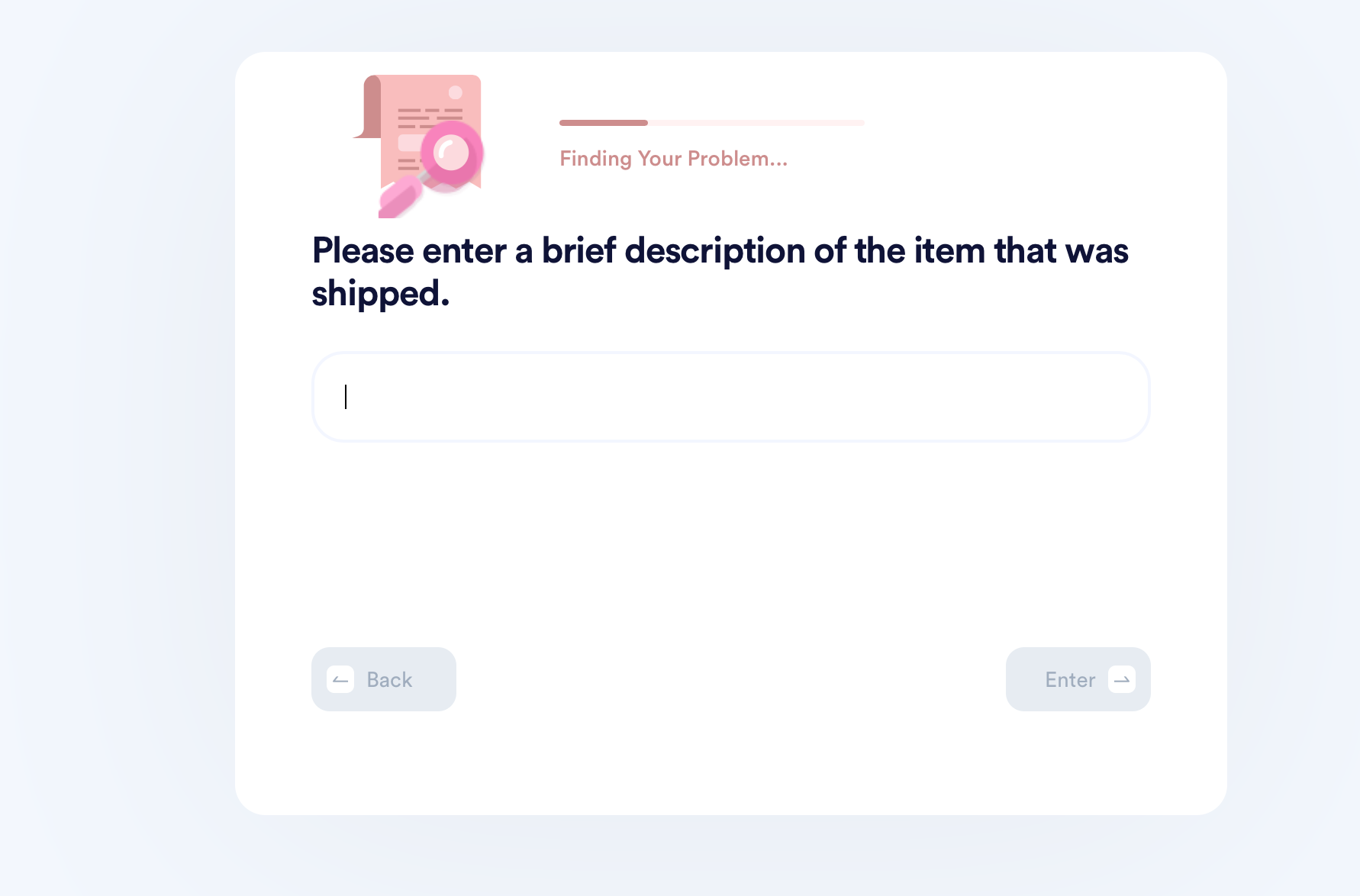 And you're done! DoNotPay submits the claim to the USPS claims department on your behalf. You can also use our app to file a USPS insurance claim in a few minutes!
DoNotPay makes requesting refunds for your USPS, UPS, and FedEx missing packages and filing claims for Amazon, FedEx, USPS, and UPS late deliveries a piece of cake!
Useful USPS-Related Info
If you have additional concerns and questions regarding USPS service, we'll help you get informed. Check out the list below for answers to commonly asked questions about USPS deliveries:
Check Out the Scope of DoNotPay's Services
DoNotPay is capable of way more than handling late or missed deliveries. We are experts in securing refunds and chargebacks, gift card cash backs, airline compensation, as well as making returns on unsatisfactory purchases. We have a way of dealing with hard-to-reach customer services and hard-to-get-out-of mailing lists.
If you need to deal with important paperwork, our app can assist you every step of the way. We can draft legal documents for you and show you how to write them yourself; we can connect you with a remote notary who can notarize your documents 24/7; we can also help you send the docs to any recipient using our convenient online fax functionality!
For a full scope of our services, check out our learning center.
Stay Safe at Home and Enlist DoNotPay To Do Your Bidding
It's not easy to keep tabs on your obligations during these trying times ridden with uncertainty. That is why DoNotPay has developed numerous features to help you cross tasks off your list while staying safely in your home. Here's what else you can get done from the comfort of your armchair through our app: