Is It Possible To Receive a Refund for a USPS Late Delivery?
Not receiving your long-awaited parcel in time is frustrating enough, but chasing the shipper for a refund is even worse. Such procedures are usually stressful, which is why people often give up on demanding their money back.
If you want to request a refund for a USPS late delivery but don't know where to start, DoNotPay is the way to go. Learn how subscribing to our app helps you report late parcels from USPS and other shippers—such as UPS, FedEx, or Amazon—and get your money back swiftly!
Can You Get a Refund for a USPS Late Package?
Requesting a refund when your USPS package is late is possible only if your items were shipped with the Priority Mail or Priority Mail Express service. You can consider your parcel delayed if it doesn't arrive within:
Five or more days from the date of mailing when sent via Priority Mail
One or two days from the date of mailing when sent via Priority Mail Express
How To Track Your USPS Parcel
In case you believe that your USPS delivery is late, you should track its status and check if there are any updates before you contact the shipper.
Checking the Status of Your Delivery if You Have a Tracking Number
Here are the steps you should follow if you have a tracking code for your parcel:
Go to the USPS Tracking page
Find the Search or Track Packages box
Enter your tracking number in the search field
Hit Track
The USPS search system enables you to check up to 35 tracking numbers at once. You can find yours:
On the shipping receipt
In the confirmation email you received from the shipping service or an online retailer
On the sales receipt (if you purchased insurance at the USPS post office)
If you aren't sure what a tracking code looks like, there are a few examples for each type of service below the search box.
Checking the Status of Your Delivery Without a Tracking Number
If you can't find the tracking code, the only option is to contact the USPS customer service and ask them to track the item for you. You must provide them with as many details as you can—such as your address, phone number, and so on—to help them locate your package in some other way.
Here are the channels you can use to get in touch with the USPS reps:
Emailing them via an online form
Calling 1-800-275-8777
How To Report a USPS Delayed Delivery and Apply for a Refund
If your mailbox remains empty or the status of your package says 'delivered,' but there are no deliveries in sight, it's time to alarm the courier. The deadline for reporting a late delivery to USPS is up to 30 days from the date of mailing.
You can choose one of the following options to get assistance from USPS and get your money back:
| | |
| --- | --- |
| Method | Details |
| Apply for a refund online by submitting an e-form | If you opt for an online application, you must create a free USPS account if you don't have it yet. Describe the issue in as many details as possible and add essential shipping info to the form |
| Request a USPS refund for late delivery in person | Find the nearest USPS location using the locator on the USPS website and apply for a refund there. You must complete two copies of Form 3533 on-site and submit them with your original customer copy of Label 11 |
Is It Possible To File an Insurance Claim in Case of USPS Package Delay?
While USPS insurance claims work for missing packages and damaged or missing items, you can't file them for late deliveries. You should wait and see whether the shipper will be able to locate your insured parcel. If this doesn't happen, the package will be considered lost, and you can raise a claim with the USPS within 60 days from the date of mailing.
Get a Refund for the Missing Parcel in a Few Clicks With DoNotPay
Filing a complaint with a shipper usually requires long and exhausting phone conversations with customer care reps or waiting in never-ending lines in front of the post office.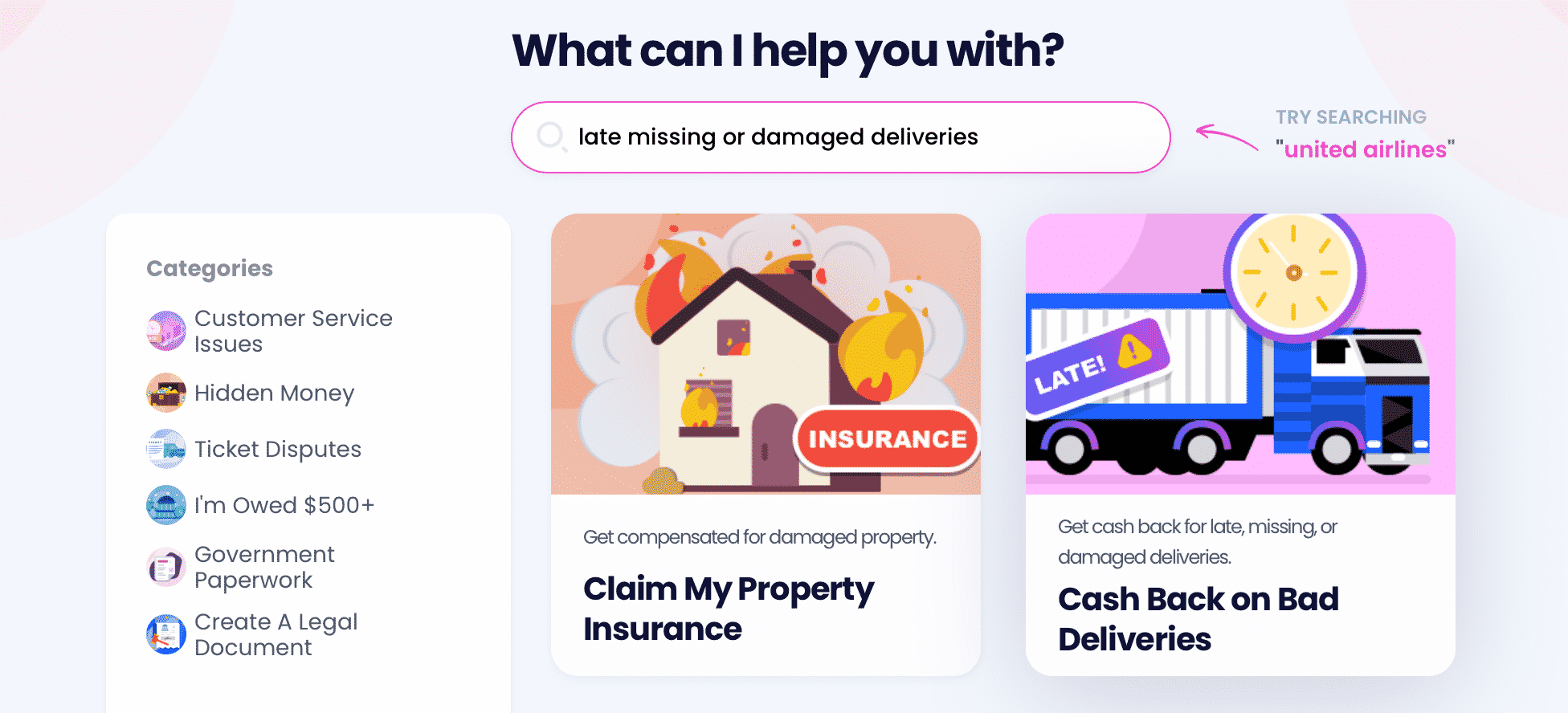 Having these difficulties in mind, we created a perfect solution for you! DoNotPay—our AI-powered app—helps you report the problem with your parcel and request a refund within minutes! We will contact the courier in your stead and raise a complaint—you don't need to call them and negotiate with the reps ever again!
Here's how to use this product:
Choose the Late Delivery Refund service
Pick the courier responsible for your package and provide more shipment details
Once you submit all the details, DoNotPay will send the complaint to the courier's claims department on your behalf automatically.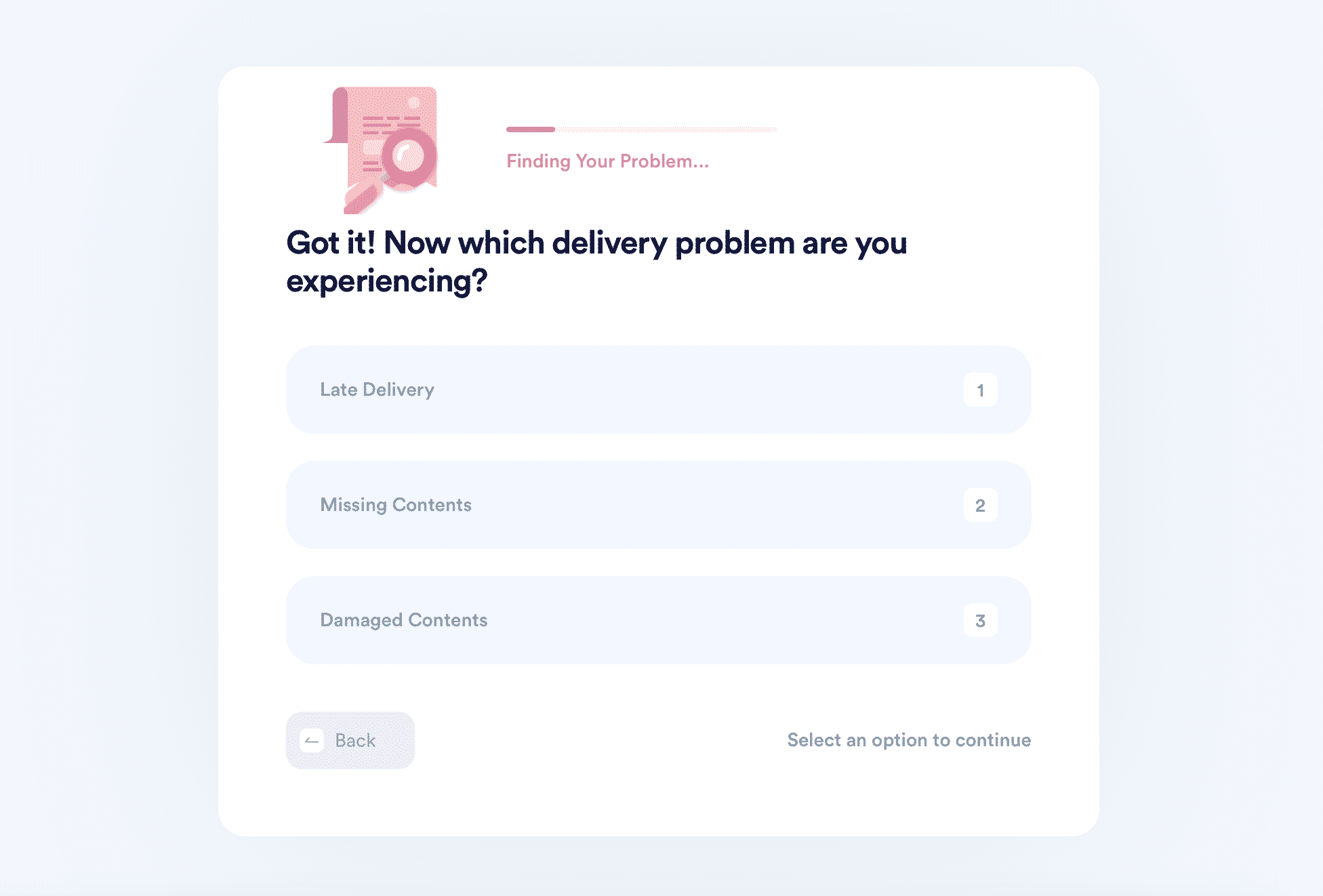 Besides handling late deliveries, you can learn how to report lost parcels shipped by UPS, FedEx, or other couriers by consulting other guides from our knowledge base. Find the solutions for many delivery-related dilemmas, such as:
DoNotPay Has Your Back Every Step of Your Customer Journey
Helping you apply for a late, damaged, or missed delivery refund is only a fragment of what we can do for you. If you aren't satisfied with the service you've received or an item you've purchased, all you need to do is fire up your DoNotPay app.
We can bypass any company's customer service, draft a refund demand letter, or initiate a chargeback process in your stead. Our app can also digest the company's return policy and help you send the faulty product back. You won't have to lift a finger as our app does everything automatically after you answer several essential questions related to your purchase. If you decide to mail a letter to the company yourself, we'll tell you how you need to draft it to get exactly what you need.
It doesn't matter whether you bought a package for an incarcerated loved one, expected an insured mail delivery, or made a purchase to redeem a gift card but still have a few bucks left on it—we'll help you make the most of the situation. Our app can get your gift card cash back, file an insurance claim, and connect you with the loved one in jail.
How Far Do DoNotPay's Services Go?
Our app can prove handy in a variety of other situations, such as:
Visit our learning center for a full range of our services.