Your Package Is Missing? File a UPS Lost Package Claim and Request a Refund Effortlessly!
If you are worried that UPS lost your package and you wasted money, we're here to help! With our assistance, you'll be able to file a complaint and request a refund in a jiffy.
for the easiest way to file a complaint from the comfort of your home!
Can I Track My Missing Package With UPS?
Are you wondering where your package is? Since you're looking for a way to track your delivery, you should know there is more than one way to track a missing package with UPS. These are the available options:
Tracking Method
How It Works
Tracking by reference number
If you have a reference number, you can use it to track the missing parcel. If you don't have the number, you need to get in touch with the shipper and ask for it. Once you get the reference number, follow the next steps:

Visit the UPS website
Select Track by Reference Number
Provide the required shipment info

Tracking through UPS My Choice
Customers who have or want to sign up for UPS My Choice can track the packages without the reference number. You should:

Sign in/up
Use the Follow My Delivery live map to see the location of select packages

The package icon will update every few minutes as the package moves towards its destination

Tracking with a UPS InfoNotice
You will get a UPS InfoNotice to track your package if the driver can't deliver the shipment to your address. Here's how to track your missing package with UPS InfoNotice:

Go to the UPS website
Type in the 12-digit number from the UPS InfoNotice

If you are not available on the day designated for delivery, you should request another delivery date
Can I Get a Refund for My UPS Missing Packages?
You can request a refund if UPS doesn't attempt to deliver your package by the guaranteed time and date. You can choose any of the following options to request your refund:
Call UPS customer support at 1-800-742-5877 and request a refund
Log in to UPS Billing Center and choose the Request a Refund option
Use DoNotPay to request your refund in a few clicks
Keep in mind that only the customers with payment accounts have access to the UPS Billing Center. You also have to be careful to submit your request within 15 days of the guaranteed delivery date.
If you want to handle this task easily and save a pretty penny, DoNotPay is your safest bet.
How Can I File a UPS Lost Package Claim by Myself?
You can file a claim if your UPS package has been lost or damaged. Filing claims on your own takes a lot of time and effort, especially if you aren't sure where to begin and what documentation you need to provide.
If you insist on filing a claim by yourself, we'll show you how to do it via the UPS website but also offer you a super-easy way of doing it with DoNotPay's help.
Here's how to file a missing package claim using the official website:
Go to the UPS website
Sign in to your account (if you don't have one, you need to create it)
Type in the required info (tracking number, status, etc.)
Choose Lost Package as the problem you're reporting
Click on Next
Provide all documentation and evidence you have to support your claim
Hit Submit
If you find this procedure tedious and time-consuming, let us present you with a simpler way to file your claim.
File Your Lost UPS Package Claim With DoNotPay in a Few Steps!
Why bother with filing a missing package claim all by yourself when you can have DoNotPay cut your work in half? We developed a feature that helps you file a complaint and request a refund in a few clicks! You don't have to bother with reaching UPS customer service or negotiating refunds on your own. All you need to do is and complete the following instructions to get started:
Select the Late Delivery Refund feature
Choose the courier and provide the required details (such as tracking number and expected delivery date)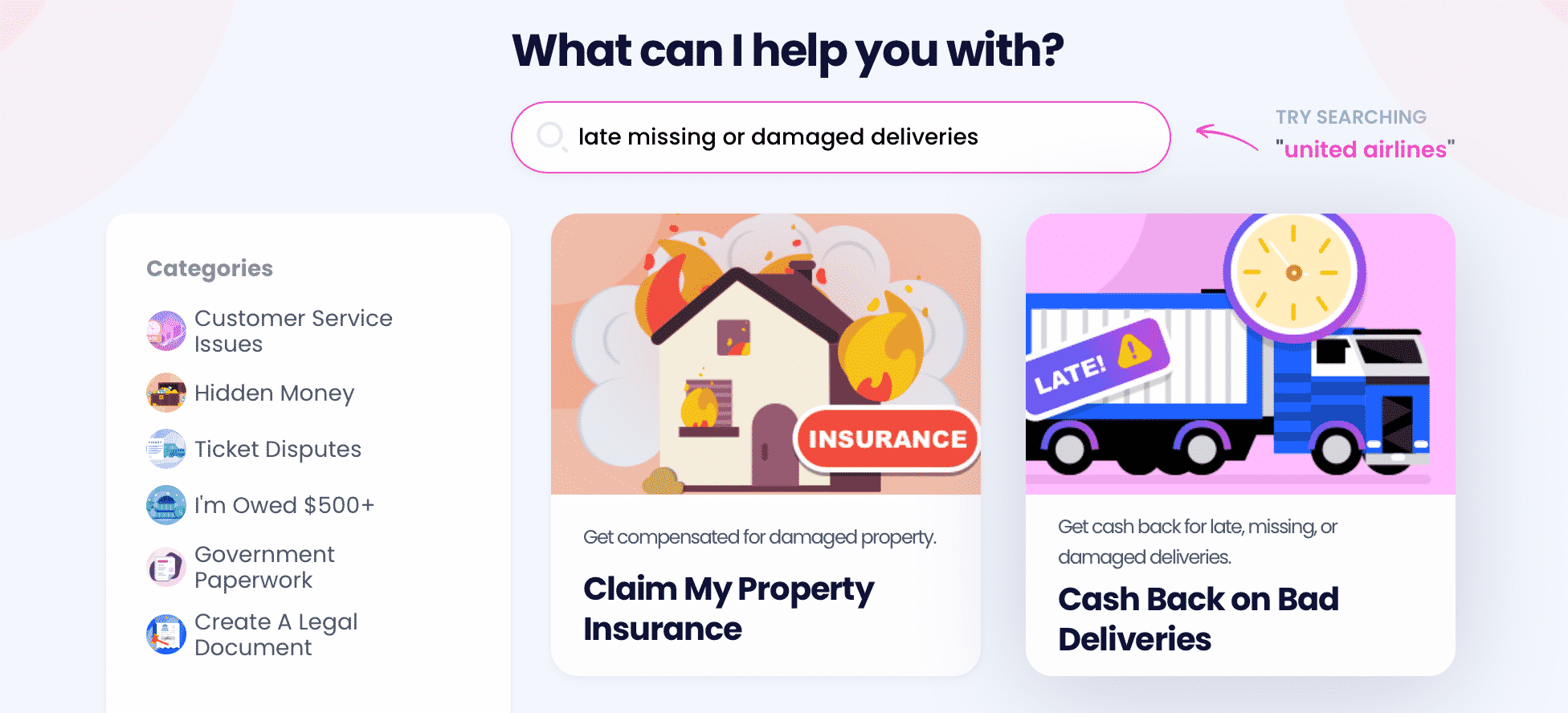 DoNotPay submits your claim quickly to the adequate department, and you can avoid the frustration of dealing with customer service on your own!
We can also help you learn how late UPS delivers packages, how to track USPS and FedEx lost packages, what happens if Amazon, USPS, or FedEx don't deliver packages on time, and much more.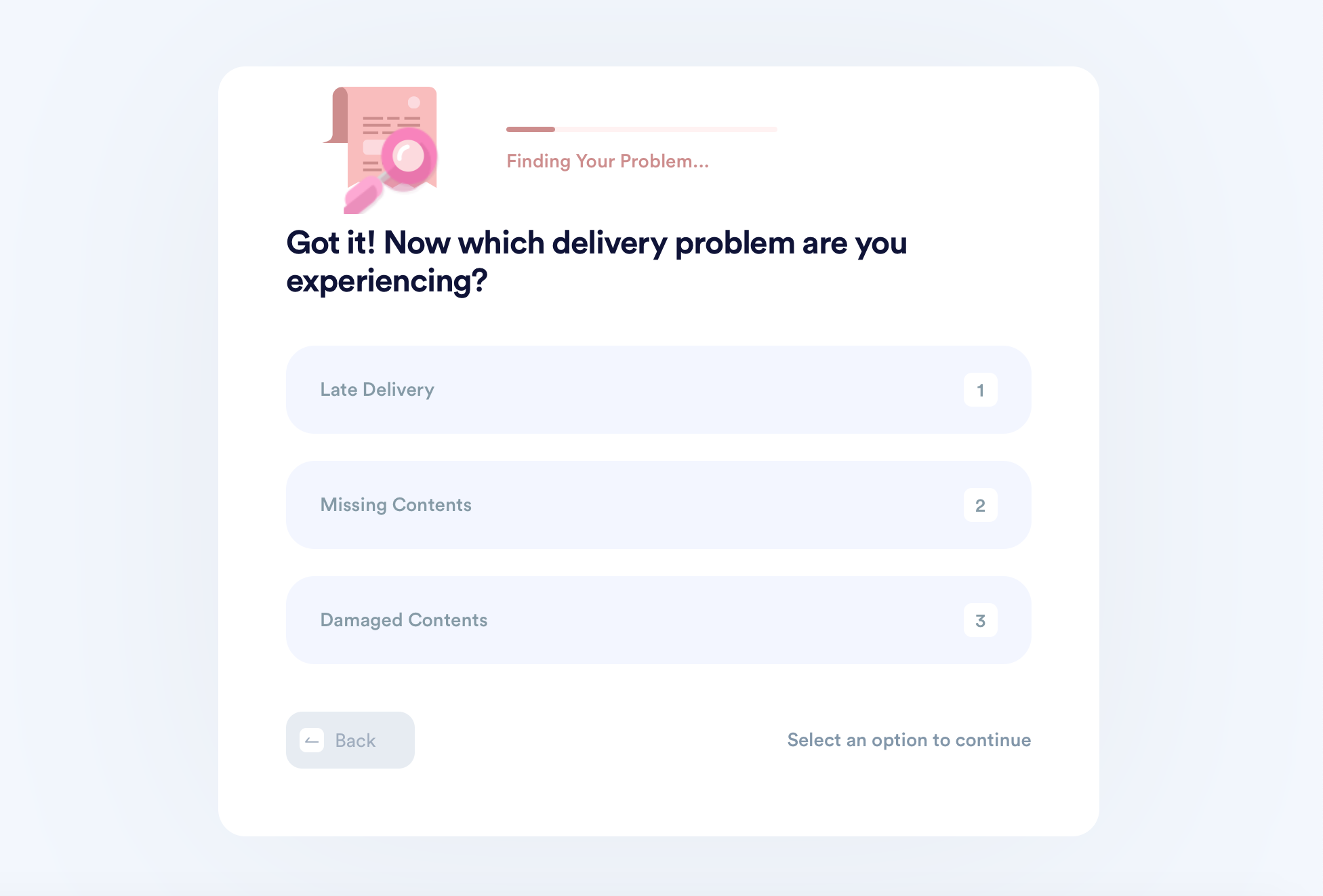 How Can I File a UPS Insurance Claim?
If you decide to file a UPS insurance claim, you should know there is more than one method you can choose to handle this task. File your insurance claim via:
Phone—Call 1-888-742-5877 and explain your request to the rep. Follow any further instructions they provide
UPS website—Visit the website and type in the required information to file your claim. After you provide the information, submit your claim
DoNotPay—Subscribe to DoNotPay and file your UPS insurance claim by following our quick guide. The process is straightforward and takes only a few minutes
DoNotPay Has Your Back Every Step of Your Customer Journey
Helping you apply for a late, damaged, or missed delivery refund is only a fragment of what we can do for you. If you aren't satisfied with the service you've received or an item you've purchased, all you need to do is fire up your DoNotPay app.
We can bypass any company's customer service, draft a refund demand letter, or initiate a chargeback process in your stead. Our app can also digest the company's return policy and help you send the faulty product back. You won't have to lift a finger as our app does everything automatically after you answer several essential questions related to your purchase. If you decide to mail a letter to the company yourself, we'll tell you how you need to draft it to get exactly what you need.
It doesn't matter whether you bought a package for an incarcerated loved one, expected an insured mail delivery, or made a purchase to redeem a gift card but still have a few bucks left on it—we'll help you make the most of the situation. Our app can get your gift card cash back, file an insurance claim, and connect you with the loved one in jail.
How Far Do DoNotPay's Services Go?
Our app can prove handy in a variety of other situations, such as:
Reducing your property taxes

Writing legal documents and contracts
Visit our learning center for a full range of our services.