How Late Does FedEx Deliver Packages? Find Out With DoNotPay!
Staying up late to receive a FedEx package that never arrives is frustrating. If you believe FedEx delayed your shipment because of negligence, you can report it and get your money back. That process can be tricky, but thankfully, you have DoNotPay by your side.
How late does FedEx deliver packages anyway? We'll help you learn everything about it, including how you can get your money back with little to no effort.
What Time Do FedEx Packages Usually Arrive?
FedEx has specific delivery times for different services:
| | | |
| --- | --- | --- |
| Service | Delivery Days | Delivery Time |
| FedEx Home Delivery | Seven days a week | 9 a.m. to 8 p.m. |
| FedEx SameDay City Direct and Priority | Seven days a week | 24 hours a day |
| FedEx SameDay City Standard and Economy | Monday to Saturday | 7 a.m. to 8 p.m. |
| FedEx Standard Overnight | Monday to Friday | By 4.30 p.m. to U.S. businesses and by 8 p.m. to residences |
| FedEx Priority Overnight | Monday to Friday | By 9 a.m. or 10.30 a.m. |
| FedEx First Overnight | Monday to Friday | By 8.00, 8.30, or 9 a.m. to most areas |
| FedEx 2Day shipping A.M. | Monday to Friday | By 10.30 a.m. |
| FedEx 2Day and FedEx Express Saver | Monday to Friday | By 4.30 p.m. to U.S. businesses and by 8 p.m. to residences |
FedEx extends its delivery hours during the holidays. From Thanksgiving to New Year's Eve, there's a demand increase, so packages can be delivered well after 8 p.m.
How To Track a FedEx Package
Is your FedEx package late, or do you think it's missing? Before you file a complaint, you should learn how to track your package to find out its status.
To track a FedEx shipment, you need to access the official website, go to the tracking page, and insert the following information:
You might get a message that says that your package is going to arrive by the end of the day. If your package doesn't arrive by that time, FedEx might reschedule the delivery and notify you via message.
What Causes Delays in FedEx Delivery?
Check out some of the reasons why your FedEx package may be late:
| | |
| --- | --- |
| Reason | Meaning |
| Recipient absence | If the recipient isn't there to collect the package, FedEx may leave a delivery attempt notice. With that notice in hand, you can request a new delivery |
| Poor weather | Weather events may keep FedEx employees from delivering a package on time. In a situation like that, FedEx prioritizes the safety of its employees |
| High shipping demand | Peak seasons—such as the holidays—can result in high shipping demand. This puts the delivery system under pressure |
| Misdirections | Misdirections can occur when the address on the package isn't clear enough |
| Port and airport congestion | Backlogs at ports or airports can cause delays. These can be exacerbated by custom issues caused by irregularities with the package. You should take these into account before filing a delivery complaint |
How Can You Report a Problem With Your Delivery?
If your package is late, you can lodge a complaint on your own by:
Sending a text to 29372 and waiting for an agent call you back
Calling 1.800.Go.FedEx (1.800.463.3339) and following the voice prompts
Can You Get a Refund if Your FedEx Package Is Late?
If you are looking for a refund for a late package, FedEx offers the following customer service guarantees and rebates:
Service
Delivery Type
Refund Type
FedEx Express U.S.
Standard deliveries inside the U.S.
You can get a full refund for any delay over 60 seconds after the scheduled time. This excludes customs delays for international deliveries
FedEx Express International
Airport-to-airport abroad deliveries
FedEx Ground
Low-cost deliveries made by truck
You can request a refund if the package doesn't arrive on the scheduled delivery day
FedEx Freight
Delivers shipments over 150 lbs
A no-fee money-back guarantee is included in the service
What Should You Do if Your Package Is Lost?
Are you wondering what to do when your package doesn't arrive? Keep in mind that you:
May be experiencing an unforeseen and unavoidable delay
Should keep tracking the shipment on the FedEx website
Can only bank on it being lost after a delay of five days beyond the due delivery date
If you still haven't gotten the package, but its tracking status says that it arrived, you should file a complaint. FedEx will try to locate your lost package or replace it. You may even be able to file an insurance claim with the company if your package is damaged.
DoNotPay can help you get the fastest service, though—we can assist you in filing a delivery complaint and requesting a refund for your bad delivery from FedEx!
File a Complaint and Get a Refund for Your Late FedEx Delivery in a Snap With DoNotPay!

For a company that's proud of its agility, FedEx offers a long and tiring refund process. Instead of spending hours trying to get a refund for your delayed package, you can leave it in the hands of DoNotPay. Our robot lawyer can save you time and file your delivery complaint and refund request with just a few clicks.
To initiate a refund request, you just need to:
Find the Late Delivery Refund product
Select FedEx
Provide some details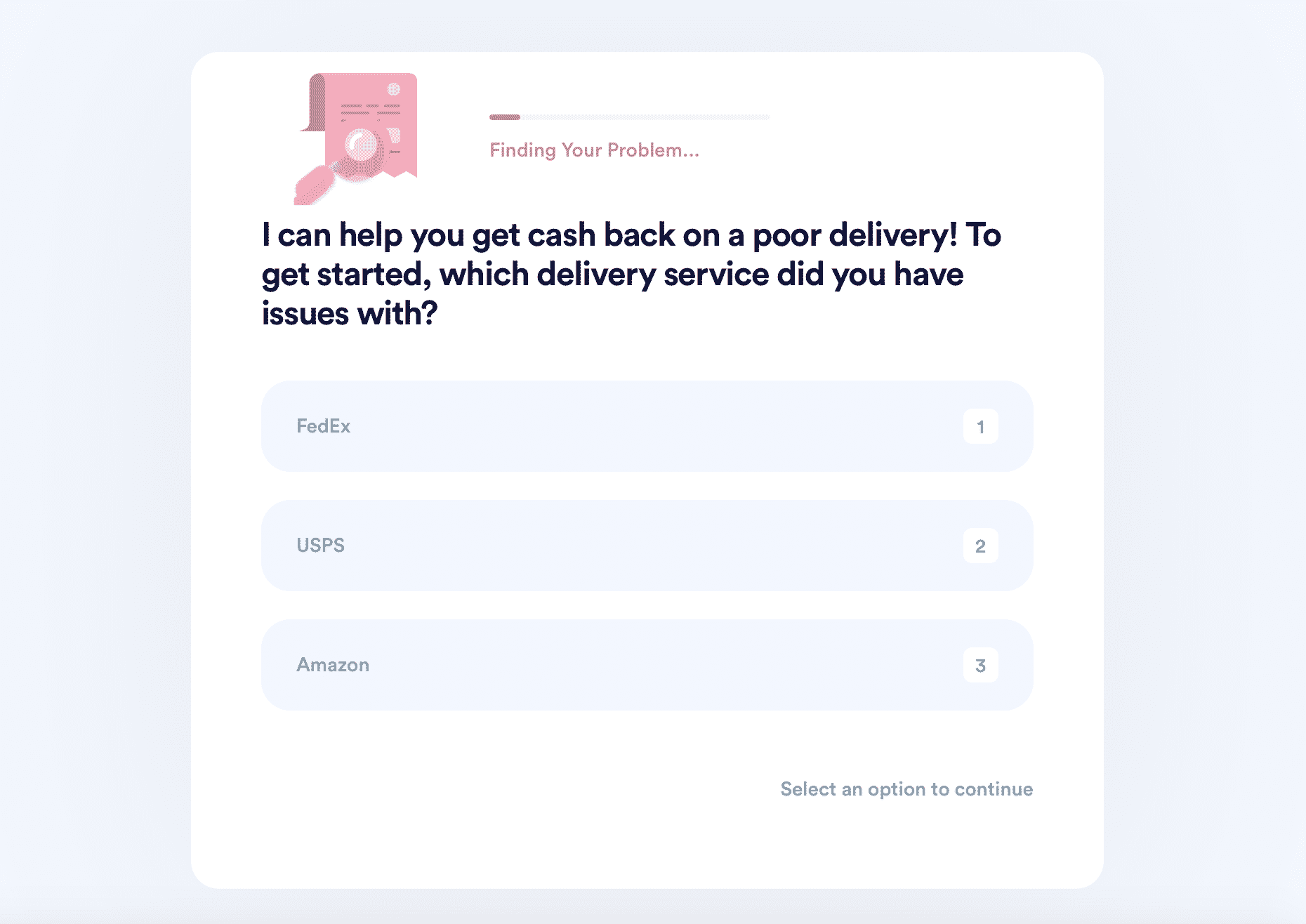 You won't have to negotiate anything or wait in lines. Our app will submit a complaint and compensation claim to FedEx's claims department.
That's not all! DoNotPay can also help you deal with:
UPS, Amazon, or USPS late delivery
DoNotPay Helps You Deal With Various Problems Worry-Free
DoNotPay has developed a wide variety of products you can use to manage numerous tasks.
Do you want to get a refund from a company? Are you wondering whether you can request compensation from airlines for poor Wi-Fi or canceled flights? Is hiring a lawyer to draw up legal documents too expensive for you? Sign up for DoNotPay and solve your issues in a matter of minutes!
Use our AI-powered app to get rid of robocalls, spam emails, and text messages.
Need help locating and canceling all your unused memberships? DoNotPay has a product for that too!
Prepare for your driving test using our Government Tests Prep feature and schedule a meeting with the DMV to take the test through the same app. We can even help you claim your car insurance or warranty and contest parking tickets in a flash!
Learn How To Protect Your Privacy With DoNotPay
Protecting your personal info online can be challenging but not impossible. The next time you come across a service that requires phone verification, make sure to use our Burner Phone product and have us generate a fake phone number you can use.
Our virtual credit card can help you sign up for free trials without having to disclose your name, email address, or credit card info.
Are you thinking about connecting with an inmate pen pal? Make sure to keep your real address a secret by relying on DoNotPay. Besides helping you send letters to inmates, we can also receive mail from the prison on your behalf, scan each letter, and send it to your email address.