Learn How To Get a Refund for Amazon Damaged Items!
Getting a package with a damaged item can be stressful, especially if you're not sure whether you have the right to request a refund. In this guide, you'll find out what you can do if Amazon damages your items in transportation.
DoNotPay can help you report the issue to Amazon, ask for a refund, and send a return item request in a few clicks!
Does Amazon Offer Refunds for Damaged Items?
Amazon grants refunds for items sold by them directly. Did you purchase an item from a third-party seller? You have to get in touch with that merchant regarding the refund unless you purchased the A-to-z Guarantee, in which case you can send your refund request to Amazon.
In most cases, you have to return the item in question to be eligible for a refund. Amazon needs to inspect the product to ensure the damage is their fault. Sometimes, Amazon decides that returning the item isn't necessary, especially if its price is lower than shipping expenses.
Amazon offers different refund methods, and you can select your preferred one on the Returns Center page. Once Amazon approves your refund request, you'll have to wait a couple of hours or a few business days to receive the money.
Check out the following table to see the estimated refund time depending on the method you choose:
| | |
| --- | --- |
| Refund Method | Estimated Refund Time |
| Shop with Reward Points | Five business days |
| Prepaid credit card | 30 days |
| Gift Card balance | Three hours |
| SNAP EBT card | Ten business days |
| Checking account | Ten business days |
| Debit card | Ten business days |
| Amazon.com Gift Card | Three hours |
| Credit card | Five business days |
How To Request a Refund From Amazon
You request a refund from Amazon in a few ways:
How To Request an Amazon Refund Online
To send your refund request for a damaged Amazon item online, follow these steps:
Go to the Your Orders page
Select the order in question
Click on the Problem With Order option
Choose the issue from the list
Pick Request Refund
Describe the issue
Hit the Submit button
How To Contact Amazon Customer Support Regarding Your Refund
The easiest way to get in touch with the Amazon customer support service is by completing an online form:
Visit the Help & Customer Service page
Choose Returns & Refunds
Log in to your Amazon account if you haven't already
Follow further instructions
Customer care reps will receive your request via email and reach out to you a few days later.
DoNotPay Will Help You Get a Refund for Lost, Late, and Damaged Amazon Items in No Time!
If you need help filing an Amazon delivery complaint and requesting a refund, you should rely on DoNotPay! We have developed a handy product that enables you to report your issue to Amazon in a matter of minutes.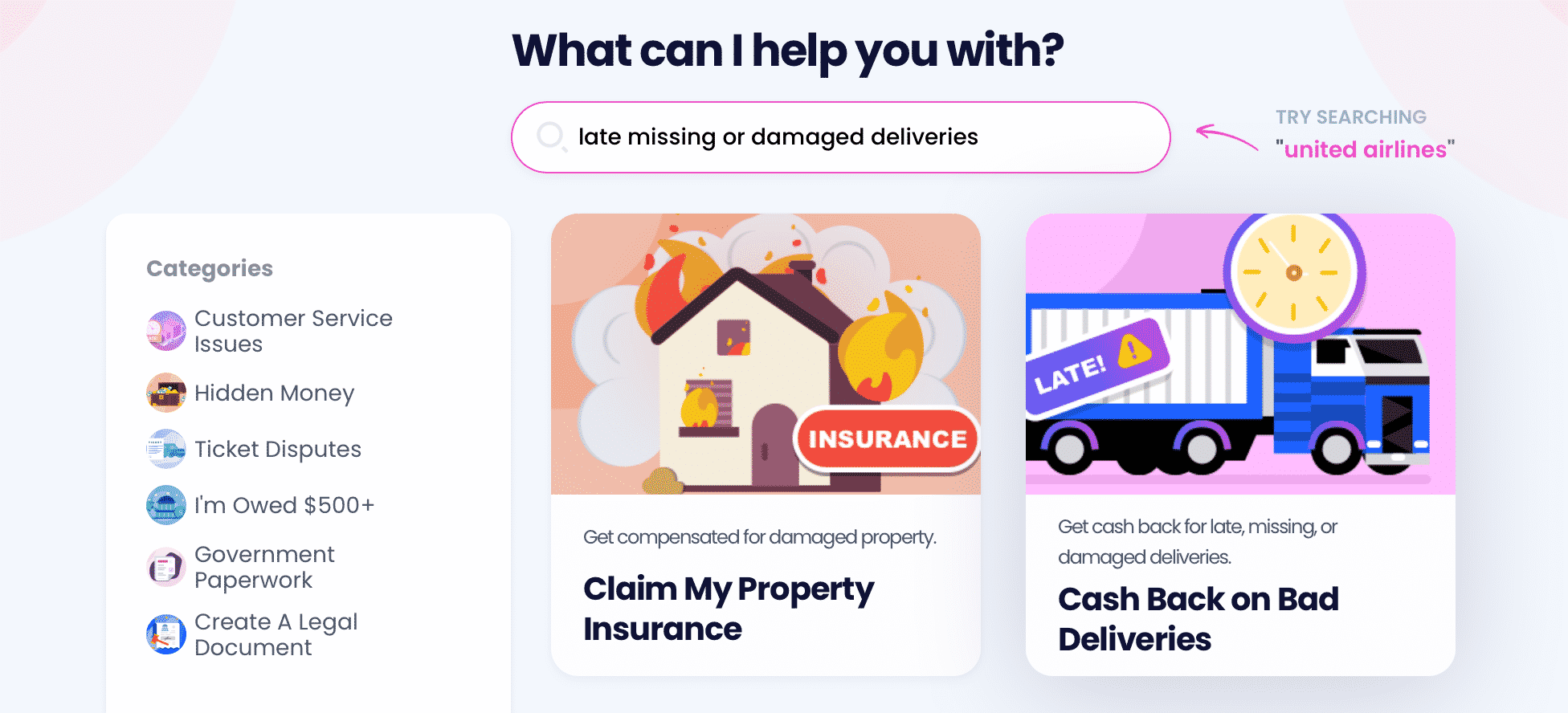 To use our product, subscribe to DoNotPay and complete the following instructions:
Type in Late, missing, or damaged deliveries in the search bar
Select Amazon from the list of couriers
Provide the required details about the shipment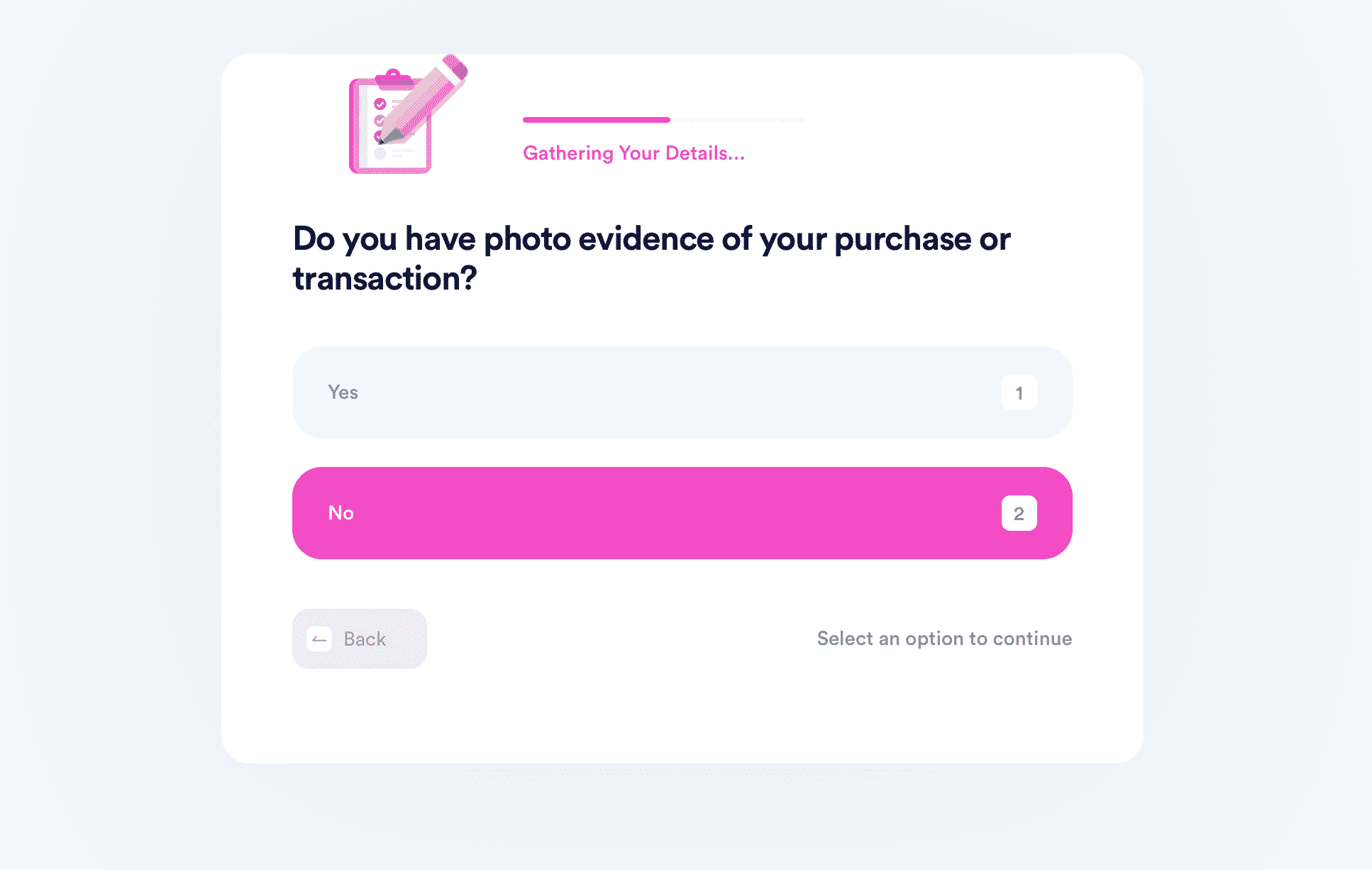 Deal with lost or damaged items and late Amazon deliveries without wasting hours completing online forms or talking to their customer support.
DoNotPay can help you resolve other delivery-related issues with zero effort. Once you subscribe to DoNotPay, you can learn what to do when your:
Return Your Package Quickly With DoNotPay!
Returning your item to Amazon is necessary to get a refund, but completing the entire returning process can be a daunting task. Thankfully, DoNotPay has another useful product that you can use to request an item return in under five minutes. Here's what you need to do:
Choose our Item Return Request feature
Respond to the purchase-related questions
Include a few photos of the item in question (if possible)
DoNotPay will create a return request letter and send it to Amazon. The letter will:
Describe the issue with your item
State whether you want a refund or a replacement
Can I Exchange a Damaged Amazon Item?
Whether your package arrives damaged or Amazon sends the wrong item, requesting a refund isn't your only option. You can also replace the product in question for free. To request an exchange, you must complete these steps:
Access your Amazon account
Visit the Your Orders page
Click on Return or Replace Items next to the product in question
Choose the reason for the exchange
The deadline for the exchange is up to 30 days from receiving the damaged or wrong item. Amazon will provide a return label so that you don't have to pay for shipping.
What Is an Amazon Damaged Item Sale?
Returned items that aren't too damaged usually end up in the Amazon Warehouse, and people can buy them for a much lower price.
Deal With Companies on Your Terms Using DoNotPay
Claiming late, missed, and damaged item delivery refunds is only one in a sea of services you can get with our app. We can show you how you can:
As if that were not enough, we can also unsubscribe you from a company's email list, stop any annoying robocalls or robo texts they are bothering you with, and cancel any service or free trial you're unhappy with or are no longer using. Our Free Trial Card and Burner Phone products can help you try out any service without being spammed or auto-charged later on.
What Other Services Can DoNotPay Extend?
DoNotPay is invaluable when dealing with companies and their confusing policies, but we can also help you bypass tedious government procedures. If you use our app, you'll have no trouble filing FOIA requests, passing government exams, reducing property taxes, as well as drafting legal documents and getting them notarized in a single app!
To top it off, we'll also help you claim lost assets, delay bills, locate an inmate, report stalking and harassment, or take anyone to small claims court in any U.S. state.