How Late Does UPS Deliver Packages? Get Your Answer Right Away!
You might get lots of packages via UPS regardless of whether you do some online shopping, receive business material, or gifts from your family members and friends. We all love getting those parcels (maybe not so much the business ones)!
If you have experienced some UPS delivery delays recently and are wondering, "how late does UPS deliver packages," you are in the right place. While this article sheds light on this question, DoNotPay presents a smooth and quick tool to file a claim to any carrier.
How Late Does UPS Deliver Packages?
If you would like to make sure you do not miss the delivery of the parcel you are expecting, you should know that UPS usually delivers packages between 9 A.M. and 7 P.M. for both residential and commercial locations. This does not include weekends and holidays.
However, these hours are not set in stone, and UPS couriers cannot guarantee a specific delivery time. Different time windows might apply in the case of:
Unforeseen events

A time-definite air delivery
UPS Late Delivery Time
UPS drivers can deliver your package by 9 P.M. on business days or even later during the holiday season. To know the precise day you can expect a UPS delivery, look for the status of your shipment indicating Out for Delivery.
Should you miss it on that date, be aware the courier will try to deliver the parcel again on the following business day.
Ensure Your Shipment Gets Delivered
To make sure that you receive a UPS package, you should do the following:
Steps To Take
Further Explanation

Provide the correct address

If you fail to provide the correct or complete address, a UPS driver will not be able to deliver the package. Make sure to:

Provide any additional details regarding your location to prevent possible delivery problems

Check the address before ordering anything as some people, for instance, place their former address by accident

Keep track of your shipment

The easiest way for you to organize a family member, roommate, or neighbor to receive your UPS parcel is to inform them of the expected delivery date. You should find this date in your shipment status

Provide the required signature

Keep in mind that some packages need to be signed upon delivery. If that is the case with yours, you should:

Be present on the delivery date

Inform UPS if you would like a neighbor to sign and receive the parcel for you (if no one will be at your home)

(Re)Act accordingly

A UPS courier will try delivering a package three times. If you get information that the delivery has failed once, make sure it does not happen again, i.e., on the following two business days
Keep in mind that if no one is at home and you have not instructed UPS to deliver the package to a neighbor's place, a driver can leave it somewhere safe, including your:
Side door

Garage area

Front or back porch
You should look for a parcel in these places before filing a claim for a lost package.
How To File a Claim if a UPS Delivery Is Late or Missing
If you are not sure where your UPS package is, here is what you can do:
Determine the UPS package status

File a claim by yourself

handle your claim automatically
Verify the UPS Package Status
If your UPS package was due for delivery, but you have not received it yet, you should first confirm its status. Here is how you can do that:
Visit the

UPS Tracking

page

Type in the tracking number

Hit the

Track

button

Put your cursor on the shipment status

Go to the

Tracking Detail

page to get information such as the:

Scheduled delivery date

Last location of the package

Open the

Additional Information

section to access the specifics of the:

Delivery location

Weight and number of packages
If the status indicates a UPS package has been delivered, but you have not got it, you should file a claim.
File a UPS Claim on Your Own
You can file a claim in the following cases:
Your UPS package has been:

You have not received a collect on delivery payment
Here is what you will need to do if you decide to submit a claim alone:
Go to the

Login

page

Enter your credentials

Click on the

Log In

button

Provide the package details

Select your role, e.g., sender, receiver, or a third party

Enter the information about the package

Provide any supporting documentation, e.g., photos of a damaged package
It can take ten days or longer for your claim to be processed, and you can track the claim status in your UPS account.
Keep in mind that you can request a refund for a UPS package that has not been delivered on time.
DoNotPay Files Your UPS Claim in a Flash!
Would you like to skip all the above-listed steps and save your time and energy? DoNotPay can help you with that!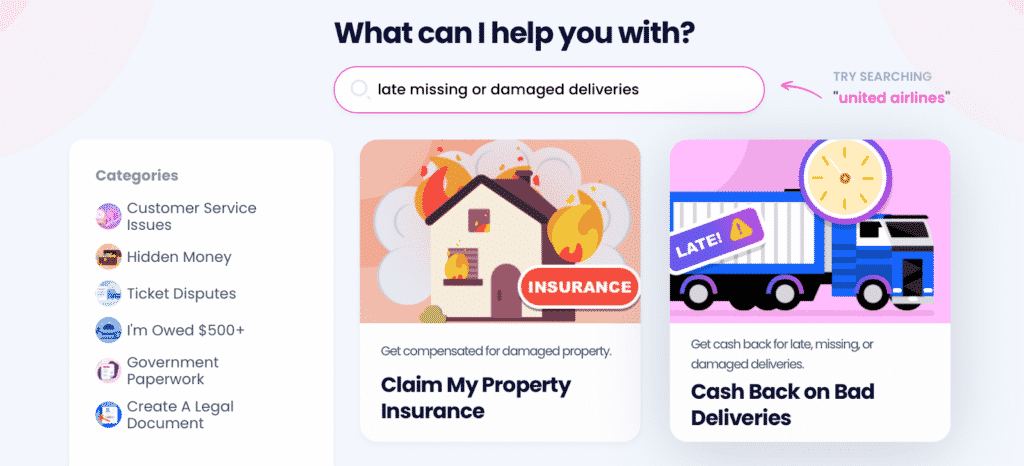 and let us handle your package problems efficiently. You only need to take these short steps:
Choose the

Late Delivery Refund

product

Select UPS

Enter the necessary details about your shipment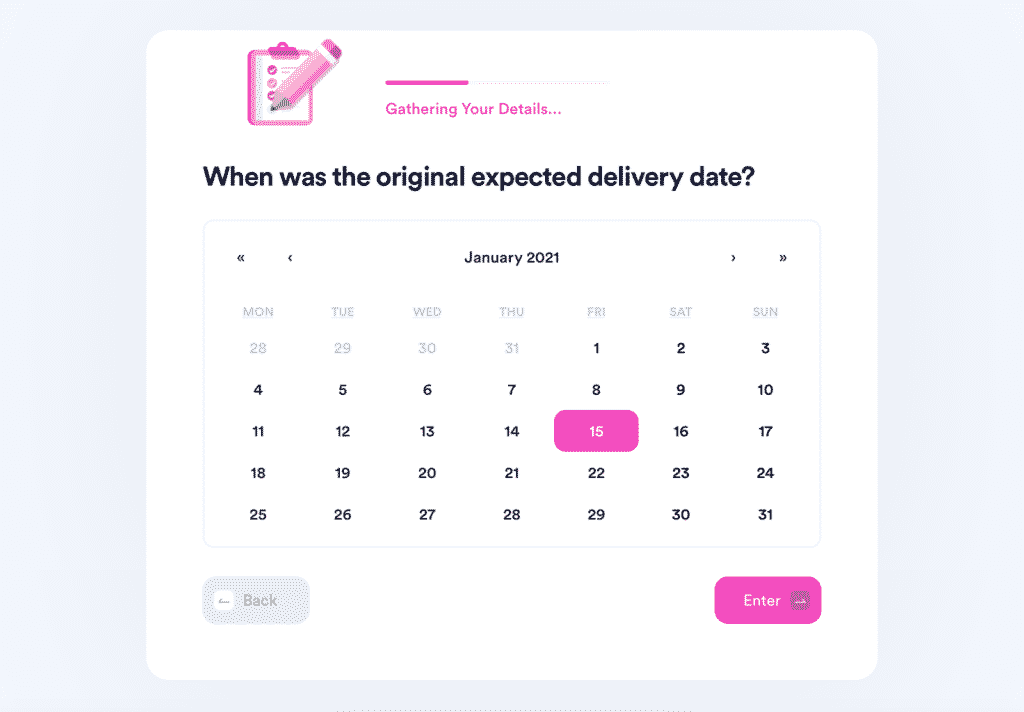 Our app will complete and file your UPS claim in a matter of minutes!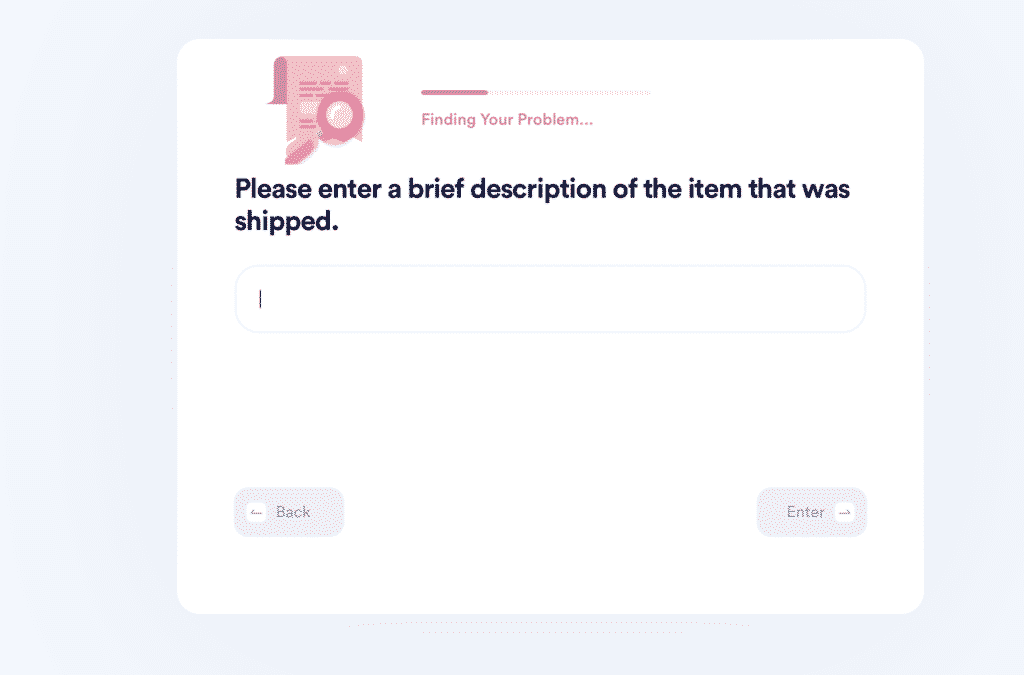 Not only can DoNotPay help you deal with UPS delivery issues, but we can also assist you with numerous other carriers. Here are some useful guides you might want to consult:
Find Hidden Money With DoNotPay Effortlessly
Our app can do more than request delivery refunds for you. We can help you identify all your hidden expenses and save your money for more relevant matters. If you use DoNotPay, you can:
Earn Some Extra Cash With DoNotPay's Help
Not only can we eliminate all hidden expenses you have, but we can help you put more money in your pocket! We don't let you forget the smaller but meaningful gains you can make from gift card cash backs, raffle ticket wins, or warranty claims. Our nifty app can also assist you in getting some serious cash by way of chargebacks, insurance claims, airline compensation, college fee waivers, paid clinical trials, or crime victims compensation. We can also show you how to sue any company or individual for compensation in small claims court.