Is an Amazon Late Delivery Making You Nervous? Let DoNotPay Handle It for You!
Are you wondering what you could do in case of an Amazon late delivery? Who to turn to? How many steps do you need to complete, and how long will it take until you receive your order?
While Amazon keeps improving its services, it can still happen that you receive a product you have not ordered, or your shipping is delayed. DoNotPay is here to help you deal with your delivery issues effortlessly.
What Can Be a Reason for an Amazon Late Delivery?
If you have been waiting for your order from Amazon for quite some time, you should consider taking action. The first thing you need to do is to get familiar with the procedure and reasons for an Amazon delivery delay. This table lists some potential causes:
Reasons
Additional Information
The order has not been processed or shipped
Some situations might require longer processing times. A third-party seller's delivery times tend to be longer than when Amazon handles the delivery directly. If you are impatient, you could:

Check the estimated time of delivery under the price
Contact the seller to inquire about your shipment's status

The initial delivery attempt failed
You might want to contact the courier to make sure this does not happen again during the next delivery attempt
Amazon is prioritizing orders
This can happen because of some unforeseen events, including:

The COVID-19 pandemic
Natural disasters, such as hurricanes, tornados, or ice storms

These situations will lead to extended delivery times

The package status says "delivered," but you have not received it
If your shipment has been lost, you will need to wait for 48 hours after the expected delivery time to file a claim
How Can I Check Why My Amazon Package Is Late?
If you would like to find out where your Amazon package is, you should sign in to your Amazon account and take the following steps:
Choose Returns & Orders
Check the status of your latest order
Select Track package to get more details, in case the status says "delivered," but you have not got your shipment
Find the delivery address and tracking ID
Go to the shipping service website, such as USPS, FedEx, or UPS
Use the tracking ID to access details about the delivery issues
If, for instance, there was an unsuccessful delivery attempt, you should be able to see:
The date the delivery attempt failed
A short explanation of the failure
When Can You Get an Amazon Late Delivery Refund?
You can receive an Amazon late delivery refund if the delivery failed and your order has been returned to Amazon because of one of the following reasons:
Incorrect delivery address—If you have failed to provide the correct or complete address, your shipment will not be delivered
Problem with a P.O. box—Your P.O. box is not big enough to receive the ordered parcel
Inaccessible location—To avoid unsuccessful delivery attempts, make sure the courier can access your house or apartment easily
Signature not obtained—The shipment will be returned after three failed attempts if a delivery driver cannot secure a required signature for a package whose value is over $1,300
Refused delivery—If you have not notified your family members or roommates that you were expecting a parcel, they might refuse to accept the delivery
How To File an Amazon Late Delivery Complaint
You can consider the following options to file an Amazon (late) delivery complaint:
Contact the carrier
Get in touch with a third-party seller
Talk to the Amazon customer service
Access DoNotPay to complete the whole process in a flash
Get Ahold of the Carrier
Before you contact the relevant carrier, you should do the following:
Check your mailbox or P.O. box
Confirm the provided delivery address in the Your Orders section of your Amazon account
Look for information on:

Attempted delivery
Delivery location
Whether someone else received the package for you

Wait for 48 hours of the estimated delivery time
If you cannot find the package, you should contact the carrier's customer service to receive further instructions. Before doing that, you might want to get familiar with how some of these carriers operate. You can learn:
Contact the Third-Party Seller
If a third-party seller sold and shipped your order, you need to contact them directly. Here is what you can do:
Access Your Orders in your Amazon account
Select your order from the list
Choose Problem with order
Select your topic from the provided list
Opt for Contact seller
Keep in mind that you might need to wait for a reply from the seller for a couple of days.
When Should You Get in Touch With the Amazon Customer Service?
You could contact the Amazon customer service via your online Amazon account in the following situations:
The seller's listing is eligible for Amazon Prime
Your order has been shipped via Amazon Logistics
DoNotPay Can Help You Solve Your Amazon Late Delivery Problem Efficiently
Choose DoNotPay if you would like to skip:
Looking for information and contact details
Talking to customer service over and over again
Waiting for a reply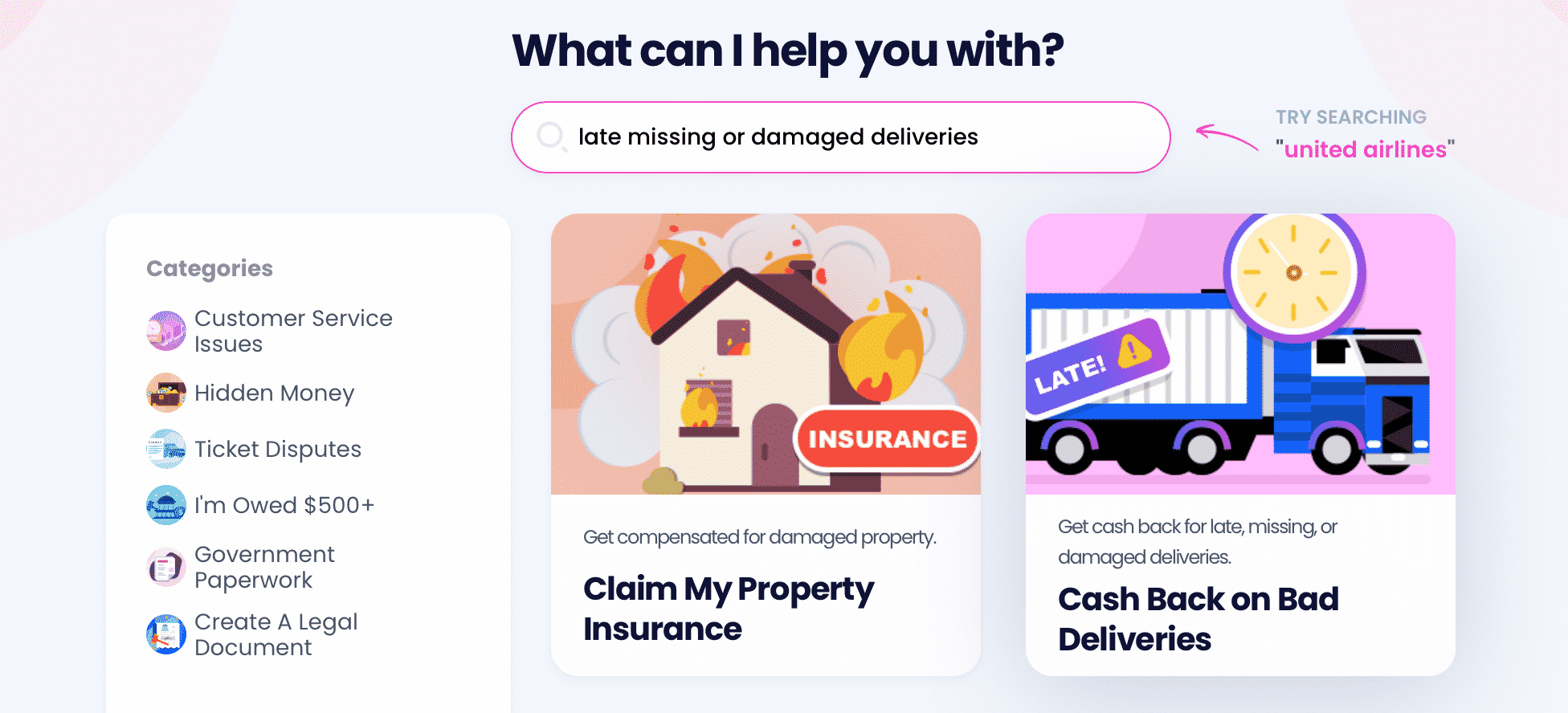 Sign up for DoNotPay and follow these steps:
Select our Late Delivery Refund feature
Choose the courier
Provide relevant information about your shipment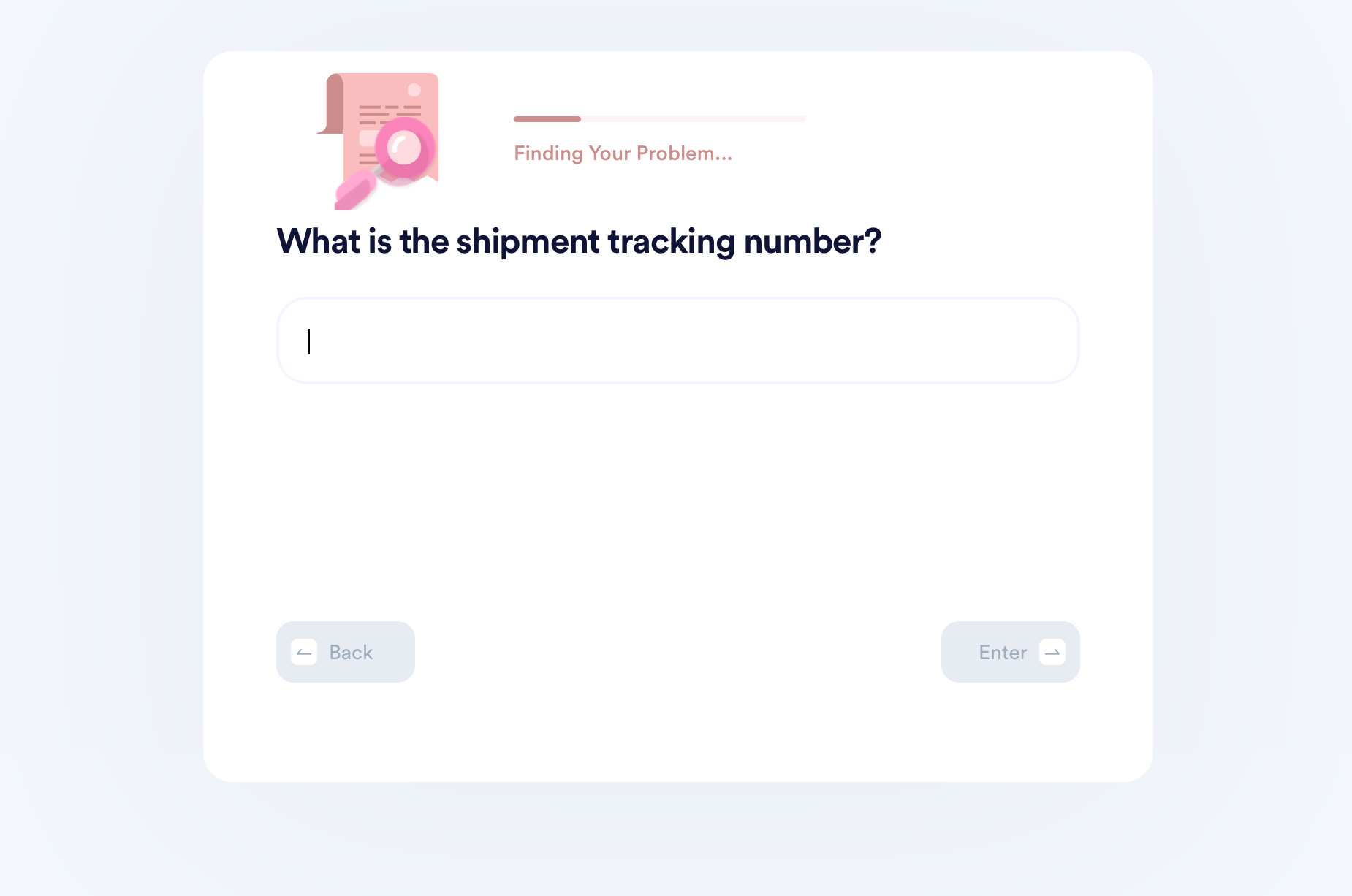 DoNotPay will automatically file an Amazon late delivery claim and request a refund on your behalf.
Deal With Companies on Your Terms Using DoNotPay
Claiming late, missed, and damaged item delivery refunds is only one in a sea of services you can get with our app. We can show you how you can:
As if that were not enough, we can also unsubscribe you from a company's email list, stop any annoying robocalls or robo texts they are bothering you with, and cancel any service or free trial you're unhappy with or are no longer using. Our Free Trial Card and Burner Phone products can help you try out any service without being spammed or auto-charged later on.
What Other Services Can DoNotPay Extend?
DoNotPay is invaluable when dealing with companies and their confusing policies, but we can also help you bypass tedious government procedures. If you use our app, you'll have no trouble filing FOIA requests, passing government exams, reducing property taxes, as well as drafting legal documents and getting them notarized in a single app!
To top it off, we'll also help you claim lost assets, delay bills, locate an inmate, report stalking and harassment, or take anyone to small claims court in any U.S. state.