UPS Wrong Delivery Refund Made Easy With DoNotPay
There's nothing worse than patiently waiting for a UPS delivery only to receive the wrong package. Contacting the courier, reporting a problem, or requesting a refund are tedious processes that will only waste your time.
We have developed a solution that will turn the process into a piece of cake! With DoNotPay, you'll be able to get a UPS wrong delivery refund and get your money back swiftly. Subscribing to our app can also help you with other shipping services, including USPS, FedEx, and Amazon!
What To Do in Case UPS Misdelivered a Package
If you received the wrong package from UPS, it means that you'll have to get in touch with UPS customer service by dialing 1-800-PICK-UPS® and explaining your problem. After telling them you got someone else's package, they will send a driver to pick it up from you.
In case you still haven't received the package, then it's time to take the next step.
How To Check if Your Package Was Delivered to the Wrong Address by UPS
Tracking your UPS package will let you know whether it's still underway or got dropped off at the wrong address. Here's how you can locate your UPS package:
Go to the UPS Tracking page
Enter your package tracking number
Hit the Track button
How To Track Your UPS Package Without Using a Tracking Number
If you've lost your tracking number, fret not because there are ways to locate your package without it:
Reference number—when you place an order, you'll be offered to assign a reference number to it. The number can either be a description of the product or its order number. You can then use the reference number to find your package by following the next steps:

Go to the Tracking page
Locate and click on Track by Reference Number
Choose shipment type
Enter the shipment reference and shipper account
Fill out the dates needed
Input your ZIP code
Hit the Track button

UPS My Choice—if any changes occur to your delivery or it's sent to the wrong address, you'll be notified via email or text message if you're a UPS My Choice user. It will also enable you to choose where, when, and how your package will be delivered
UPS InfoNotice—you will receive a UPS InfoNotice in case your UPS delivery is delayed. You can then use it to track your package by following a few steps:

Go to the UPS tracking page
Enter the 12-digit number that you can find on the UPS InfoNotice
Request another delivery date
You Can't Track Your UPS Package—Now What?
In case you're unable to locate your shipment by following any of the abovementioned steps, you will have to either:
Call UPS or request a refund
Sign up for DoNotPay and use our Late Delivery Refund product to solve your issue in an instant
Before you decide to request a refund, you should:
Take a look around your property in case the courier dropped off the package somewhere you didn't expect them to
Check with your neighbors
See if the package was dropped off at the leasing office
Ask other residents of your house or apartment to see whether they've picked up your package
Search for anything that's wrapped in a plastic bag because the courier might have put your package in one
Can I Call UPS To See Where My Package Is?
You can call UPS to explain your problem or even ask for a refund if none of the above is working. Here's a table explaining all the necessary details:
| | |
| --- | --- |
| Submit a Problem | Get a Refund |
| Call 1-800-742-8577 (1-800-PICK-UPS®) and talk to UPS customer care | Phone 1-800-PICK-UPS® (1-800-742-5877) and say Refund |
| Email customer.service@ups.com and explain your problem to UPS customer service | Log in to your account on the UPS Billing Center page and select Request a Refund |
The easiest solution that'll require the least amount of time and effort is to and use our Late Delivery Refund product to submit a refund request in a flash.
Get a UPS Wrong Delivery Refund Swiftly With DoNotPay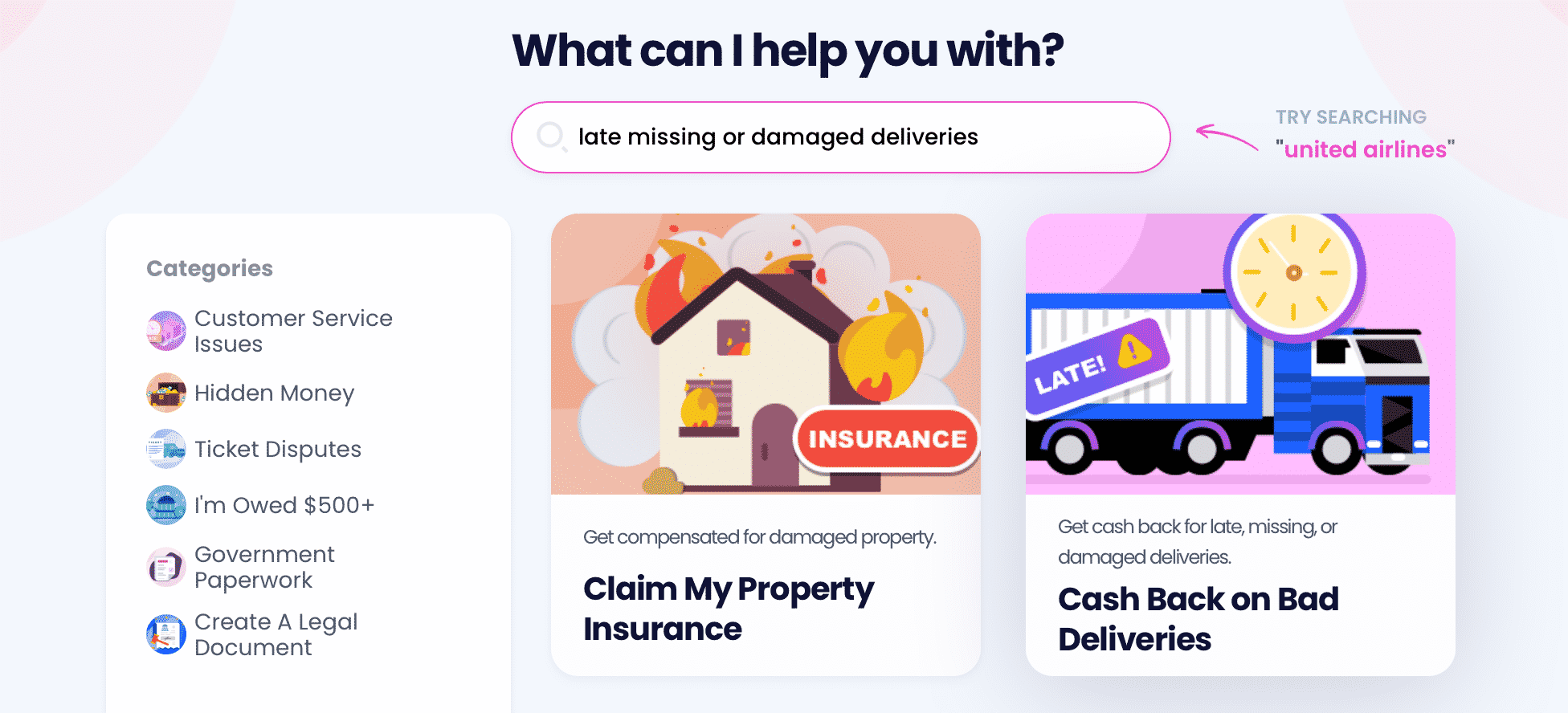 Talking to UPS customer service can be tiring. You should use DoNotPay instead! Our app will file a refund request for you and get you your money back in a matter of minutes.
Here's how it works:
Locate our Late Delivery Refund product
Answer a few questions about the delivery
Submit the request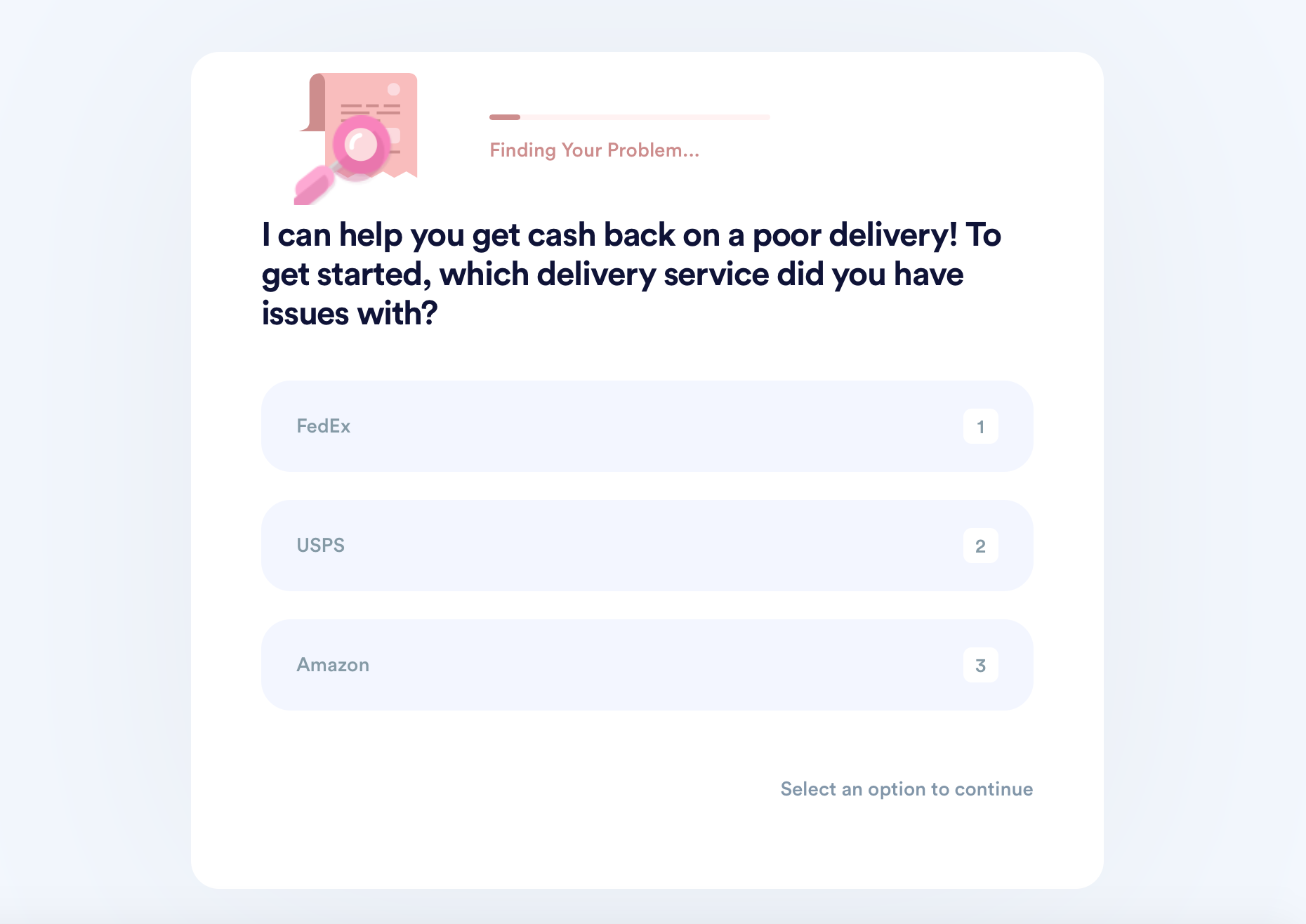 DoNotPay also provides you with various articles regarding delivery-related problems, such as:
Deal With Companies on Your Terms Using DoNotPay
Claiming late, missed, and damaged item delivery refunds is only one in a sea of services you can get with our app. We can show you how you can:
As if that were not enough, we can also unsubscribe you from a company's email list, stop any annoying robocalls or robo texts they are bothering you with, and cancel any service or free trial you're unhappy with or are no longer using. Our Free Trial Card and Burner Phone products can help you try out any service without being spammed or auto-charged later on.
What Other Services Can DoNotPay Extend?
DoNotPay is invaluable when dealing with companies and their confusing policies, but we can also help you bypass tedious government procedures. If you use our app, you'll have no trouble filing FOIA requests, passing government exams, reducing property taxes, as well as drafting legal documents and getting them notarized in a single app!
To top it off, we'll also help you claim lost assets, delay bills, locate an inmate, report stalking and harassment, or take anyone to small claims court in any U.S. state.