Hey UPS, Where Is My Package? Get the Info
Getting a package can be thrilling. Will the newly purchased item of clothing fit you? Can you wear it at that soon-coming event?
The experience can be tainted if the delivery is late or the parcel is missing. If you are asking, "UPS, where is my package?", this article can help you handle the problem speedily and efficiently. 
Where Is My Package, UPS? Has It Been Lost or Stolen?
Depending on whether your UPS package has been shipped within the USA or from an international destination, here is what you can expect in case your parcel is missing:
The U.S. shipping

—you need to wait for 24 hours before filing a lost package claim

International shipping

—you can expect to go through a more complex procedure if you have ordered goods from abroad. The best option is to contact the seller to start the claim as UPS can provide the refund to the seller and not you directly
While UPS will start investigating when you file a missing package claim, you should be aware that it is not easy to determine whether your package has been stolen or lost. 
Can You Track UPS Packages by Address?
Tracking UPS packages by address is available via:
You will have to register first to access all the necessary shipment information. While the former option is free of charge, the latter has both a free and paid (premium) version.
The free version of My Choice will let you track your packages even if you do not have a tracking number. The premium option offers additional features, such as to:
Sign for a package online

Change the:

Delivery date

Recipient's address

Keep your package for up to seven days while you are away
These extra features will cost you $40 per year. 
Where Is My UPS Package?
If your UPS package did not arrive on the expected delivery date, you need not despair. There are several options you could explore to remediate the problem. Here are some steps you can take:
Steps

Additional Info

Wait a little longer

A UPS courier might

bring the package later in the day

, so you should be patient

Determine your package status

Access the UPS online tracking tool

Provide the tracking number

Click on the

Track

button

Put your cursor on the shipment status

To get additional details, you should check out the Tracking Details and Additional Information sections 

Check whether the parcel is near you

If the status says the

package has been delivered but you do not have it

, you should:

Investigate the area near your home as UPS drivers might leave the package at a safe place, e.g., your porch, side or back doors, garage area, etc. 

Check the mailbox or P.O. box

Inquire at your neighbor's place—you might have forgotten that you provided the neighbor's address for delivery and signature

Contact the sender

If you cannot locate the package, you could contact the sender or seller to:

Initiate a UPS claim

Inform you about the progress

Is Amazon the place you have purchased your products from? If it is, you might want to get familiar with what happens when their package is late

File a UPS claim

You can submit a UPS claim:

By yourself—arm yourself with time and patience

Via DoNotPay—we can handle the whole process and help you

get a refund

smoothly
File a Claim
If you decide to start a claim for your missing or damaged UPS package by yourself, here are the steps you will have to take:
Open the

Login

page

Provide your information

Hit the

Log In

button

Enter package details

Choose who you are—sender, receiver, or a third party

Provide package information

Attach supporting documentation—while additional evidence is beneficial for all claims, you should make sure to include it, especially when a package has been damaged (take photos)
Filing a UPS claim can be time-consuming since, once you have completed all necessary steps, you will have to wait for ten or more days for UPS to process the claim and start the investigation procedure.
Is there an easier way to handle package delivery problems? Yes—sign up for DoNotPay, and let us deal with your claims effectively!
DoNotPay Is the Right Way To Handle Delivery Issues
You do not need to waste your time or wreck your nerves by completing the claim procedure, waiting for a reply, or getting ahold of the UPS customer service. 
DoNotPay has designed the Late Delivery Refund feature to help you deal with any package delivery problems you are facing conveniently.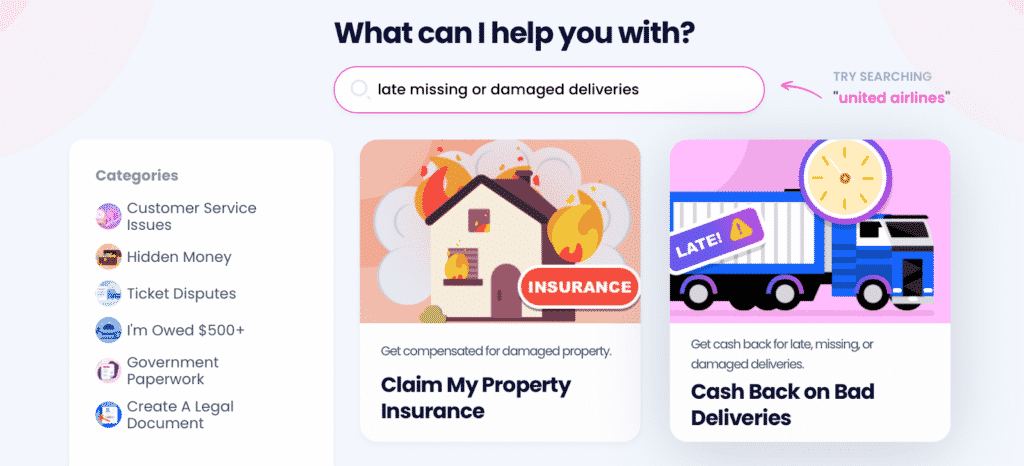 Our AI-powered app is the right choice to get it all sorted out automatically from the comfort of your home and in a flash!
Subscribe to DoNotPay and follow these easy steps:
Opt for our

Late Delivery Refund

product

Choose the courier, i.e., UPS 

Provide necessary details about the shipment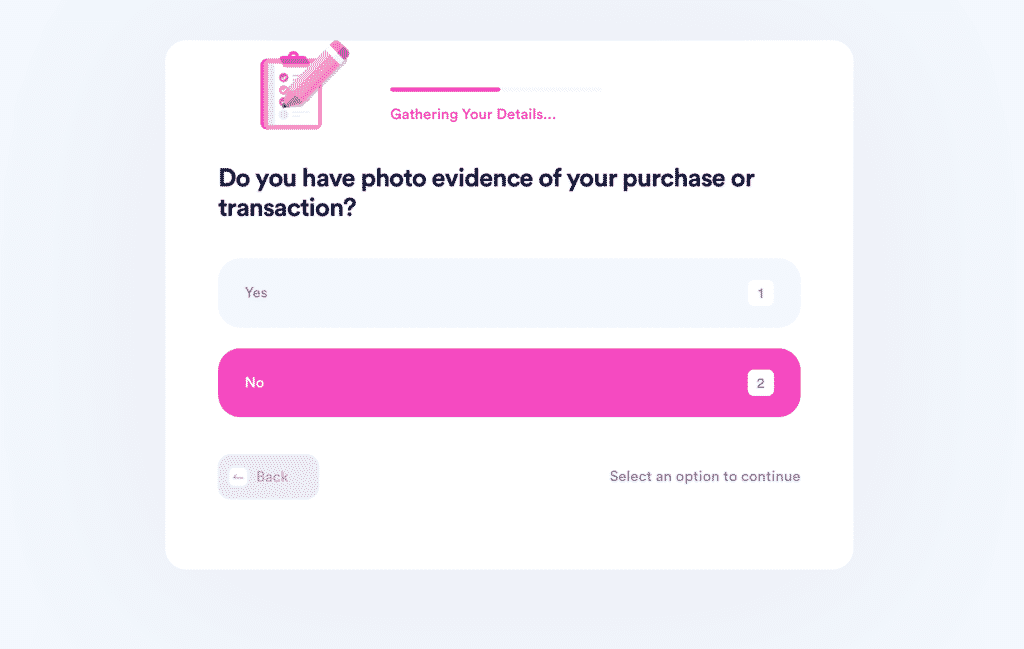 Once you have completed the above-listed steps, DoNotPay will file your claim to UPS automatically.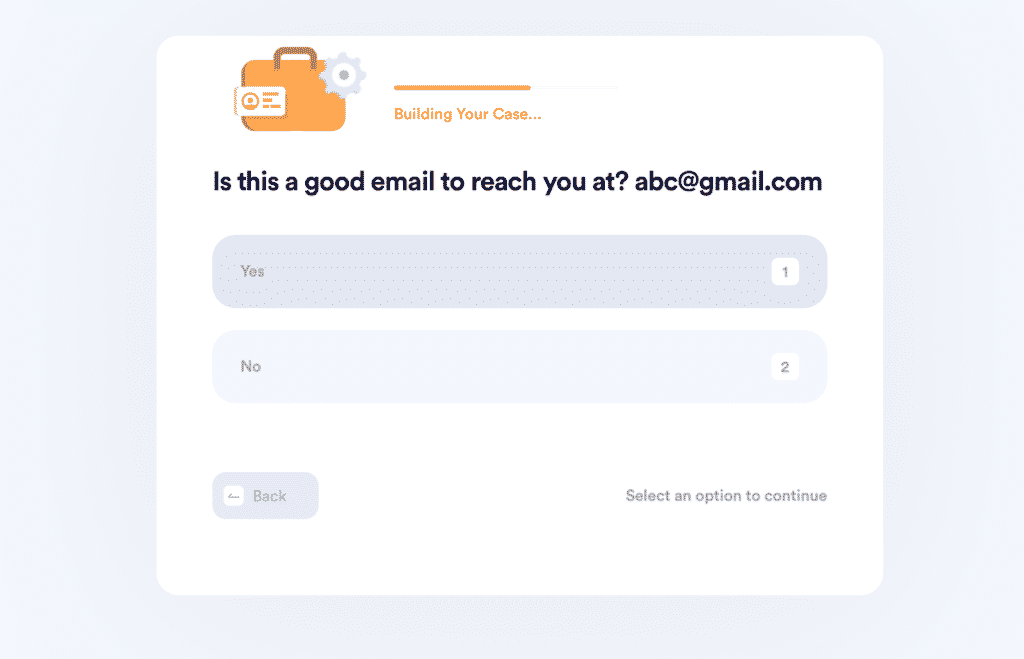 Our app can also help you deal with USPS and FedEx late deliveries. We provide information on FedEx and USPS lost package procedures.
DoNotPay Takes Care of Your Consumer Rights
Whether the products you ordered are late, missing, or faulty, you can ask for your money back through the DoNotPay app. We can help you get refunds from any delivery service or company you purchased from, and we can also digest any seller's return policy so that you can both send the product back and get a refund!
DoNotPay is an advocate of consumer rights and can help you bypass time-consuming and tedious processes when dealing with small-time sellers and multinational retailers alike! Check out some of what we can do for you in minutes:
Use Our AI-Lawyer App to Your Advantage!
Apart from protecting your consumer rights, DoNotPay can break down and fast-track many legal procedures for you. Use our app to do any of the following and more: