Where Is My Amazon Package, and How Can I Find It?
Ordering an item from Amazon and waiting for it to arrive is always exciting, but it can be a mood killer if the delivery is late or missing. If the question 'where is my Amazon package' is on your mind, you needn't worry because DoNotPay has your back!
We will teach you what to do and how to get a refund in minutes!
Reasons Why Your Amazon Package Might Be Missing
If you're waiting for a missing Amazon package, you should familiarize yourself with the procedure and some reasons for the potential delay before you take the next step. We've made a list containing some of the possible causes:
| | |
| --- | --- |
| Reasons | Details |
| Address is incorrect | If you've mistakenly entered the wrong address, your Amazon package might have been shipped to the wrong address. Double-check your delivery information to prevent this from happening and to avoid extra shipping fees |
| Problems in transport | The label could get damaged during the sorting process, which might result in a failed delivery |
| Location is insecure | If your location is facing bad weather, the courier won't deliver the package for security reasons |
| P.O. box is too small | Your package might not fit the P.O. box, so the courier will have to return it |
| Delivery was refused | A neighbor or someone residing in your home might have refused the package |
| Reseller is late | If you have ordered an item from a third-party seller, your delivery might be late because it wasn't issued by Amazon. You will have to contact the seller in that case by going to the Order Detail page and clicking on the Contact Seller button |
| Natural disasters | If you live in an area that was hit by a natural disaster recently, you can expect to receive your package two or three days after the estimated delivery date |
| Pandemic | The outbreak of the COVID-19 pandemic has forced Amazon to start prioritizing the shipping of necessary items. Medical supplies and household items are a top priority |
How To See Where Your Amazon Package Is
Before taking any further actions, such as filing a complaint or contacting Amazon, you should try tracking your package first. To do so, you will have to follow these steps:
Sign in to your Amazon account
Select Returns & Orders
Check the status of your latest order
Click on Track package and see where your package is located
If you can't locate your Amazon package or if it says delivered but it's still missing, it's time to take the next step.
What To Do if You Can't Locate Your Missing Amazon Package
You've tried tracking your package, but you were unable to find it—now what? We've listed a few options for you to solve your problem:
Wait a little longer because the courier might bring your missing package later on during the day
Check your P.O. box
Ask your neighbors as they might have received the package in your name
Contact the third-party seller if you didn't order directly from Amazon:

Go to Your Orders
Find your order on the list
Choose Problem with order
Select your topic from the displayed list
Click on Contact seller

Contact Amazon directly
File a claim
and request a refund in a matter of minutes
Ask Amazon Where Your Package Is
You have two options of asking Amazon where your missing package is:
Dial 00 1 206-922-0880 and explain your problem to Amazon's customer support
Go to the Amazon website and use the chatbot to explain the issue
Can I Get a Refund for My Missing Package?
To get a refund from Amazon on your own, you will have to wait three days after the estimated delivery date. If the three days have already passed, here's how you can ask for a refund:
Go to Your Orders
Locate your order
Select Problem with order
Select Request refund
Type in your problem in the text box
Hit Submit
Use DoNotPay and Request a Refund for the Missing Item Efficiently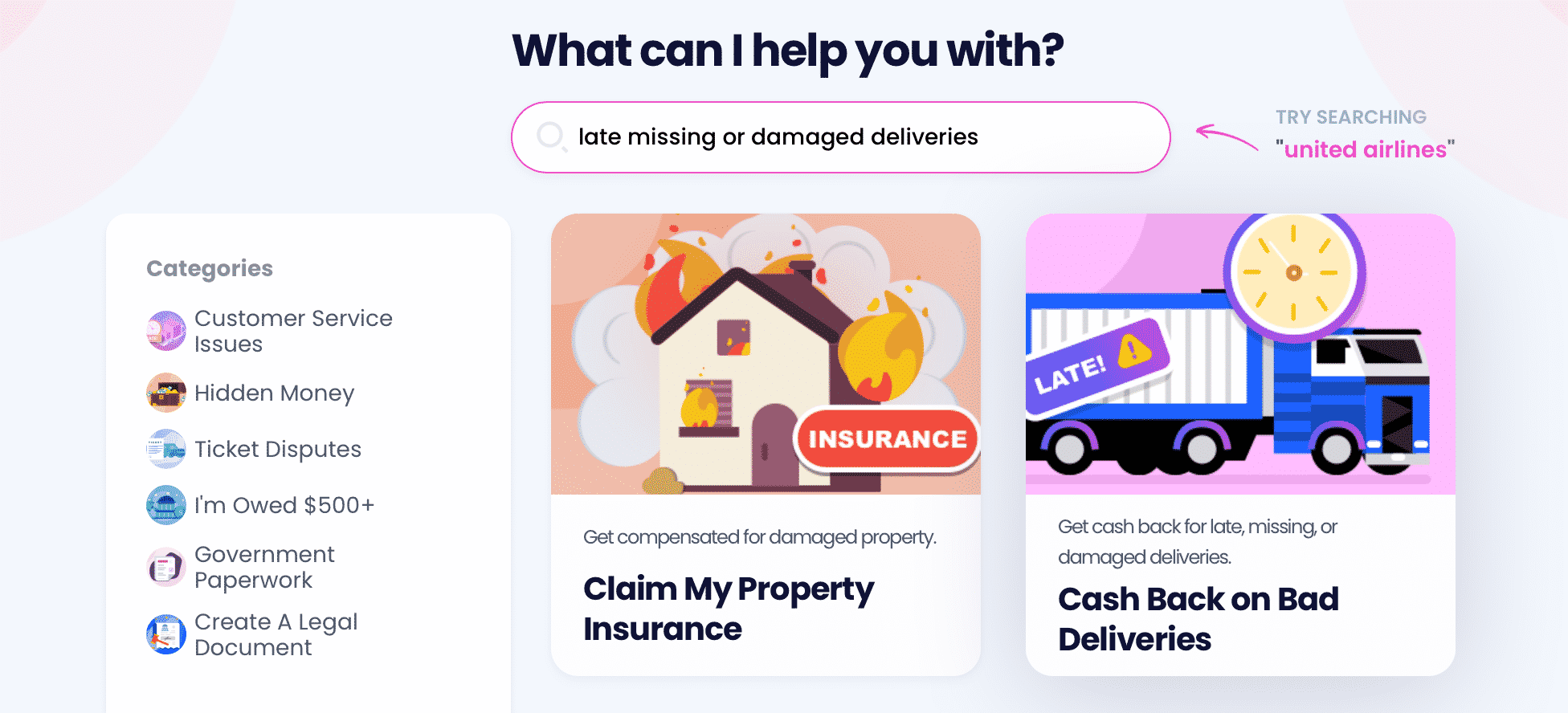 There's no need for you to go through the tedious process of tracking your package, contacting customer support, and filing a delivery complaint on your own when DoNotPay can do it for you.
With our app, you'll be able to file a complaint and get a refund in just a few clicks. Here's what you need to do:
Choose our Late Delivery Refund product
Choose the courier
Provide us with the necessary shipment details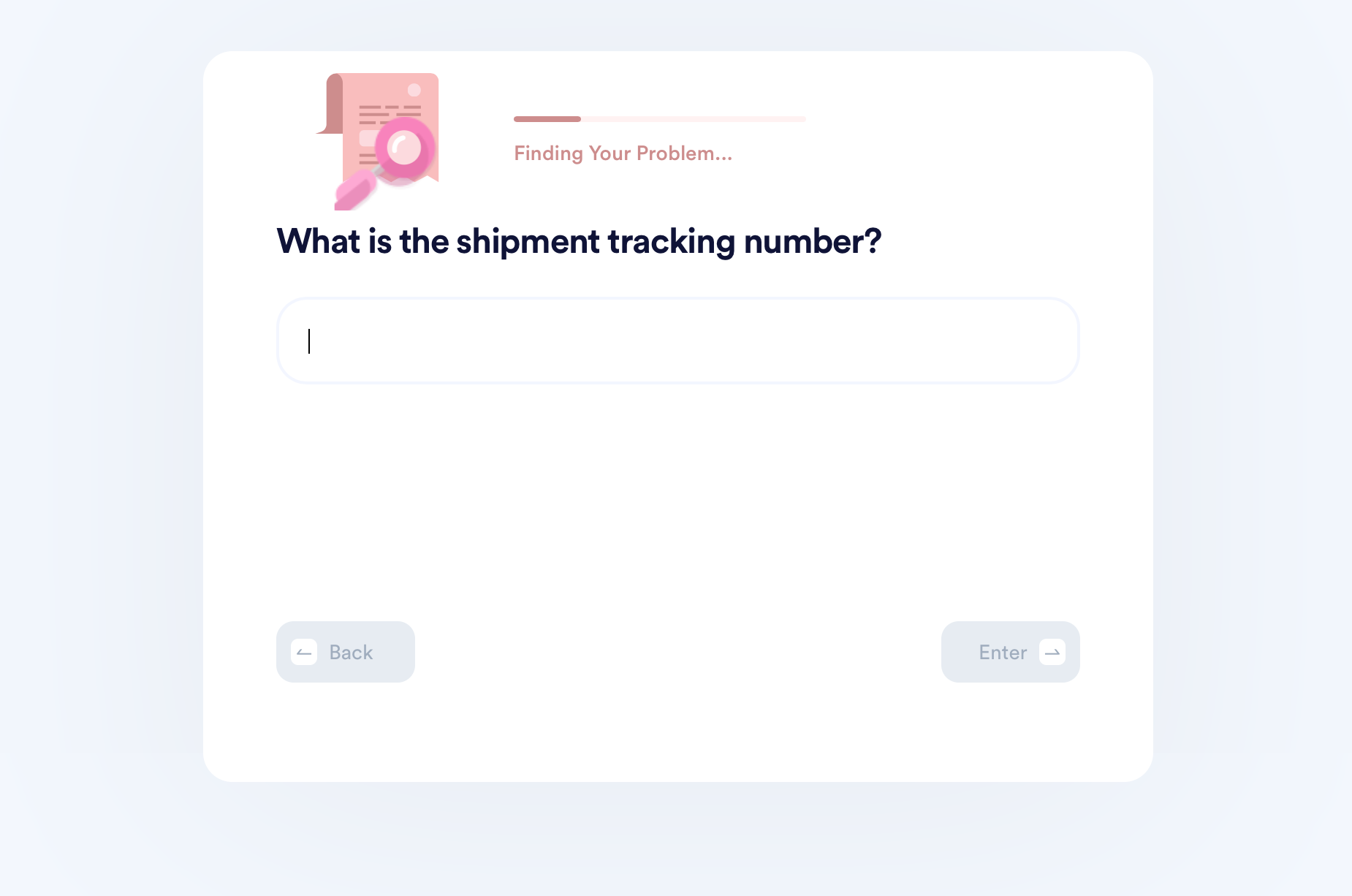 After you've completed these steps, DoNotPay will file and send the claim to Amazon in a snap.
You can also use our AI-powered app to:
Your Consumer Rights
Whether the products you ordered are late, missing, or faulty, you can ask for your money back through the DoNotPay app. We can help you get refunds from any delivery service or company you purchased from, and we can also digest any seller's return policy so that you can both send the product back and get a refund!
DoNotPay is an advocate of consumer rights and can help you bypass time-consuming and tedious processes when dealing with small-time sellers and multinational retailers alike! Check out some of what we can do for you in minutes:
Use Our AI-Lawyer App to Your Advantage!
Apart from protecting your consumer rights, DoNotPay can break down and fast-track many legal procedures for you. Use our app to do any of the following and more: