UPS Delayed Delivery? Don't Worry—DoNotPay Is Here To Help
Receiving your delivery later than expected and requesting refunds is always frustrating. If your UPS delivery is delayed and you don't know what to do, fret not because DoNotPay will help you out!
If you want to request a refund for a UPS delayed delivery—or late shipments by other companies, such as USPS, FedEx, or Amazon—but the task seems too complicated, we've developed a product that'll solve your issue in minutes. Our app will help you request a refund for your UPS delayed delivery and get your money back with ease!
Possible Reasons for Your UPS Shipment Delay
Before you take any action in the case of a UPS shipment delay, you should familiarize yourself with some of the possible causes of the problem. Here are some of the most common ones:
| | |
| --- | --- |
| Reason | Explanation |
| Incorrect address specified | A misspelled address will result in a failed delivery and a $15.90 bill from UPS for a redelivery |
| Insufficient documentation provided | Package clearance won't be provided if a retailer forgets to attach a commercial invoice or packing list, which are necessary documents |
| Poor performance by the carrier | If the delivery is delayed due to the courier's error, you will be entitled to report a problem or request a refund |
| Bad weather | Severe weather conditions are one of the most common reasons for delayed deliveries |
How To Track a UPS Package That's Delayed
The first step you want to take in case of a UPS delayed delivery is to try tracking your package. This will let you know whether it's stolen, delivered to the wrong address, or still underway. To track your UPS package, follow these steps:
Go to the UPS tracking page
Enter your package tracking number
Hit the Track button
How To Track Your UPS Package Without a Tracking Number
If you've lost your tracking number, locating your package is possible in the following ways—through:
Reference number
UPS My Choice
UPS InfoNotice
Tracking With Reference Number
UPS offers to assign a reference number to your package before you place your order. It can either be:
A description of the product
The order number of the product
To use your reference number to track your order, follow these steps:
Go to the UPS tracking page
Locate and click on Track by Reference Number
Choose the shipment type
Enter the shipment reference and shipper account
Fill out the dates needed
Input your ZIP code
Hit the Track button
Tracking Through UPS My Choice
UPS My Choice enables you to choose where, when, and how your package will be delivered. With UPS My Choice, you will be able to track your deliveries going from point A to Point B. You will also be notified via email or text message if any changes occur.
Tracking via UPS InfoNotice
In case the UPS delivery is delayed, you will receive a UPS InfoNotice that you can use to track your package by:
Going to the UPS tracking page
Entering the 12-digit number that you can find on the UPS InfoNotice
How To Report a Problem With UPS Delayed Delivery by Yourself
Reporting a problem regarding your delayed UPS delivery on your own will require you to:
How To Get a Refund for a UPS Delayed Delivery
You will have to make a refund request within 15 calendar days of the expected delivery date to be eligible. To get a refund from UPS for shipment delay, you need to:
Phone 1-800-742-5877 and say Refund
Go to the UPS Billing Center and select Request a Refund
Sign up for DoNotPay and request a return or refund in just a few clicks
Get a Refund for UPS Delayed Delivery With Ease Using DoNotPay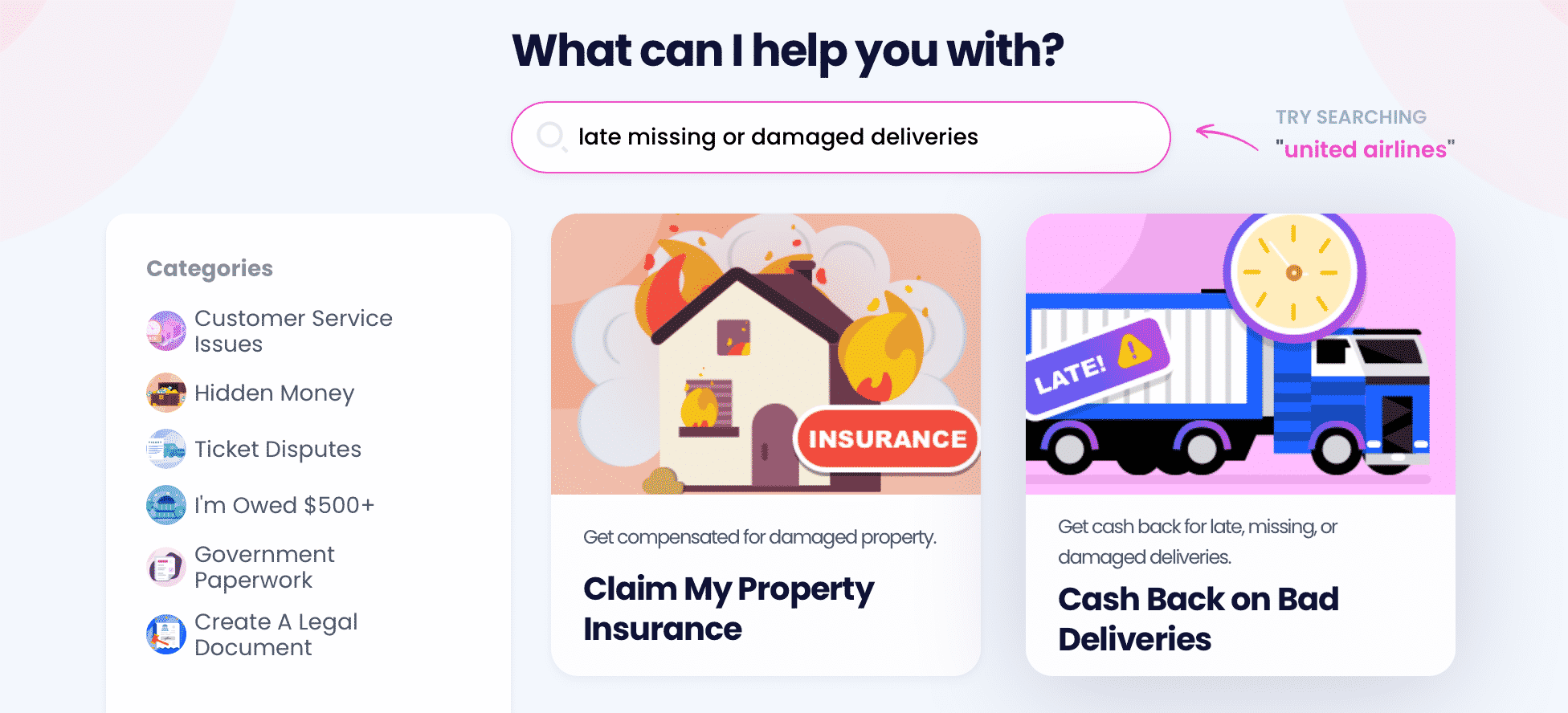 Whether you don't want to deal with UPS customer service or waste time on its website, you can turn to DoNotPay for help! Our Late Delivery Refund product will let you get a refund in a snap!
Here's how it works:
Locate the Late Delivery Refund product
Answer a few questions about your delivery
Submit the request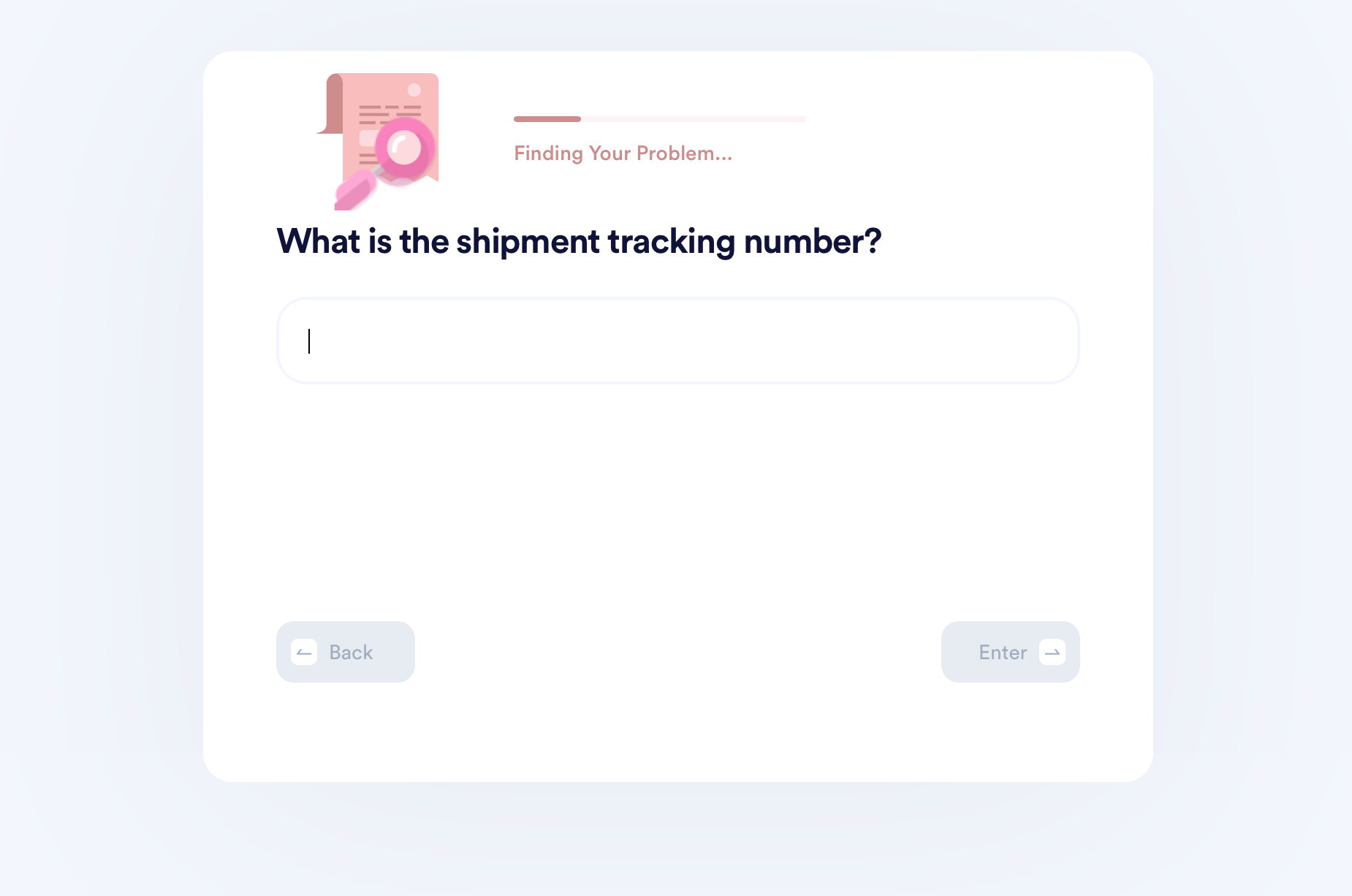 We will write a custom return letter in which we'll let the merchant know what's wrong with your package and state whether you want a refund or a replacement. You will also receive the package free of charge as we'll include a return label in the letter.
DoNotPay has a plethora of articles that can help you with delivery-related problems, including:
DoNotPay Has Your Back Every Step of Your Customer Journey
Helping you apply for a late, damaged, or missed delivery refund is only a fragment of what we can do for you. If you aren't satisfied with the service you've received or an item you've purchased, all you need to do is fire up your DoNotPay app.
We can bypass any company's customer service, draft a refund demand letter, or initiate a chargeback process in your stead. Our app can also digest the company's return policy and help you send the faulty product back. You won't have to lift a finger as our app does everything automatically after you answer several essential questions related to your purchase. If you decide to mail a letter to the company yourself, we'll tell you how you need to draft it to get exactly what you need.
It doesn't matter whether you bought a package for an incarcerated loved one, expected an insured mail delivery, or made a purchase to redeem a gift card but still have a few bucks left on it—we'll help you make the most of the situation. Our app can get your gift card cash back, file an insurance claim, and connect you with the loved one in jail.
How Far Do DoNotPay's Services Go?
Our app can prove handy in a variety of other situations, such as:
Visit our learning center for a full range of our services.