Amazon Package Not Delivered? You Can Count on DoNotPay for Help
If you're frustrated because your Amazon package hasn't been delivered yet, don't worry—DoNotPay is here with a simple solution! You can forget all about dealing with customer support and filing return claims because you can now get a refund or a return in just a few clicks.
Our easy-to-read guide will teach you what Amazon's delivery policy is and how to submit a claim in a flash.
How To Track a Package You Ordered on Amazon
The first step in solving your issue with a package that hasn't arrived is to track it down. Once Amazon ships your order, you will get a unique identifier via email that's assigned to your package. As it moves through destinations, the ID will be scanned, giving you real-time feedback on where your item is.
To track your package, you will have to:
Sign in to your Amazon account
Go to Your Orders
Select the order you want to track
Click on Track Package
If 48 hours have passed after the expected delivery time and the package still isn't at your front door, follow the next steps:
Verify your shipping address
Search for a notice of attempted delivery
Check if someone else accepted the delivery in your stead
If none of the above seems to help, you should consider asking for a refund.
What Are the Reasons My Amazon Package Never Arrived?
If you're wondering why your Amazon package hasn't been delivered yet, here are some of the probable reasons:
| | |
| --- | --- |
| Reason | Details |
| Third-party seller delivery times | In case you ordered an item from an Amazon reseller, you can expect a late delivery because the delivery isn't fulfilled by Amazon. If you don't receive the package on time, you should contact the seller by clicking on Contact Seller on the Order Detail page |
| COVID-19 | Due to the outbreak of the pandemic, Amazon had to start prioritizing items like medical supplies, household items, and similar. This led to more orders than ever staying in the Pending status |
| Natural events | Hurricanes, tornadoes, and power outages are what may prevent Amazon packages from being delivered on time. If you live in an area that's been hit by a natural catastrophe recently, Amazon says that you should wait for two or three business days extra on top of your estimated delivery date |
In case your order status says Delivered but you didn't receive your order, there's a chance that the courier will return the package to Amazon. Here are some reasons why this might occur:
| | |
| --- | --- |
| Reason | Details |
| Transportation problems | If there are any problems during the sorting process or if the label is damaged, the delivery could fail |
| Refused delivery | If there was someone at your address who wasn't expecting the package, they might have refused the delivery |
| Insecure location | The courier won't leave the package at your location if it's facing bad weather |
| Incorrect address | You won't get your package if you've mistakenly entered the wrong address |
| Small P.O. box | The courier won't deliver your package if it doesn't fit the P.O. box |
| Accessibility issues | Your package might not get delivered if the courier can't access your house due to a buzzer or security gate |
How To Contact Amazon About Missing Package
If you want to contact Amazon because your package never came, you can do that in the following ways:
Use the chatbot on the Amazon website to explain your issue
Dial 00 1 206-922-0880
How To Get a Refund From Amazon on Your Own
If you didn't receive your package three days after the estimated date or if the tracking says your package has been delivered even though it hasn't, here's how you can request a refund:
Go to Your Orders
Find your order
Select Problem with order
Choose the type of problem you're having
Select Request refund
Explain your problem in the text box
Click Submit
Request a Refund From Amazon the Easy Way—With DoNotPay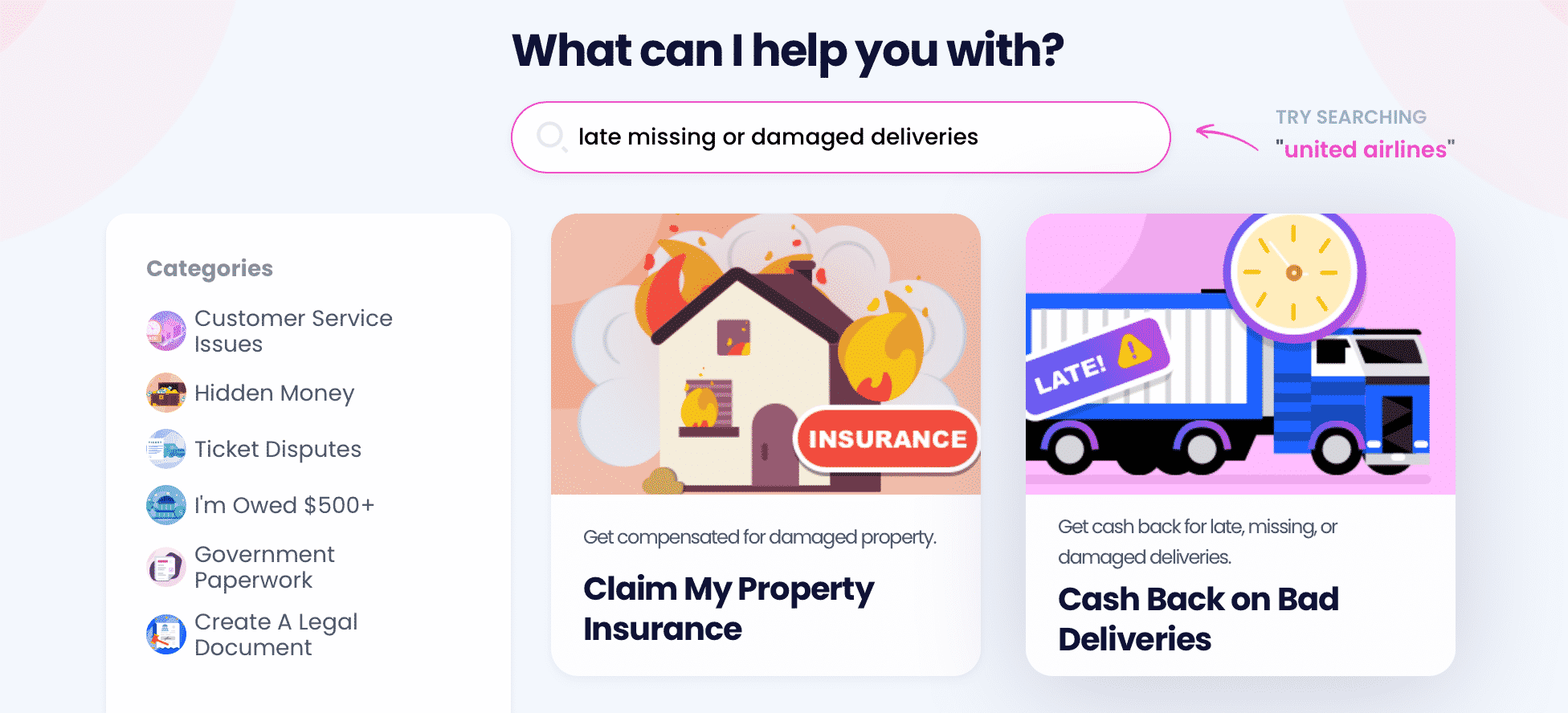 In case you want to request a refund but don't want to waste time, use DoNotPay! Our AI-driven app will help you file a complaint and request a refund in a matter of clicks. Here's how it works:
Locate our Late Delivery Product
Select the courier and provide details about the shipment
DoNotPay will then submit a claim in your stead to the courier's claims department.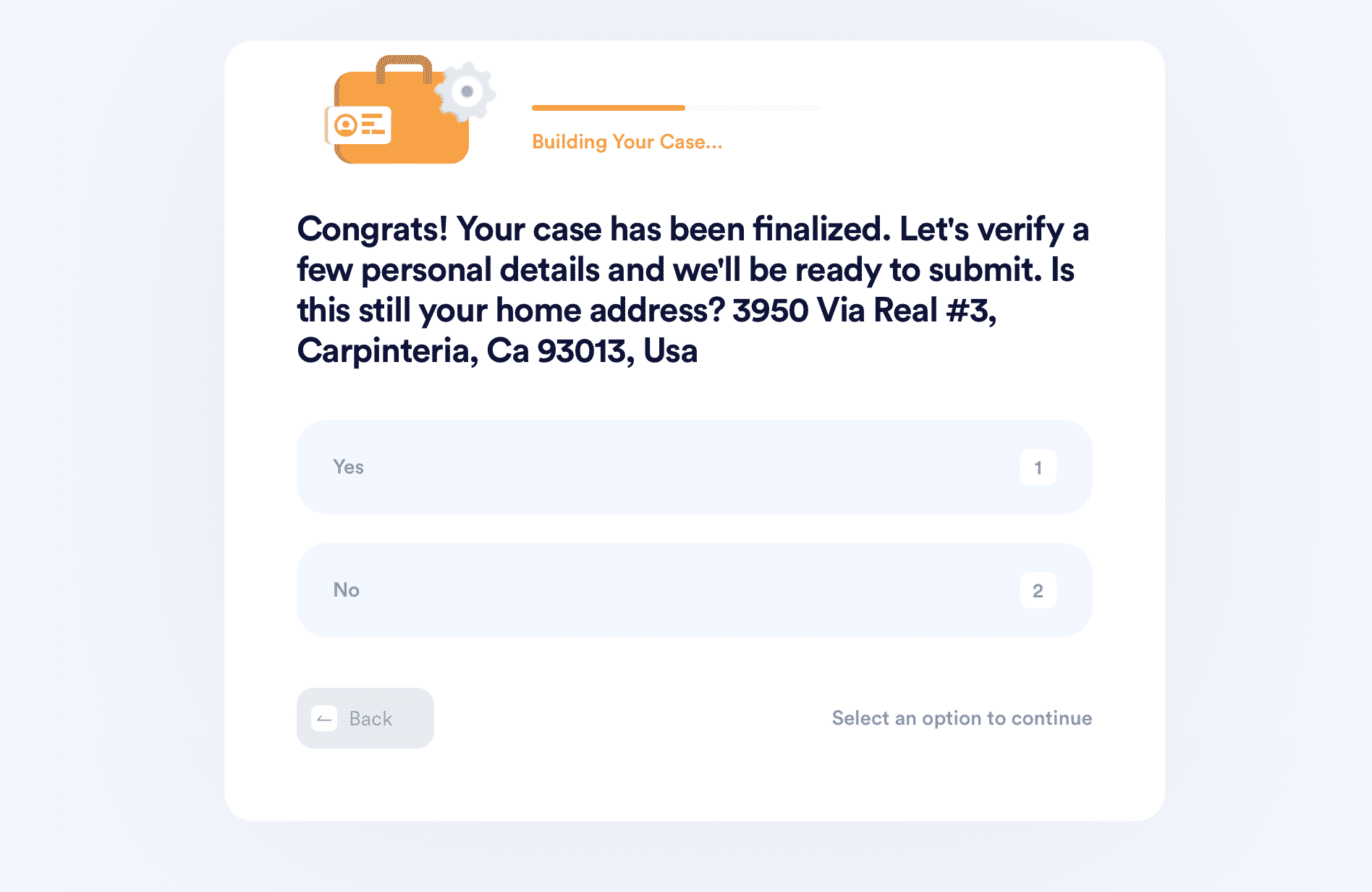 If you need assistance with other delivery-related issues, check out DoNotPay's library of handy articles, such as:
DoNotPay Can Also Help You Return an Item to Amazon
DoNotPay can also help you return the wrong item in a matter of minutes!
All you have to do is:
Find the Item Return Request product
Answer a few questions about your purchase and include photos of the item, if applicable
Submit the request
We will then generate a custom return request letter and send it to Amazon.
Deal With Companies on Your Terms Using DoNotPay
Claiming late, missed, and damaged item delivery refunds is only one in a sea of services you can get with our app. We can show you how you can:
As if that were not enough, we can also unsubscribe you from a company's email list, stop any annoying robocalls or robo texts they are bothering you with, and cancel any service or free trial you're unhappy with or are no longer using. Our Free Trial Card and Burner Phone products can help you try out any service without being spammed or auto-charged later on.
What Other Services Can DoNotPay Extend?
DoNotPay is invaluable when dealing with companies and their confusing policies, but we can also help you bypass tedious government procedures. If you use our app, you'll have no trouble filing FOIA requests, passing government exams, reducing property taxes, as well as drafting legal documents and getting them notarized in a single app!
To top it off, we'll also help you claim lost assets, delay bills, locate an inmate, report stalking and harassment, or take anyone to small claims court in any U.S. state.