Package Not Due for Delivery? DoNotPay Explains What You Need To Do
Does your FedEx delivery status display say 'package not due for delivery?' You needn't worry because DoNotPay will help you understand why you're seeing this message and what you'll have to do to get your package promptly.
You will also learn how to report late deliveries from FedEx and other shipping companies, including UPS, USPS, and Amazon.
What Does Package Not Due for Delivery Mean?
If your shipment status says that your package is not due for delivery, it might be that way because:
The sender has selected the economic plan for the shipment, and it's Saturday. FedEx delivers packages on this day of the week only if it's a premium shipment
The package did not make it through security and was sent back to the sender. It will then have to be resent by the sender
The trucks are overloaded and don't have space for any additional packages
The shipper had chosen the allowed early delivery date when sending the package, meaning that he or she didn't want the parcel to be sent before that date
Packages that are due for delivery on a certain day are FedEx's top shipping priority. If your package arrives earlier, it won't be delivered until the expected date
Freight arrived while the couriers were on the road, meaning there's no one available to pick the cargo up
FedEx doesn't have enough drivers available at the moment, so it won't be able to send your package. If this is the case and your shipment is late, sign up for DoNotPay and request a refund in a matter of clicks
FedEx Package Not Due for Delivery—Can I Pick It Up?
FedEx will not allow you to pick up your package before the first delivery attempt. In some cases, you'll be able to pick it up if you provide FedEx with a valid ID and your tracking number.
If you need the package earlier, you can try informing FedEx customer support that you want to pick it up by:
Calling 1-800-GO-FEDEX
Talking to FedEx's chatbot on the company's website
Chatting with FedEx's virtual agent by texting 29372
How To Locate Your FedEx Package
Once you've explained your situation to customer support, you will have to locate the nearest FedEx where your package is waiting to be delivered. Here's a table containing all the ways you can track your FedEx package:
Tracking Option
Details
Tracking number
Locate the 12-digit tracking number that's on your FedEx® International Air Waybill and click on Track
Email
Send an email to track@fedex.com and include your tracking number. You will then receive an email with the location of your package
FedEx InSight®
This option allows you to locate your package without a tracking or reference number. You can also choose to receive notifications about the status of your shipment
FedEx ShipManager™
To use FedEx ShipManager™, you will have to:

Go to the FedEx website
Find the History page
Select the shipment you wish to track

FedEx Desktop
By using FedEx Desktop, you will be able to receive instant notifications about the location of your package
Use DoNotPay in Case Your FedEx Package Is Late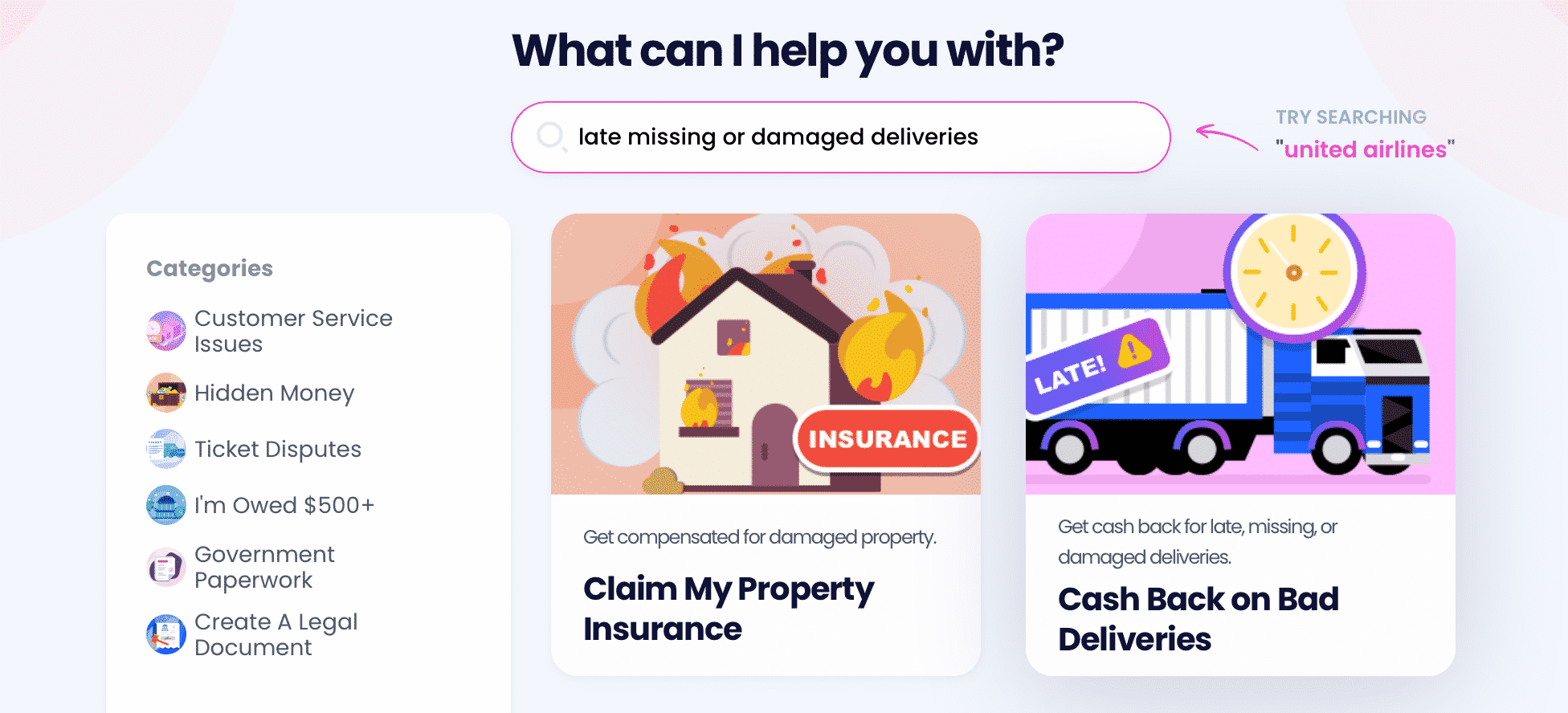 In case FedEx doesn't deliver your package on time, DoNotPay can help you! Our AI-driven app can file a claim in your stead, sparing you the trouble of downloading forms or talking to customer support.
To request a refund for a late delivery the easy way, sign up for DoNotPay and:
Select our Late Delivery Refund product
Choose FedEx as your carrier service
Answer a few questions
Once you're done, we will automatically file a claim to the courier's claims department in your stead.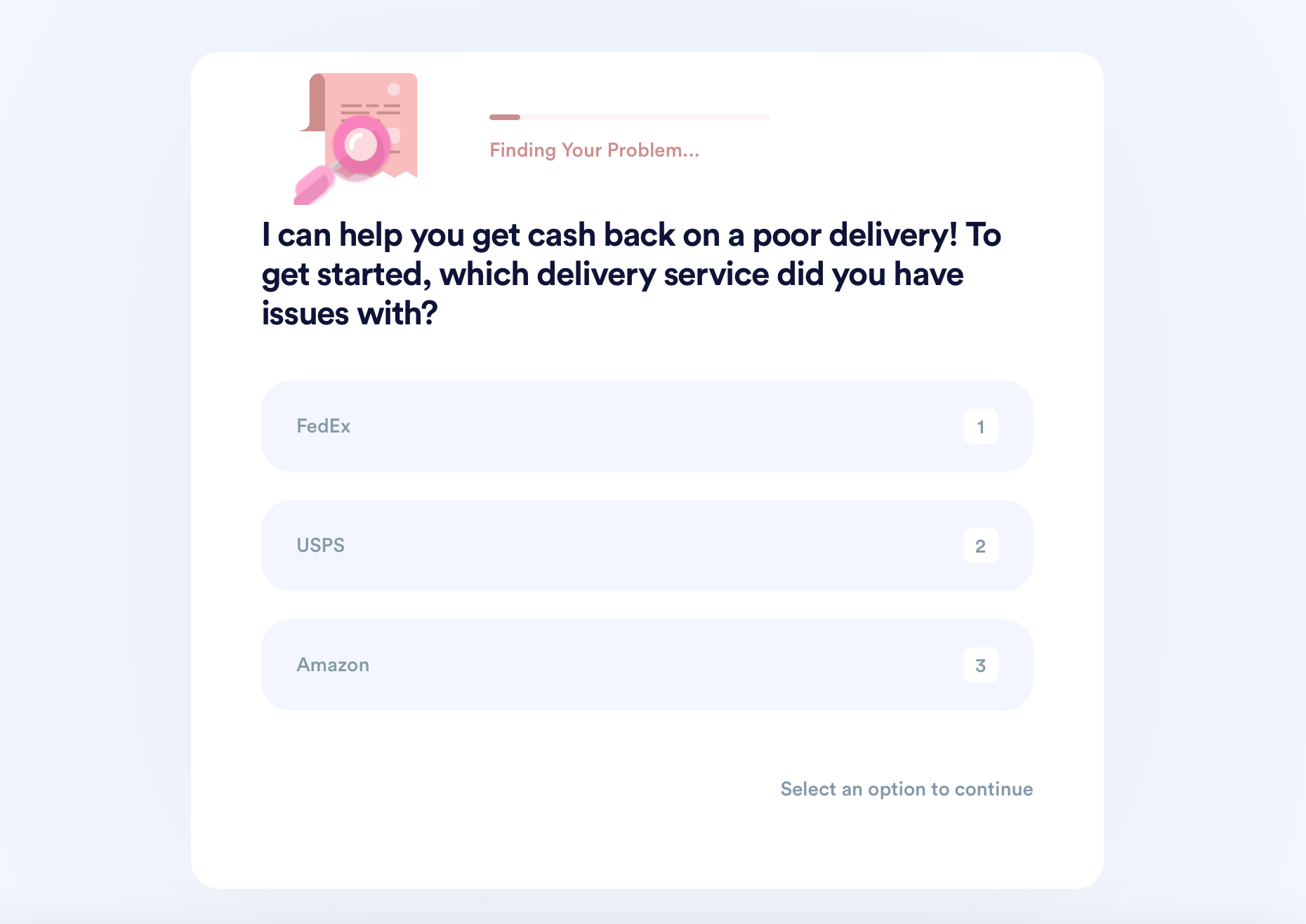 DoNotPay also offers a plethora of articles related to delivery problems, including:
How To File a FedEx Insurance Claim Easily With DoNotPay
DoNotPay comes to the rescue with another handy feature that will spare your nerves and save your time. We can file an insurance claim in your stead in a matter of clicks, and here's how our feature works:
Search for the insurance type
Type in some basic info, such as your policy number or contact details
Tell us why are you filing the claim and provide details of the incident
We will automatically file the claim for you, and if the insurance company has any questions, you'll be contacted via phone or email.
DoNotPay Has Your Back Every Step of Your Customer Journey
Helping you apply for a late, damaged, or missed delivery refund is only a fragment of what we can do for you. If you aren't satisfied with the service you've received or an item you've purchased, all you need to do is fire up your DoNotPay app.
We can bypass any company's customer service, draft a refund demand letter, or initiate a chargeback process in your stead. Our app can also digest the company's return policy and help you send the faulty product back. You won't have to lift a finger as our app does everything automatically after you answer several essential questions related to your purchase. If you decide to mail a letter to the company yourself, we'll tell you how you need to draft it to get exactly what you need.
It doesn't matter whether you bought a package for an incarcerated loved one, expected an insured mail delivery, or made a purchase to redeem a gift card but still have a few bucks left on it—we'll help you make the most of the situation. Our app can get your gift card cash back, file an insurance claim, and connect you with the loved one in jail.
How Far Do DoNotPay's Services Go?
Our app can prove handy in a variety of other situations, such as:
Visit our learning center for a full range of our services.