USPS Package Tracking Not Updating—Possible Causes and Solutions
Even though USPS is well-known for its services and is one of the most popular shipping companies in the country, at times, they may experience certain issues. One of the most frequent problems that recipients face is a tracking status that doesn't change for a couple of days.
Is your USPS package tracking not updating? Use our guide to learn what the reasons for this could be and how to check whether your order is lost or late. We also help you understand how to use DoNotPay and our amazing Late Delivery Refund feature to solve other delivery issues and get a refund for failed or bad deliveries!
Ways To Track Your USPS Package
There are several ways to check the updates on your package tracking status that you should try before taking any further action. The most common one is using an online tracking app on the USPS website. All you should do is enter your tracking number in the required field and hit the search button. You will be taken to the web page that shows the newest updates on your parcel and its current location or stage of delivery.
Besides using this option, you can also track your package by:
Sending an SMS containing your tracking ID number to 2USPS or 28777
Downloading a USPS Mobile app and checking the delivery status through it
Calling the customer support and providing them with the tracking code so that they can locate the parcel
What Does "USPS Delivery Status Not Updated" Mean?
Once you enter the tracking number and hit the search button, you may get different tracking updates. One of them is "delivery status not updated," which may leave you confused, especially if it comes after the "out for delivery" status. In other words, you may have got the notification that your package is on its way earlier but still receive an update that says the location of the shipment is unknown.
The simplest explanation for this lack of information is that there haven't been any changes regarding the location of your parcel since the last time you checked the status. While traveling to you, the package has to be scanned at each new location it reaches. The "delivery status not updated" message means that it hasn't got to the next delivery stage or hasn't been scanned yet.
Reasons for Getting a "Delivery Status Not Updated" Tracking Info
Your parcel may fail to get scanned for various reasons, which can include the following:
Reason
Explanation
Weather conditions
Problems caused by bad weather, including snow, heavy rains, or thunderstorms, can cause huge traffic jams and delay the scanning and delivery of your package
Difficulties caused by the deliverer
The issue may arise if the delivery worker:

Gets sick
Ends their shift and leaves your parcel to be delivered the next day
Leaves the package in the truck
Takes the parcel back to the delivery center or post office
Doesn't scan the package on purpose due to a high volume of shipments

Unexpected circumstances

Broken truck
Accident on the road
Punctured tire

Scanning system issues

Damaged barcode
Technical issues
USPS Package Tracking Not Updated—Solutions
Here's what you can do if your package tracking status hasn't changed in the last 24 hours:
Wait for 24 hours more—There can be a slight delay only due to the above-mentioned reasons. It means that your package may arrive soon, so keep checking the tracking info for possible updates
Ask customer service reps to track your package—Call USPS customer care and provide them with your tracking number and all other required details to help them locate the parcel
Request an investigation—If representatives can't track down your order either, you can start a so-called service request. The courier will try to investigate the issue and pinpoint the current location of the parcel, which usually takes two to three business days. Once they have an update, they will get back to you. You can reach them in the following ways:

Calling at (800) 275-8887
DoNotPay Files a Refund Request for a Bad Delivery in Your Name!
It may turn out that your package ended up lost, or you may receive it with a serious delay. In such situations, requesting a refund for bad service is the only way to get compensated for the trouble you went through. The good part is—you don't need to contact the courier yourself or have tiresome and tense phone conversations with the reps. Access DoNotPay and let us do all the grunt work on your behalf!
With only a few essential shipment details, we can create a complaint letter for any lost, delayed, or damaged parcel shipped by USPS. Our app also helps you file a refund request with USPS and other couriers, including Amazon and FedEx!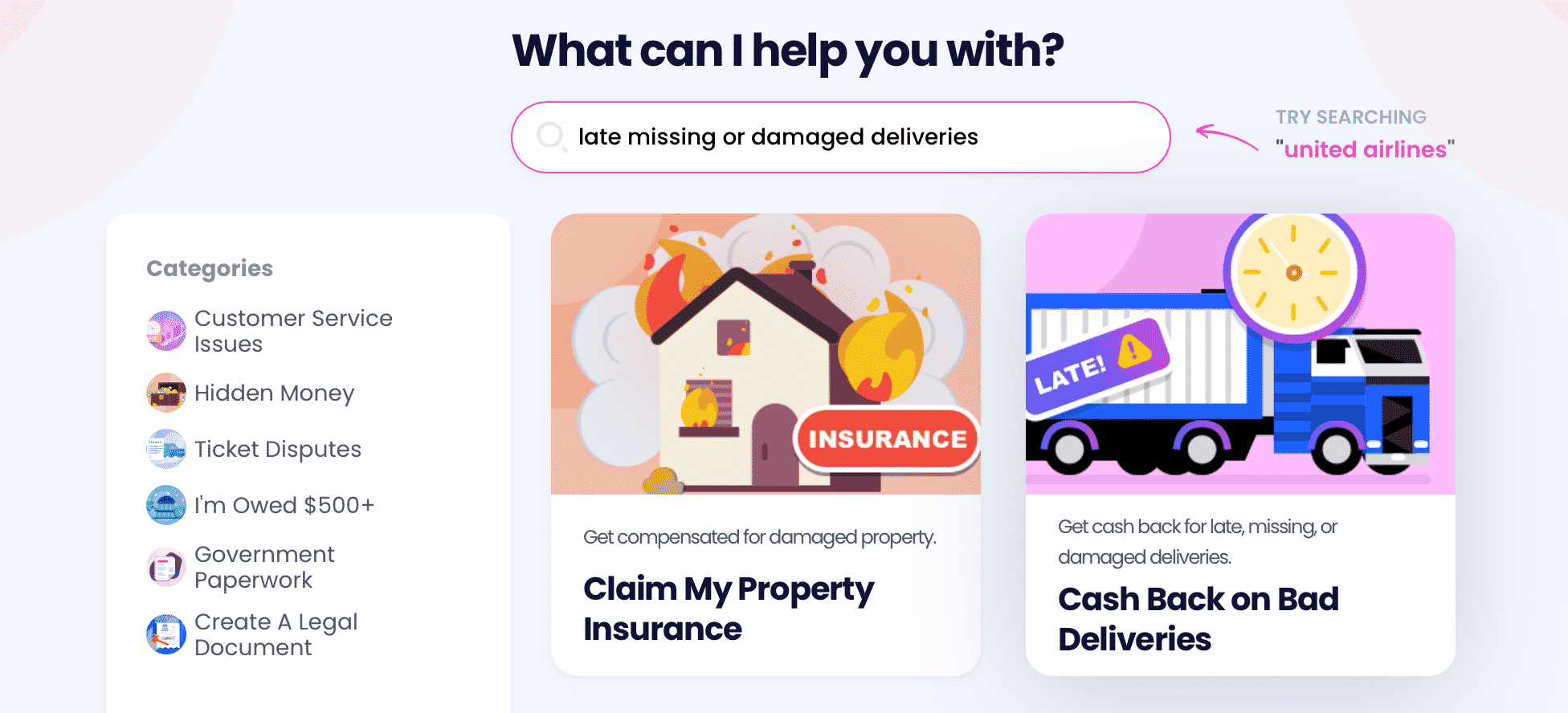 Here's how our service works:
Create an account with DoNotPay and log in to it
Navigate to the Late Refund Delivery product
Pick the desired courier
Disclose the necessary shipment details
When you complete this easy procedure, we will create a complaint and a refund request and pass them on to the courier in a matter of minutes!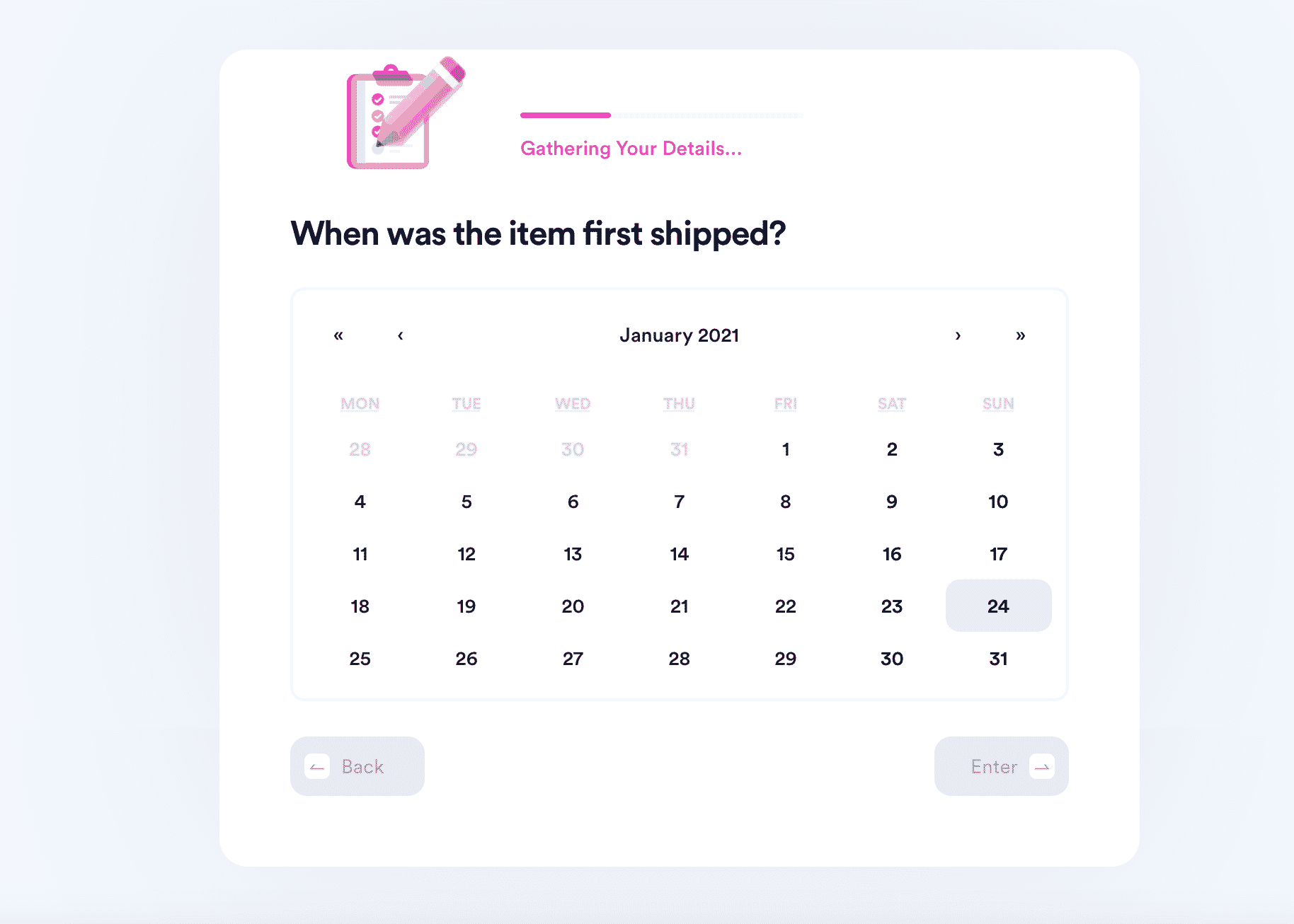 DoNotPay can also help you deal with other issues with this and other shippers, such as:
| | |
| --- | --- |
| Issue | Company |
| Late deliveries | |
| Lost packages | |
| Damaged orders | |
| Status says "delivered," but no package arrived | |
DoNotPay Takes Care of Your Consumer Rights
Whether the products you ordered are late, missing, or faulty, you can ask for your money back through the DoNotPay app. We can help you get refunds from any delivery service or company you purchased from, and we can also digest any seller's return policy so that you can both send the product back and get a refund!
DoNotPay is an advocate of consumer rights and can help you bypass time-consuming and tedious processes when dealing with small-time sellers and multinational retailers alike! Check out some of what we can do for you in minutes:
Use Our AI-Lawyer App to Your Advantage!
Apart from protecting your consumer rights, DoNotPay can break down and fast-track many legal procedures for you. Use our app to do any of the following and more: