How Late Does USPS Deliver Packages—Secrets Behind USPS
Are you awaiting your package impatiently and wondering whether United States Postal Service (USPS) can deliver it late at night or after hours? How late does USPS deliver packages? When can you file a complaint? We'll answer all of those questions, and more!
and learn all there is to know about USPS and other package delivery services! With our help, you can file a complaint and request a bad delivery refund in minutes!
How Late Does USPS Deliver Packages?
When your USPS package will arrive depends on the type of mail class you chose. Packages will sometimes be rerouted or delayed due to unexpected circumstances. Before you decide to contact the courier and jump to the conclusion that your package is missing, check which mail class you picked and see the delivery standard for it.
When Does USPS Deliver Packages?
To save you from searching the internet trying to find the delivery standard for the mail class you chose, we provide you with a table containing the specifics you need.
| | |
| --- | --- |
| Mail Class | Delivery Standard |
| First-Class Mail | 1–3 business days |
| Priority Mail | 1, 2, or 3 business days |
| Priority Mail Express | 1–2 calendar days |
| USPS Retail Ground | 2–8 business days |
| Media Mail | 2–8 business days |
| Bound Printed Matter | 2–8 business days |
| Parcel Select parcels | 2–9 business days |
| Parcel Select Lightweight parcels | 2–9 business days |
| USPS Marketing Mail | 3–10 business days |
What Time Do Packages Get Delivered by USPS?
The normal working hours for USPS are from 9 a.m. to 5 p.m., Monday through Saturday. Deliveries can be delayed in cases of unexpected circumstances, such as:
Severe weather
Disasters
Traffic
Roadblocks
Priority Mail Express and Amazon parcels are the only ones that can be delivered on Sundays.
How Late Does USPS Deliver Packages on Saturday?
On Saturdays, the USPS mailmen work the same hours as during the weekdays (9 a.m–5 p.m.). They make the deliveries during that time regardless of the delivery service.
Most packages get delivered by 2 p.m. on Saturdays, but you can expect them as late as 6.30 p.m.
The Priority Mail Express packages should arrive a bit earlier and get delivered by 10:30 a.m.
If you're worried there are additional fees involved for getting your package on a Saturday, don't be. USPS doesn't charge extra—they treat Saturdays as any other weekday.
When To Contact the USPS Customer Support
If you have been waiting for longer than five days from the mailing date for First-Class and Priority Mail or longer than 14 days for other mail classes, you should contact the courier. It's possible that your USPS package got lost or another issue occurred.
You can contact the USPS customer support on your own by:
Calling the USPS customer service reps—Dial 1-800-275-8777 and explain your issue. Provide the details the rep asks for and follow the instructions they give you
Visiting a post office—Go to your local post office and fill out a request for your missing parcel
What if USPS says your parcel has been delivered, but there's no package in sight? Filing a claim is likely the first thing that comes to mind.
If you want to file a claim, you should know that USPS doesn't accept claims for late deliveries. Your package has to be either damaged or missing for your claim to be accepted. You should hold off on filing a claim and let them try to locate your missing parcel first. If they don't succeed in doing so, your package will be considered lost, and you will be able to file your claim within 60 days from the mailing date.
DoNotPay Files Claims and Requests Refunds in Your Stead!
Do you want to avoid wasting hours waiting in a line at the post office and dealing with customer support over the phone? Use DoNotPay and file your claim or request a refund for your missing or damaged package from the comfort of your couch! We'll use the info you provide to submit a claim on your behalf and spare you the unnecessary stress of doing it yourself.
The process is super easy as well! All you need to do is and complete the following instructions:
Choose the Late Delivery Refund feature
Select USPS
Provide the required info about your delivery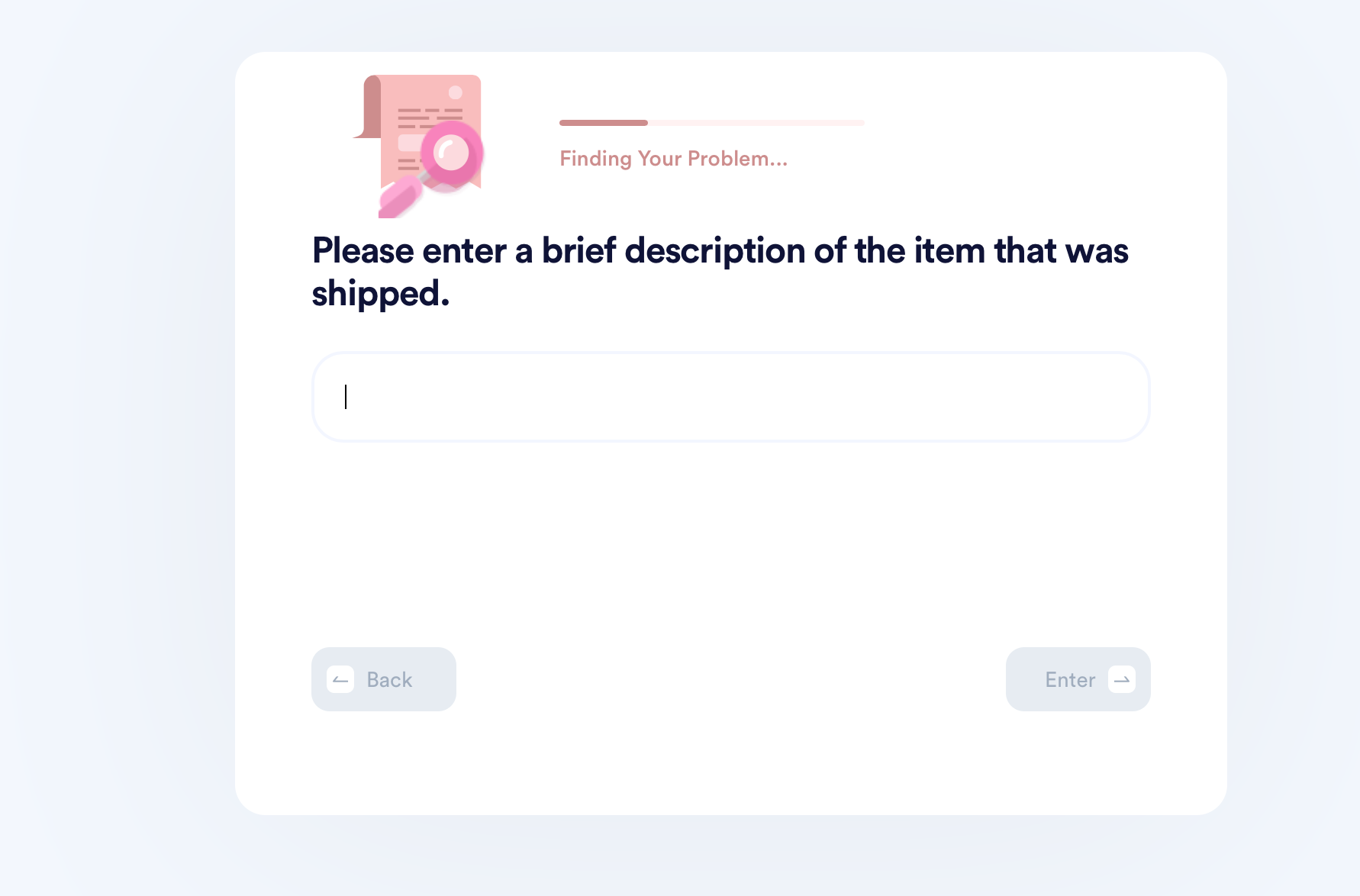 And you're done! DoNotPay submits the claim with the courier's claims department in your stead. In case you need to file a USPS insurance claim, DoNotPay is the fastest and most practical solution.
We can also help you file a complaint and request a refund for your UPS and FedEx missing packages, and assist you in filing claims for Amazon, FedEx, USPS, and UPS late deliveries. If you need further assistance, we can show you how to: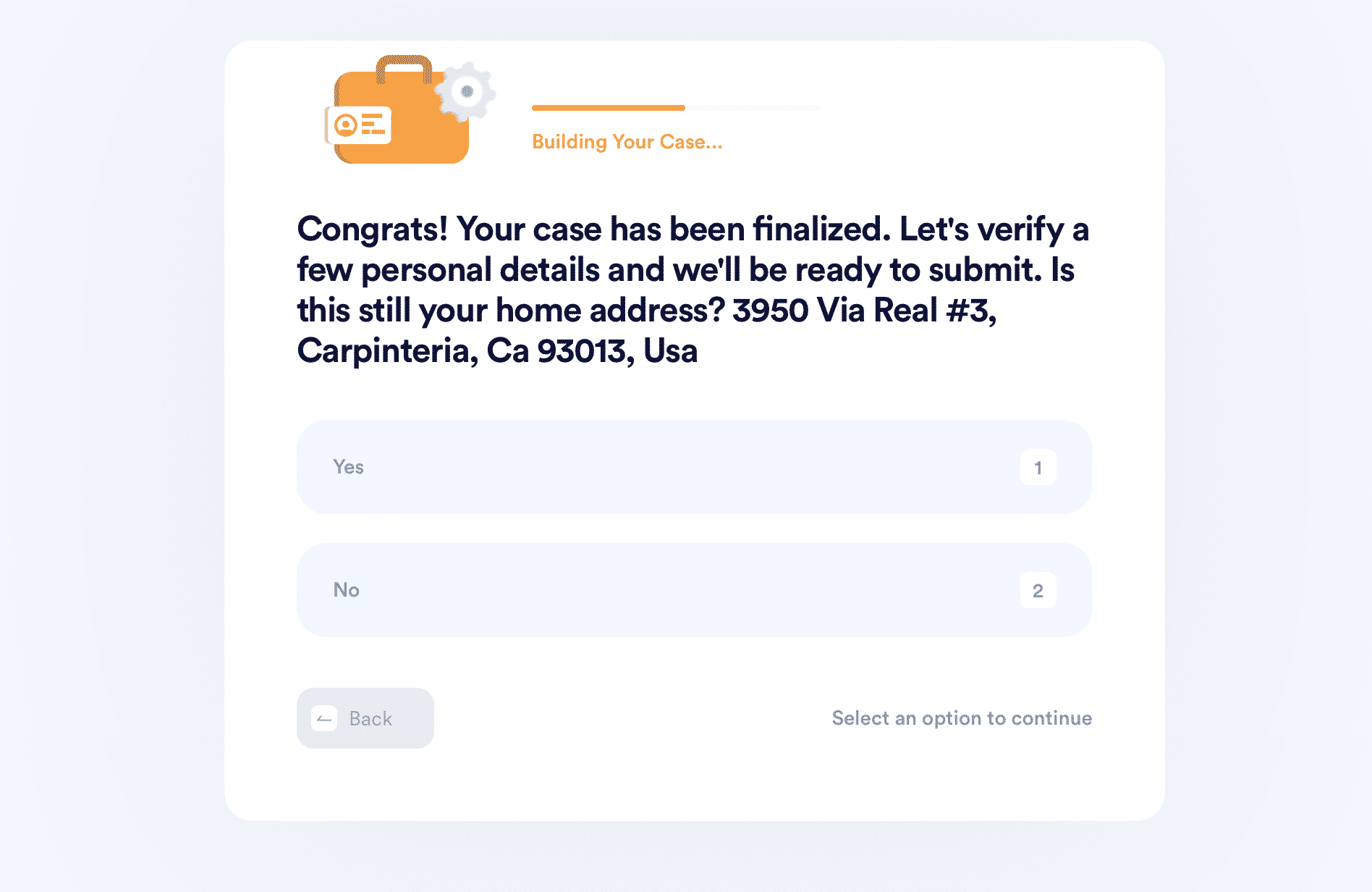 Deal With Companies on Your Terms Using DoNotPay
Claiming late, missed, and damaged item delivery refunds is only one in a sea of services you can get with our app. We can show you how you can:
As if that were not enough, we can also unsubscribe you from a company's email list, stop any annoying robocalls or robo texts they are bothering you with, and cancel any service or free trial you're unhappy with or are no longer using. Our Free Trial Card and Burner Phone products can help you try out any service without being spammed or auto-charged later on.
What Other Services Can DoNotPay Extend?
DoNotPay is invaluable when dealing with companies and their confusing policies, but we can also help you bypass tedious government procedures. If you use our app, you'll have no trouble filing FOIA requests, passing government exams, reducing property taxes, as well as drafting legal documents and getting them notarized in a single app!
To top it off, we'll also help you claim lost assets, delay bills, locate an inmate, report stalking and harassment, or take anyone to small claims court in any U.S. state.