Where Is My FedEx Package, and How Can I Track It?
Many people who expect a package shipped by FedEx get confused when it comes to tracking the parcel and understanding the status updates. While some delivery statuses this courier provides are perfectly clear, others can be quite confusing.
This article contains the answers to all the questions you may have, such as: 'Where is my FedEx package?' or 'What should I do if my parcel doesn't arrive?' We will also teach you how—by , you can file complaints about:
How To Locate a FedEx Package in a Few Steps
You can track down your FedEx parcel by using your:
Tracking ID number
Reference number
Transportation control number (TCN)
FedEx Office order number
Door tag number
Here are the steps you should follow in case you want to locate your order with one of these numbers:
Go to the official FedEx website
Navigate to the Tracking tab
Enter your tracking number and click on Track
Once you do this, you will be redirected to the page with the latest information about the status of your delivery. FedEx allows you to enter up to 30 tracking codes in case you are expecting multiple orders.
Besides using the online tracking service, you can also:
Check the whereabouts of your package on the official FedEx Mobile app
Send follow along with your door tag number to 48773
Call at (800) 463-3339 and track FedEx packages by address, phone number, and other shipping info
I Don't Understand the Tracking Status—What Do All These Updates Mean?
Once you learn what the delivery status means, you will know where your package is, how long it will take to arrive, or why it hasn't arrived yet. The table below shows the most common updates of the delivery statuses and their meanings:
Status
Explanation
In transit
The parcel may still be at the local post office or in a delivery vehicle
Out for delivery
The package handler scanned your parcel and prepared it for the next round of FedEx deliveries
No scheduled delivery date at this time

The order you are expecting may not have arrived at the FedEx facility yet
The delivery date is still unknown because the package has encountered a delay or some handling issues

Scheduled delivery is now pending
The parcel has been shipped—it's on its way to you
Delivery exception
The courier couldn't deliver the package due to unexpected events, such as:

Usual custom delays
Missing documentation
Incomplete address or shipping info
Overstuffed or inaccessible mailbox
Holiday closure impacts

Delivered
The package has arrived at the final destination. If the status says 'delivered' but you can't see the package, look around and check with your neighbors to see if they may have received it by mistake
My Parcel Status Hasn't Been Updated for a Few Hours—What Is Happening?
The delivery status changes depending on the points of the journey of your package. You shouldn't worry if the tracking shows the same status for up to 24 hours. It's a common situation, especially if the package is coming from a distant location—keep checking for new information regularly.
If there are no updates after 24 hours, your best bet is to contact the courier and ask them to raise an investigation. Prepare all the shipping info you have since the representatives will need as many details as possible to pinpoint the parcel successfully. They may ask you for your tracking code, the full shipping address, phone number, or any other related info.
Can I Request a Refund for a Late FedEx Parcel?
FedEx provides a money-back guarantee only for certain late FedEx Express shipping services, including:
First Overnight
International First
Priority Overnight
Standard Overnight
International Priority
International Priority Freight
The safest path to demand your money back is to contact customer support and explain the issue via phone or send a letter to the following address:
FedEx Customer Relations
3875 Airways, Module H3 Department 4634
Memphis, TN 38116
What if My FedEx Package Is Damaged or Some Contents Are Missing?
The courier automatically insures all deliveries with a value less than $100 or equal to this amount. It means you can raise an insurance claim and demand compensation from the company if your order arrived damaged or some parts are missing. Here's how you can do it:
Go to the official FedEx website
Pick the Support tab and click on File a Claim
Choose Start a Claim
Enter your tracking code and choose the claim type
Fill out the e-form and submit it
You may also need to attach some supporting documentation, such as photos or a copy of the original invoice. It's advisable to jot down the case number you get once you submit the claim in case you want to check the status of your claim.
DoNotPay Requests Money Back From the Courier in Your Stead
Whether you want to report a late parcel, damaged goods, or missing contents, DoNotPay can solve the matter in minutes with no fuss! Enter the details of the issue you are experiencing in our app, and we will forward your claim to the courier and demand a refund on your behalf. It's a perfect way to skip long and tiresome phone conversations with customer care reps and stressful refund negotiations!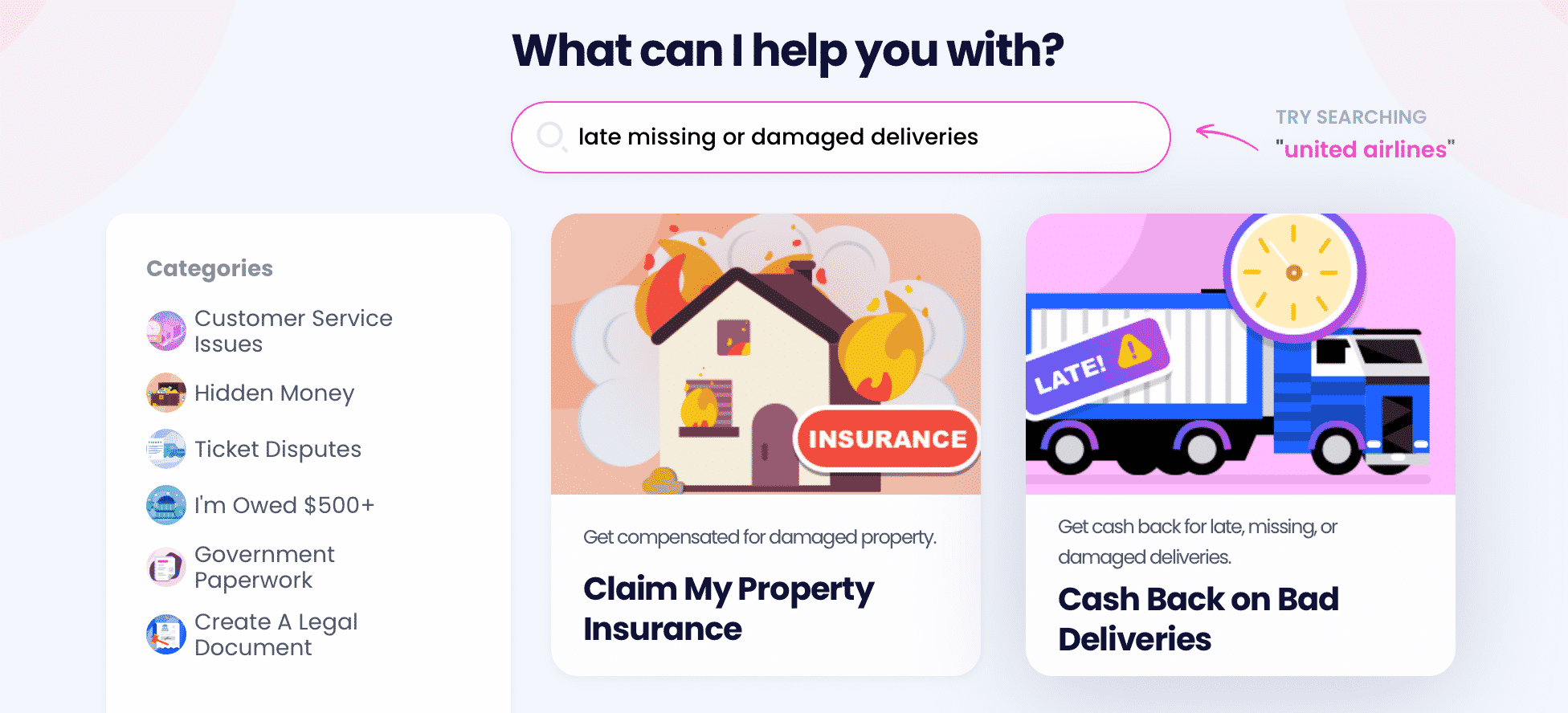 To use our feature, in your web browser and:
Pick the Late Delivery Refund service
Choose the courier
Enter the required shipment details
After you complete this short procedure, your refund claim will be sent to the courier's claim department.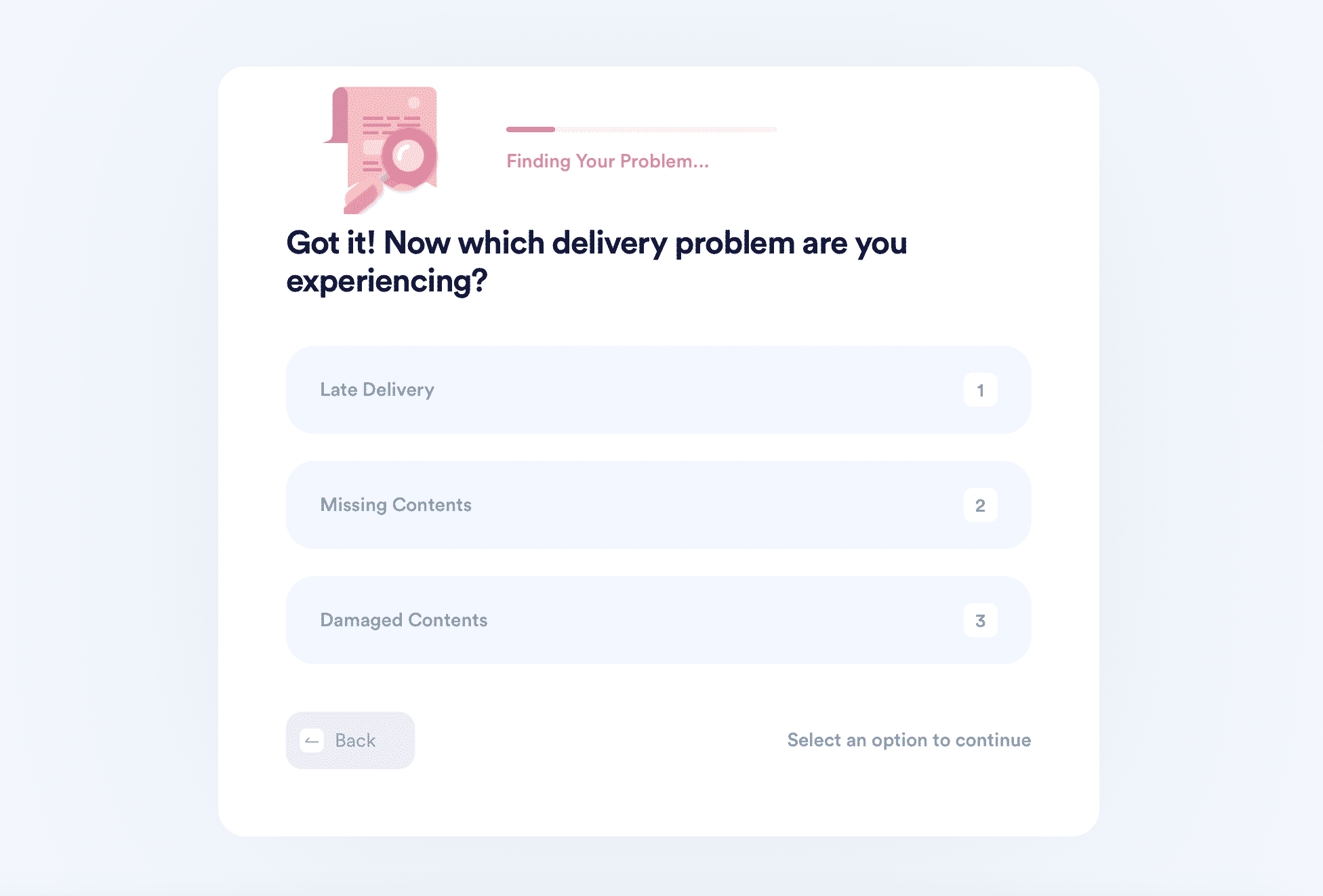 Check Out the Scope of DoNotPay's Services
DoNotPay is capable of way more than handling late or missed deliveries. We are experts in securing refunds and chargebacks, gift card cash backs, airline compensation, as well as making returns on unsatisfactory purchases. We have a way of dealing with hard-to-reach customer services and hard-to-get-out-of mailing lists.
If you need to deal with important paperwork, our app can assist you every step of the way. We can draft legal documents for you and show you how to write them yourself; we can connect you with a remote notary who can notarize your documents 24/7; we can also help you send the docs to any recipient using our convenient online fax functionality!
For a full scope of our services, check out our learning center.
Stay Safe at Home and Enlist DoNotPay To Do Your Bidding
It's not easy to keep tabs on your obligations during these trying times ridden with uncertainty. That is why DoNotPay has developed numerous features to help you cross tasks off your list while staying safely in your home. Here's what else you can get done from the comfort of your armchair through our app: