The Easiest Way To File an Amazon Delivery Complaint
The item that you've ordered from Amazon still hasn't arrived, and now you want to file an Amazon delivery complaint, but you don't know how. The traditional ways of filing complaints are either outdated or time-consuming, but there are solutions for that.
Subscribe to DoNotPay and file a late Amazon delivery complaint in a matter of minutes.
Reasons Why Amazon Could Be Late With Delivery
If you want to file an Amazon delivery complaint, you should familiarize yourself with the reasons why your package might be late. We've made a list containing some of the causes for late deliveries:
| | |
| --- | --- |
| Reason | Details |
| Natural disasters | If you're located in an area that's hit by a natural disaster—such as hurricanes and tornadoes—your delivery might arrive two or three days after the estimated date |
| Pandemic | Due to the outbreak of the COVID-19 pandemic, Amazon had to start prioritizing the shipping of necessary items, such as medical supplies and other household items |
| Reseller is late | If your order isn't issued by Amazon, but by a third-party seller, you can expect a late delivery. In that case, you need to contact the seller by going to the Order Detail page and clicking on the Contact Seller option |
| Refused delivery | The delivery might have been refused by someone who was at your address but wasn't expecting the package |
| Incorrect address | Wrong addresses are a common reason for late deliveries. Be sure to double-check delivery information to avoid additional shipping fees |
| Small P.O. box | If a courier can't fit the package in the P.O. box, he or she will have to return it |
| Transportation problems | Problems during the sorting process and label damage are not uncommon and could mean the failure of the delivery |
| Insecure location | Couriers don't leave packages on addresses that they think are insecure or under bad weather conditions |
Tracking Your Package Before Filing a Complaint
Before you decide to file a complaint, you should track your package. To see where your Amazon package is, you will have to follow a couple of steps:
Visit the Your Orders webpage
Select the order you want to track
Click on Track Package
After tracking your package, you should:
Check if your shipping address is correct
See if you can find a notice of attempted delivery
Make sure that someone else hasn't accepted the delivery instead of you
Can You Get a Refund From Amazon?
You are eligible to get a refund from Amazon if:
If you want to request a refund instead of filing a complaint, you need to:
Go to Your Orders
Find your order
Choose Problem with order
Select the issue you're facing
Pick Request refund
Describe your problem
Click Submit
How To Complain About Amazon Delivery
If your delivery is late or if Amazon sent the wrong item, you will have to file a complaint. You can choose between these two options to do so:
Dialing 00 1 206-922-0880 to contact the Amazon customer support representatives who operate 24/7
Answering the chatbot's questions on the Amazon website and explaining your issue
DoNotPay Turns Filing an Amazon Delivery Complaint Into a Piece of Cake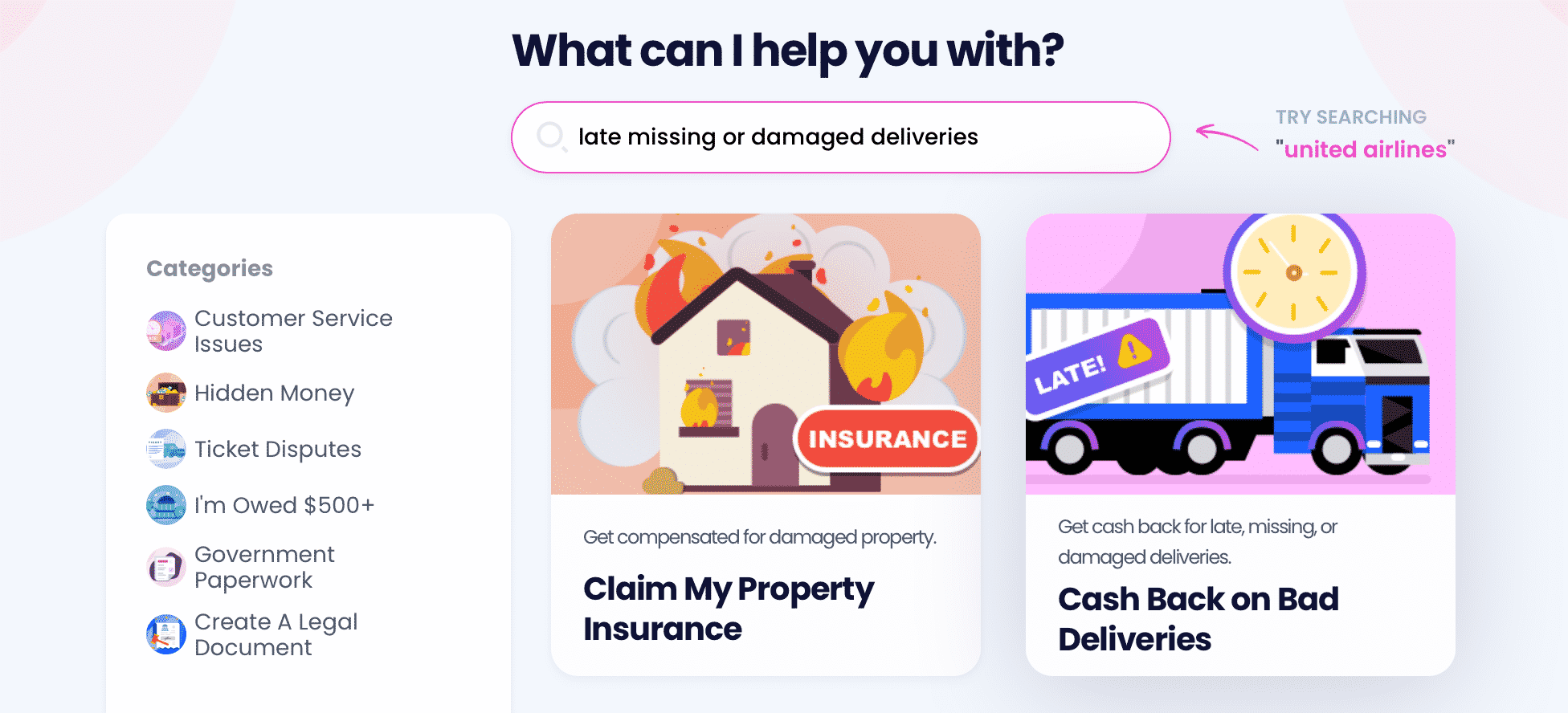 If filing a delivery complaint seems like a daunting task, don't worry—DoNotPay has your back. With our Late Delivery Refunds product, you won't have to waste time trying to contact Amazon's customer service or find your way on their website. To file a complaint and request a refund in just a few clicks, all you have to do is:
Find our Late Delivery Refunds product
Select the courier and provide us the details about the shipment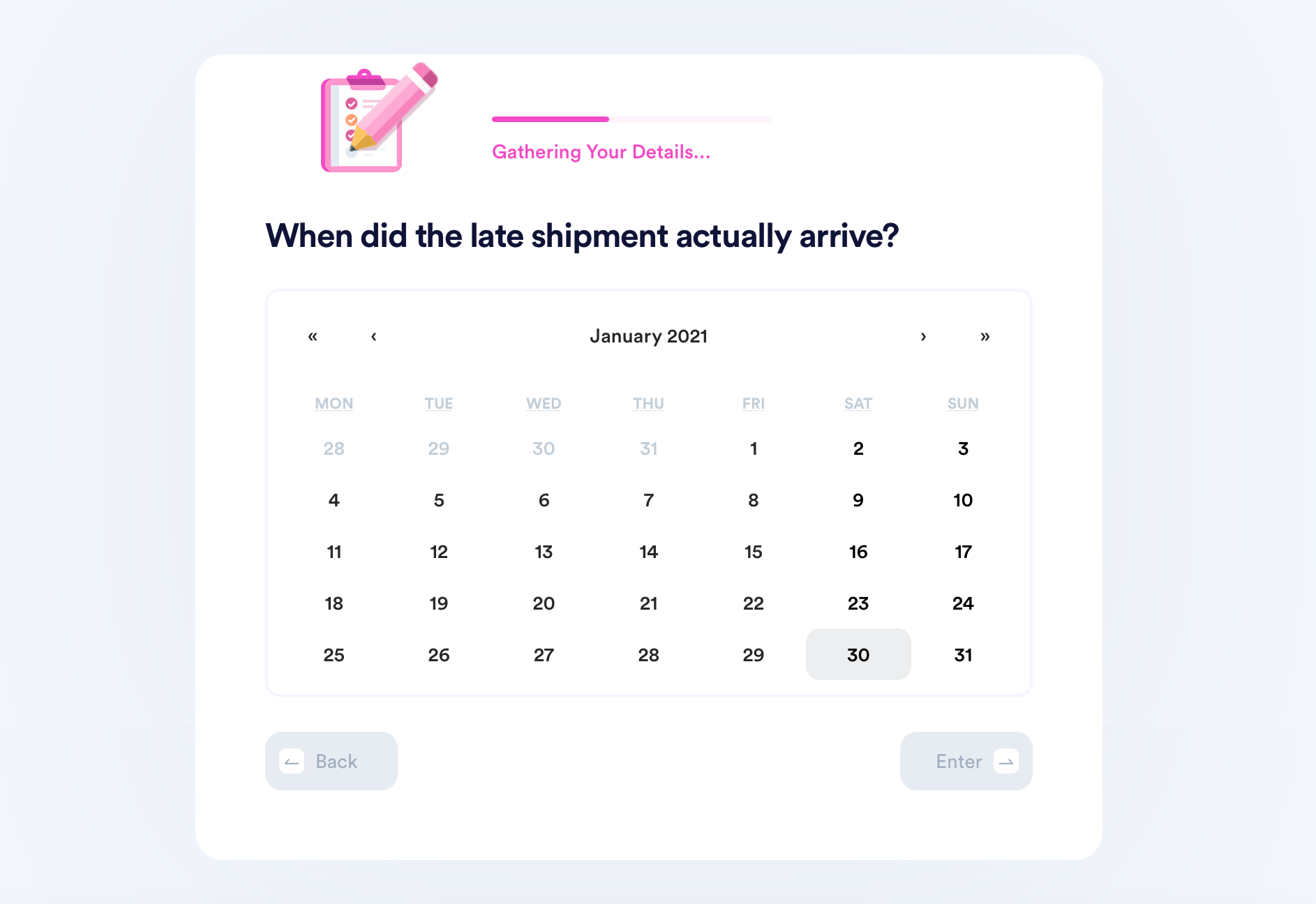 We will submit a complaint and compensation claim to the courier's claims department for you.
If you're facing other delivery-related issues, rely on DoNotPay to find out:
How To Return an Item Easily With DoNotPay
If you want to return an item to Amazon, you can do so with ease using DoNotPay. Our Item Return Request product allows you to generate a custom request letter which you can send to Amazon. The letter will let them know whether you want a refund or replacement. To use the product, all you have to do is:
Log in to your DoNotPay account from your preferred web browser
Locate the Item Return Request feature
Answer a few questions about your purchase
Include photos of the purchased item if you have any
Find Hidden Money With DoNotPay Effortlessly
Our app can do more than request delivery refunds for you. We can help you identify all your hidden expenses and save your money for more relevant matters. If you use DoNotPay, you can:
Earn Some Extra Cash With DoNotPay's Help
Not only can we eliminate all hidden expenses you have, but we can help you put more money in your pocket! We don't let you forget the smaller but meaningful gains you can make from gift card cash backs, raffle ticket wins, or warranty claims. Our nifty app can also assist you in getting some serious cash by way of chargebacks, insurance claims, airline compensation, college fee waivers, paid clinical trials, or crime victims compensation. We can also show you how to sue any company or individual for compensation in small claims court.