USPS Damaged a Package From eBay—Here are Your Options
Despite being one of the most popular shipping companies in the USA, USPS doesn't always provide flawless service. The parcels shipped by them often arrive late or—even worse—fully or partially damaged.
These situations happen to many eBay sellers who ship the orders through this courier. This is why our article will explain how you should act if USPS damaged a package from eBay you sent to somebody. You will find out what steps to take, what documents you may need for reporting the damage, and also how to get compensated for this inconvenience by giving DoNotPay a go!
How To Deal With an eBay Item Damaged in Shipping by USPS
When the USPS order from eBay arrives faulty, the recipient will probably contact you and inform you about the inconvenience.
The fairest way to deal with it is to refund the paid price to the person who ordered the items. Before that, you should contact the courier and request certain compensation for the trouble so that you can give the money back to the recipient.
Steps You Should Take Before Filing an Insurance Claim With USPS
Before you raise a claim and demand compensation, ensure you made all the necessary preparatory steps, which are listed below:
Check whether the parcel is eligible for an insurance claim with USPS—Many packages shipped by USPS are covered by insurance in the amount of up to $100, but not all of them are eligible for it. Check whether the damaged items belong to one of the eligible categories, such as:

USPS marketing mail
Orders dispatched by USPS Retail Ground
Packages shipped by Priority Mail service
Parcels shipped by Priority Mail Express service
Merchandise shipped by First-Class Mail service
Regular packages sent by First-Class Mail
Other package services—Library, Media, and Bound Printed Matter

Request photos of the damage—Ask the recipient to take pictures that show the damage clearly and send them to you. They will be crucial evidence you will submit along with your insurance claim
Ask the recipient to keep the package in a safe place until the issue gets resolved—Once you report the problem, the courier may need additional shipping details that can be found on the parcel. At times, they may even require the recipient to visit the nearest USPS facility and get the parcel inspected. This is why it's necessary to keep the original box in which the items arrived and all the received goods, regardless of whether they were damaged or not
How To File an Insurance Claim for a Damaged Parcel With USPS
If the faulty items are eligible for insurance, you can choose one of the following two methods to file an insurance claim with USPS:
Submitting an online claim
Sending the completed claim form via mail
The deadline for reporting damaged items is 60 days from the mailing date, but it's advisable to raise a claim as soon as you notice the issue.
Raising an Insurance Claim With USPS Online
To file an insurance claim by filling out an online form, proceed as follows:
Visit the official USPS website
Log in to your USPS account
Select the Help tab and click on Filing a Claim
Find a Start an Online Claim button and click on it
Complete the required fields
Upload the supporting documentation
Submit the form
Raising an Insurance Claim via Mail
If you are unable to complete an online claim for any reason, the alternative option is to request a paper Domestic Claim Form, fill it out, and submit it. Here's a more detailed explanation of the procedure:
Call the National Material Customer Service at (800) 332-0317
Inform the representative about the incident and request a Domestic Claim Form to arrive at your address
Fill out the form once it arrives
Mail the claim along with the required supporting documentation to the address stated on the form
Once you get a positive answer from the courier and they approve your claim, you will receive the insurance amount and be able to refund the recipient.
What Additional Documents Do You Need for Filing a Claim With USPS?
Besides the photos of the damage, there are several types of supporting documentation you may need when filing an insurance claim. You can check them out in the table below:
Type
Documents
Documentation scan showing the tracking ID number

Package label
Online label record

Proof of value

Sales receipt
Statement of value
Paid invoice or bill of sale
Credit card billing statement
Printout of the online transaction showing the names of the sender and recipient and other transaction information

Evidence of insurance purchased

Original mailing receipt
Printed electronic online label record that shows the insurance details
A label stuck to the parcel that shows the package was shipped insured

Proof of damage

Estimate of the repair costs provided by a reputable dealer (if necessary)
Don't Let Couriers Earn on Poor Deliveries—Use DoNotPay To Get Your Money Back Fast!
Receiving a damaged order is stressful, but dealing with long queues on the customer support line can be even more burdensome. Use DoNotPay to inform the courier about the faulty items without phone calls or back-and-forth emails—we can do it on your behalf in a matter of minutes.
That's not all—our app can also help you file a refund claim and demand your money back from USPS, Amazon, and FedEx without following lengthy regular procedures!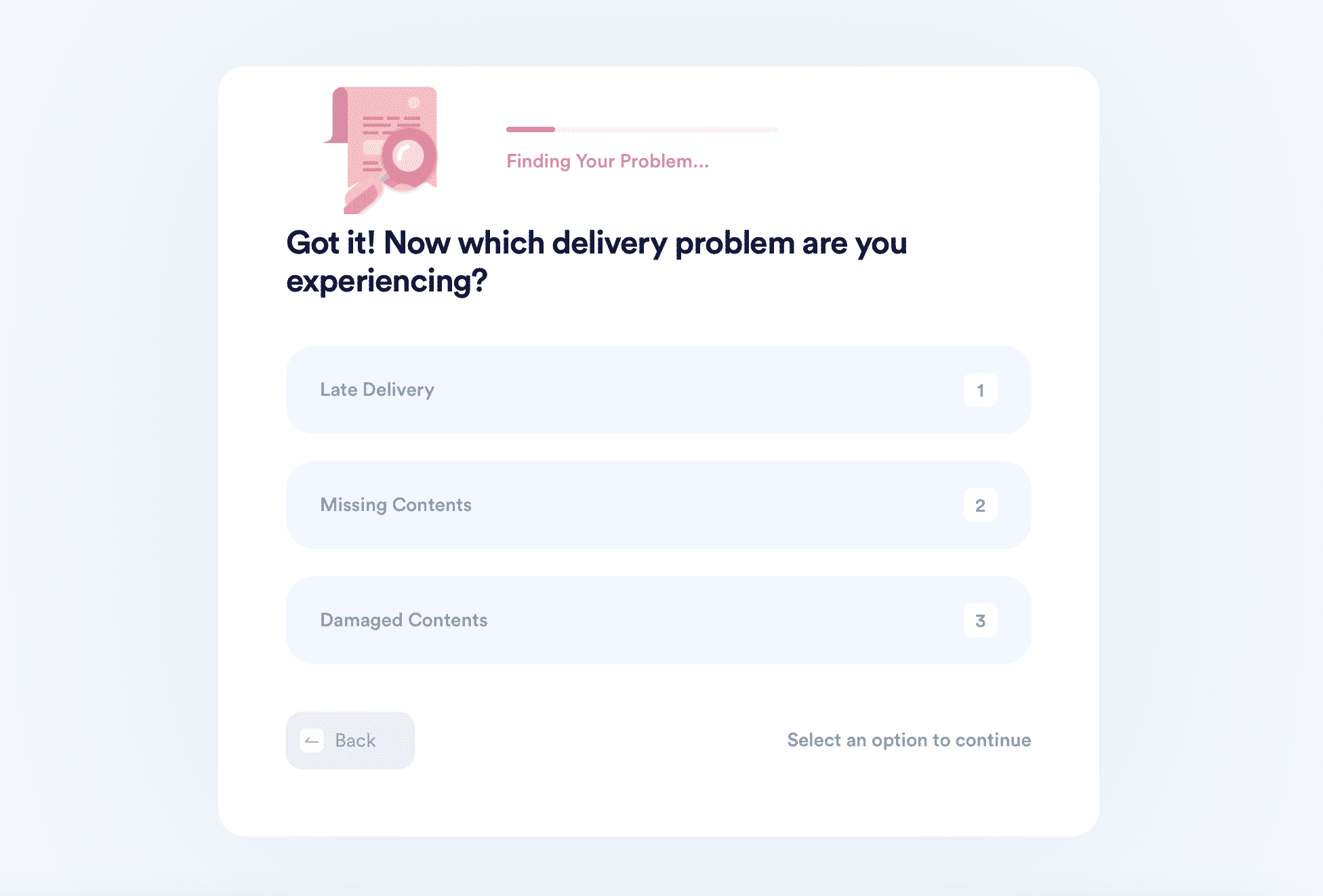 Here's how we can help you do it:
Pick Late Refund Delivery
Select USPS and click on Damaged Contents
Answer a few questions related to the damaged parcel
Our app will create a complaint letter and refund request in your name and make sure it reaches the right department!
The tips from our learning center can also help you: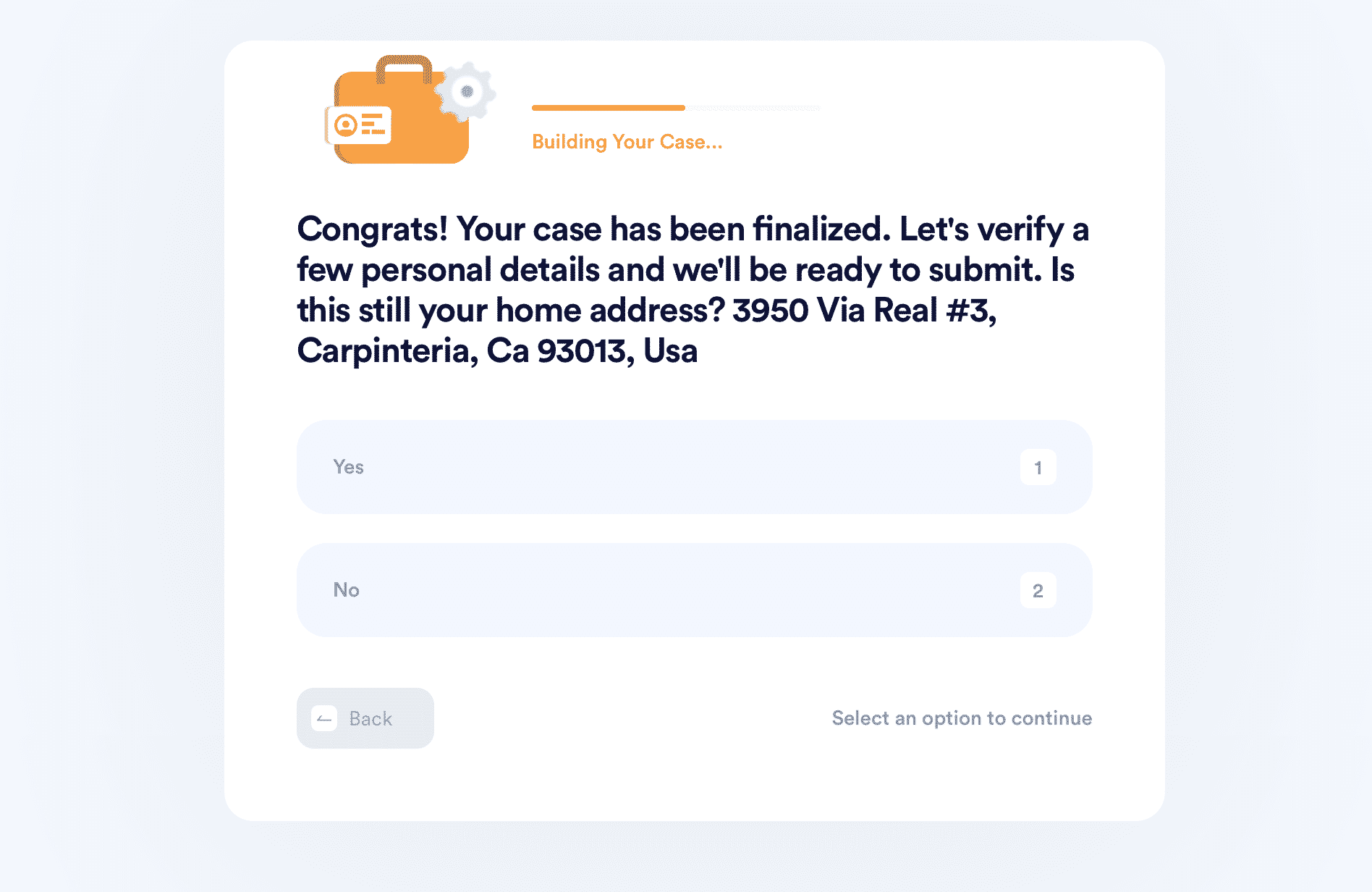 Check Out the Scope of DoNotPay's Services
DoNotPay is capable of way more than handling late or missed deliveries. We are experts in securing refunds and chargebacks, gift card cash backs, airline compensation, as well as making returns on unsatisfactory purchases. We have a way of dealing with hard-to-reach customer services and hard-to-get-out-of mailing lists.
If you need to deal with important paperwork, our app can assist you every step of the way. We can draft legal documents for you and show you how to write them yourself; we can connect you with a remote notary who can notarize your documents 24/7; we can also help you send the docs to any recipient using our convenient online fax functionality!
For a full scope of our services, check out our learning center.
Stay Safe at Home and Enlist DoNotPay To Do Your Bidding
It's not easy to keep tabs on your obligations during these trying times ridden with uncertainty. That is why DoNotPay has developed numerous features to help you cross tasks off your list while staying safely in your home. Here's what else you can get done from the comfort of your armchair through our app: