When Do FedEx Packages Arrive? Get All the Info
If you've been enjoying some retail therapy online, you probably can't wait to get ahold of your purchased items. When do FedEx packages arrive? Get the lowdown on the expected delivery times and ways to track your shipment.
In case your package is nowhere to be found past the delivery date, to lodge a complaint in minutes!
What Time Do Fedex Packages Arrive?
FedEx offers the following package shipping options:
Same-day delivery
Next-business-day delivery
Two- or three-business-day delivery
Ground delivery options
Depending on which shipping type is available to you when you're shopping or which one the sender has chosen, the delivery times will differ. Check the table below to see when you can expect your FedEx package:
Package Delivery Service
Details
Same-day delivery

FedEx SameDay—cross-country delivery within hours
FedEx SameDay City—cross-city delivery within hours

Next-business-day delivery

FedEx First Overnight—first thing the next business day morning
FedEx Priority Overnight—next business day morning
FedEx Standard Overnight—next business day afternoon

Two- or three-business-day delivery

FedEx 2Day a.m.—two business days in the morning
FedEx 2Day—two business days
FedEx Express Saver—three business days

Ground delivery options

Business delivery via ground—FedEx Ground: one to seven business days, depending on the distance to the destination
Residential delivery via ground

FedEx Home Delivery—one to seven business days
FedEx Ground Economy—usually two to seven business days for low-weight parcels
Typically, FedEx delivers from Monday to Saturday between 8 a.m. and 8 p.m.
Track Your Shipment—FedEx, When Will My Package Arrive?
If you're not sure when your package should arrive or where it is, you can track it. FedEx offers a few options.
Track Your Package Online
Here's how to go about checking your delivery status online:
Visit the FedEx website
Tap on Track
Type in your tracking ID, door tag number, or office order number
Click on Track again
In case you purchased an item, you can also track it on the website of the selling company, such as eBay or Amazon.
Track Your Package in the FedEx App
To find out where your package is, you can do the following:
Download the FedEx mobile app
Enter your tracking number or scan your door tag barcode
Track Your Package via Text
For the delivery status of your package, you may send a text message with the word follow and your door tag number.
Track Your Package by Calling
If you prefer to check where your package is via phone, you should follow these steps:
Dial 1-800-463-3339 (1-800-GoFedEx)
Say track my package
Follow the prompts
What Does Your FedEx Delivery Status Mean?
Depending on what your tracking status is, there are different routes you can take next. Check the table below for an overview of the potential delivery statuses:
Tracking Status
Meaning
In transit
Your package is on its way to you. It may be in transport at the moment or at a FedEx facility
Out for delivery
A package handler scanned your package and prepared it for loading onto a FedEx truck for delivery
No scheduled delivery date at this time
FedEx may not have your package yet. Another reason for this status is encountering a delay or an exception in handling the parcel, so an accurate date is unavailable
Scheduled delivery is pending
There is a delay, but the FedEx staff is handling it to deliver your parcel as soon as possible
Delivery exception
A delivery exception signifies an unexpected situation that is causing a delay. The situation can include:

Customs delay
Holiday closure
Missing documentation
If you've been checking your tracking number for some time and you see no change, it doesn't mean your package isn't moving. While FedEx usually updates the delivery statuses every day, sometimes the update can take even longer than 24h, especially for long-distance shipments.
FedEx Missed the Deadline—What Can You Do?
You've found out when to expect your shipment and checked the tracking status, but your package is nowhere to be found? The parcel may be late or lost.
What you can do is contact FedEx and find out what's going on. You can do so by:
You can skip dealing with FedEx and speed up the process with DoNotPay—we can submit a claim in your stead and help you get a refund!
DoNotPay Saves the Day—File a Complaint With FedEx Using Our App
When you're already frustrated because you haven't received your package, the last thing you want is to deal with FedEx customer support. This is where DoNotPay comes in. With our assistance, you'll file a complaint in a few clicks, whether your package was late, lost, damaged, or delivered to someone else.
Once you , all you have to do is:
Navigate to the Late Delivery Refund product
Select FedEx
Provide the essential info about your shipment
Once we collect the necessary details, our AI-powered app automatically sends a complaint and a refund claim to FedEx.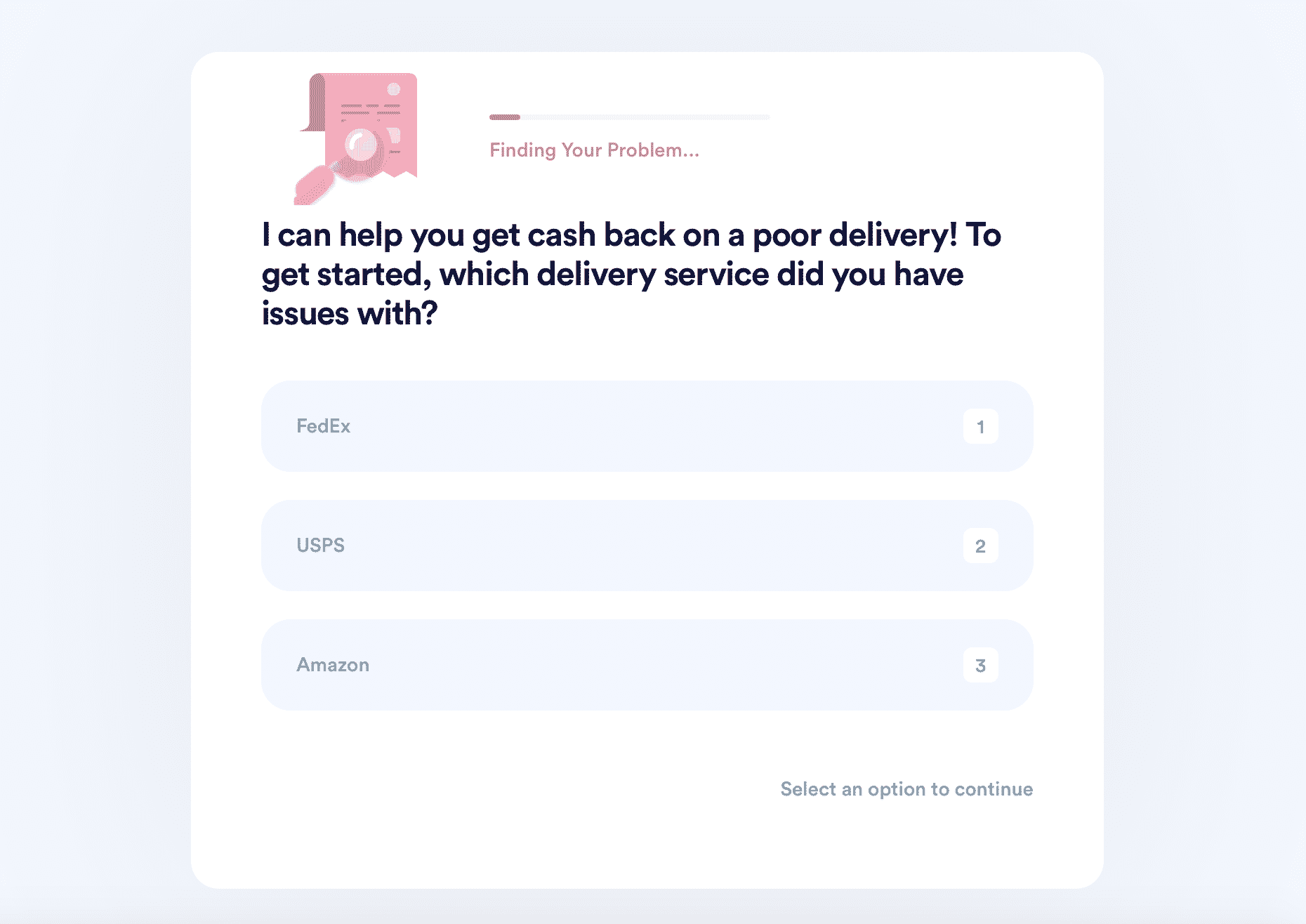 If you're having trouble with other shipping services, DoNotPay can help you out! Turn to our app if:
You can check our ever-growing learning center to find solutions for more delivery-related issues.
Deal With Companies on Your Terms Using DoNotPay
Claiming late, missed, and damaged item delivery refunds is only one in a sea of services you can get with our app. We can show you how you can:
As if that were not enough, we can also unsubscribe you from a company's email list, stop any annoying robocalls or robo texts they are bothering you with, and cancel any service or free trial you're unhappy with or are no longer using. Our Free Trial Card and Burner Phone products can help you try out any service without being spammed or auto-charged later on.
What Other Services Can DoNotPay Extend?
DoNotPay is invaluable when dealing with companies and their confusing policies, but we can also help you bypass tedious government procedures. If you use our app, you'll have no trouble filing FOIA requests, passing government exams, reducing property taxes, as well as drafting legal documents and getting them notarized in a single app!
To top it off, we'll also help you claim lost assets, delay bills, locate an inmate, report stalking and harassment, or take anyone to small claims court in any U.S. state.