How Late Is Too Late To Call In Sick? DoNotPay Knows
Being sick at work shouldn't be an option, yet many states don't have a law that regulates paid sick leave. If you don't want to be forced to work while sick, you must submit a request for sick leave in time—but how late is too late to call in sick?
DoNotPay answers this question and other follow-up questions you may have about calling in sick.
If you , we can help you create a sick leave request in a few minutes.
How Late Is Too Late To Inform Your Employer You Feel Sick?
Most employers require their employees to call in sick at least two hours before the employee's shift, but this entirely depends on your company's policy. It is short notice, but it leaves enough time for the employer to find someone to cover your work. Sometimes it's impossible to know that you will be sick, especially in the case of:
Maybe you're a single parent, and your child suddenly gets sick. Whatever your situation is, you should strive to inform your boss at least two hours in advance or even sooner.
How Often Is Too Often To Call In Sick?
The frequency of your paid sick leave requests is regulated by your company's policy, but here are some general expectations:
Three absences in a 30-day period
Five or more absences in six months
Ten or more absences in a 12-month period
According to some experiences shared online, taking a sick day off more than twice a year would be considered excessive. To avoid potential problems, always check with your HR department and manager what your company's policy is on paid or unpaid sick leave. Your employer shouldn't fire you if you take a few days off when you're sick, but if you do it more than three times within one month, they will probably keep a close eye on you.
The rules are different if you have a chronic disease—if you do, you should check the Americans with Disabilities Act (ADA) to see whether you're protected by it. You will be protected by this act if you have a physical or mental impairment that substantially limits one or more major life activities.
How To Inform Your Employer When You Get Sick at Work
If you're feeling unwell when you're at work, you shouldn't try to stay there the whole day, especially during the COVID-19 pandemic—you are entitled to sick time off by the Emergency Paid Sick Leave Act.
In most cases, being ill at work means that you're less productive and that you might infect your colleagues. To get your sick leave and go home, do the following:
Explain the situation to your supervisor
Request sick leave
Tell your teammates that you'll be out of the office
Don't Be Afraid To Call In Sick—Your State Law May Protect You
There are 15 states and the District of Columbia that regulate (or intend to regulate) paid sick leave. The following guides contain thorough analyses of these states' laws:
Use DoNotPay To Request Sick Leave Fast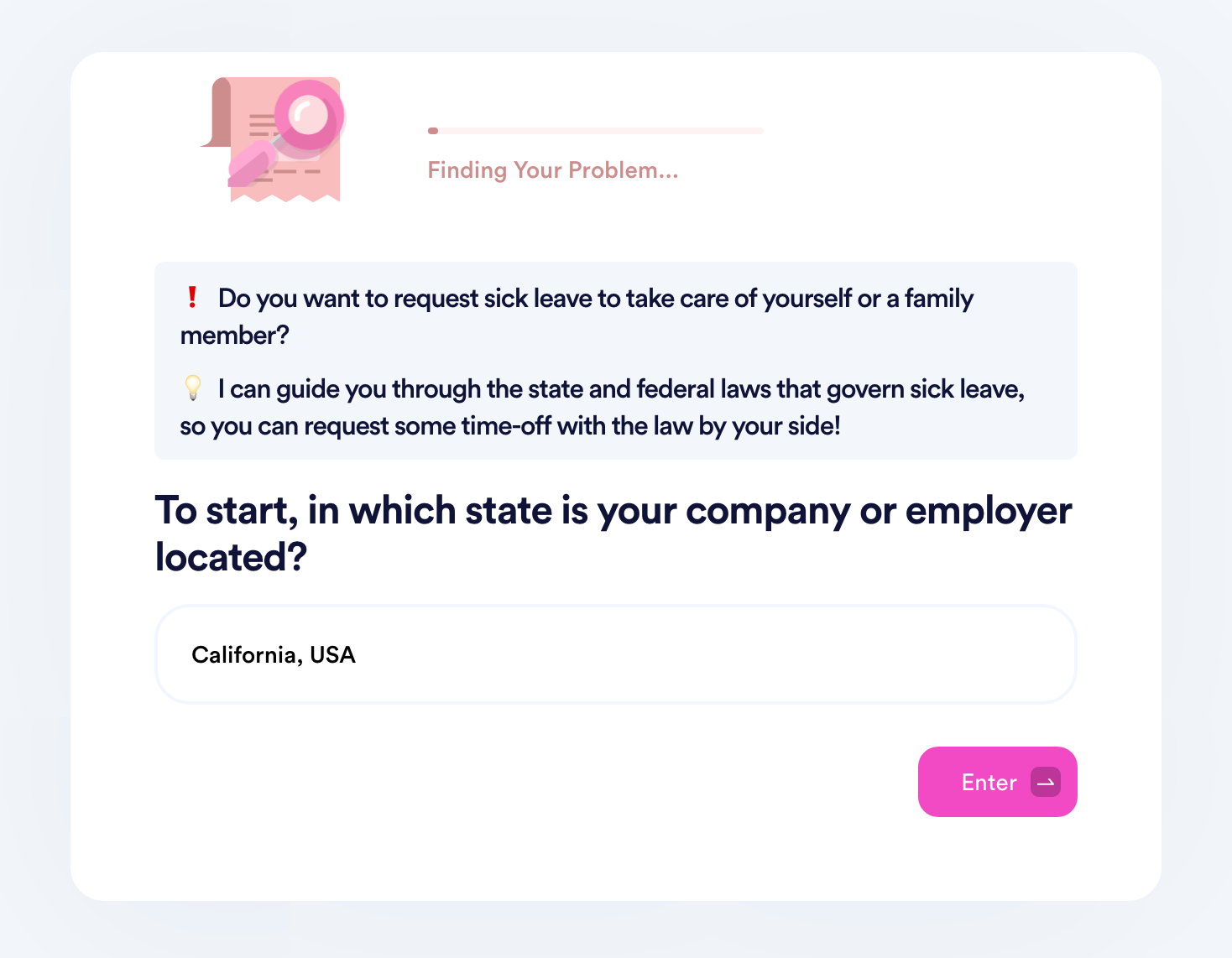 If you're unsure how to write a sick leave email but want to remain professional, DoNotPay can help you. Our platform will create an official sick leave request for you in no time, so you can inform your employer about being absent as soon as possible. To use our Request Sick Leave tool, and follow the steps below:
Tell us where you live, and we'll inform you about which sick leave laws apply in your state
Provide information about your company
Select the dates when you'll be absent from work
Choose whether you want us to send the request to your employer on your behalf
If your employer refuses to give you sick leave and they fire you, you can sue them in small claims court with DoNotPay's help.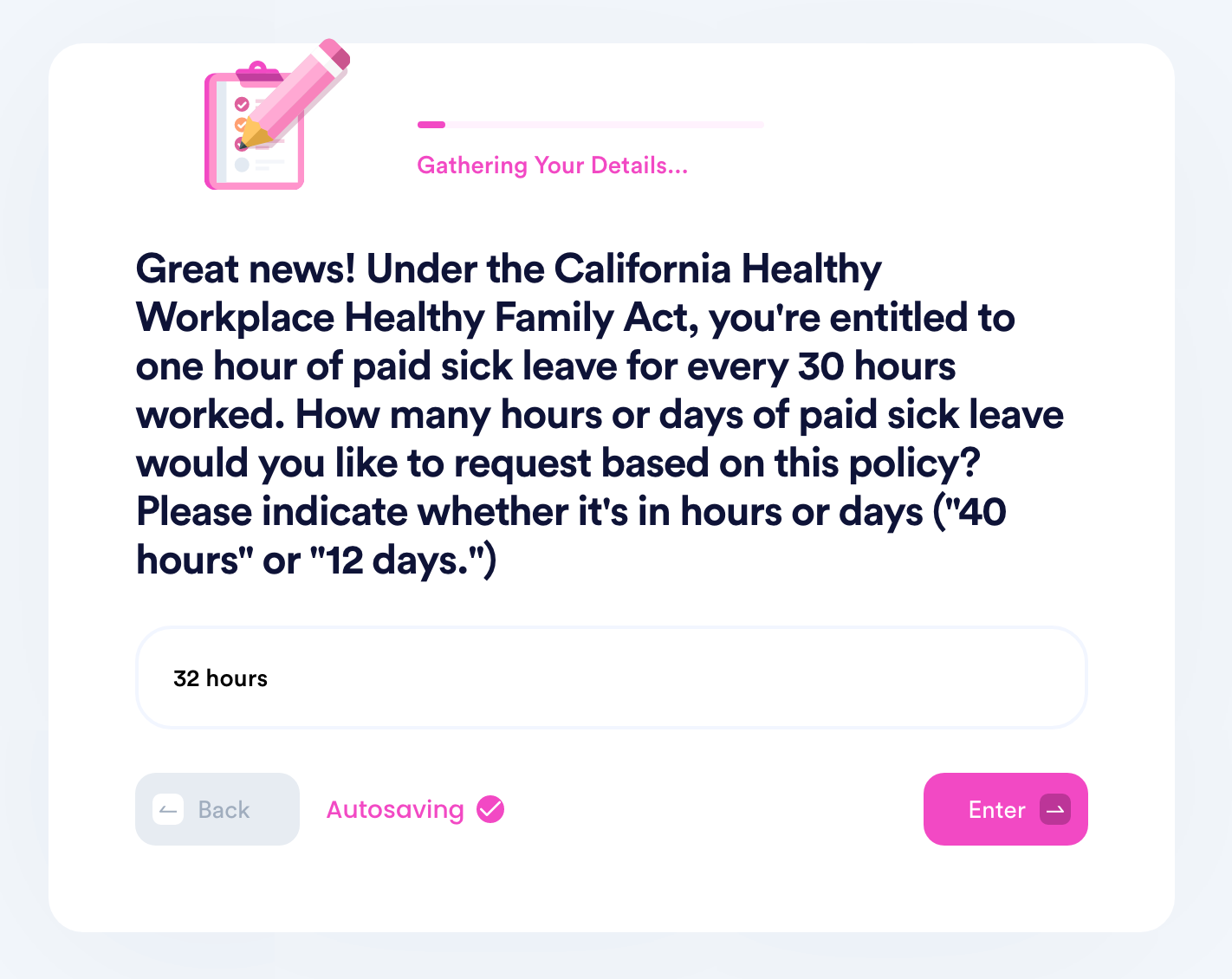 Our Virtual Lawyer Has Got Your Back
DoNotPay has solutions for all those burdensome tasks you would rather avoid or entrust to someone else. Our AI-empowered app can assist you with copyright protection, clinical trial applications, DMV appointments, FOIA requests, mailing services, item returns, and delivery refunds. It also generates standardized legal documents and gets them notarized or faxed with zero fuss!
Through the same app, you can:
File tourist visa applications
Make Education More Accessible and Affordable With DoNotPay
College expenses can be quite a burden for the entire family. Luckily, DoNotPay can have your tuition expenses waived or assist you in applying for various types of financial aid, such as scholarships.
We also offer you a chance to prepare for government tests in a much simpler way or contact embassies or consulates quickly and efficiently if you want to travel abroad to continue your education. If you are a parent who wants to withdraw their kid from a standard school, we will help you draft a notice of intent to homeschool and send it to the local authorities with no stress!