Unpaid Sick Leave—All You Need To Know
Except for the Emergency Paid Sick Leave Act (EPSLA)—a temporary act—there's no federal-level law requiring paid sick leave. Around 33 million Americans don't have access to paid days off and must rely on unpaid leave or go to work sick.
In this article, we'll explain how unpaid sick leave works and which law regulates it. We'll also show you how you can call in sick in no time if you .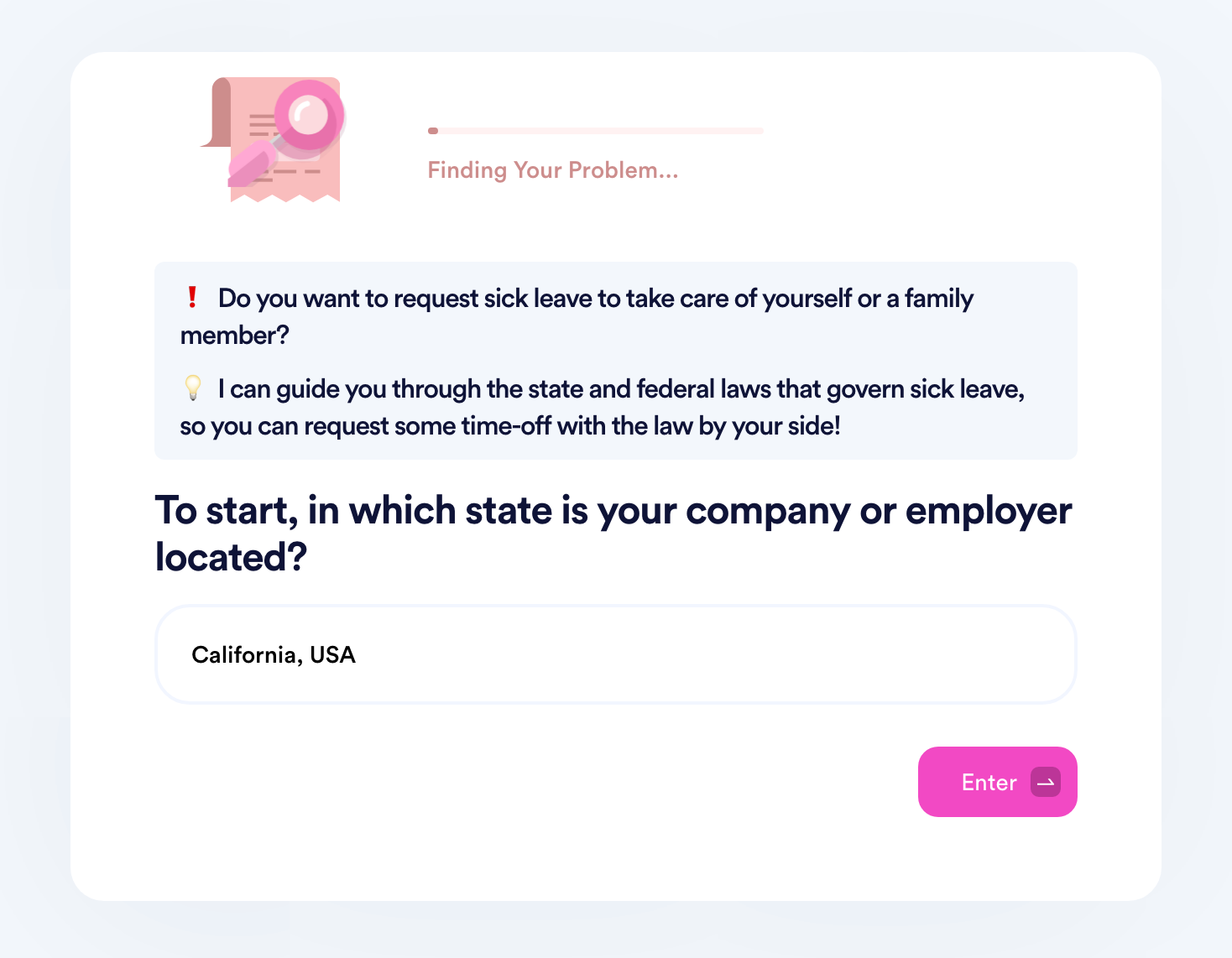 Unpaid Sick Leave—What Does the Law Say?
The law that mandates unpaid sick leave is the Family and Medical Leave Act (FMLA). It's a federal-level act that applies only to companies with 50 or more employees within 75 miles of the workplace location.
If your company isn't subject to the FMLA, you're still likely to get unpaid sick leave through the company policy—few employers won't let you go unpaid and will force you to work sick.
To receive unpaid leave under the FMLA, you need to fulfill certain criteria, as well as have a valid reason for requesting leave. Check out the following table to see the requirements:
Qualifying Reasons
Eligibility Criteria

Serious health condition
Childbirth
Child adoption
Providing care to a member of your family with a serious health condition
Any reason that arises from a member of your family being on active military duty

Be employed in the company for at least 12 months prior to requesting sick leave
Have 1,250 hours of work or more accumulated in the past 12 months
How Many Unpaid Sick Days Can You Get With the FMLA?
When it comes to sick day rules, the FMLA states that you can receive up to 12 weeks of unpaid leave within 12 months.
Check if You Qualify for Paid Sick Leave
Before you request unpaid sick leave, find out if you can get paid time off. If your company doesn't offer it as a benefit, you can still turn to:
The EPSLA
The EPSLA is a temporary federal-level act that offers ten days of paid leave for employees that contract Coronavirus.
Since there's no permanent federal law about paid leave, some states—and local governments—have taken it upon themselves to require employers to provide paid sick leave. Take a look at the following table to find thorough guides to individual state laws:
How To Request Unpaid Sick Leave With DoNotPay
Getting sick leave can be an unwelcome task. You need to request it formally by talking to your employer or sending an email request. If you want to avoid having an awkward conversation or don't know how to write a request—or don't want to—you can use DoNotPay.
Our app will look into what laws apply to you and draft a professional request letter using the information you provide. All you need to do is , select the Request Sick Leave feature, and:
Select the state the company is located in
Answer our chatbot's questions about the company
Enter the dates on which you'll be absent from work
Choose whether you want DoNotPay to:

Send the request to your employer directly
Share it with you to email it on your own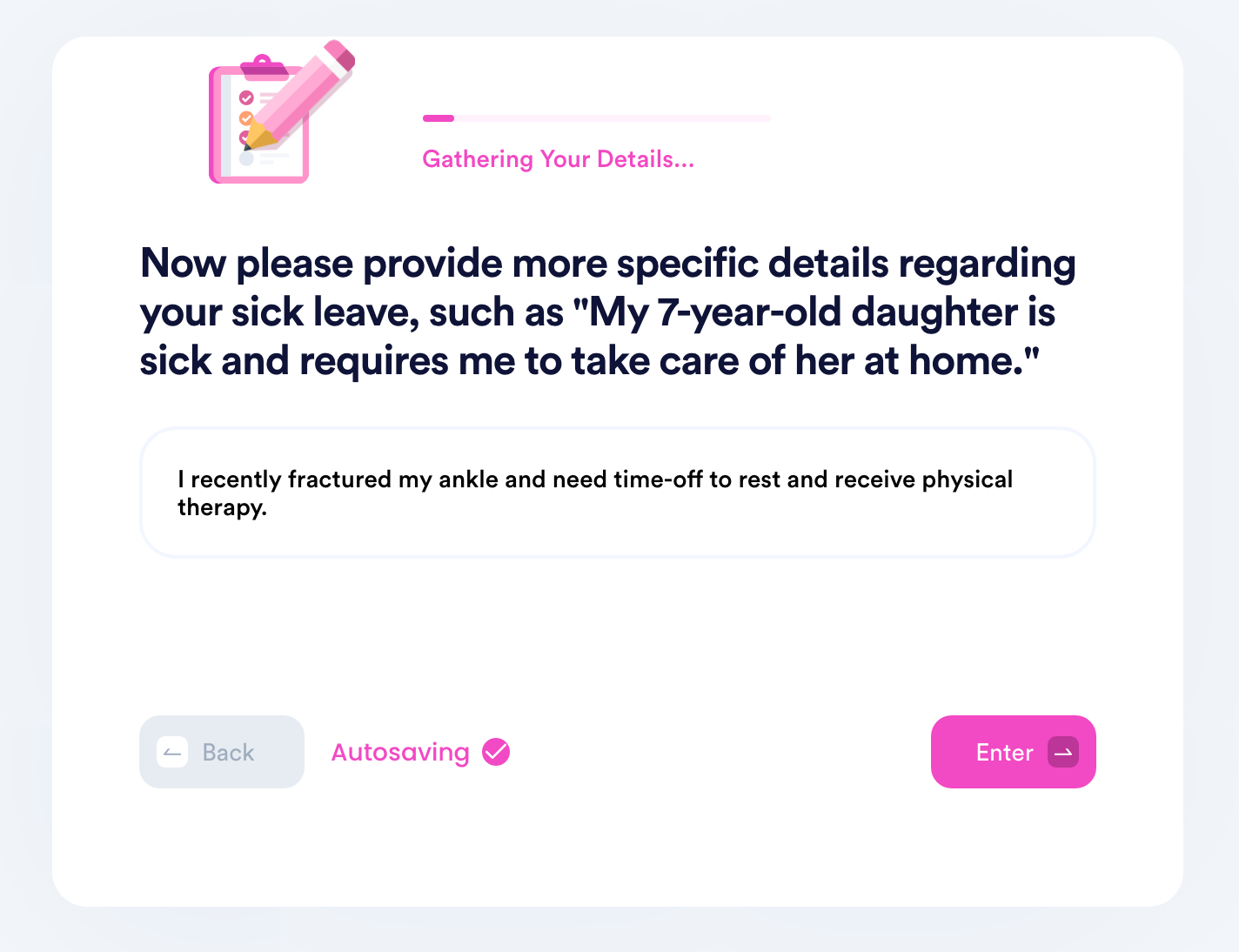 If your employer declines your unpaid sick days request despite the law in place or, even worse, fires you, use DoNotPay to sue them and protect your rights. With the award-winning Small Claims Court product, we'll guide you through the entire court process by helping you with:
Drafting a demand letter
Filling out court forms
Gathering necessary paperwork
Filing the complaint
Creating a script to use in court
What Else Can DoNotPay Do for You?
Our vast collection of products simplifies various everyday tasks, including:
Various mailing issues by:
Applications for:
Traveling tasks, such as:

Getting tourist visas the easy way

Appeals of:
Other tasks, such as:
Get More Money the Easy Way With DoNotPay
Is a tight budget a constant problem in your household? DoNotPay is here to reduce your expenses and help you get the money others owe you. Our app helps you get refunds from companies, find unclaimed money, cash out old gift cards, and terminate unused subscriptions in a jiffy!
You can also request violent crime compensation, demand chargebacks from airline companies, or claim your warranty or insurance without paperwork.