Missing Work Due to a Sick Child? Learn How To Notify Your Boss Easily
No one should be forced to work when sick or when their child is ill. If your child has health problems and you don't know whether you can stay home to take care of them, DoNotPay can help!
If you plan on missing work due to a sick child, you should know what your rights are and learn how to notify your employer the easy way. DoNotPay can help you prepare a flawless sick leave request letter and inform your boss about your absence stress-free!
My Child Is Sick—Can I Take Time Off Work?
Sick leave laws are different in every state. Your place of residency and terms of employment will determine whether you're entitled to unpaid or paid sick leave and how many sick days you can get.
Although there are no federal laws that dictate whether or not you can get sick leave, the Family and Medical Leave Act (FMLA) can help you get unpaid time off to take care of your child.
What Is the FMLA?
Brought into law in 1993, the FMLA requires employers to provide their employees with unpaid leave if they:
Can't come to work because they're sick
Need to take care of a newborn
Need to provide care for a child, parent, or spouse who has a serious health condition, such as pregnancy or any illness that:

Requires them to be admitted to the hospital
Prevents them from going to school or work for more than four days in a row
Is chronic, such as diabetes or asthma
The act provides a maximum of 12 weeks of unpaid leave per year. In case you take time off because your child is sick, you can spend all of the 12 weeks at once if needed.
FMLA Eligibility Requirements
For you to be covered by the FMLA, you and your employer need to meet the following requirements:
You must have worked for the current employer for at least one year
You must have worked at least 1,250 hours (24 hours each week) over the past year
Your employer must have at least 50 employees within 75 miles
Understanding Sick Leave Laws
States have different sick leave laws that often get changed and improved (especially during the pandemic). Consult the table to learn more about sick leave laws in some states:
How To Tell My Employer That I'll Be Missing Work To Take Care of My Sick Child
Before missing work to take care of your child, you need to inform your employer about the situation and notify them that you will be taking time off. To do so, you can either:
Send a notice via email
Get in touch with them over the phone
Keep in mind that situations like these require you to act quickly, meaning that you should inform your manager as soon as possible. If they know that you'll be absent, they can organize the workflow better so your leave doesn't have a negative effect on the business.
If you want to call in sick in a snap, ! Our AI-powered app can generate a formal sick leave request letter for you in no time!
Call In Sick the Easy Way—Use DoNotPay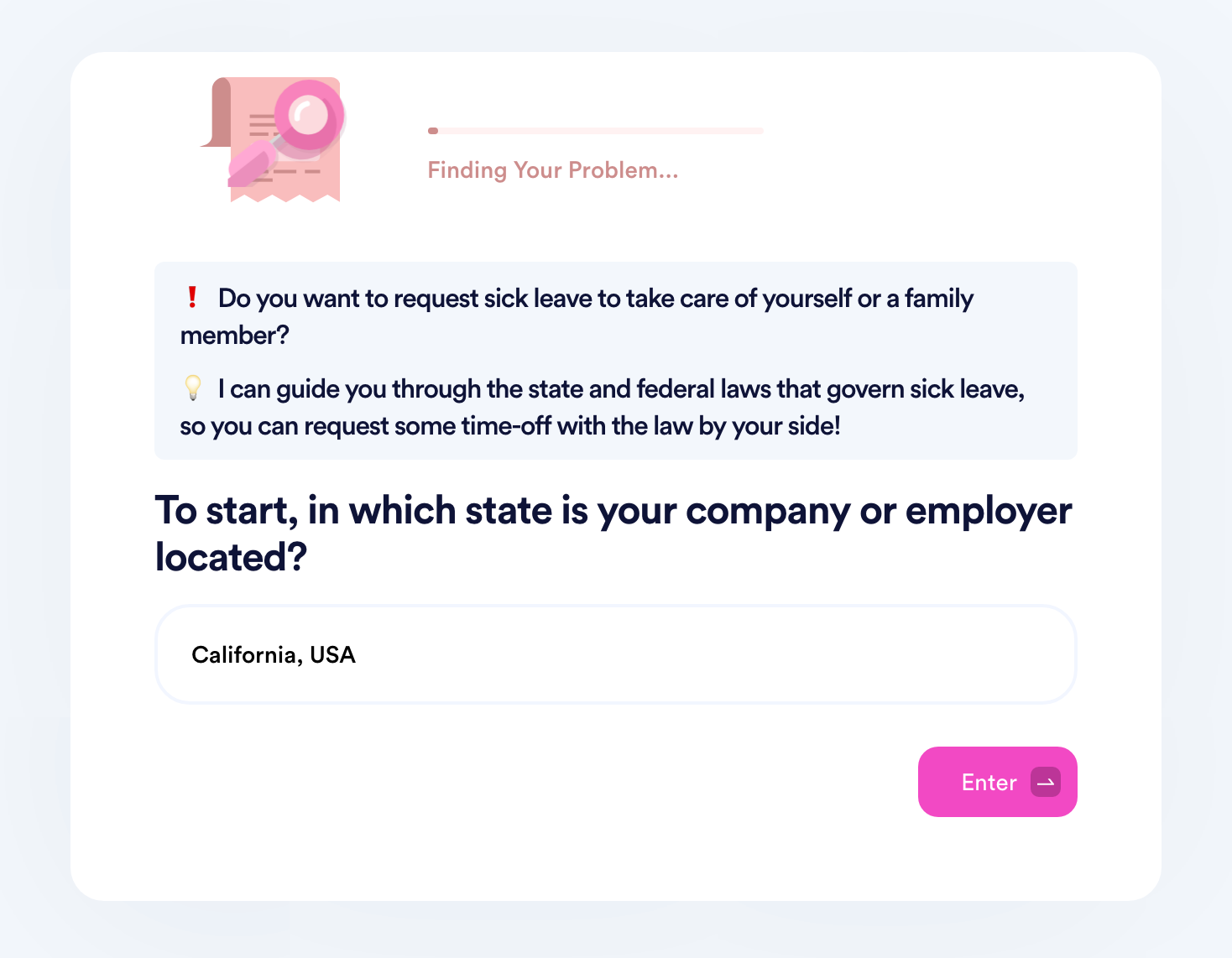 Don't want to waste time calling your employer or writing a formal email?
DoNotPay can help! To generate a sick leave request letter with our app, all you have to do is:
Select our Request Sick Leave tool
Specify how many days you will be absent
Answer our chatbot's questions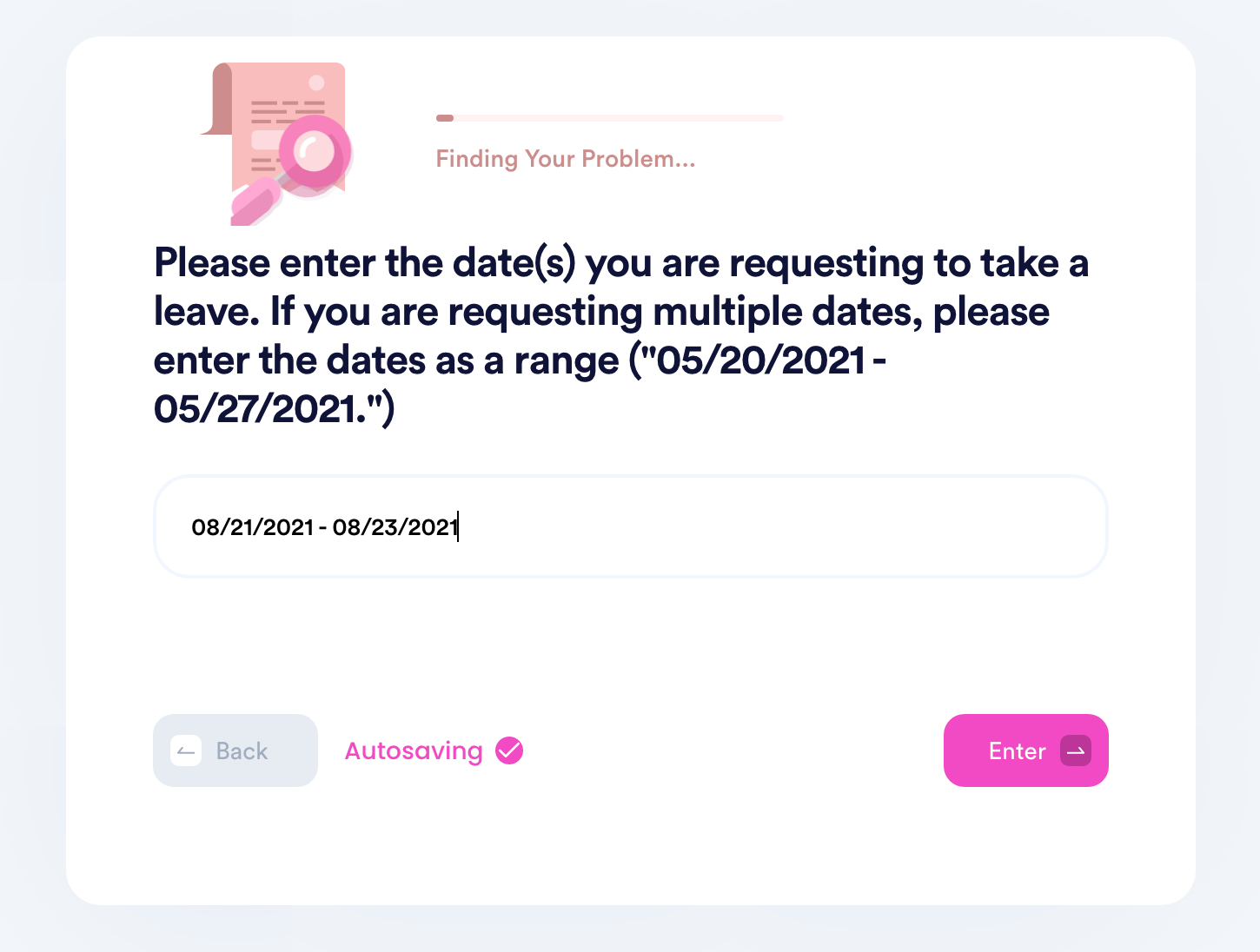 We will process your request instantly and generate the document for you. We can then forward it to your HR manager or send it to you so you can download it.
DoNotPay can also help you sue your employer if they fire you for taking time off to take care of your sick child even though you're legally allowed to do it.
Our Platform Makes Your Life Simpler
DoNotPay offers a vast spectrum of life-changing services, including the ones listed below:
| Services | With Our App, You Can: |
| --- | --- |
| Eliminating spam and harassment | |
| Saving and getting more money | |
| Providing other useful services | Convert various files to other formats |
DoNotPay Helps You Get the Necessary Paperwork in a Heartbeat
Do you need to compose a power of attorney, revocable living trust, or a health care directive but don't know how? No worries—DoNotPay can do it for you! If you need comprehensive and valid legal documents tailored to your wishes and needs, there's no better way to get them than subscribing to our app!
We can also draft personalized FOIA requests, divorce agreements, homeschool notices of intent, and various complaints.