Untangle the HOPE Scholarship Requirements With Our Compact Guide
The HOPE (Helping Outstanding Pupils Educationally) Scholarships are a series of highly sought-after financial aid options awarded to students in Georgia. These scholarships—which are fully funded by the revenue generated from the Georgia State Lottery—are meant to:
Support meritorious students who cannot afford a college education
Prevent talented students from moving to another state
In the past decade, Georgia state scholarships have transitioned from being need-based to merit-based. The current HOPE scholarship requirements for eligibility reflect these changes aggressively—and we'll help you understand them in this thorough article.
Georgia Lottery HOPE Scholarship—Requirements for Each Type
According to the Georgia Student Finance Commission, HOPE scholarships have benefited almost 1.9 million students since their inception in 1992. Currently, there are six different types of HOPE scholarship and grant programs with varying eligibility requirements:
HOPE Scholarship
HOPE Grant
Zell Miller Scholarship
Zell Miller Grant
HOPE GED Grant
HOPE Career Grant
HOPE Scholarship
HOPE Scholarship covers a part of your tuition fees for an undergraduate degree as long as you:
Graduate your high school senior year with a minimum of 3.00 GPA or maintain a similar performance as a homeschooler
Maintain the qualifying GPA throughout college
This scholarship can only finance up to 127 semester hours or 190 quarter hours—not the entire semester.
HOPE Grant
HOPE Grant is available to full-time students of a certificate or diploma course who maintain a minimum of 2.00 GPA throughout the course. Only the first 63 semester hours or 95 quarter hours in tuition fees will be covered by the award.
Zell Miller Scholarship
Zell Miller Scholarships are meant for college-bound students. They cover 100% of tuition fees but have stricter academic eligibility requirements, such as:
A GPA of 3.70 or above in high school
A minimum SAT score of 1200 for Math
A GPA of 3.30 or above throughout college
STEM subjects may have more weight in the GPA calculation.
Zell Miller Grant
Zell Miller Grants cater to students enrolled in a diploma course. Students need to maintain a GPA of 3.50 to receive the benefit.
HOPE GED Grant
HOPE General Education Development (GED) Grant is issued by the Technical College System of Georgia. It gives awardees a one-time $500 award to cover the cost of tuition fees and books. The requirements are:
Full- or part-time enrollment in an eligible college
The grant must be used within 24 months of receiving a GED diploma
HOPE Carer Grant
HOPE Career Grant is offered to students pursuing a graduate or diploma program for a subject that the local government tags as "strategically crucial" for economic growth—for example:
Confused by GA HOPE Scholarship Requirements? DoNotPay Can Assist You!
If you are having trouble discerning the eligibility requirements or applying for any of the HOPE scholarships, DoNotPay can help you out! Our app can process your student details and immediately tell you which scholarships you qualify for.
Our scholarship finder feature uses your location, grades, interests, and other qualifications to match you with the perfect HOPE and other local and national scholarships—all in under five minutes! to use our scholarship search and application support services!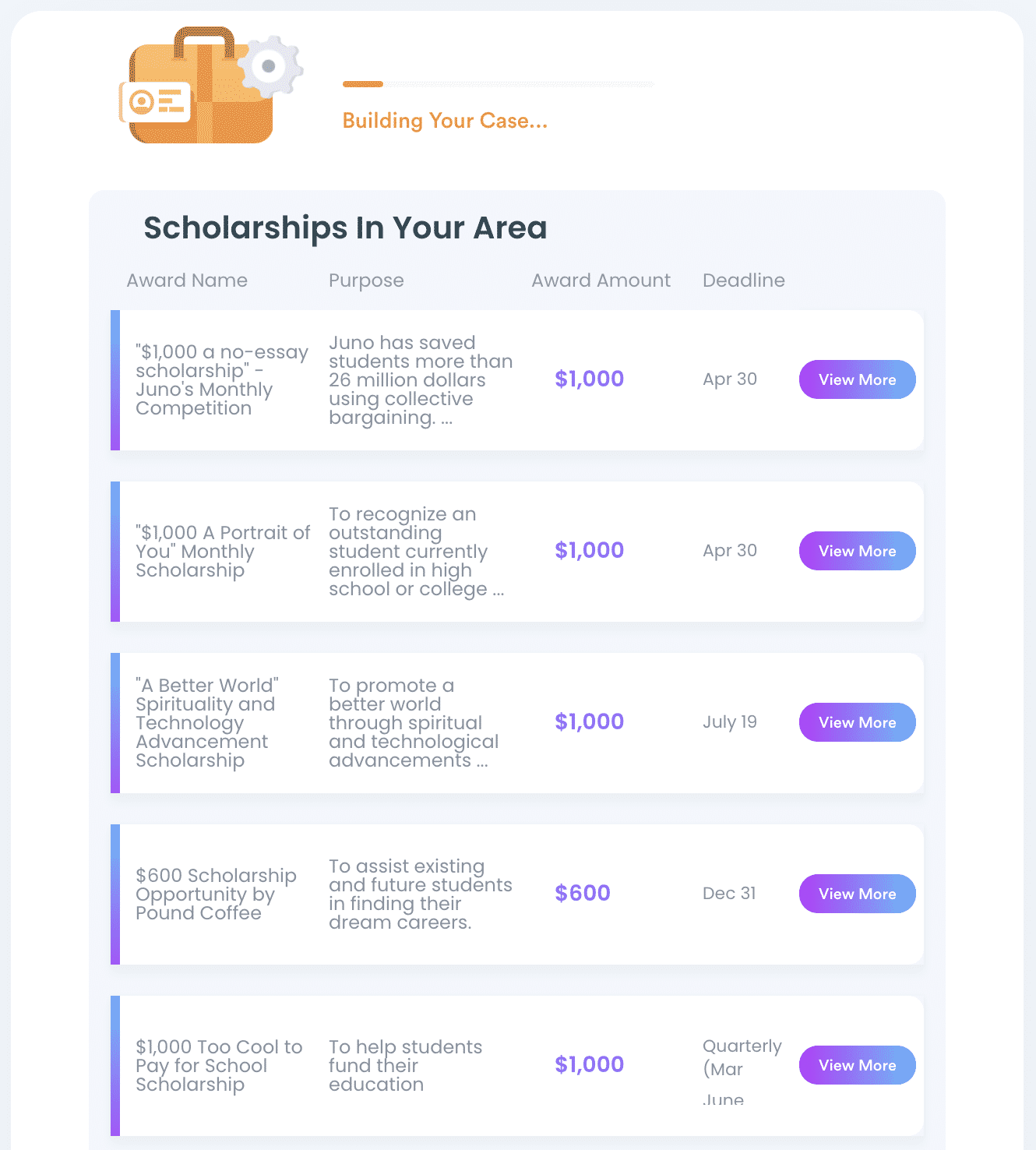 Standard Requirements for All HOPE Scholarship Options
Apart from individual HOPE program requirements, you need to fulfill other student eligibility criteria when applying for a scholarship. The criteria remain the same across all HOPE schemes and require the student to:
Be a U.S. citizen or a Permanent Resident Alien
Stay in Georgia as a legal resident, especially if they are an independent student or an adult learner
Comply with Selective Service registration rules (for male students)
Have no felony charge relating to the use of marijuana, controlled substances, or dangerous drugs
Owe no money to any other financial aid program in Georgia
Not exhaust the maximum number of individual awards allowed—the upper limit for individual HOPE awards may change each year
How To Apply for Any HOPE Scholarship
The Georgia government has awarded over $10 billion in HOPE financial assistance in the past 30 years.
At present, you can apply for HOPE scholarships in two ways:
Fill up the student aid form at the Free Application for Federal Student Aid (FAFSA) website
Apply using the online form for Georgia Student Finance Application (GSFAPP)
Search Beyond the HOPE Scholarship in Georgia—Apply for Multiple Opportunities With DoNotPay
Don't make HOPE programs your only hope for financial aid—DoNotPay can introduce you to a whole world of scholarships in a jiffy! Our app not only curates a personal list of scholarships for you but also helps you apply for no-essay scholarships directly from the platform!
This is what you need to do:
and search for Scholarships
Fill out the student questionnaire with accurate details
Select if you want to View or Apply
If you choose View, we will display a comprehensive list of all scholarship options that match your student profile. You can use our database to single out the scholarships you want to apply for.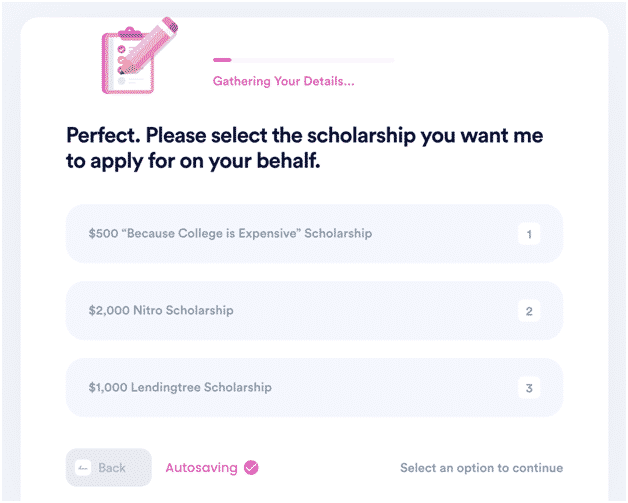 If you click on Apply, we will compile all scholarships that don't require an essay submission. You can select the ones that appeal to you, and we will use the info from your student questionnaire to send a formal scholarship application on your behalf!
Our search and application support helps you apply for multiple scholarships programs from the same platform, which raises your chances of getting selected!
Georgia HOPE Scholarship Program—Critical Analysis
HOPE scholarships are solely focused on merit—they don't require you to write essays or arrange cover letters, resumes, recommendation letters, community service proofs, or income certificates.
While many students appreciate the no-fuss, merit-only approach, students from minority groups feel left out in the cold. Check out the table below for further clarification:
| Minority Groups | Details |
| --- | --- |
| Communities | Currently, HOPE programs do nothing to help communities like international students, transfer students, women, veterans, disabled students, LGBTQ students, young athletes, or foster kids |
| Religious and ethnic groups | You also won't find any HOPE financial aid dedicated to helping religious and ethnic groups—such as Hispanics, Filipinos, Indians, Africans, Asians, Muslims, Catholics, Christians, or Jews—cover their college expenses |
Another issue with HOPE schemes is that they do not offer full-ride scholarships. If you want full-fledged help for your tuition fees, consider looking for more options through DoNotPay's scholarship finder.
Save Time With DoNotPay
DoNotPay is not done helping you! We offer you assistance in completing a variety of tasks quickly and efficiently, such as:
Canceling Subscriptions Has Never Been Easier!
If you keep getting charged a monthly subscription fee even though you no longer want to use a certain service, don't let your money go to waste! Some companies tend to renew your subscription automatically, but that doesn't mean you have to put up with it—use our app to terminate your membership or subscription in a few clicks!
Do you want to sign up for free trials and create a virtual credit card or a burner phone number to protect your sensitive info? Once you subscribe to DoNotPay, we will walk you through the process of doing all of the above in no time!
You can also count on our assistance if you need to get rid of spam or robocalls.