Georgia Tech Scholarships—Where Can You Find Them?
Getting enrolled at the Georgia Institute of Technology (Georgia Tech) is a difficult task, and staying there can be a heavy financial burden on anyone due to Georgia Tech's hefty application and tuition fees and various other expenses.
Many students who miss out on financial aid take years to pay off their college debts. The good news is, there are plenty of college scholarships out there—you only need to know where to find them.
Are you an early bird and want to secure a scholarship while still in high school, as a senior or even junior? Or maybe you're looking for graduate school scholarships? Regardless of your situation, you can rely on our Georgia Tech scholarships guide and find out everything you need to know to apply.
DoNotPay can help you find all the available scholarships in only a few minutes!
What Georgia Tech Scholarships Are There?
There are four types of scholarships you can find:
Georgia Tech scholarship awards
Institutional scholarships
Georgia Tech merit scholarships
Georgia Tech Alumni Scholarship
Georgia Tech Scholarship Awards
Georgia Tech scholarships are so-called "gift aids," as they are non-returnable and exist to help students who face financial hardship. These awards are available both for U.S. residents and international students.
When choosing between applicants, these scholarships look at:
Financial need
Academic excellence
Major of study
Those who receive scholarships will have to maintain a cumulative GPA of 3.0.
Every year, Georgia Tech has many students with matching qualifications applying for scholarships. This is why they focus on students' financial status.
There are many Georgia Tech scholarships to choose from, so you can probably find something for yourself. Here are a few examples:
Institutional Scholarships
There's a long list of institutional scholarships that offer financial rewards to Georgia Tech students. Some of these scholarships are given to students by Georgia Tech's Office of Scholarship and Financial Aid (OSFA). There isn't much difference between scholarships awarded by OSFA and those chosen by institutions themselves—you will get your financial reward either way.
These scholarships have different requirements, based on residency, participation in a co-op program, and studying abroad, so make sure you follow them. Here's a table with the info on requirements for some of these scholarships:
| Scholarship Name | Residency | Co-Op Program | Study Abroad | Awarded by OSFA |
| --- | --- | --- | --- | --- |
| Diana B. and Jack E. Addams Scholarship | Out of state | No | No | Yes |
| Argyle Crockett Jr | Out of state | Yes | No | Yes |
| Robert M. Gilson Jr. Dean | Not specified | Yes | No | No |
| Dave and Carrie Armento | Georgia | No | No | Yes |
| William Davis Pulp and Paper | Not specified | No | No | No |
| Edwin Rembert DuBose | Not specified | Yes | Yes | Yes |
| William B. Spencer | Out of state | Yes | No | No |
Georgia Tech Merit Scholarships
Georgia Tech merit-based scholarships are also known as "outside scholarships," as they don't have a direct connection with the college itself. If you get one, you're in a legal obligation to inform the University about it. In case you receive financial aid from the University, they will reduce or remove your awards.
To get an outside scholarship, you have to fulfill certain criteria. These criteria revolve around your academic performance, but they can also be about something specific. For instance, there are scholarships specifically dedicated to:
Georgia Tech Alumni Scholarship
There are three categories of alumni scholarships:
Geographic—based on where students have finished their high schools
Corporate—some companies offer scholarships to children and grandchildren of their employees
Affinity—the GT Black Alumni Organization offers scholarships to African American students
For students from Georgia, the deadline to apply for an alumni scholarship is October 15, while non-Georgia students can do so until November 2.
How To Search for Georgia Institute of Technology Scholarships
Finding scholarships and grants to help you out with financing your education can be a daunting task. Why? There are over 400 scholarships granted by OSFA alone. As someone who's looking for a scholarship, you'll need to go through all these options to see which ones you're eligible for.
There are several ways you can go about it. You can:
Talk to your financial aid officer while you're still in high school to get some information on what type of scholarship you can look for
Contact Georgia Tech's office at scholarships@finaid.gatech.edu or by calling 404-894-4160
Visit scholarship websites
and get a list of all available scholarships that you can apply for. Our app is the quickest method as you get to see all the necessary information in one place
Georgia Tech Application for Scholarships and Financial Aid
All you need to do to apply for Georgia Tech's "gift aids" scholarship is fill out the Georgia Tech Application for Scholarships and Financial Aid, as well as the Free Application for Federal Student Aid (FAFSA) form.
Other programs have more complicated application processes. Although each scholarship program has a different procedure, there are some general prerequisites you need to look into every time. You should make sure:
The deadline has not passed
You're eligible for the scholarship
You have all the required documentation—most applications need to have transcripts, letters of recommendations, and essays
Finding the Right Georgia Tech Scholarship Using DoNotPay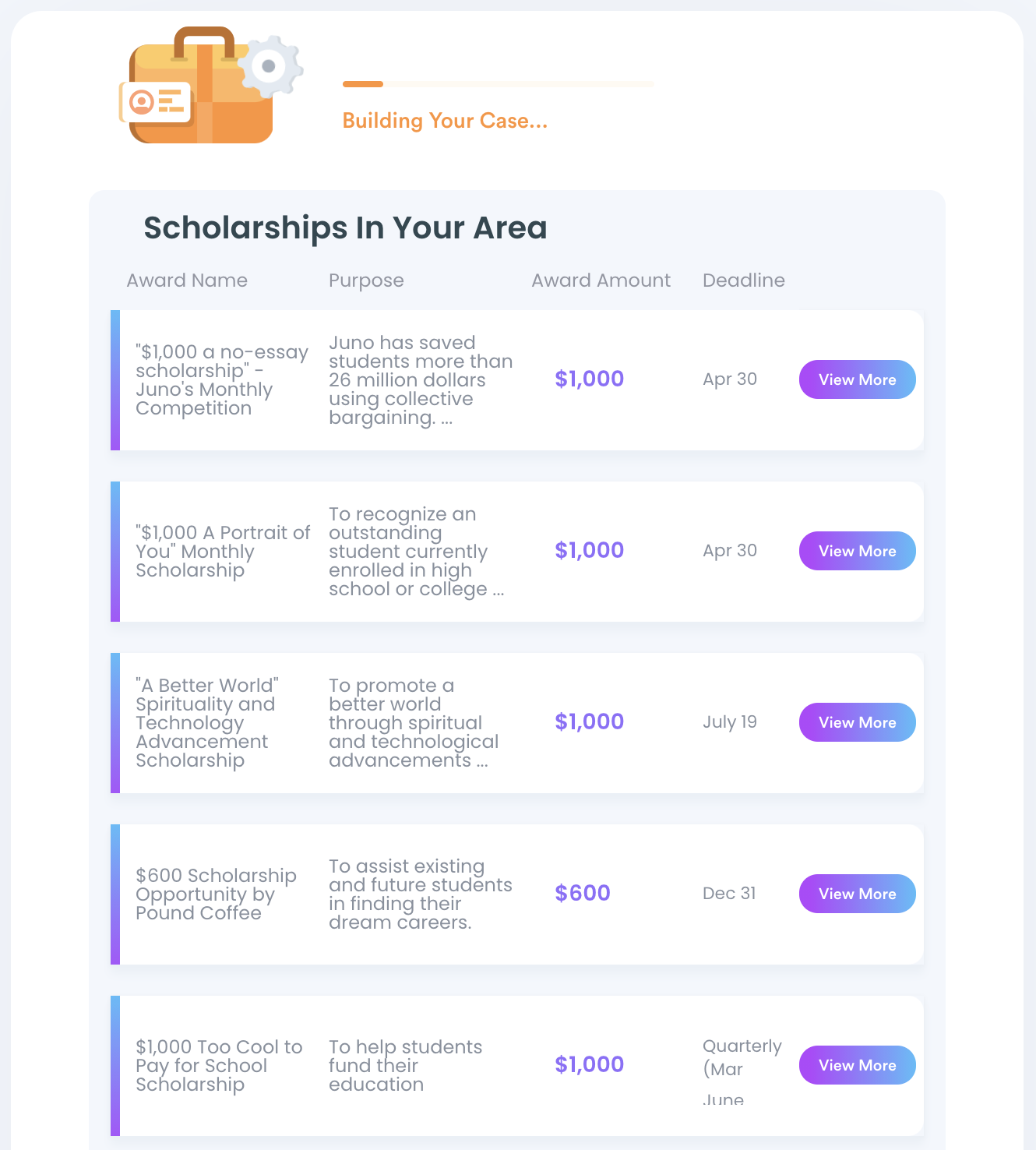 As there are hundreds of scholarships out there, you have to spend too much time learning about each one. With DoNotPay, you can perform a personalized search based on your qualifications and needs, and our app will let you know what scholarships there are for you.
All you need to do is the following:
Click on the Apply for Scholarships tool
Answer some questions about your level of study
Select what kind of scholarships you're looking for
That's all there is to it. In a minute, you will see all the available scholarships you can apply for and what award amount you can look forward to.
If there are some no-essay scholarships that interest you, you can use our app to apply for them without having to go through the process by yourself.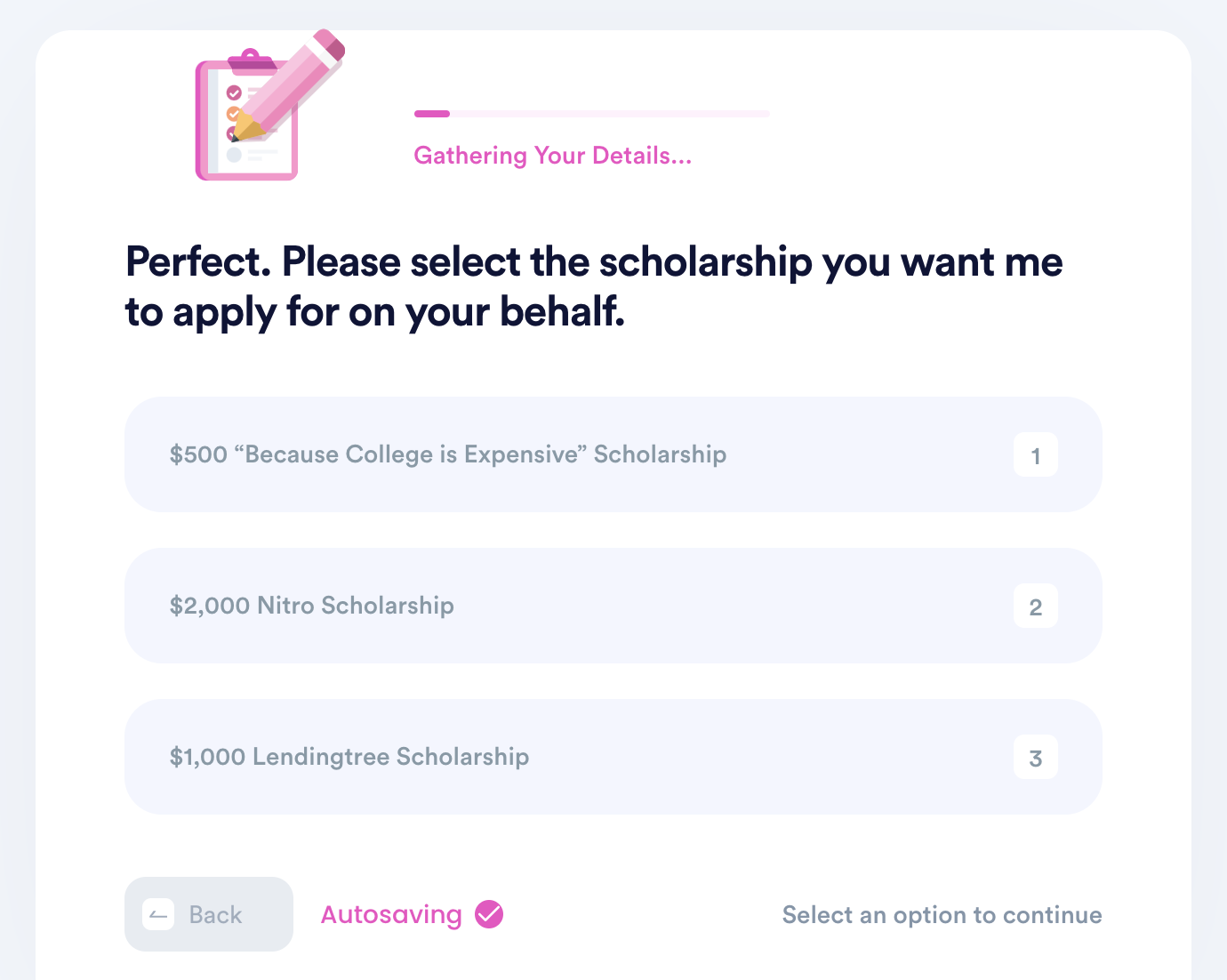 There Is No Shortage of Tasks DoNotPay Helps You With
If you find finishing administrative tasks tedious, you can rely on our app to assist you through the entire process and make it a smooth-sailing experience. Check out the table below to find out what DoNotPay can help you do:
| Deal With Companies By | Get Rid of Pesky Spammers By | Get Help With Your Studies By |
| --- | --- | --- |
| | | |
Buried in Paperwork? Not for Long!
Is creating legal documents giving you a migraine? Not everyone is acquainted with the law and legal jargon, which is necessary when writing documents, such as:
Divorce settlement agreements

Powers of attorney
Luckily, DoNotPay can draft your legal documents in minutes! Why waste hours doing it yourself or hire a lawyer when you can have our app do it in no time?
Creating anonymous HR complaints and demand letters for your inconsiderate neighbors is also something our app does best!