The Homeschool Completion Affidavit—The Final Step for Homeschooling Families
Signing the homeschool completion affidavit is the final stage of home education in Florida that will open your children the door to future academic success. Find out how and when to file the important document .
What Is a Homeschool Completion Affidavit?
According to Florida homeschool laws, parents must submit a homeschool completion affidavit at the end of a homeschool program. The document should be signed in the presence of a notary and forwarded to the school county superintendent. You're required to sign the affidavit even if you've hired someone else to homeschool your child.
The homeschool completion affidavit is:
How To Fill In a Homeschool Completion Affidavit
You can download a template for the homeschool completion affidavit from:
The official websites of educational institutions in Florida (colleges and universities)
Various homeschool associations' web pages
The document layout is mostly uniform and includes the following sections:
| Homeschool Completion Affidavit Section | Description |
| --- | --- |
| Information about the student | You must provide the following information: |
| Certification from the homeschool operator | In this section, you need to sign an official statement confirming your child has met the following requirements: |
| Notarization | You must get the homeschool completion affidavit notarized by a Florida Commissioned Notary |
| Foreign language certification (optional) | If you include a foreign language in your list of subjects, state the details in this section of the homeschool completion affidavit |
Other Graduation Requirements for Homeschooled Kids
Florida provides parents interested in home education with three distinct homeschooling options:
Teaching their child first-hand
Hiring a homeschool teacher
Enrolling their child in an "umbrella" program (a private school that provides supervision for homeschooled students)
If you've decided to single-handedly homeschool your kids, you must meet the following requirements, or the completion affidavit will be invalid:
Subscribe to DoNotPay and Generate a Homeschool Affidavit With a Few Clicks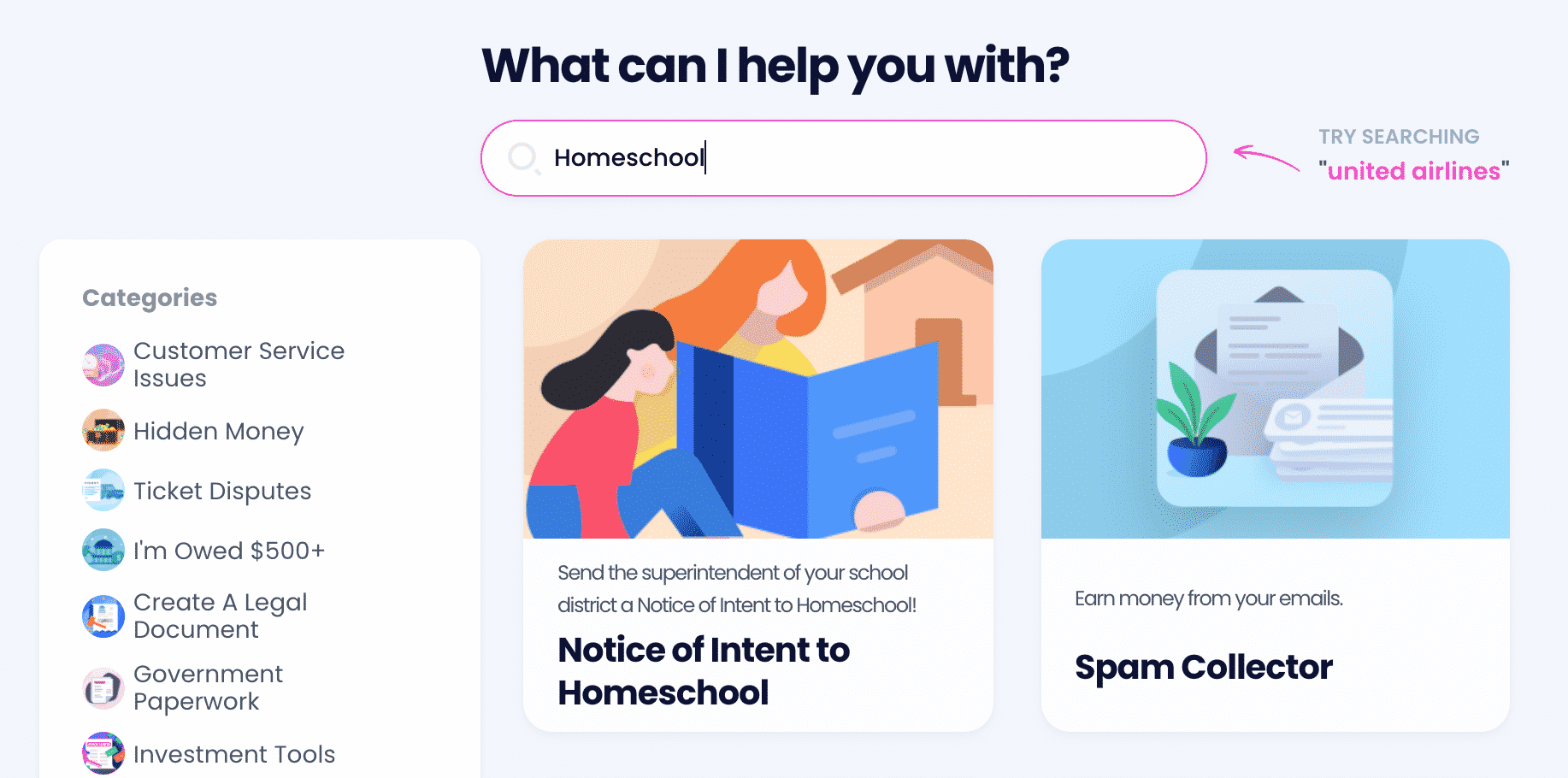 The homeschool completion affidavit is the final step of your journey. If you want to homeschool your kid, you'll have to start by notifying the competent authorities with a formal letter of intent. DoNotPay offers a quick and easy way to file a homeschool affidavit with our advanced Notice of Intent to Homeschool feature.
You can generate a declaration of intent by following these super easy steps:
using any browser app
Locate the Notice of Intent to Homeschool product
Provide information regarding the school district you currently reside in
Answer a series of questions from our chatbot about the homeschool operator and student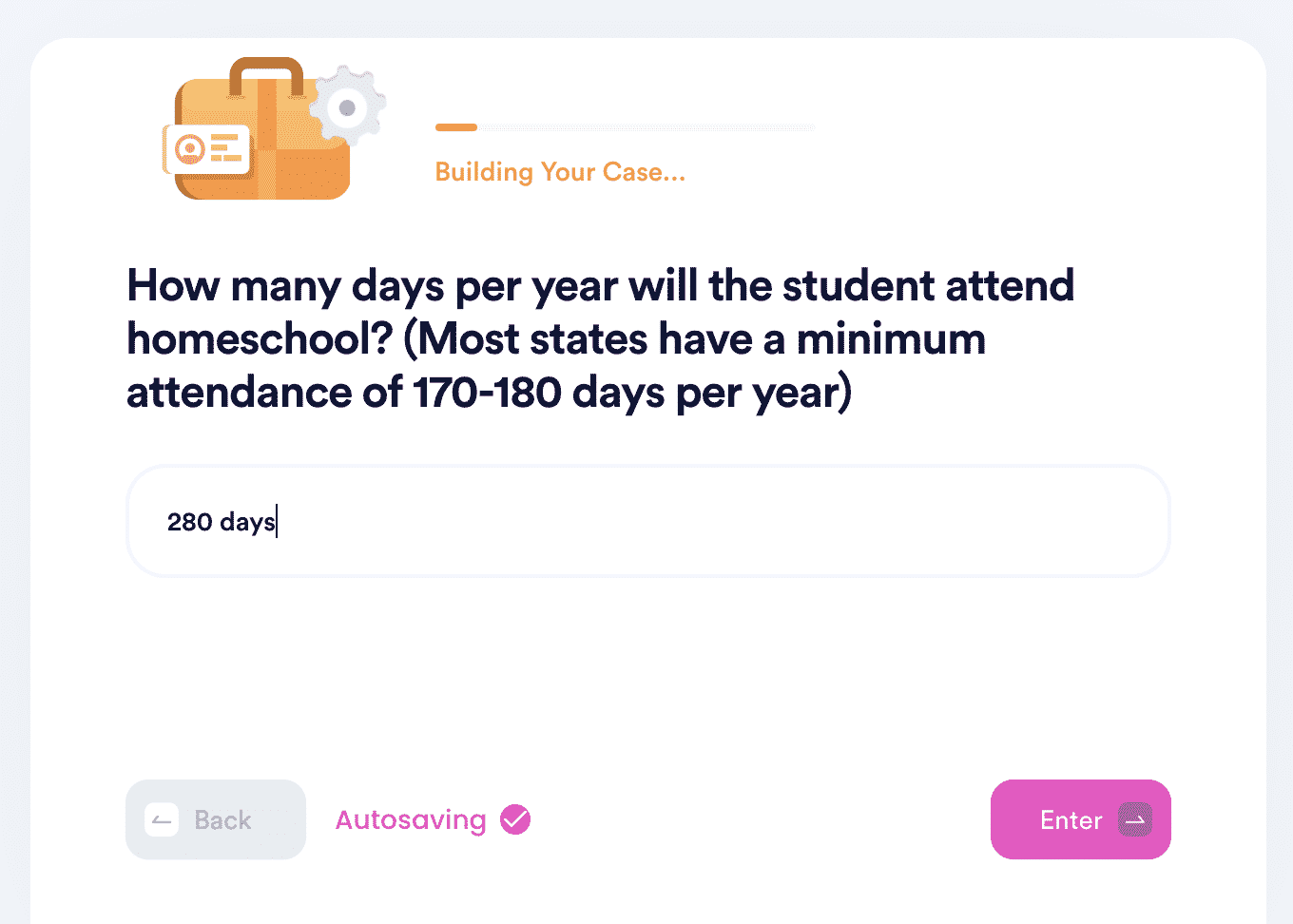 After completing the streamlined procedure, you'll receive a PDF version of the declaration of intent for your records. You can then forward the letter of intent to the school county superintendent using our expeditious AI-operated app.
Our pocket lawyer can assist you with other tedious tasks, such as getting the homeschool affidavit notarized. With a DoNotPay subscription, you can use our Notarize Any Document product to connect with a notary public from the comfort of your home. Why waste time filling out paperwork and making appointments when DoNotPay can take care of it in an instant?
The Most Common Challenges of Homeschooling
Getting started with homeschooling is a piece of cake, especially with DoNotPay's expert products. Filing a homeschool completion affidavit is also fairly easy to handle. When it comes to homeschool, it's often the "middle part" of the journey parents find challenging.
Before you make your decision, think about the following aspects of home education:
The cost of homeschooling—In some states, homeschooling families are eligible for financial aid, but you'll still have to cover the majority of the costs
Your child's learning aptitude—Whether your child is a gifted student or struggles with learning difficulties will inevitably affect the process. You'll have to adapt the curriculum to their immediate needs
Socializing—Since your child will have limited contact with their peers, you'll have to ensure they don't become isolated. A good way to get in touch with people from similar backgrounds is to join a local homeschool co-op
Don't Stop There—Check Out DoNotPay's Product Range
DoNotPay has many tricks up its sleeve—no matter the admin or legal issue at hand, our AI-enabled app can power through it in a split second. Look into our product range to find out how you can:
What Else Do You Need? DoNotPay Will Provide!
If you want to cancel a subscription before your free trial expires so that you don't get charged, you can count on our virtual credit card to do it in your stead! We can also make sure that you get what's rightfully yours—be it a refund, insurance, warranty, unclaimed money, flight refund, raffle ticket, or gift card cash back.
You no longer have to go through legal or administrative hurdles on your own—as soon as you sign up for DoNotPay, you'll get access to our app's assistance and will be able to use it to fight injustice.