The Ins and Outs of Homeschool Evaluation in Florida
Before you start homeschooling, you need to be aware of all the requirements you must fulfill. Most state laws won't let you take your child out of school and continue the learning process as you wish.
The Sunshine State poses a few demands parents should be aware of, including the homeschool evaluation in Florida. DoNotPay is here to break down the evaluation process and provide additional relevant info on homeschooling. Since there is some extensive paperwork involved, we offer to help with writing the letter of intent to homeschool.
What You Should Know About the Florida Homeschool Evaluation
Homeschooling parents in Florida must file an annual evaluation to the superintendent to show their student's educational progress. You should choose the most convenient method of evaluation between the five options at your disposal. Take a look at the table below for more information:
Method of Evaluation
Details
Cost
Teacher evaluation
You need to choose a Florida state certified teacher to:

Review the portfolio
Speak with the child
Administer a test (not mandatory)

Any certified teacher can evaluate your child no matter the subjects they teach

$50–$60
Psychological evaluation
A psychologist holding a valid active license can evaluate your child
$200 or more
State assessment
Your child can take the FCAT test at a location chosen by the school district. The score is sent to the superintendent, and they forward a copy to you
Free or nominal
Nationally normed test
You can choose any nationally normed test. Your child's results will be compared with a national sample of other students. The tests need to be administered by a certified teacher, and available options include:

ITBS
CTBS
SAT
CAT
MAT
ERB

Around $50–$60 in a group setting or $100 and more in a private setting
Special agreement
It is possible to agree on another method with the superintendent. The options include:

Correspondence school records
Special testing

Depends on the arrangement
When Should You File the Evaluation of the Child's Educational Progress?
Parents homeschooling in Florida must file an evaluation annually and send it on the anniversary of the date of your notice of intent. If your district sends you a letter saying you must submit your evaluation by a specific date, you can ignore it because it is not supported by statute.
What Should You File in Your Evaluation?
No matter what evaluation option you select, it is better to submit a letter to the school district rather than evaluation details or actual test scores. The evaluator's letter needs to be short and to the point and should include:
The same information provided in your notice of intent
A statement that your child is performing at a level commensurate with ability
Either a certified teacher or a licensed psychologist must sign the letter. You can check out some sample homeschooling forms for ideas and guidance.
What Are Other Homeschooling Requirements in Florida?
Homeschooling requirements differ drastically in different parts of the country. Some states have lenient rules, while others are strict. To successfully homeschool your child in Florida, in addition to annual evaluation, you must do the following:
Keep a portfolio of educational records for two years
Submit a letter of termination to the school district when you complete the home education program
Send a written notice of intent to homeschool to the district superintendent
Since home-based education is complex and time-consuming, it's good to delegate the administrative chores to someone. The good news is that you can turn to DoNotPay for help!
Use DoNotPay To Create a Letter of Intent Without Stress
If you'd rather not deal with the red tape and waste time writing a letter of intent to homeschool—use DoNotPay. Our app drafts a perfect document quickly. To get a letter of intent to homeschool, you should:
Choose the Notice of Intent To Homeschool product
Let us know the details of your school district
Answer some questions about you and your child
Once you're done answering our chatbot's questions, you can choose to:
Get your letter of intent to homeschool notarized
Have us mail the letter to the district superintendent in your stead
Download the PDF and file the letter yourself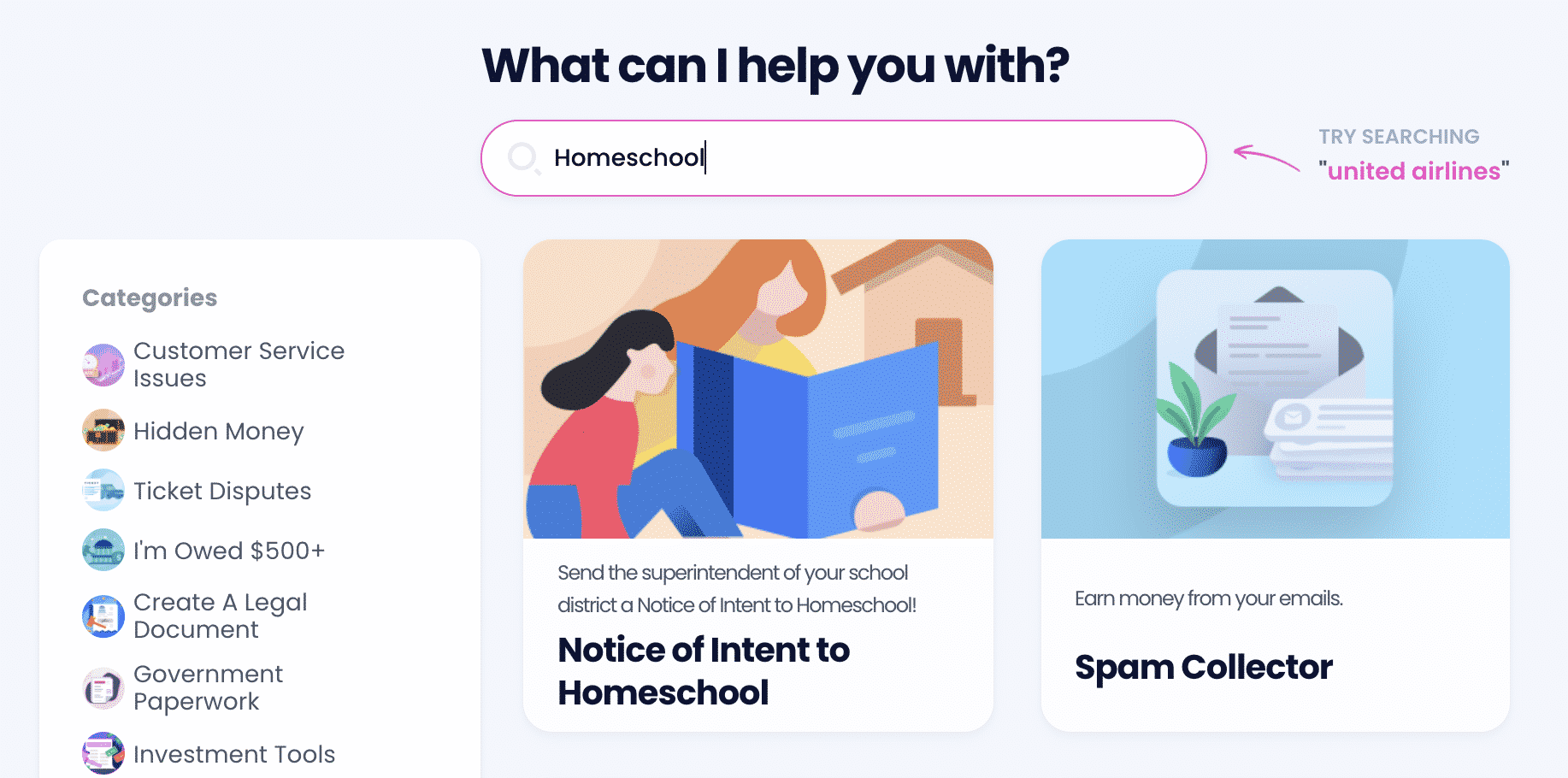 Additional Homeschooling Info
When starting a homeschooling journey, you should learn as much as possible about the process. offers numerous practical articles to help you grasp the basics. Here are some commonly asked questions we can answer:
DoNotPay Offers Quick Solutions to Tedious Problems
Are you overwhelmed by your never-ending to-do list? We're happy to jump in with a perfect solution to deal with everyday tasks the easy way!
Once you subscribe to DoNotPay, you'll be able to schedule DMV appointments, lower your monthly bills, and contest parking tickets without breaking a sweat!
If you are looking for further assistance, our app will show you how to deal with the following tasks effortlessly:
Rely on DoNotPay's Legal Assistance Any Time!
If a company refuses to cooperate, use DoNotPay—the world's first robot lawyer—to sue it in small claims court! Getting the justice you deserve is only a few clicks away!
You can also use our app's various features to do the following:
Demand refunds

Reduce your property taxes