Get the Scoop on the Gift Card Refund Law
Do you have a used gift card with a couple of dollars left on it? Do you have trouble spending the remaining funds? You're not the only one. Most people find it hard to throw away gift cards and certificates when there's still $2 or $3 left. It can also be difficult to spend that amount if the retailer doesn't offer anything below $10. Some states have a law that enables you to get the leftover money back!
In this article, we'll provide a rundown on the gift card refund law! Besides that, we'll show you how to check the remaining balance on your cards and convert them to cash!
What Are Gift Card Laws?
Gift card laws regulate the purchase, activation, and use of gift cards and certificates. While some of these laws are federal and apply everywhere in the U.S., others are effective only in certain states.
Here are some of the universal gift card laws:
A gift card can last five years from the purchase date
Every gift card has to display any potential fees on the card itself or the packaging
A company can't impose any post-sale fees before one year of inactivity
There can be only one post-sale fee per month
A cardholder can use reloadable gift card funds for five years after the most recent reload
Gift card laws do not apply to:
Reloadable prepaid cards
Prepaid calling cards
Store loyalty and reward cards
Store credit refund cards
The Gift Card Refund Law in a Nutshell
The gift card refund law refers to the cash back policy that several U.S. states and territories have regarding the gift cards and certificates sold after January 1, 1997. The law states that if the customer requests a refund, a company or restaurant is required to:
Redeem a gift card or certificate for its cash value
Replace it with a new one at no cost
This doesn't mean that you can get any amount that's left on your gift card—there are limitations on how much cash refund you can receive. Depending on the state, you can get up to $10 worth of the remaining balance but never more than that amount.
Where Is the Gift Card Refund Law in Effect?
If you want to cash out your gift card, you have to check whether your state allows it first. In the following table, you can find all the U.S. states and territories with a gift card refund law and imposed balance limitations for each:
| | |
| --- | --- |
| Where Is the Gift Card Law Effective? | What Is the Balance Limitation? |
| California | $10 |
| Colorado | $5 |
| Connecticut | $3 |
| Maine | $5 |
| Massachusetts | $5 |
| Missouri | $5 |
| New Jersey | $5 |
| Oregon | $5 |
| Puerto Rico | $5 |
| Rhode Island | $1 |
| Vermont | $1 |
| Washington | $5 |
Want To Get a Refund From Your Gift Card? Check Its Balance First Using DoNotPay
To get a cash refund from your gift card, you have to know the exact amount of money that's left. In most cases, you can check the balance on a company's official website. You can also contact customer support via phone or email, but it can take some time to get the information. Another option is to inquire about the remaining funds in person, but keep in mind that employees might be too busy or unable to help you out at the time.
If you don't want to spend time and energy discovering unused funds, DoNotPay is the right app for you!
We made the process fast and simple—you only have to follow these three steps:
Open the Check Gift Card Balance feature
Snap a photo of your gift card
We'll contact the company in question for you and inform you the moment we get the answer!
DoNotPay can help you check the balance for nearly any company's gift card—you can find some of the many in the following table:
| | | |
| --- | --- | --- |
| Clothes | Home and Vehicles | Foods and Drinks |
| | | |
Use DoNotPay To Cash Out Any Gift Card Hassle-Free
What should you do if the balance check uncovers some unused funds, but you don't live in a state with the gift card refund law? Get help from the world's best virtual assistant—DoNotPay!
With our Gift Card Cash Back feature, you can cash out any gift card, regardless of where you live!
All you have to do is:
Choose the Gift Card Cash Back tool
Answer several questions about your gift card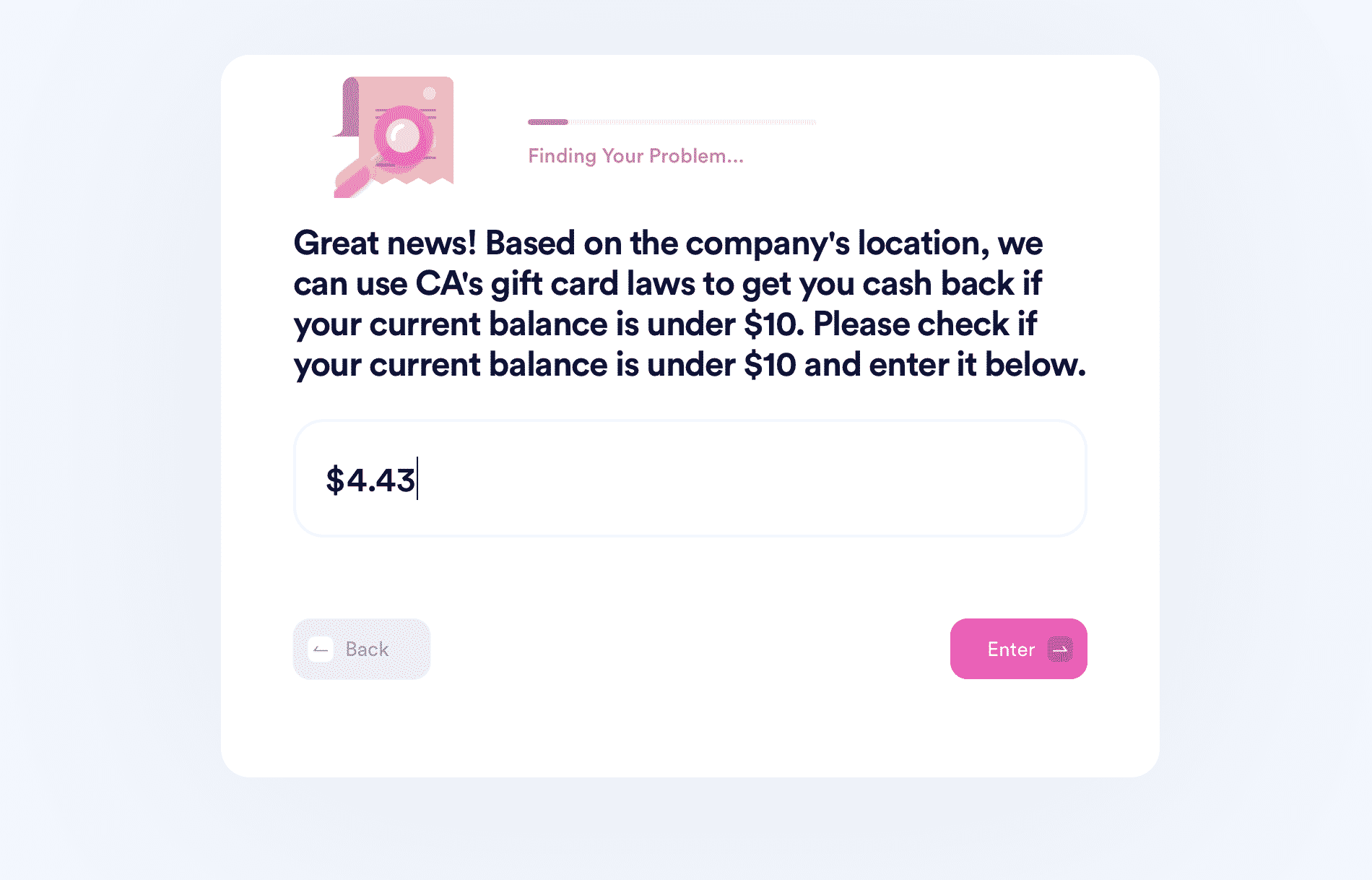 We'll check if the gift card refund law is effective in your state, and if not, we'll send the request to the company's office in one of the states that have a cash back policy.
You should have your money back within two weeks!
Use our learning center if you have more questions about gift cards, such as:
DoNotPay Covers All the Bases
From getting you ready for various government tests to helping you reduce your property taxes, DoNotPay offers valuable assistance with the tasks that make most people at least roll their eyes. Dealing with bureaucracy isn't fun, but it also doesn't have to be as difficult as it is.
Every product in DoNotPay's portfolio is designed to efficiently deal with a specific issue within a few minutes and without sacrificing your comfort. Take a look at the tasks our app can make much more simple:
A Little More Money Never Hurt Anybody
Hardly anyone would turn down a chance to earn some more cash. That's why DoNotPay not only protects your rights and interests but also offers great opportunities to improve your financial situation.
With our help, you can find paid clinical trials, locate your missing money in any state, get your cash back from used gift cards, or enter various raffles and win great prizes.