Can You Buy Something With a Gift Card and Return It for Cash?
Gift cards are getting more popular by the day, and you surely got one or more for a birthday or Christmas. What happens when you don't like an item you purchased using a gift card? The main question is, "can you buy something with a gift card and return it for cash?"
DoNotPay has the answer you're looking for, and we can also help you turn your gift cards into cash with little to no effort.
How Do Gift Cards Work?
Gift cards can be open-loop or closed-loop. Consult the following table for more details:
| | |
| --- | --- |
| Gift Card Options | Details |
| Open-Loop | Open-loop gift cards can be used for purchases anywhere where the brand of the card is accepted. Multiple restaurant chains offer gift cards you can use at all their eateries. For example, you can use a Darden gift card at Olive Garden and Red Lobster |
| Closed-Loop | Closed-loop gift cards can be used only at the issuer's stores—e.g., if you have a Starbucks gift card, you can only buy coffee in Starbucks |
Most retailers offer two types of gift cards—physical and digital—that can be used for both online and in-store purchases. All you need to do is provide the card number and PIN to the cashier or at checkout on the website.
Can You Buy Something With a Gift Card and Return It for Cash?
Most companies don't issue refunds in cash for items bought with gift cards. Generally, companies grant refunds only to the original form of payment to avoid return fraud, which means that they will either:
Deposit a refund to your gift card
Issue a new gift card with the exact value of your purchase (if you lose your gift card, for example)
You should check a company's refund policy to find out if it will grant a refund in cash.
What Can You Do With Unwanted Gift Cards?
If you have a bunch of used gift cards and don't know what to do with them or how to use the remaining balance, check out the list below for some ideas:
Giving the card as a present
Requesting cash back for half-used gift cards
Selling the Gift Card
You can visit a store or a kiosk that resells gift cards—they might be willing to buy yours. Another option is to visit a gift card reselling website and try trading your card for cash there. Keep in mind that you probably won't get the full value of your gift card.
Giving the Card as a Present
If you know someone who would use your gift card happily, consider giving it as a present.
Exchanging the Gift Card
You can find many websites that enable you to exchange a gift card from one retailer for a gift card from another. In that way, you can get a gift card that you will actually use.
Returning the Gift Card for Cash
Some companies will accept gift cards in return for cash, but in most cases, they will accept only unused cards. The company will probably ask you for a receipt of purchase. This might make matters uncomfortable for you since you will have to ask the person who gave you the gift card for the receipt. Note that most retailers won't reimburse the full face value of the gift card.
Requesting Cash Back for Half-Used Gift Cards
In some states, you can get cash back for the remaining balance if it doesn't exceed a certain amount. The limit depends on the state you live in. The following places have a cash back policy that requires companies to grant gift card reimbursement:
Colorado
California
Connecticut
Maine
Massachusetts
Montana
New Jersey
Oregon
Rhode Island
Vermont
Washington
Puerto Rico
If you qualify for a refund, to get your cash quickly and effortlessly.
Let DoNotPay Help You Get Your Cash Back in No Time
DoNotPay is here to ensure you get your money back! We will explore whether you live in one of the states that have a cash back policy. If you don't, we will contact the office that is in one of these states, and you should receive your money in cash or get a check within 14 business days.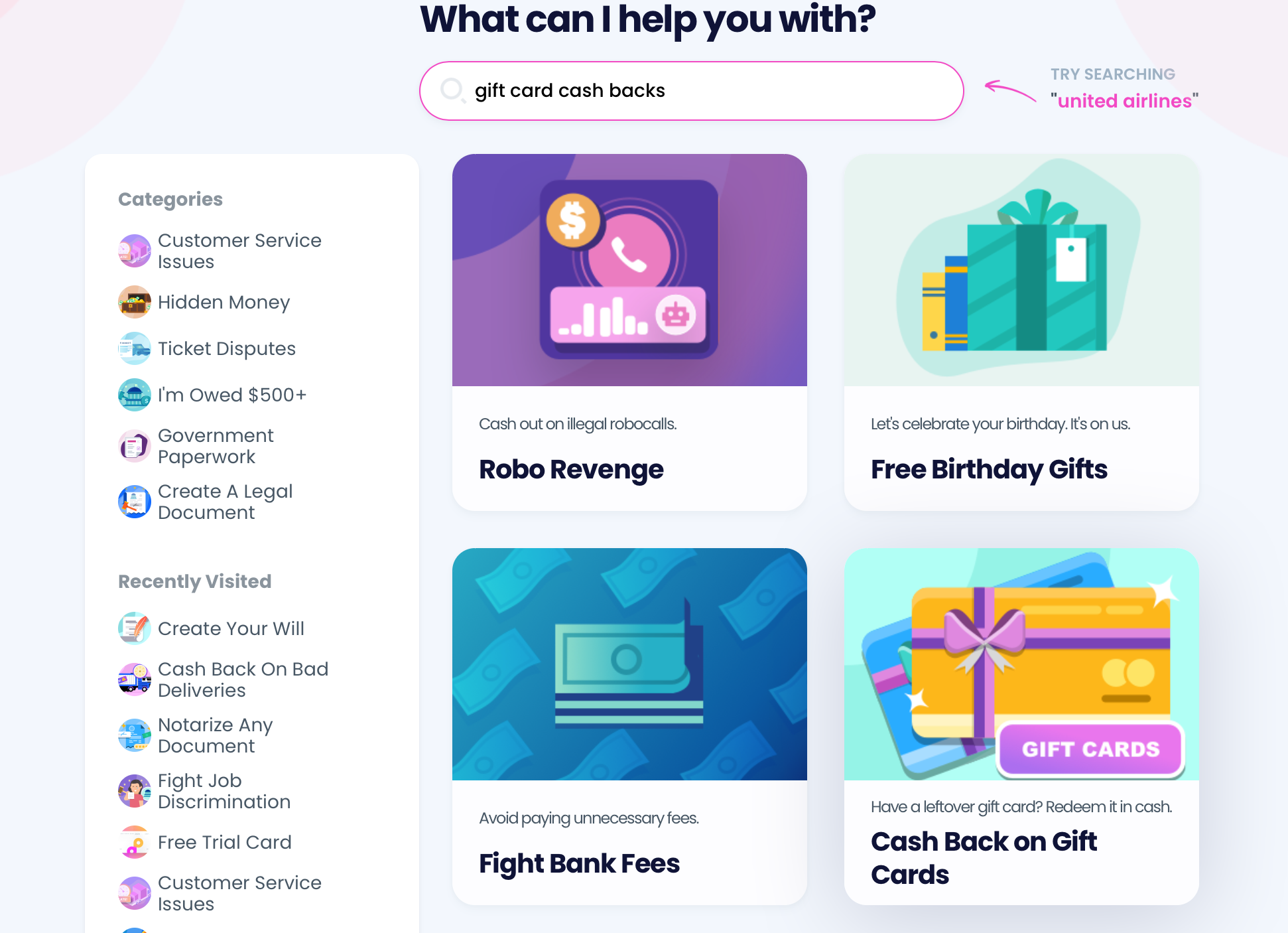 If you , you'll avoid the complicated process of filing a cash back request by yourself. All you need to do is follow the steps below:
Find our Gift Card Cash Back product
Give us your information—name, gift card number, the remaining balance, the state where your card was issued
Click on Sign and Submit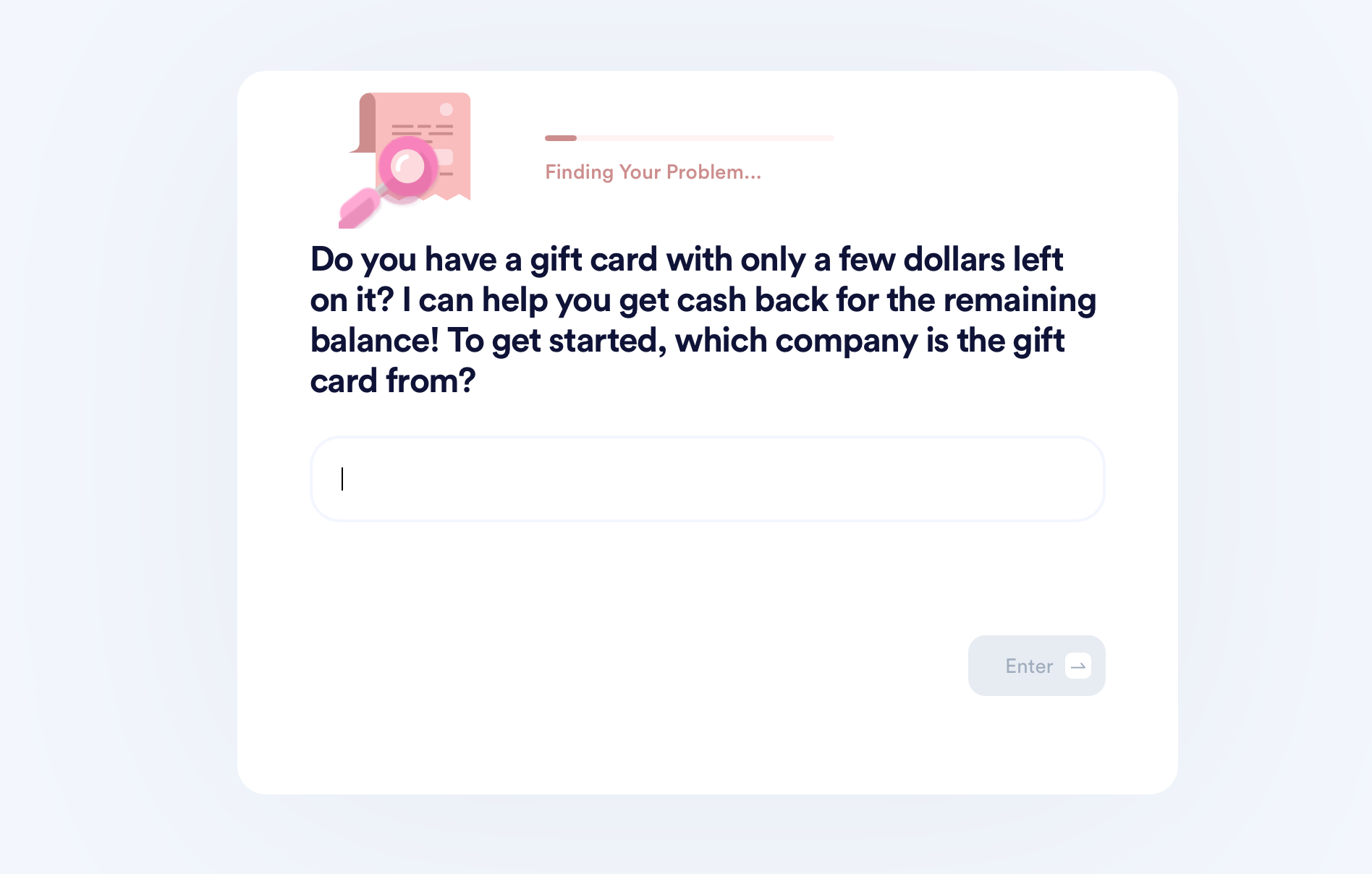 DoNotPay's Learning Center Has All the Answers
DoNotPay has a learning center that you can use to find out more about gift cards. You don't have to sign up to use our learning center—it's free. We will explain how to:
Check the balance on any gift card, including:
DoNotPay—Quality and Quantity
Our platform provides a multitude of useful tools, products, and services that anyone can benefit from. DoNotPay is a proper virtual assistant that can minimize your paperwork, protect your consumer rights, increase your productivity, or keep you safe online.
The best part is that we keep adding more awesome features all the time—all available for a small subscription price. Take a peek at a small part of our portfolio in the table below:
| | | |
| --- | --- | --- |
| Online Safety | Customer Protection | Administration Shortcuts |
| | | |
It Gets Even Better!
With your DoNotPay subscription, not only do you get a powerful weapon to fight boring and annoying daily tasks, but you also get a great resource for earning more money.
You can use our platform to enter free raffles, secure compensation for fighting robocalls, get your cash back from used gift cards, or find unclaimed money under your name, no matter the state.