Check a Lucille's Gift Card Balance and Get Cash Back in Three Steps
Do you know what makes a delicious barbecue even more enjoyable? Not having to pay for it! If you have a gift card from Lucille's, you can enjoy burgers, smoked ribs, pulled pork sandwiches, and other tasty meals without being billed!
Not sure if you have money left on the card? We'll give you instructions on how to check your Lucille's gift card balance hassle-free!
Don't let your used gift cards go to waste! Register for DoNotPay to cash them in quickly!
How Does a Lucille's Gift Card Work?
Two types of gift cards are available at Lucille's:
Plastic
eGift or digital
Regardless of the type, Lucille's gift cards don't expire, and there are no fees involved. You can buy them in any Lucille's Smokehouse Bar-B-Que restaurant or online. They can be purchased in any denomination from $10 to $500. These gift cards are redeemable for food, drinks, and merchandise at any Lucille's restaurant location.
The restaurant doesn't offer free gift cards.
Lucille's Gift Card Limitations
Here's what you cannot do with your gift card from Lucille's Smokehouse Bar-B-Que restaurant:
Use it to purchase another gift card
Reload it
Transfer it for value
Redeem it for cash except to the extent required by law
Gift cards that are resold, transferred, or redeemed for cash are considered void.
How To Do a Lucille's BBQ Gift Card Balance Check
Here's what you need to do if you want to check your gift card funds online:
Visit the official Lucille's Smokehouse Bar-B-Que website
Choose Gift Cards from the top of the homepage
Find the Check Gift Card Balance section
Hit Go
Enter your card number
Verify you're not a robot
Click Submit
Even though it's not stated on the website, there are two other ways to check your gift card balance:
By phone
In person
How To Check Lucille's Gift Card Balance by Phone
To inquire about the remaining balance on your gift card, you should contact customer support by calling 855-755-9131. Give the Lucille's customer support agent your card number and wait for them to check the remaining balance.
You can also submit a form with your questions and wait for a customer support representative to contact you.
How To Check Lucille's Gift Card Balance in Person
Another way to find out how much money there's left on your Lucille's gift card is to pay a visit to the closest Lucille's location. You can find the nearest restaurant by using the locator on the official website. Bring your gift card or memorize its number and ask an employee at the restaurant to inform you of the balance.
Let DoNotPay Check Your Lucille's Gift Card Balance for You!
If you think performing a Lucille's gift card balance by yourself is the only route you can take, we're happy to tell you it's not! With DoNotPay, you won't have to worry about anything—we do all the work! Here's how to get started once you :
Open the

Check Gift Card Balance

feature

Attach front and back photos of your gift card

Confirm your request
We'll contact Lucille's and find out the exact amount of your remaining balance in no time!
What To Do With the Leftover Money on a Lucille's Gift Card?
Once you discover the leftover money, you should figure out how to use that remaining balance. We offer you some ideas in the table below:
| | |
| --- | --- |
| How To Use the Remaining Balance | Details |
| Spend the leftover money | Check the restaurant's menu and see if there are enough funds on your gift card to afford another delicious meal |
| Give your gift card to someone | If you don't want to use your Lucille's gift card anymore, you can give it to a friend or family member, provided there's a substantial amount of money on it |
| Exchange the card for another | If you're tired of eating ribs and burgers or want to switch to a healthier diet, you can trade your Lucille's card for a different one in a gift card exchange group or website |
Where Can I Redeem My Lucille's Gift Card for Cash?
Lucille's Smokehouse Bar-B-Que gift cards can be redeemed for cash if required by law and requested by a customer. Some states and territories in the U.S. have a cash back policy that requires companies and restaurants to give the unused funds to cardholders. Those places are:
Puerto Rico
Maine
Oregon
Washington
California
Vermont
Connecticut
New Jersey
Missouri
Colorado
Rhode Island
Massachusetts
If you live in one of these locations, you can send a request to Lucille's to cash out your gift card. If you live elsewhere, you should sign up for DoNotPay, and we'll retrieve your money trouble-free!
Use DoNotPay To Get Cash Back From Your Lucille's BBQ Gift Card FAST!
Whether you live in one of the 11 cash back states or Puerto Rico, DoNotPay can help you get back all that unused money from a Lucille's gift card. We made the process as simple as possible—here's what you need to do:
Locate the Gift Card Cash Back product
Answer our chatbot's question and provide the following information:

Gift card number
Company name
Remaining balance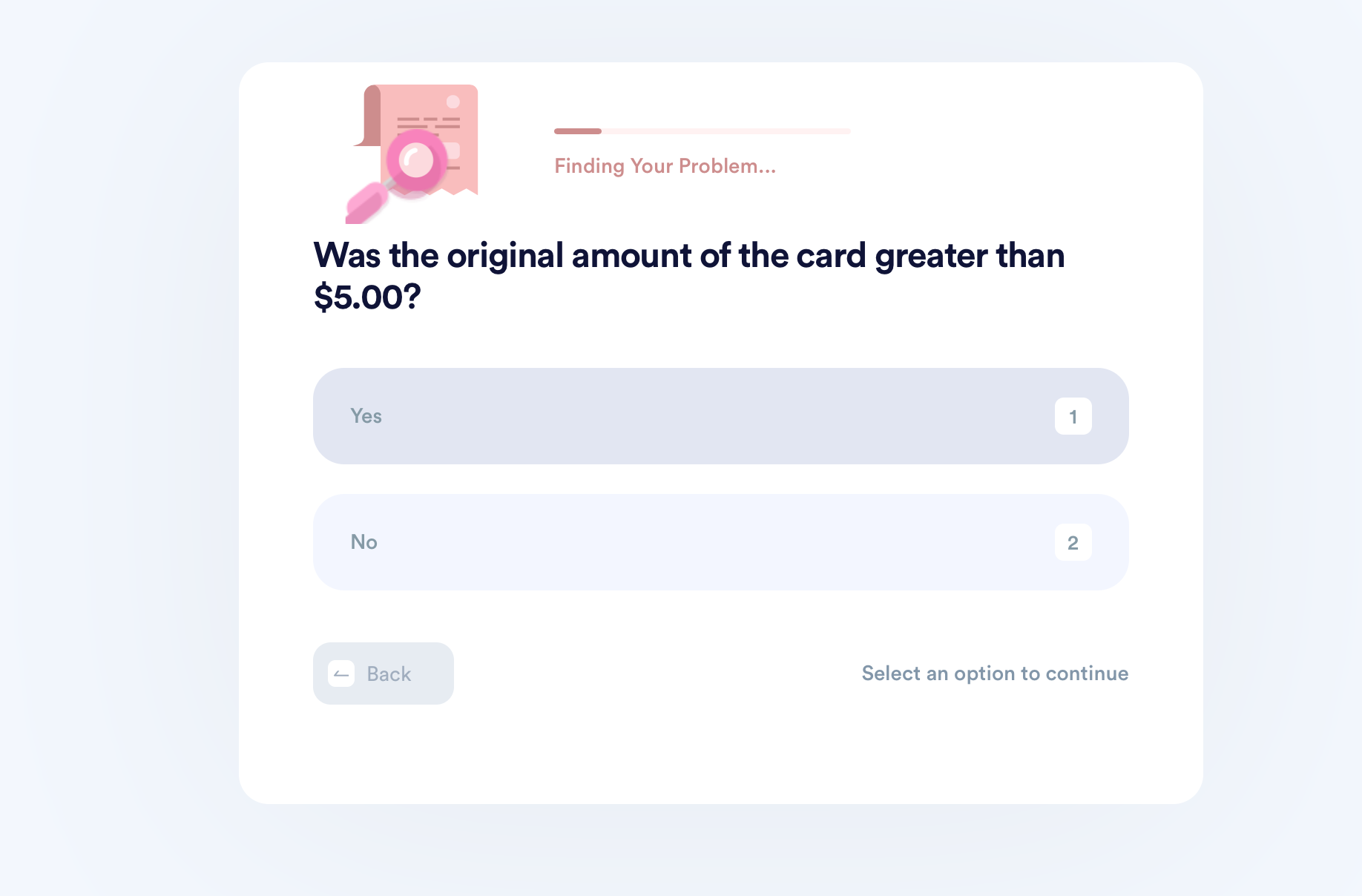 In case you live in a state with a cash back policy, we'll send the request to the Lucille's Smokehouse Bar-B-Que restaurant you got your card from. If your state doesn't have that policy, we'll find the best Lucille's location in one of the states that do have it and send the request there.
You can expect to get your cash back within the following 14 business days.
We can assist you with the majority of gift cards, and the list keeps growing. Here are some gift cards from other vendors we can help you turn into cash:
Good Things Come in Small Packages
Siri and Google Assistant are great in their own right, but their skills leave a lot to be desired when it comes to the practicalities of our daily lives. DoNotPay is an app, a true pocket-sized assistant that has the power and the know-how to help you deal with navigating bureaucracy and fighting for your rights efficiently.
Our platform, accessible from your phone or computer, is brimming with products that will help you:
From Government Tests Preparation to Copyright Protection
Whether you are getting ready for your driving test or wish to protect your creative work, DoNotPay has something in store for you.
We can help you handle some serious tasks—like suing someone in small claims court or reporting workplace discrimination—or deal with more mundane activities, such as getting that leftover money from your used gift cards.
The best part is that your DoNotPay subscription gives you access to all our services, be it online fax or virtual credit cards!