Check Your Chico's Gift Card Balance in a Few Easy Steps
Finding a few dollars on your gift card might not seem like a big deal, but what if you have a whole lot of them? And what if you could turn the remaining amount on all your gift cards into cash?
In this guide, we will help you understand how to check your Chico's gift card balance and turn the leftover balance into real money without wasting any time. and learn about free gift cards and gift card exchanges as well.
The Basics of a Chico's Gift Card
A Chico's gift card can be used at any Chico's store to buy women's apparel. It comes in two forms:
Physical gift cards
Electronic gift cards
Here are a few basic features of the card:
Feature
Brief Explanation
Value
Gift card values range from $10 to $500
Design
Chico's cards come in various designs. You can pick and choose the one you want for yourself or a loved one
Discount offers
All promotional offers, discounts, and coupons do not apply when using the gift card
Lost or stolen gift card
In case your card gets lost, stolen, or damaged, you need to provide your sales receipt to block the current card and get a new one.

Contact customer support at 1-888-855-4986 as soon as you find that your gift card is missing
How To Check the Balance on Your Chico's Gift Card
To check the remaining amount left on your Chico's card, you have the following options:
Visit a Chico's store
Call the customer support team
Use Chico's official website
Visit a Chico's Store
Get some fresh air and hop over to the nearest Chico's store. You have two options to check your balance at a Chico's store:
Shop at the store. Once you've paid with your gift card, check the bottom of the receipt for the remaining balance
Hand over your gift card to the cashier and ask them to check the leftover amount on your card
Call the Customer Support Team
Dial 1-888-855-4986. Follow the voice commands to speak to a customer support representative. Introduce yourself and explain that you want to check the balance on your gift card. Provide gift card details, including the card number and PIN. The support agent will respond promptly with the required info.
Use the Chico's Official Website
If phone calls make you uncomfortable, head over to Chico's official website and go to the gift card balance check section. Enter the 16-digit gift card number and PIN located on the back of your card. In case the PIN is not visible, scratch the metallic strip to reveal it.
Once you click on Check Balance, a window will pop up showing the leftover balance on your gift card.
Great News! You Have a Few Dollars Left on Your Chico's Gift Card—What's Next?
Have you checked your gift card to find a few dollars on it? Here are a few suggestions on what to do next:
Use it—Spend your gift card online or go to the Chico's store to use the remaining balance on your card. In case you spend more than the amount available, use cash or credit card to pay the difference
Gift it—Know someone who is dying to get their hands on a Chico's gift card? Consider giving it to them as a gift, especially if the card is unused
Sell it—You can sell the card to someone you know or put it up for sale on online marketplaces like eBay and Craigslist
Trade it—Several online platforms offer gift card trading. If you want to exchange your card for another one, search for platforms where you can do it with minimal risk
Exchange it for cash—Chico's website states that you cannot return your gift card for cash unless stated by law. This means that if your state has a cash back policy, only then will you get the money back
Want to get your cash back without a hassle? Subscribe to DoNotPay, and let us do it for you!
Get Your Funds Back From a Used Gift Card With the Help of DoNotPay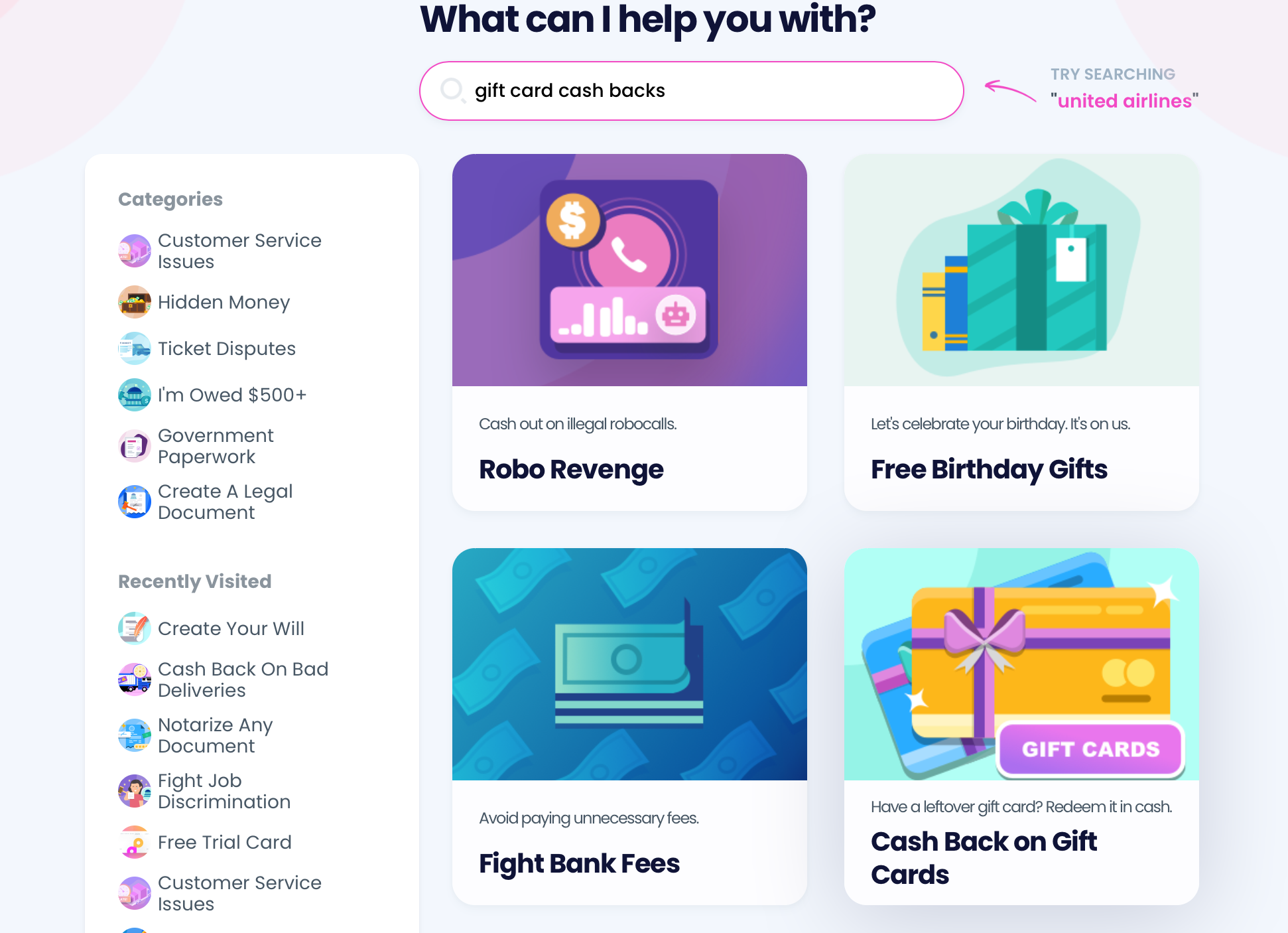 Customer support representatives can be quite unhelpful when you're asking for cash back from a used gift card. Some might not even know that cash back policies exist. Skip hours of useless arguments and negotiations with customer support. Use DoNotPay to redeem your gift card for cash!
All you need to do is follow these instructions:
from your web browser
Search for the Gift Card Cash Back feature
Enter your gift card info, including the company name, card number, and leftover balance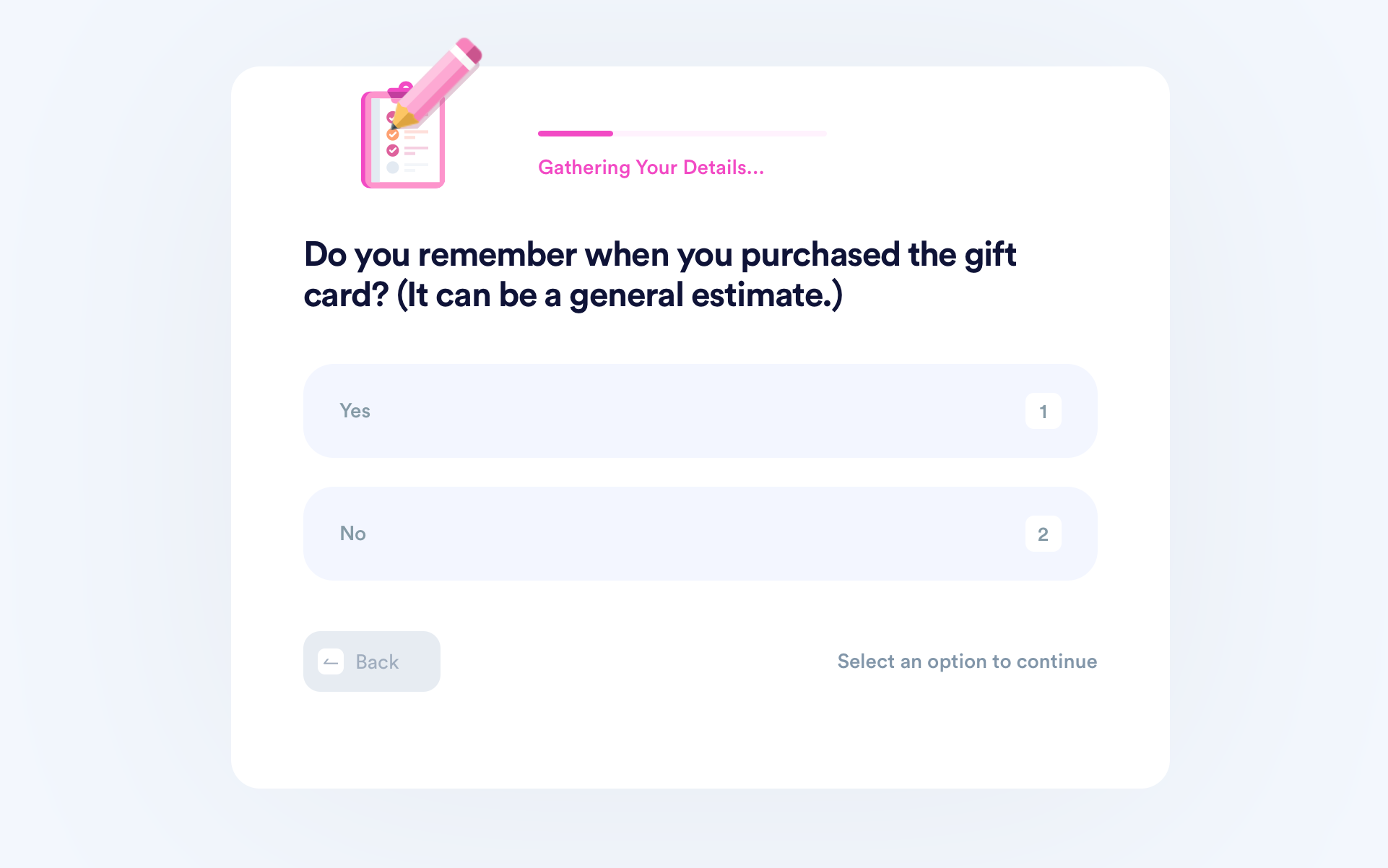 Provided that your state has a cash back policy, we will file your request and forward it to the company on your behalf. In case it doesn't, we will locate the company's office in Puerto Rico or one of the 11 states with the cash back policy and send your claim there. You should receive your cash or check within 14 business days.
Here are some other apparel companies whose gift cards DoNotPay can help you with:
| | |
| --- | --- |
| Apparel Stores | Other Stores |
| | |
More Nifty Solutions to Annoying Problems
If you're dealing with problematic neighbors or coworkers, you're not alone—our app can help you handle these issues with our Neighbor Complaints and Fight Workplace Discrimination products.
No problem is too big or too small for DoNotPay! Check out the best time- and money-saving solutions to different nuisances:
| | |
| --- | --- |
| Issues | Solutions |
| Email spam | Using DoNotPay's spam collector |
| High college fees | Applying for college fee waivers |
| Bothersome robocalls | Getting back at robocalls |
| Late delivery | Requesting a late delivery refund |
| No fax machine | Sending faxes online |
| High property taxes | Applying for property tax exemptions and appealing your property assessment |
An Array of Hacks To Help You Deal With Greedy Companies
Nobody likes to spend more money than they have to. DoNotPay is here to offer many penny-pinching hacks and also stop companies from taking advantage of you.
Almost every free trial nowadays isn't really free. Companies request your credit card info and auto-renew subscriptions. Fight this sneaky practice by using DoNotPay's virtual credit card next time you want to snatch a free trial. We'll also uncover any unwanted memberships you have mooching off of you and help you cancel them in a few clicks.
If you need to contact a company's customer service, avoid wasting your time and money on hold and count on our app to wait in your stead.
Do you need to get your money back, but you don't know how? Use DoNotPay to: