The Ins and Outs of Exempt Employee Sick Time
While calling in sick is no one's favorite activity, you sometimes need to stay at home until you recover. Before taking sick leave, you need to get familiar with federal and state laws, together with your company policy.
If you're wondering what you should know about exempt employee sick time, you'll find the necessary information in this article.
Federal Labor Laws on Exempt Employees
Under the Fair Labor Standards Act (FLSA), employers must pay most employees overtime for all hours worked in a workweek that exceed 40. Some employees are exempt from this overtime rule, and they:
Do professional, administrative, executive, and outside sales jobs
Are referred to as exempt employees
To be part of this group, these professionals need to pass three tests:
Exempt Employee Tests
Details
Salary test
To be an exempt employee:

You have to receive a minimum salary of $684 per week
Your employer needs to pay you the full salary if you've performed work during a certain workweek

Job duties test
While your principal responsibilities need to fulfill specific requirements, your job title has no impact on your exempt status
The Exempt Employee Sick Leave Policy
If you are an exempt employee, your employer can make a deduction from your salary if you:
Have called in sick via email, text, or phone and took one or more full days
Receive paid sick leave
Haven't qualified for the paid sick leave plan yet—To meet this requirement, you need to work for that company for 90 days
Have exceeded the limit under the employer's sick leave plan
Check State Laws on Exempt Employee Sick Time
Aside from federal laws, different states may impose different tests and regulations for exempt employees.
Browse through the following table to check specific state laws concerning sick leave:
While no employer can force you to work when you're sick, you need to get familiar with legal requirements at federal, state, and company levels to avoid jeopardizing your job or being fired.
The Exempt Employee Sick Time Law on Public Agency Employees
If you are an exempt employee of a public agency, you can have your pay reduced or get unpaid sick leave if you have been absent from work less than a full day because of injury or illness but have:
Not received permission to use your sick leave
Decided to use leave without compensation
Spent your sick and personal leave limit
Not submitted a proper sick leave request form
to create a valid sick leave request in a matter of minutes!
DoNotPay Is the Right Way to Your Sick Leave
You shouldn't work when you don't feel well as you:
Need to rest and recover fast—Your employer might ask you how long you'll be absent from work and inquire about your illness
Don't want to spread your germs and viruses in your office—If you have COVID-19 symptoms, check whether you're entitled to sick leave according to the Emergency Paid Sick Leave Act (EPSLA)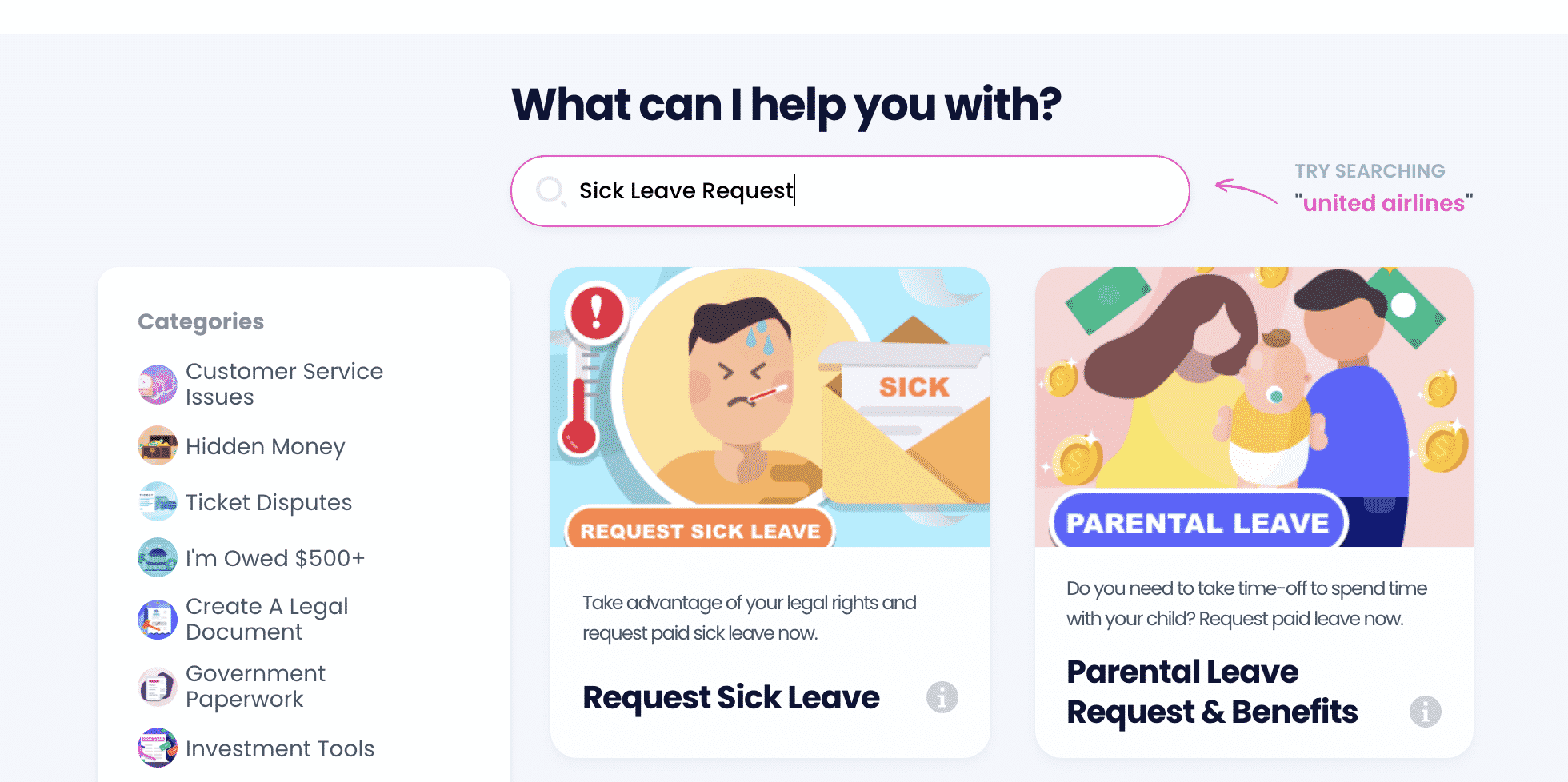 There's no need for you to browse through numerous online templates trying to adjust them to suit your needs and follow your company policy.
Our robot lawyer knows what laws you need to comply with and will generate a rock-solid request for your well-deserved sick leave.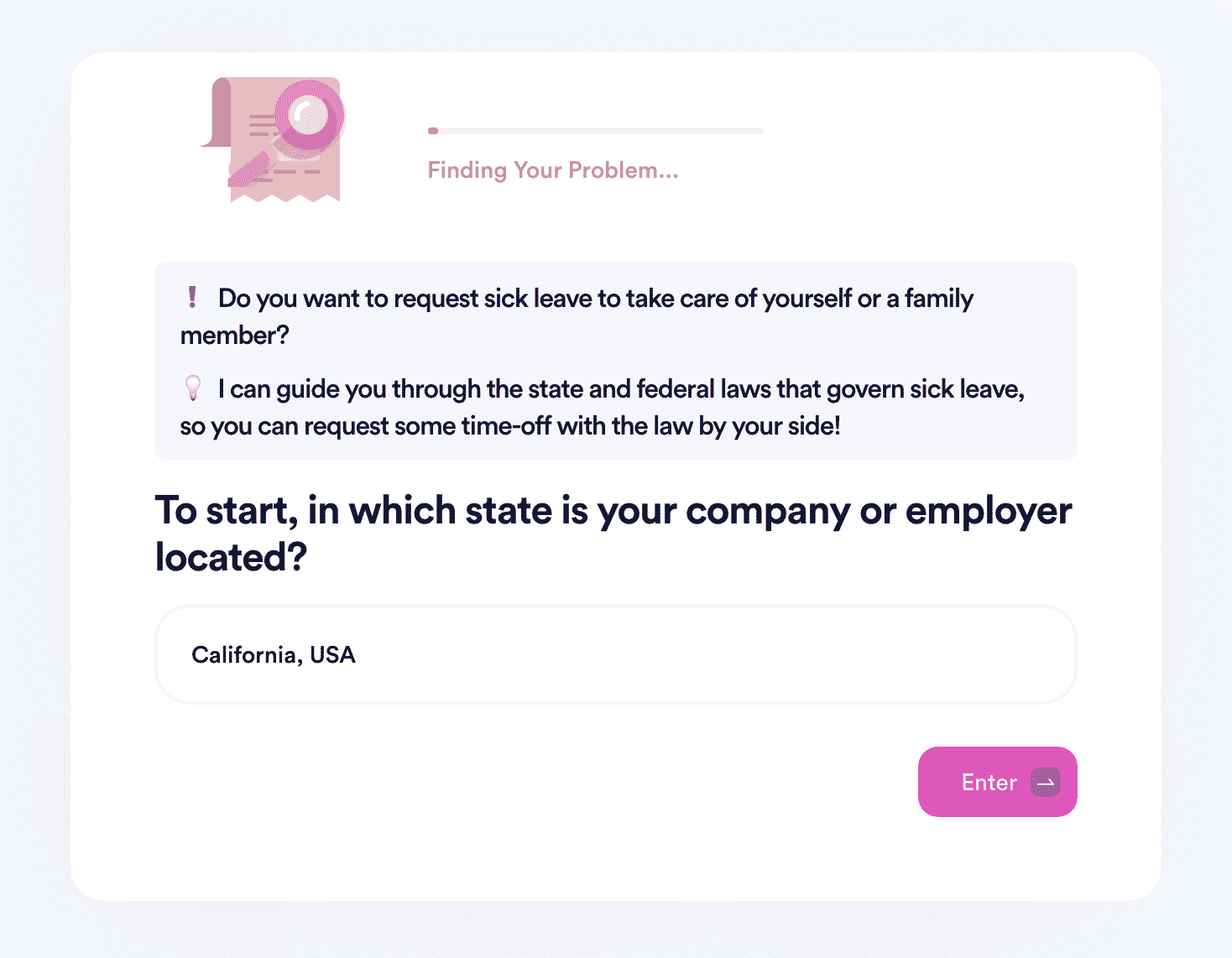 and:
Access our Request Sick Leave feature
Provide the state your employer is located in
Enter basic information about your company and indicate how long you'll be absent from work
Choose if you'd like DoNotPay to send your sick leave request to you or directly to your employer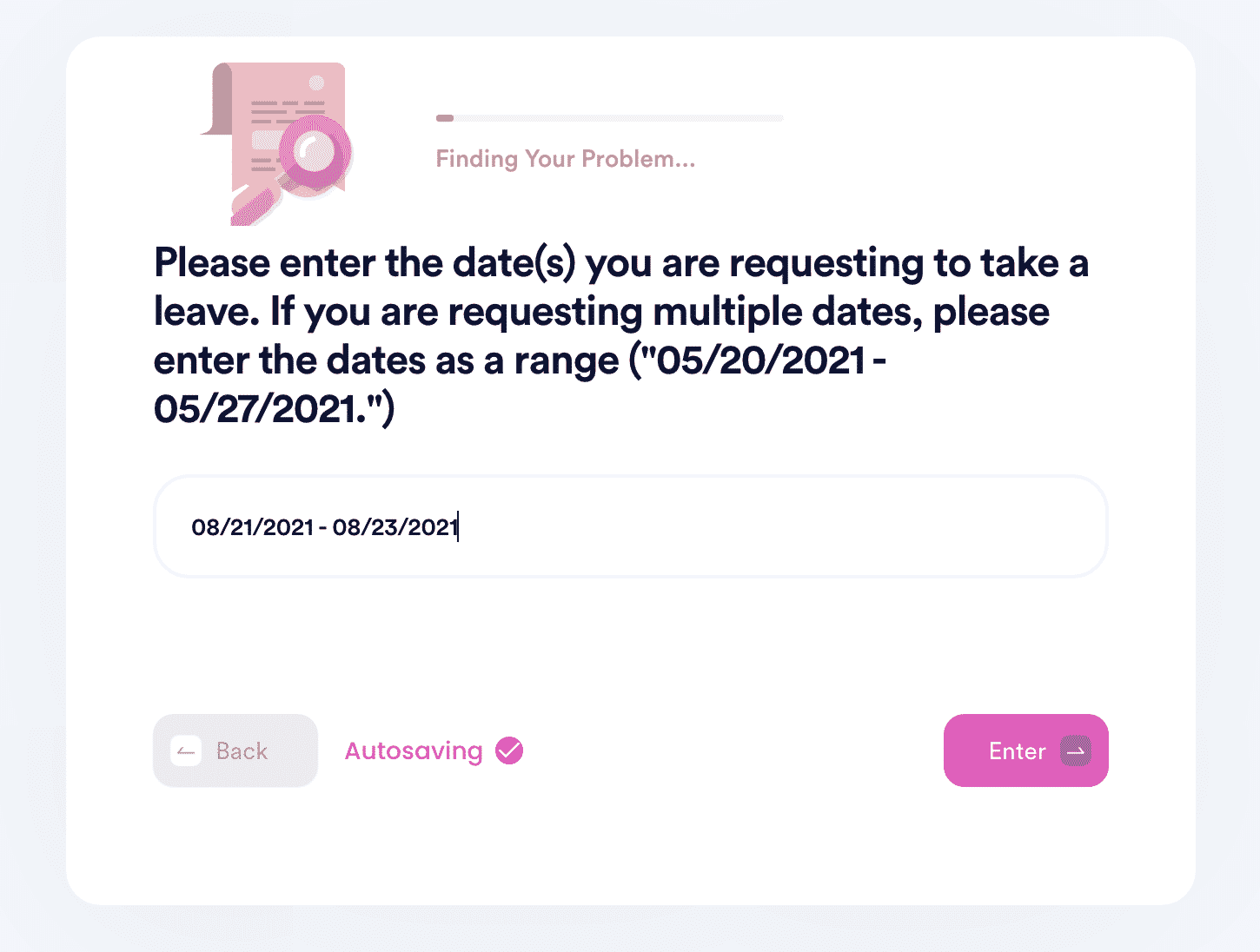 You should also know that our AI-powered app can help you sue your employer in case they fire you for being sick.
How Can DoNotPay Tackle Tricky Tasks for You?
Using DoNotPay is like having a magic wand that helps you with the assignments you are too busy or bored to do. Here are some procedures we can simplify for you:
Submitting error-free tourist visa applications
Keeping in Touch Is Simple With Our App
Are you having trouble communicating with your loved ones in jail? Our app features a tool that enables you to send letters to inmates from any device! We can help you get in touch with a notary public who can notarize your legal documents virtually or reach out to embassies and consulates or government reps. Reaching customer care centers also gets much simpler with DoNotPay by your side as you can skip phone queues the easy way.
We can help you avoid unwanted communication by stopping persistent robocalls and text or email spam. All you need to do is sign up for our services!