Should You Use a Sick Note for Work Template To Notify Your Boss?
When feeling unwell, you need to check your company policy to determine whether you're entitled to a paid sick leave. It depends both on state laws and your employer policy.
As soon as you decide you don't want to work while you're ill, you should call in sick. This article shows you what elements a sick note for work template covers. to request your sick leave fast.
How To Call in Sick
It's important to notify your company that you're taking sick leave so that you wouldn't experience any problems or get fired. The following table outlines the steps you should take:
Steps To Follow
Details
Check the company protocol
As you need to follow your company rules concerning sick leave, you should:

Consult your employment contract about the sick leave policy—While you might be allowed to use sick leave according to the Family and Medical Leave Act (FMLA) or Emergency Paid Sick Leave Act (EPSLA), you also need to follow your employer's requirements to avoid:

Being forced to work when ill
Getting fired

Follow the protocol in your employer's handbook
Use a communication method that your boss prefers—Some might require you to call in sick, but most prefer a written record
Determine whether you need to provide a doctor's note

Notify relevant parties
Aside from your superior, you should also inform the following:

Coworkers—Your colleagues will need to organize work accordingly
Clients—You could set up an automatic out-of-office reply or check and respond to emails from home

Keep in mind that if your company and job allow remote work, you could ask for this option instead of requesting a sick leave
What Does a Sick Note Template for Work Include?
To get a better understanding of what you need to provide in your email or letter, you could check out what a work sick note template usually consists of:
Reason for your leave—While you don't have to go into too much detail, you need to provide what illness and symptoms you have
How long you'll be out of the office—You could predict how long it'll take you to get better if you have the flu or a cold. If you're not sure about certain health conditions, you should consult your doctor
Your availability—You should let your superior and colleagues know whether you'll be able to reply to emails or answer some urgent calls
Evidence—If possible, you should provide a doctor's note or other relevant proof to support your sick leave request
Generate an Airtight Sick Leave Request With DoNotPay
There is no need to waste time and energy:
Searching for fake sick notes for work
Adjusting them to fulfill your state and company requirements
Our AI-powered app is familiar with state laws and will ensure your sick leave request complies with them.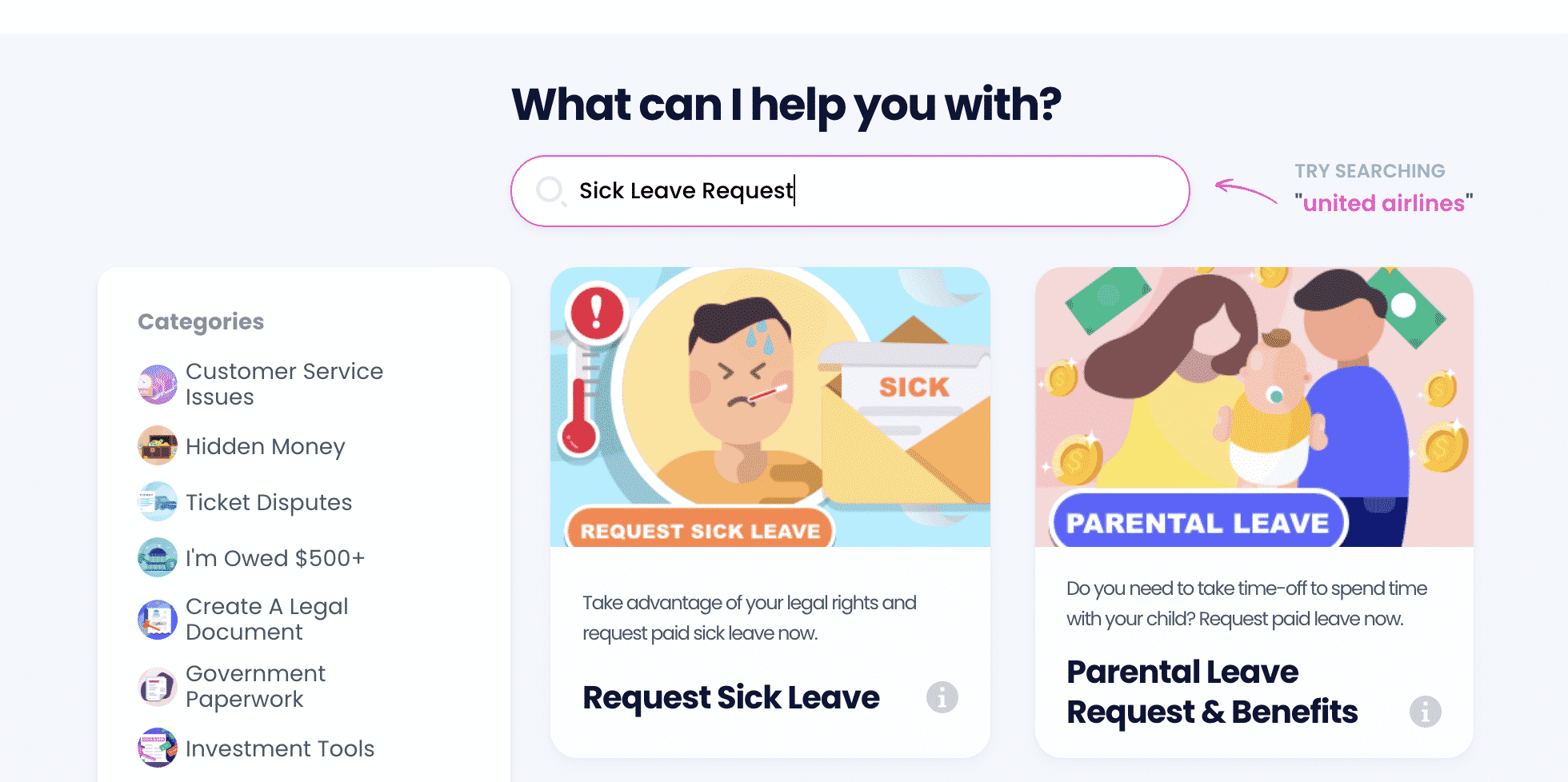 The process is super easy— and take these steps:
Access our Request Sick Leave product
Enter the state your company is located in for DoNotPay to show whether paid leave laws are in place
Answer a few questions about your company and indicate how long you'll be absent from work
Select whether you'd like DoNotPay to:

Send your request to your employer directly
Email it to you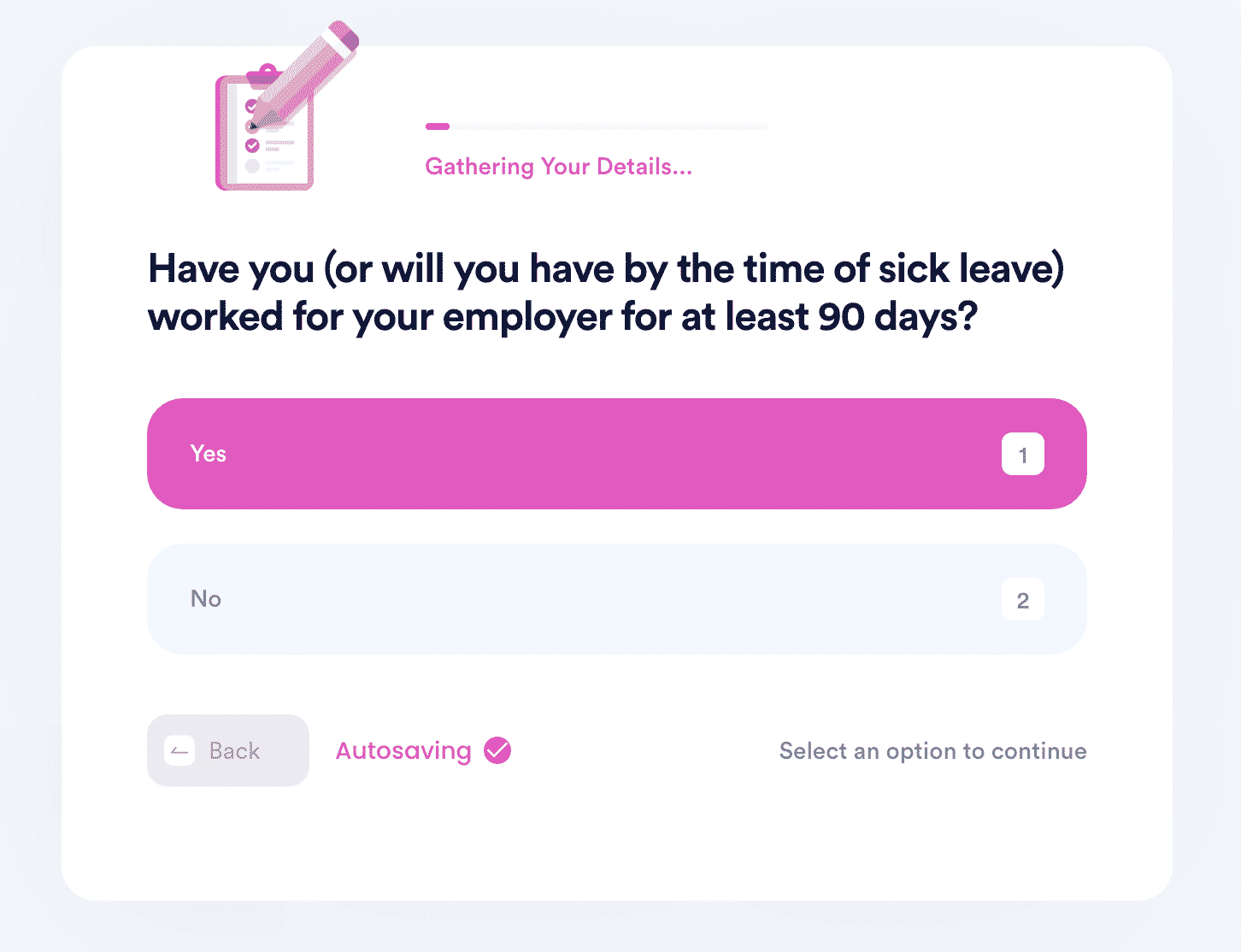 Keep in mind that DoNotPay can help you sue your company if the employer:
Refuses to let you use your sick leave while regulations on the state or federal level and your contract entitle you to
Fires you for being sick
Check State Laws on Sick Leave
To know your rights, you should get familiar with your state law. Take a look at the following table to check what rules apply in your state:
How Can DoNotPay Tackle Tricky Tasks for You?
Using DoNotPay is like having a magic wand that helps you with the assignments you are too busy or bored to do. Here are some procedures we can simplify for you:
Submitting error-free tourist visa applications
Keeping in Touch Is Simple With Our App
Are you having trouble communicating with your loved ones in jail? Our app features a tool that enables you to send letters to inmates from any device! We can help you get in touch with a notary public who can notarize your legal documents virtually or reach out to embassies and consulates or government reps. Reaching customer care centers also gets much simpler with DoNotPay by your side as you can skip phone queues the easy way.
We can help you avoid unwanted communication by stopping persistent robocalls and text or email spam. All you need to do is sign up for our services!