Learn How To Check Your JOANN Gift Card Balance in Minutes
Did you stumble upon a gift card from JOANN you forgot about a long time ago? Learn how to check your JOANN gift card balance so you can get cash back!
All You Need To Know About JOANN Gift Cards
JOANN gift cards are available for purchase online and in all of the company's stores. You can redeem your JOANN gift card when shopping online or in a store except if your card doesn't have a PIN—such gift cards are only eligible for in-store use.
JOANN gift cards are available in fixed denominations of:
Here are the basic terms of use of JOANN gift cards:
You cannot reload your gift card after spending the entire balance
JOANN will not impose any fees on gift card owners
You cannot merge or transfer balances of multiple gift cards
JOANN will issue a new gift card in case you lose it only if you have proof of purchase
You cannot use a gift card to purchase more gift cards
JOANN gift cards never expire
JOANN gift cards come in two forms:
Plastic cards
E-gift cards
You can order only e-gift cards from JOANN's online shop. If you want to buy a plastic card, you will have to visit one of the 850 retail locations. Besides having several designs to choose from, you can also opt for adding a personal note.
How To Check Your JOANN Gift Card Balance
You can use one of the following methods to check your JOANN gift card balance:
Perform a JOANN gift card balance check by phone
Check your JOANN gift card balance online
Visit a Jo-Ann store to check your gift card balance
Use DoNotPay to check your JOANN gift card balance
Perform a JOANN Gift Card Balance Check by Phone
To check the balance of your JOANN gift card by phone, follow these steps:
Write down your gift card number and PIN
Dial 1 (330) 735-6576
Ask the customer service representative to check the balance on your JOANN gift card
Check Your JOANN Gift Card Balance Online
You can check your JOANN gift card balance online if you do the following:
Visit the JOANN homepage
Scroll to the bottom of the page
Click on the Gift Cards link under the Customer Service text
Scroll a little until you reach Gift Card Options
Select the CHECK YOUR BALANCE option
Enter your gift card number and PIN
Click on the CHECK BALANCE button
Visit a Jo-Ann Store To Check Your Gift Card Balance
To check your gift card balance in one of the Jo-Ann stores:
Locate and visit your nearest Jo-Ann store
Approach the checkout counter
Ask a staff member to check the remaining balance on your gift card
Use DoNotPay To Check Your JOANN Gift Card Balance With No Fuss
Do you find the online balance-checking process too confusing? You don't want to deal with customer service, or you cannot visit a Jo-Ann store? DoNotPay makes the process of checking your JOANN gift card balance simple, and you can do it from the comfort of your home!
To get started:
Select our Check Gift Card Balance feature
Upload a clear picture of your gift card in which all of the card details are visible
We will contact JOANN and let you know of any leftover money.
Besides JOANN, we can help you check the balance of a variety of gift cards:
Get Cash Back From Your JOANN Gift Card With DoNotPay's Help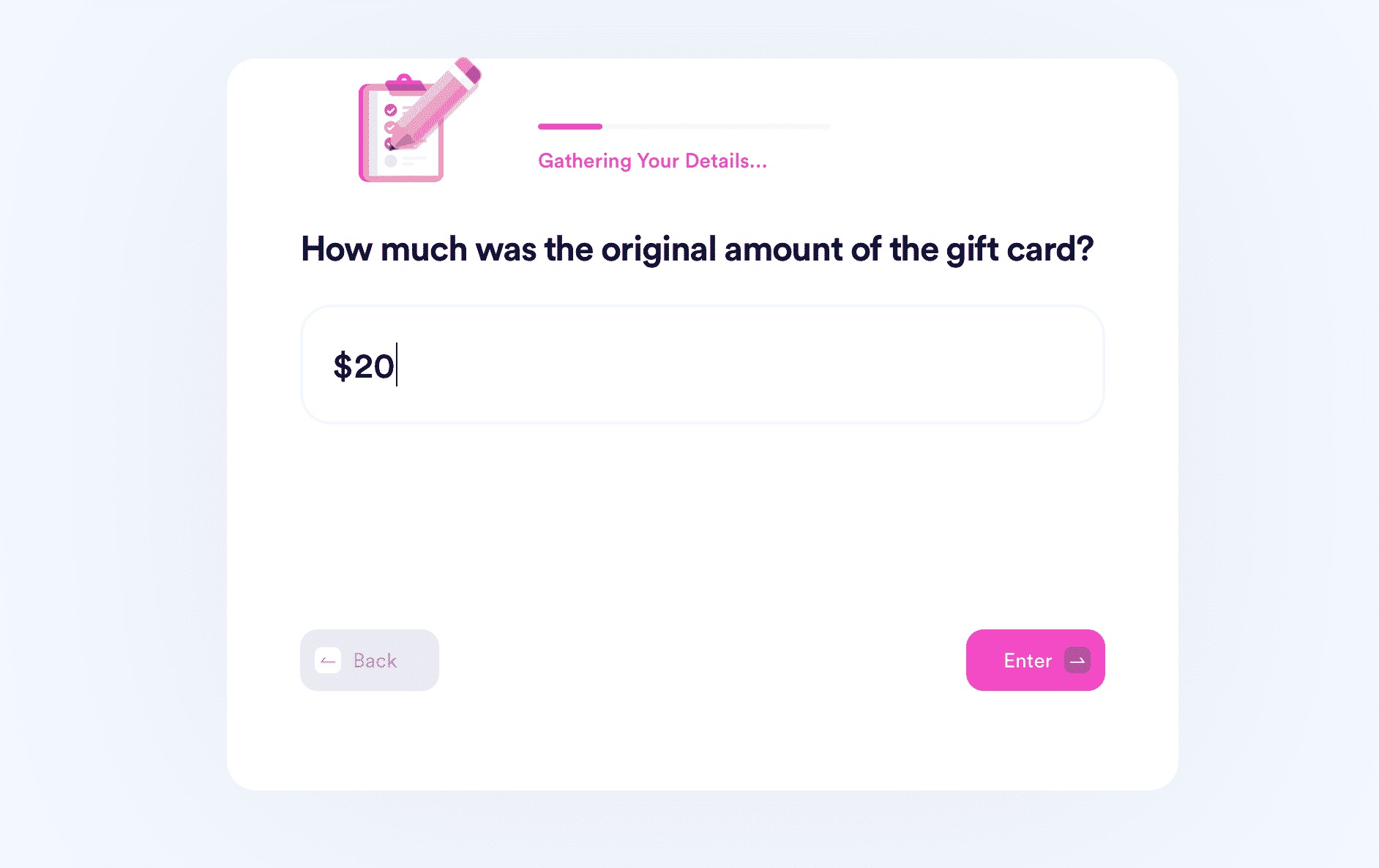 Now that you know how much money you have left on your JOANN gift card, use DoNotPay to convert your gift card to cash!
After you , the process of getting cash back from JOANN is as easy as one-two-three:
Select the Gift Card Cash Back product
Answer a few questions about your JOANN gift card
Click on the Sign and Submit button
We will reach out and forward your request to JOANN and make sure you receive your cash within 14 days of the request submission.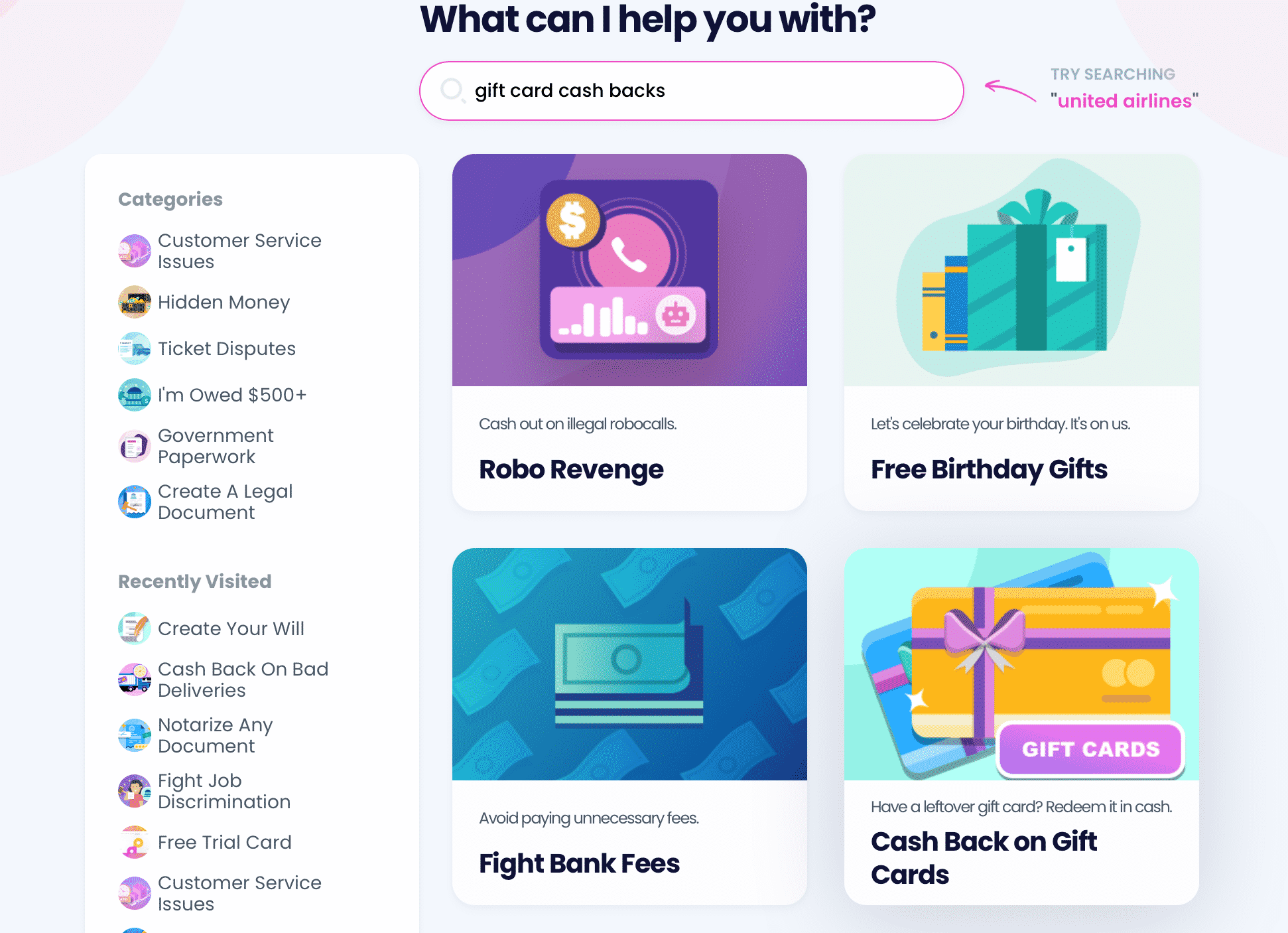 If you want to learn more, DoNotPay created guides that can help you with:
Exchanging gift cards from:
Finding out whether you can :
Figuring out what to do with:
More Ways To Use the Leftover Balance on Your JOANN Gift Card
Check out more ways to use the leftover balance on your gift card:
You Can Always Do More With DoNotPay
Our platform can be used in so many different ways. Thanks to loads of useful products and services available within the app, our subscribers can draft legal documents, fight workplace discrimination, or get compensation for fighting robocalls.
We can help you deal with difficult neighbors, stop stalking and harassment, or sue anyone in small claims court.
If you have a problem, DoNotPay has a solution.
DoNotPay Helps You Travel Safer and Easier
Our platform, built to fight bureaucracy and provide easier legal access, can prove to be indispensable when you travel.
If you're looking for some extra cash to fund your world adventures, you can find unclaimed money under your name or enter free raffles to win luxurious trips using our app.
DoNotPay can also help you draft a child travel consent form, fax it, mail it, or have it notarized online.
If anything goes wrong, our AI bots will assist you with:
Do you prefer road trips? Use DoNotPay to get ready for your driving test, book DMV appointments, or contest those annoying parking tickets!