How To Do the eBay Gift Card Exchange Effortlessly
Did someone give you an eBay gift card that you don't want to use anymore? Check the remaining balance on it and exchange it for cash.
DoNotPay will explain how an eBay gift card exchange works and provide useful info on how to use the leftover balance on your card.
eBay Gift Cards in a Nutshell
There are two types of eBay gift cards—physical and electronic. Here is what you should know about them:
Both types of gift cards work like cash and are not reloadable
Gift cards don't have any expiration date
There are no additional fees associated with using the card
In case your gift card gets lost or stolen, you need to provide your purchase receipt and gift card number to get a replacement
How To Exchange Your eBay Gift Card for Cash
According to eBay's gift card terms and conditions, you cannot return the gift card for cash unless the gift card laws in your state require it. Here are other ways to exchange your gift cards for cash:
Methods
Brief Details
Sell the card to someone you know
In case a family member or close friend is on the lookout for an eBay gift card, consider selling it to them
Put it up for sale online
Sell your card for sale at online marketplaces, such as Craigslist and Facebook Marketplace. Alternatively, you can also put it up for sale on eBay
Buy items using the card and sell them
You have several options to do this, including:

Buying items with the gift card and then selling them on eBay
Making a purchase and reselling the products to someone you know
Can You Exchange Other Gift Cards on eBay?
eBay allows you to sell other gift cards for cash. If you have new or used gift cards that you don't want, you can put them up for sale on eBay. Alternatively, you can also auction gift cards on eBay and get the highest price for your card.
To put your gift card up for sale or auction, you need to provide the following information:
Company name
Value in dollars
Expiration month and year
Valid locations
Since there is no verification process when putting up the gift card, there is a high chance of getting scammed. Reddit has numerous threads about people who have gotten fake or empty gift cards. Although you should contact customer service immediately if you've been scammed, there have been incidents where eBay did not provide refunds.
Can You Redeem Your Used eBay Gift Card for Cash?
If you used your eBay gift card and have a small amount left on it, don't let that money go to waste. Your first step should be to check the balance on your card. You can do this by choosing one of the following options:
Check Your eBay Gift Card Balance
What To Do

Online

Log into your eBay account

Go to the

Gift Card

page

Choose

Check Your Balance

Enter your card number and PIN

Once you hit Enter, your gift card balance will show up

With DoNotPay

, and complete the following instructions:

Pick the

Check Gift Card Balance

feature

Upload your gift card photos (front and back)

Confirm your email address

DoNotPay will check with eBay to see how much money you have left on your gift card and inform you promptly
If you live in a cash back state, you can easily file a request to get your money back. What if your state doesn't have a cash back policy? Sign up for our app, and let us show you the way to work around this policy!
DoNotPay Can Exchange Your eBay Gift Card for Cash in the Blink of an Eye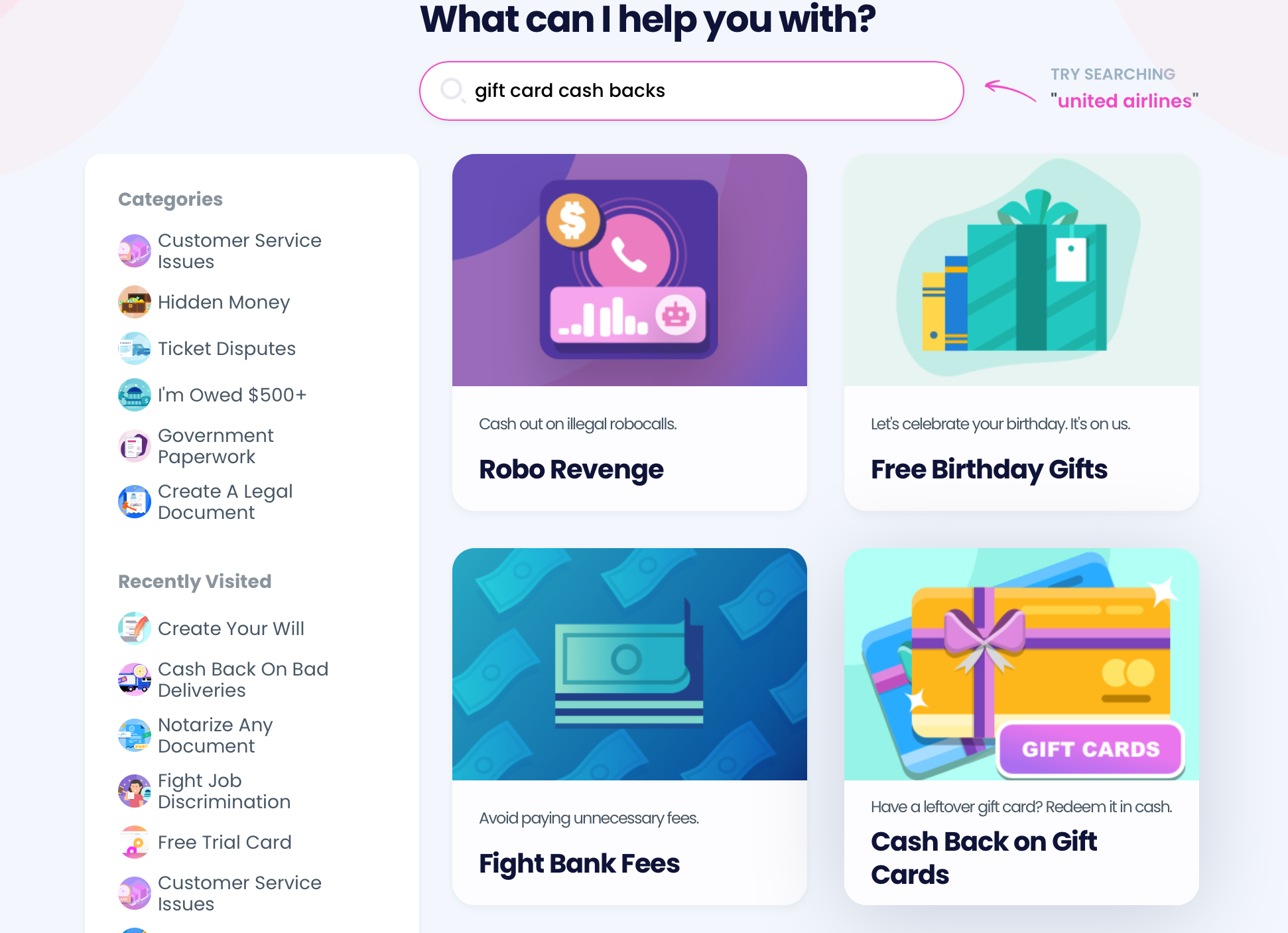 Have you found a few dollars on your eBay gift card that you can't buy anything with? You might want to exchange your card for cash, but nobody likes dealing with unhelpful customer support agents and wasting hours on phone and email exchanges.
That's not the DoNotPay way! With our Gift Card Cash Back product, we can redeem your card for cash without any trouble.
Here is what you need to do:
from your web browser
Choose the Gift Card Cash Back feature
Enter your gift card info, like the card number, company name, and remaining balance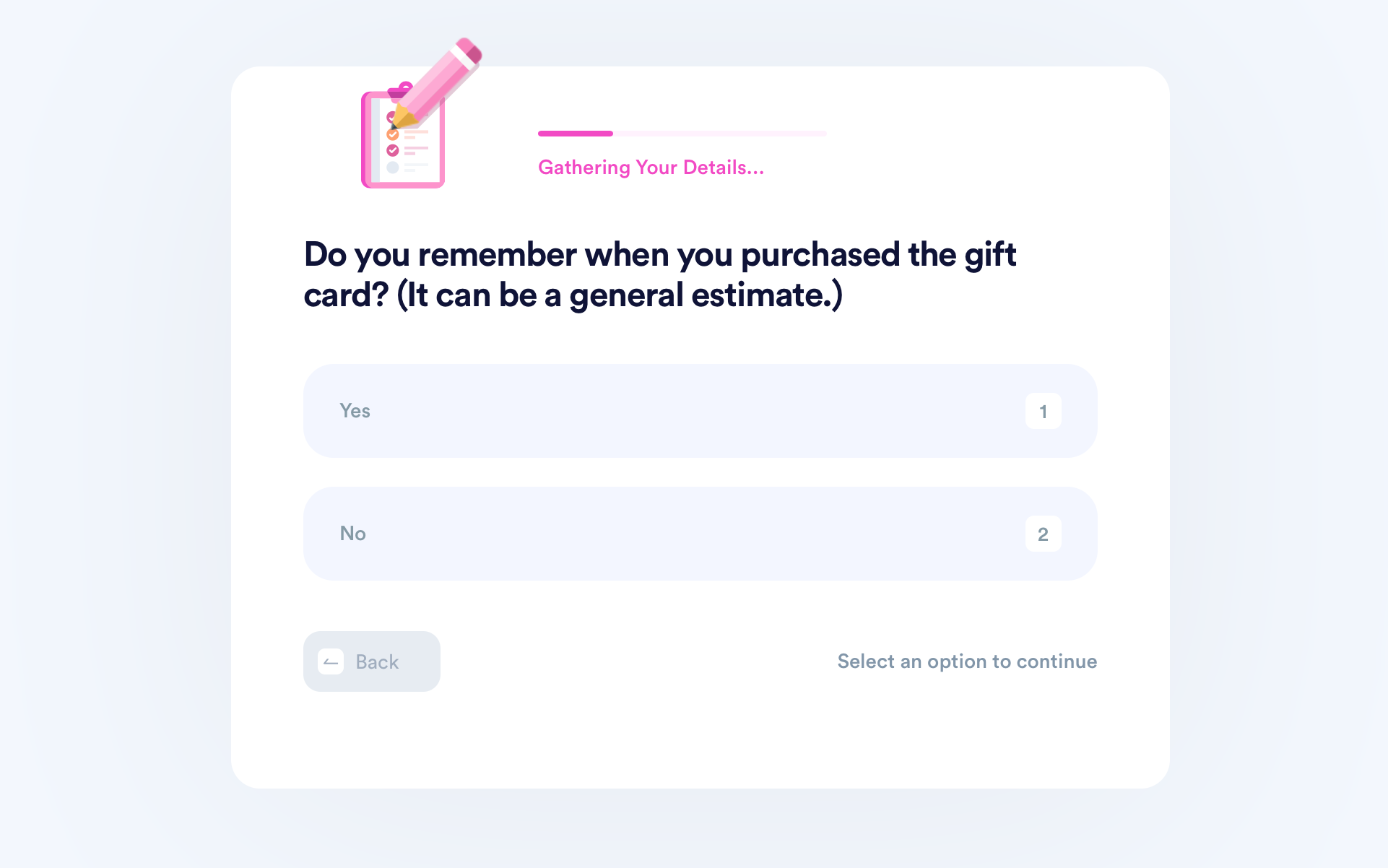 DoNotPay will send the request to the company if your state has a cash back policy. If it doesn't, don't panic! Since eBay is available all over the U.S., we will locate their office in Puerto Rico or one of the 11 cash back states and forward the request there. In 14 business days, you will get your money in the mail!
Have Other Gift Cards To Redeem for Cash? We've Got You Covered!
Have other used gift cards that you want to redeem for cash? DoNotPay can provide info on free gift cards and help you file a cash back claim in no time! Here are some of the companies we can help you with:
Manage Your Tasks Easily With Our Help
DoNotPay is the perfect solution whenever you need to resolve legal or bureaucratic matters. Here's a fraction of what our AI-driven app can help you out with:
Lowering your property taxes
No Matter What You Need, DoNotPay Is by Your Side
Do you have a bunch of subscriptions that you waste money on but don't even use? We can help you cancel them effortlessly! After that, our app can initiate a refund request and make sure you get your money back.
Facing financial difficulties? DoNotPay can help you lower your bills, get free raffle tickets, get gift card cash back, find your missing assets, and so much more!
For a low monthly fee, you'll get access to our impressive range of products, so sign up now!