How to Exchange Target Gift Cards for Cash the Easy Way
Have you got a Target gift card, but you don't feel like using it? If that's the case, fret not because there are several ways you can exchange it.
DoNotPay will explain all the necessary details of the Target gift card exchange and show you how to redeem the card for money in a few clicks!
Does Target Have Gift Cards?
Yes, Target gift cards come in amounts between $5 and $500, and they're used to purchase merchandise at Target stores and on the company website. Other uses of Target gift cards include:
Shopping at Starbucks within Target stores
Placing orders at Target Cafés
Refilling and transferring prescriptions at CVS Pharmacies in Target stores
If you're shopping with a Target gift card, you can use up to ten cards per order as payment. The cards don't have an expiration date and don't lose value over time, so you can wait for a sweet deal to use them.
Gift Card Exchange at Target
Target won't let you return your gift card for cash unless required by law, but the company offers a trade-in program. This program allows you to exchange your unwanted gift card with a balance on it for another gift card. Here's how it works:
Find a Target store near you using the store locator
Visit the nearest Target
Give a store associate your card for scanning
The employee will make an offer. If you decline, you can opt for other methods of Target gift card exchange.
Can You Exchange Your Target Gift Card for an Amazon Gift Card?
Target gift cards aren't exchangeable for the ones from Amazon. The prices that both companies offer are similar, though, so if you want to buy an item on Amazon, check if Target has it in stock.
How To Exchange Your Target Gift Card for Cash
There are numerous ways you can exchange your Target gift card for cash or spend your remaining balance. Check the table below for the specifics:
Exchange Method
Details
List the gift card on an eMarketplace
List your used gift card on:

Facebook Marketplace
eBay
Craigslist

Listing your Target gift card on one of these websites is a quick way to get cash for your gift card

Buy items at Target and return them for money
If you buy items at Target using your gift card, you can return them and get cash back for them instead
Ask a friend
Check with a friend or a family member if they need a Target gift card or if they know someone who does
Sell it on a reseller website
There are tons of reseller websites out there, but they will not pay you the total value of your card. Before selling your gift card this way, do proper research so that you get the best deal
Find an exchange kiosk near you
Visiting exchange kiosks is a viable option for turning your gift card into cash, but they only accept physical cards
Purchase items from Target and resell them online
You can get a product from Target with your card and then sell it on one of the marketplaces listed above
Trade your card for another one
Find an online platform that lets you trade gift cards and exchange your Target gift card for a different one, such as a gift card from:
How Can DoNotPay Help You Redeem Your Target Gift Card for Cash?
There are 11 U.S. states (including Puerto Rico) that have a cash back policy:
Maine
Oregon
Vermont
Missouri
California
Colorado
Massachusetts
New Jersey
Connecticut
Rhode Island
Washington
If you're located in one of these states, you can ask a Target customer support representative to give you your money back, but they may not be familiar with the law. This is where comes in! We'll send a cash back request to the Target store in question.
In case you don't live in a state with a cash back policy, our app can still help! We will find a Target office in one of the cash back states and send your request there.
How To Exchange Your Target Gift Card for Cash With Ease Using DoNotPay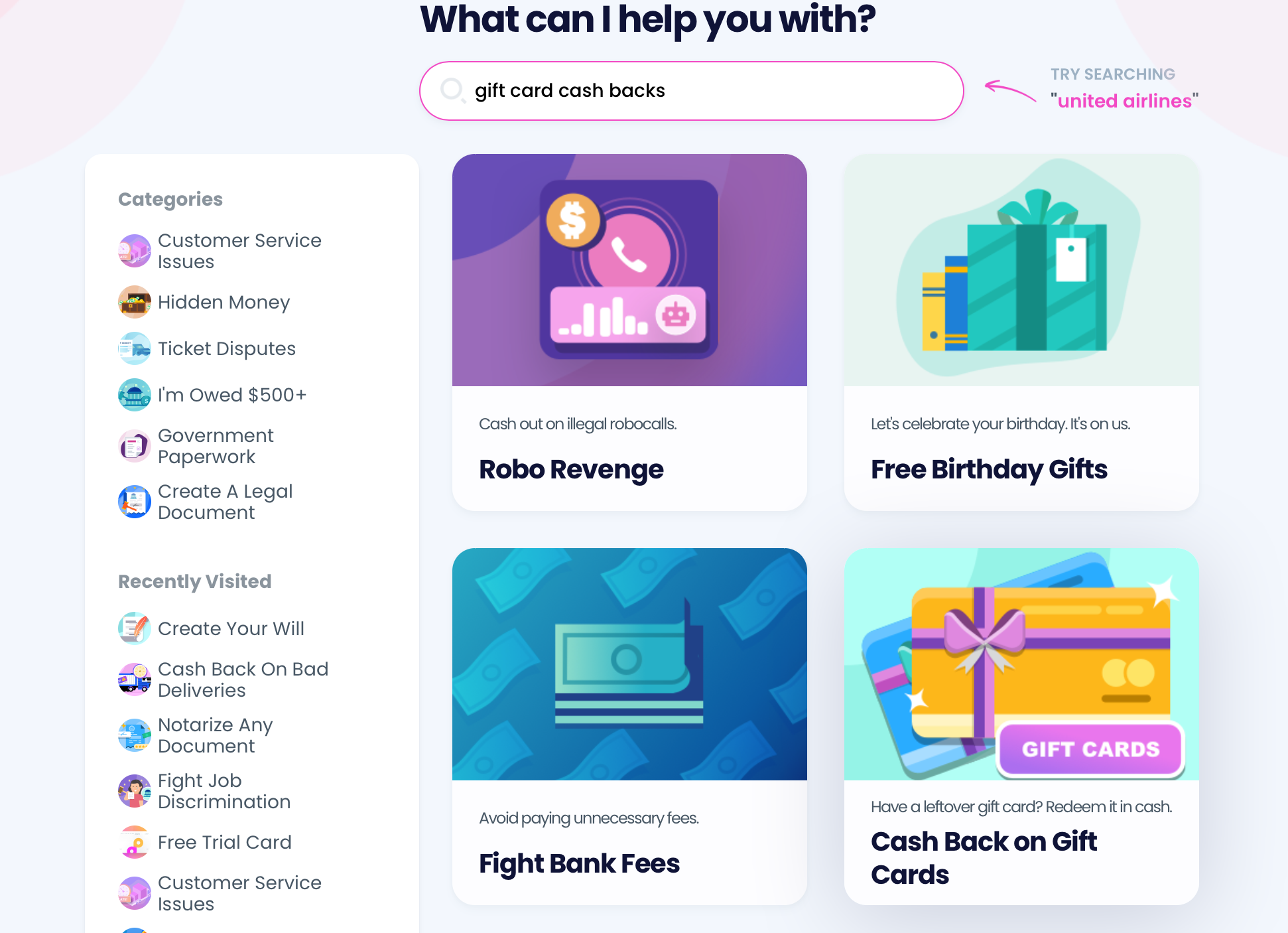 If you want to turn the remaining funds on your Target gift card into cash the easy way, use DoNotPay. With our app, you'll be able to redeem your leftover balance for money in only a few steps. Here's how it works:
Open the Gift Card Cash Back feature
Enter your gift card information, including the remaining balance, card number, and the company name
You can expect to receive your cash by mail within 14 business days.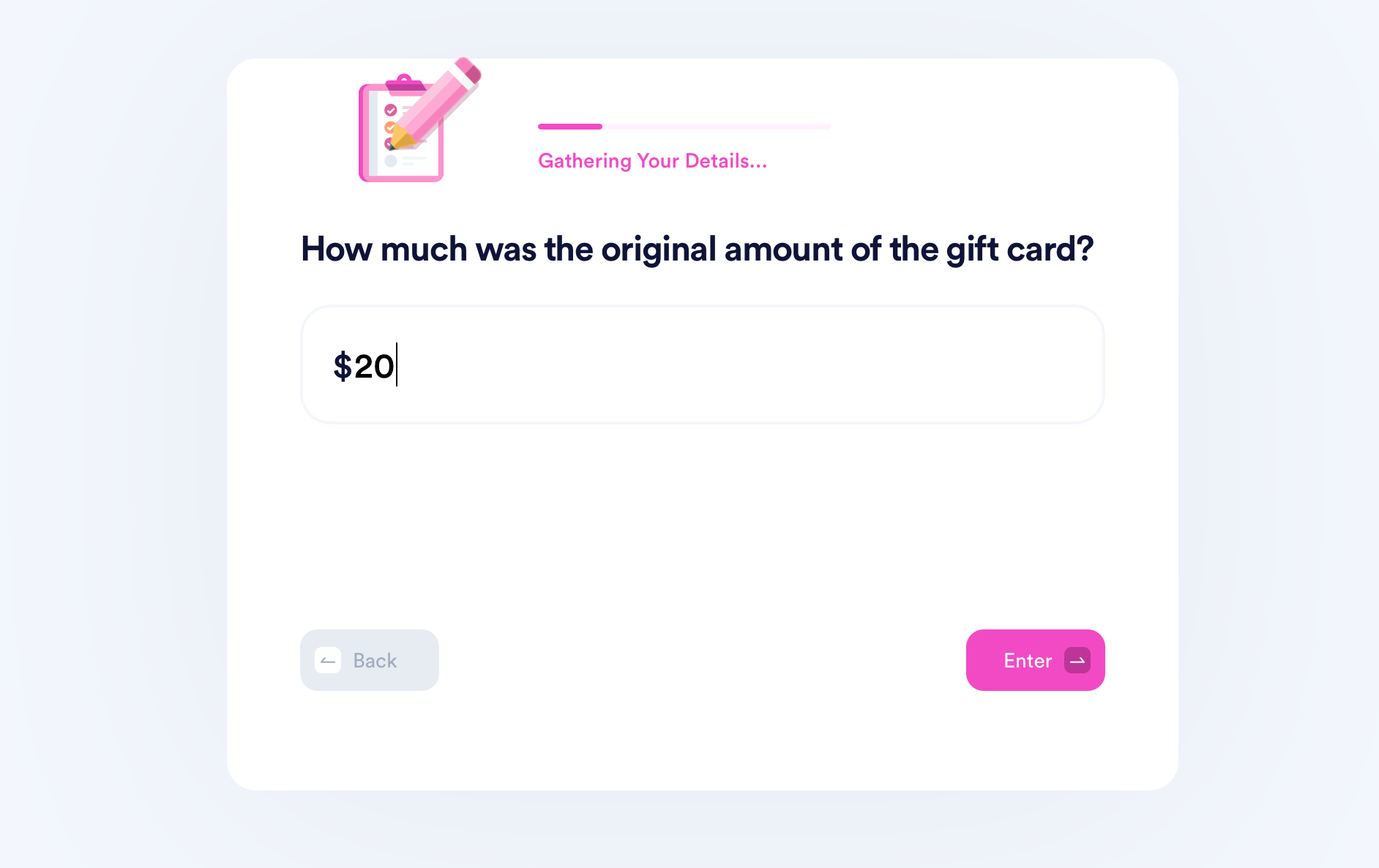 DoNotPay Offers More Assistance With Gift Cards
DoNotPay can show you how to get free gift cards and solve your problems with gift cards from other companies, including:
Use DoNotPay's Features to Your Advantage!
DoNotPay offers a myriad of helpful services you can use to resolve your everyday hurdles.
Do you need help paying bills or finding and claiming missing money? Are you interested in applying for clinical trials in your area? We can help you solve these and many more issues in no time!
Here are some other problems you can handle effortlessly with our help:
Hiring a Lawyer Can Cost a Small Fortune—Rely on DoNotPay Instead
If you're on a tight budget and can't pay a lawyer to help you create legal documents, file a claim in small claims court, or handle stalking and harassment, DoNotPay has a solution for you.
Our app will help you create various documents, including child travel consent forms and complaint letters for a problematic neighbor.
Are you a victim of a crime and need help applying for reimbursement of your crime-related expenses? You can sign up for DoNotPay and allow us to handle your crime victims compensation on your behalf.
DoNotPay can also connect you with an online notary and enable you to get your documents notarized from the comfort of your home.