Rules for Calling In Sick to Work 2 Days in a Row
Have you been feeling sick for a couple of days but don't know how to call in sick at your workplace? Whether your employer has a paid leave policy or not, you should consider taking time off so you don't get sicker. But what if your employer is forcing you to work while you're ill?
In this article, we will explain the rules for calling in sick to work 2 days in a row. DoNotPay can also assist you in taking time off from work— to generate a rock-solid leave request letter in a matter of minutes!
Can I Call In Sick to Work?
It doesn't matter if you're feeling unwell physically or mentally—you should take time off work if you don't feel well. Not everyone is entitled to this privilege—approximately 33.6 million employees in the U.S. do not have access to paid sick leave—regardless whether they are experiencing:
Luckily, there are various sick leave laws, such as the Family and Medical Leave Act, that employees can refer to and take time off for sick leave.
The Family and Medical Leave Act in a Nutshell
The Family and Medical Leave Act (FMLA) gives up to 12 weeks of unpaid time off per year to eligible employees. This is different from the Emergency Paid Sick Leave Act, which only allows you to take time off if you have contracted COVID-19.
The FMLA is federal legislation, but there are various states that have their own paid sick leave laws:
How To Qualify for the FMLA
To take leave under the FMLA, you need to meet the following requirements—you must have:
Worked at least 1,250 hours within the last 12 months
Been employed in a company with 50 or more employees within 75 miles
Been employed for at least a year with the same employer
How Should I Tell My Employer That I Need Two Sick Days?
Even if your contract does not mention a sick leave policy, you should avoid being sick at work. Not only will it decrease your own productivity, but you risk infecting your colleagues as well.
If there is no formal sick leave policy at your workplace, you should follow these instructions as soon as you start feeling unwell:
Inform your employer via:
Show a doctor's note, if necessary
Notify your team members that you will not be available due to an illness
The sooner you let your employer know that you won't be available, the faster they can delegate your tasks to other team members and ease the transition process.
DoNotPay Can Help You Create and Submit a Valid Sick Leave Request Letter
If you have been feeling unwell, you should take time off to get back to your healthy self. Not sure how to communicate this to your boss? DoNotPay is here to help you out! We can generate a customized letter for you within minutes and send it directly to your employer.
Here is what you need to do:
in your web browser
Navigate to the Request Sick Leave tool
Provide a few details about your state and the company you work for
Inform us about how many days you need to take off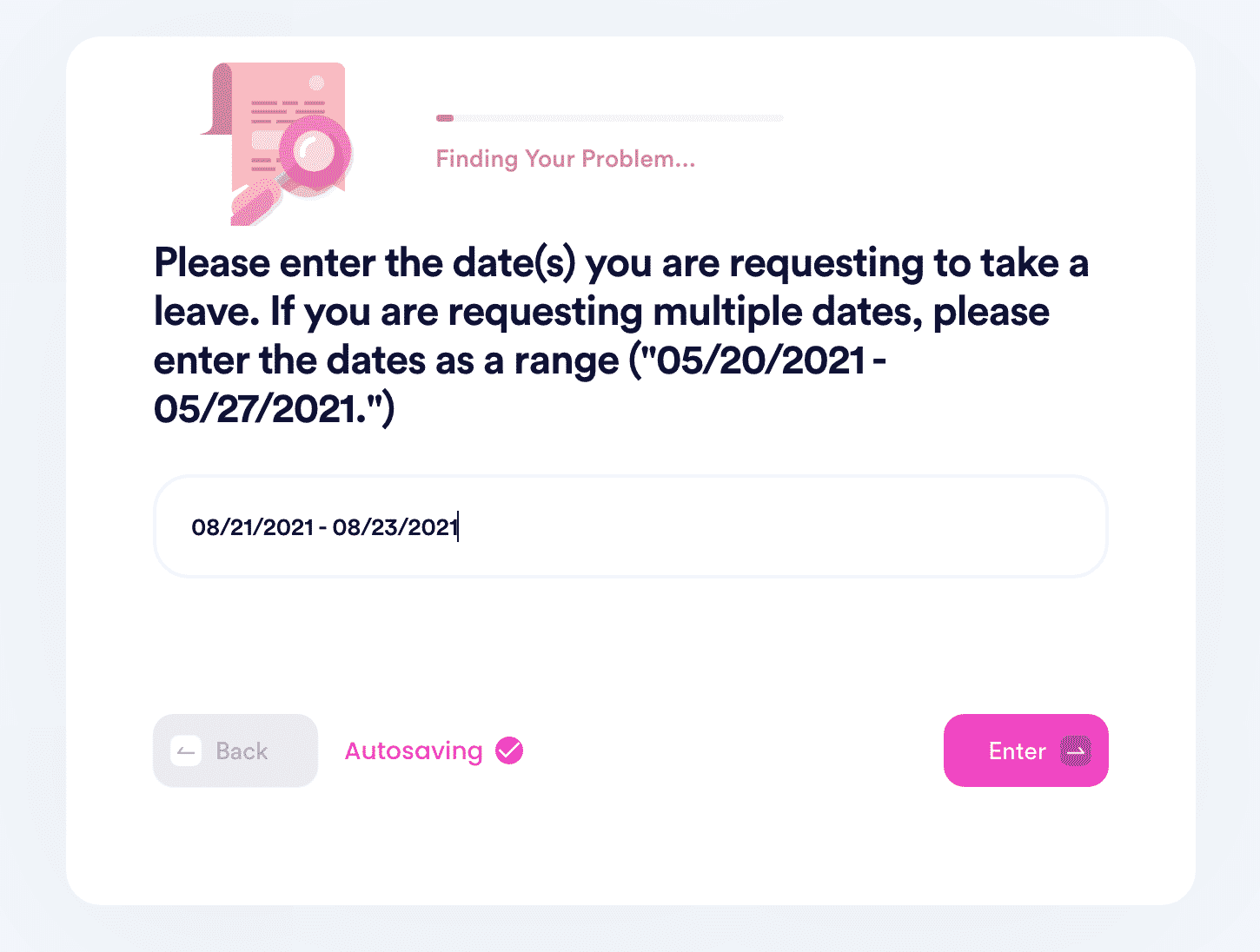 Once you complete all the steps, we will prepare and forward your request. In case you want to send it yourself, download and print out the PDF version.
If your employer still does not give you time off or fires you, you can sue them with the help of DoNotPay's Small Claims Court feature.
Turn to DoNotPay and Remove Bureaucratic Issues in a Snap
Does paperwork bring you to the edge of a nervous breakdown? With our help, you will skip all administrative impediments and get ready-made legal documents before you know it! No failed drafts or huge legal fees!
DoNotPay can generate:
Once you create the desired document, you can fax it online without a faxing machine or have it notarized with zero complications in the same app!
Your Info Is Safe With Our App
You don't need to leave your credit card info or personal details if you want to start free trials that won't turn into paid subscriptions without notice. DoNotPay will create a virtual credit card with a fake name and generic credit card number for you in just a few clicks. This way, greedy companies won't take a single penny from your account without your authorization!
Our app can also help you file anonymous HR complaints or create burner phone numbers to avoid disclosing your real info when signing up for apps and platforms.