Doctor's Sick Note for Work—What You Should Know
Getting sick at work can happen to anyone. Every company has its own policies on sending in and handling sick leave requests. While some companies allow impromptu call-ins, many require official emails, forms, and proof of illness.
If you've visited a medical practitioner for your illness, a doctor's sick note for work is not something that's hard to acquire. In many cases, people don't visit doctors for minor illnesses, which makes it difficult to get a sick note. Can your employer force you to get one or make you work when you're sick? This guide will help you find all the answers!
The Basics of a Sick Note for Work
A sick note may be required if you are asking to be off from work for a prolonged period of time. Your employer may also ask to see one if you're suspected of carrying communicable diseases, such as COVID-19 or SARS, and are asking for an emergency paid sick leave.
How Many Days Can You Call In Sick Without a Doctor's Note?
Your employer can ask you to show a doctor's note at any point after you request a day of absence, especially if you are asking for paid sick leave. Most employers will let you have three consecutive sick days before asking for one. They also cannot ask you to submit a sick note every time you fall ill.
Is Your Employer Violating Your Privacy by Asking for a Sick Note?
Asking to see a sick note is not considered a HIPAA violation. Companies can ask for a sick note to regulate paid leave, employee compensation, and attendance-keeping. They can also ask for a note to:
Verify a disability accommodation request
Assess if your request for leave is valid
They are required to keep these notes separate from an employee's personnel folder and must not share them with other employees.
What Are the Contents of a Sick Note From a Doctor?
A doctor's note usually contains the following:
The employee's name
The date of the examination
A note about the number of days the employee needs to take off due to their illness
The specification whether the disease is contagious or not
Other details of the illness may be considered a violation of privacy.
What Is the FMLA?
The federal Family and Medical Leave Act (FMLA) requires companies that are subject to it to provide sick leave to the employees for up to 12 weeks' worth of leave. While this leave can be unpaid, the employee enjoys job protection and cannot be fired for using this leave.
To be eligible under this policy:
An employee must have worked for the company for at least 12 months
The employee must have completed a minimum of 1,250 hours over 12 months
The company must have at least 50 employees who live within a 75-mile radius of the company
What Should You Do if You Feel Sick at Work?
Many employees prefer to continue working even when they feel unwell due to a number of reasons—for example, they:
Have run out of available leave days
Are afraid of getting fired
Do not have paid leave benefits
Don't believe their illness is serious enough
Here's what you should do if you feel sick at work:
Notify your supervisor
Distance yourself from others and ask to work from home
See a doctor if you feel too sick or for a prolonged amount of time
Ask Your Employer for Sick Leave With DoNotPay
Many people don't ask for days off because they are not sure if they're allowed. To request leave quickly and find out what the laws of your state are regarding this matter, use the DoNotPay app! All you have to do is:
Look for the Request Sick Leave product
Give us a few details about yourself and your employer
We will write a custom request letter on your behalf, which you can email directly to your employer from the app!
We also provide information about the specific laws for numerous states, including: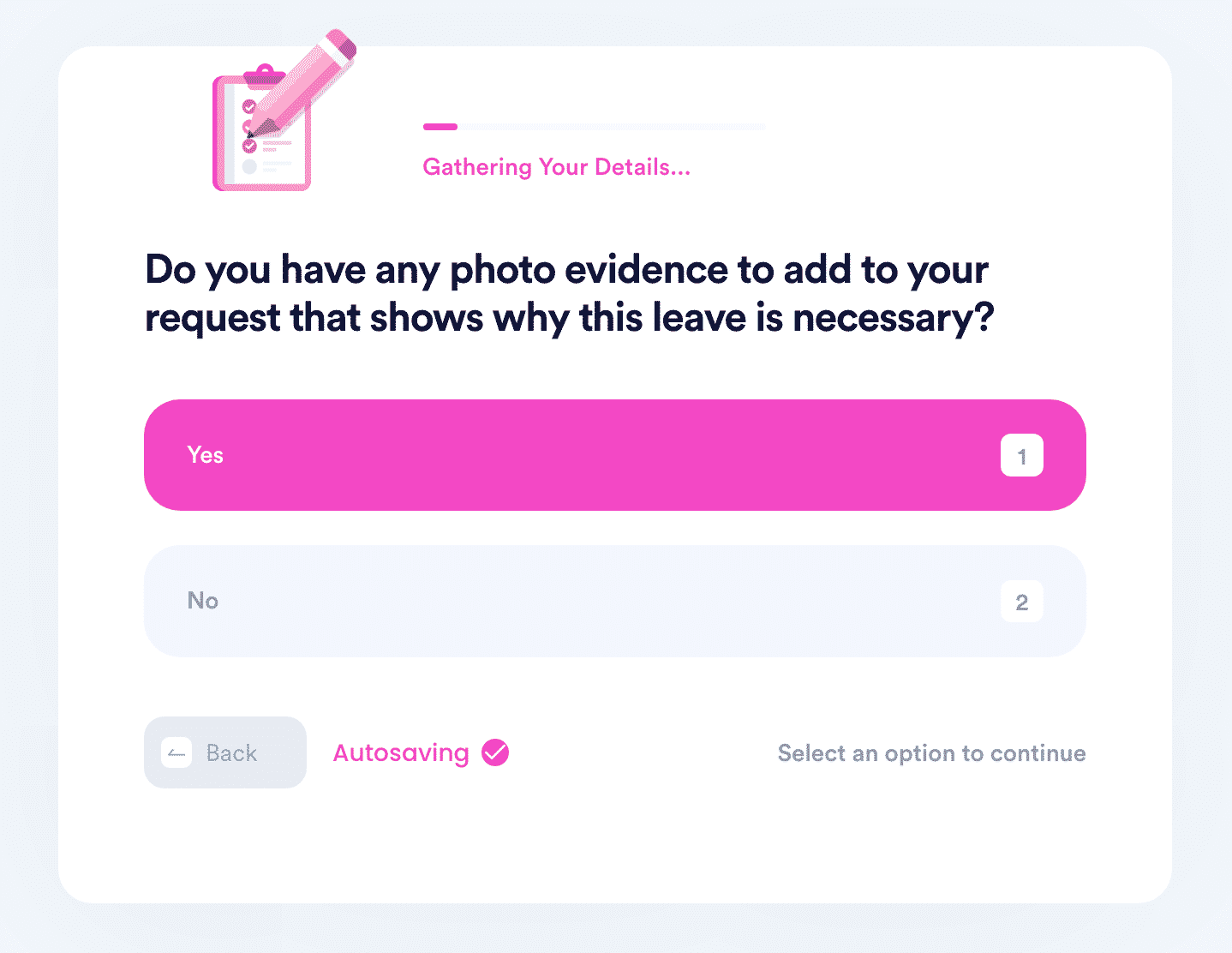 Feeling Wronged by Your Employer? Sue Them With DoNotPay!
You can sue your employer in small claims court if you've applied for leave you are entitled to and have evidence, but they have refused your request. can help you:
Draft a demand letter
File the lawsuit
Draft a script for you to use in court
Gather all paperwork and fill out forms
What About Other Perks Our App Offers?
DoNotPay offers valuable assistance with the following tasks:
DoNotPay Cares About Health Matters
Finding suitable and verified clinical trials you can participate in is often complicated and time-consuming. Still, with DoNotPay, it becomes a breeze! Our platform allows you to search through clinical trial databases and apply for the ones that seem acceptable to you.
If you want to make sure your health wishes are honored if you get too sick, we help you compose an advance health care directive based on your preferences. That's not all—you can also name a person who can decide on your finances and estate if you get incapacitated by creating a power of attorney in our app!