Don't Lose Sight of the Warby Parker Return Policy—Read the Fine Print
Was something wrong with your order from Warby Parker? Were your glasses or contacts faulty or damaged? Before making any hasty decisions, learn about the Warby Parker return policy by reading our guide. We got all the answers to your questions, plus we can start the return process for you!
All you need to do is , and we'll send your return requests to Warby Parker, Nordstrom, REI, or any other merchant.
Don't Return Items Blindy—Know the Warby Parker Return Policy
Warby Parker accepts returns of all products except for gift cards and trial packs within 30 days of purchase. You can return the following items in that time window:
Accessories
Eyewear
Contact lenses in their unopened, original packaging
Defective contact lenses
Contact lenses that arrive damaged
Frames that are damaged
You have 365 days to return eyeglass and sunglass lenses that were scratched for a free replacement. You can also get help with loose or unfit frames, nose pads, or screw replacements at every Warby Parker retail location.
Warby Parker accepts returns by mail and to any of their 144 locations in the U.S.
How To Initiate the Warby Parker Return Process
You can start the return process with Warby Parker by contacting their customer service or visiting one of their stores and asking the employees for further instructions.
Check out the table below for an overview of your options:
| | |
| --- | --- |
| Can You Request a Return Via | Yes/No |
| Website | Yes |
| Email | Yes |
| Phone | Yes |
| In Person | Yes |
| DoNotPay | Yes |
| App | No |
Request a Warby Parker Return Using Their Website
You can start the return process online by following the instructions below:
Open the Warby Parker Returns page
Enter your order number and billing ZIP code
Click on Next
Request a Warby Parker Return via Email
You should send an email to help@warbyparker.com and make a return inquiry if you prefer communicating via email. A customer support rep will give you further instructions regarding your return.
Request a Warby Parker Return Over the Phone
You may call the Warby Parker customer service at 1-888-492-7297 every day from 9 a.m. to 10 p.m. ET and ask about returns.
Request a Warby Parker Return in Person
You can always use the old-fashioned way and go to the nearest Warby Parker and ask for assistance with returning products. Need help locating the store? Visit the company's The Retail Locations page and scroll down until you find a Warby Parker location in your city.
Let DoNotPay Request a Return From Warby Parker in Your Stead
Is Warby Parker losing sight of their customers? Don't let them neglect your return request! DoNotPay can make a formal return request for you. We'll also add a deadline to your request, give you a free shipping label, and inform the merchant of everything regarding your return request.
All you need to start your Warby Parker return is to take the following three steps:
and open the Item Return Request feature
Answer a few questions from our chatbot regarding the purchase
Submit the request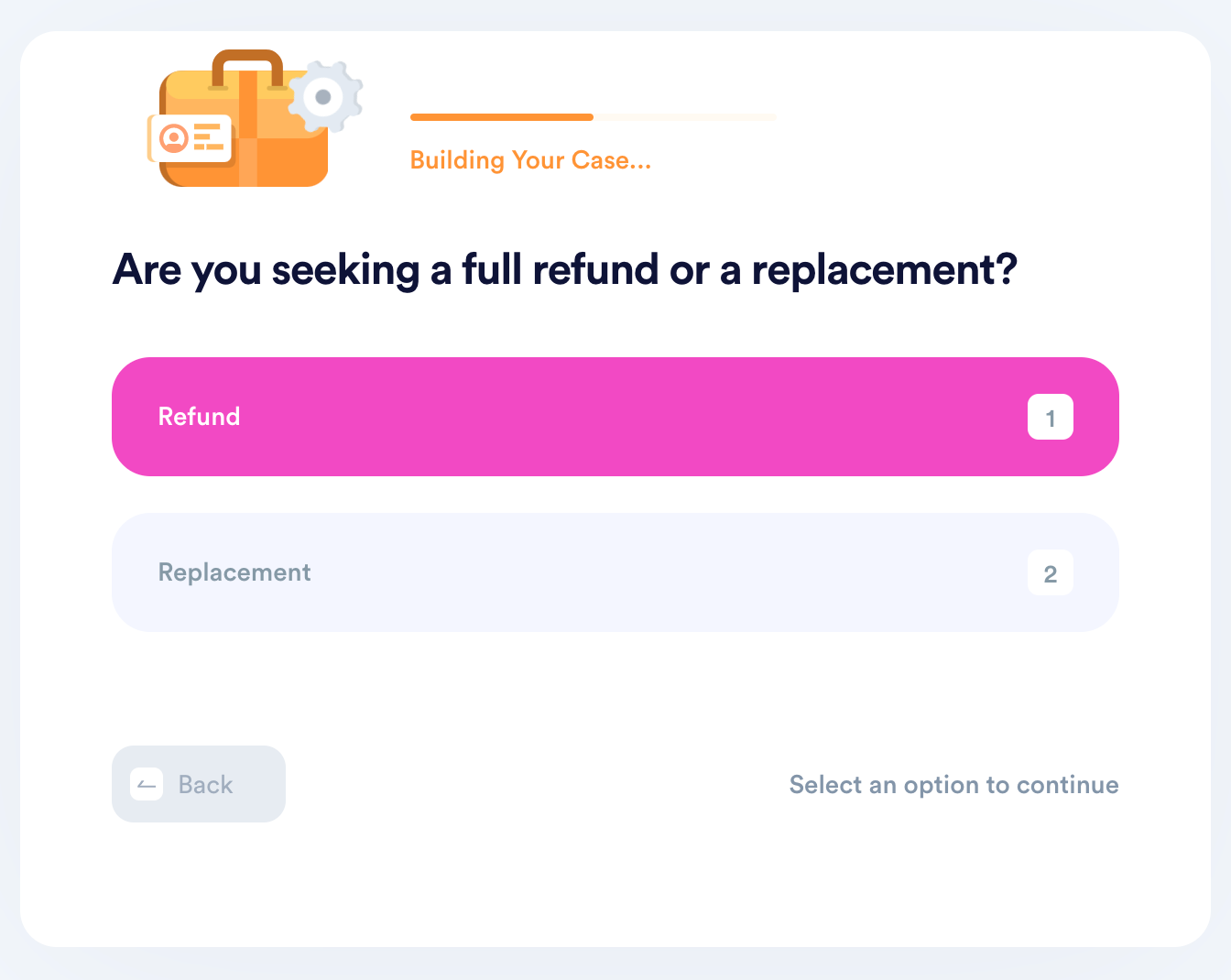 Are more companies causing you distress? Learn about their return policies by reading our guides:
The Warby Parker Refund and Exchange Policies
You can choose between a full refund or an exchange when returning eligible items to Warby Parker. The refunds are credited to the original form of payment. Since there's no other mention of return and refund processing time on the official website besides the 30-day policy, you may have to wait up to 30 days for a refund or an exchange.
Demand a Refund From Warby Parker With DoNotPay in an Instant!
Is Warby Parker giving you the stink eye and refusing to refund your purchase? Worry not—DoNotPay is on the way. You can get a refund using our File a Chargeback feature by following the instructions below:
Open our website and chose the File a Chargeback option
Select Get Protected
Answer our questions about your purchase
Sign and submit the request
Did Warby Parker Wrong You? Don't Let It Get Away With It—Sue It With DoNotPay!
Companies can sometimes be difficult and provide an awful customer experience. If they wronged you, DoNotPay will help you sue Warby Parker in small claims court. We will assist you by:
Making a script with airtight arguments you can use in court
Creating a demand letter
Filling your complaint
Sorting out and collecting paperwork and court forms
Is the Company Refusing To Cooperate? We Can Help You Get Justice
Is whatever company you're dealing with not being a good sport? Don't worry—the world's first robot lawyer is here to help. Our app can prepare all the necessary paperwork and provide guidance if you want to sue the company in small claims court.
We can also help you draw up any legal document you need for the case, have it notarized by an online notary, and fax it to anyone in a matter of minutes.
If you want to get revenge on tiresome robocalls or report a stalker or harasser, you can rely on DoNotPay.
Anything Else We Can Do for You?
Our AI-powered app is versatile—you can complete many tiresome, daunting tasks that you wouldn't want to tackle by yourself. You can use DoNotPay to:
If you want to get access to all of our nifty products, sign up now!