A Detailed Guide to the Ray-Ban Return Policy
Ray-Ban is one of the biggest brands of luxury eyewear, including sunglasses and prescription glasses. If you ordered one of the Ray-Ban products and your order arrived damaged, or you changed your mind about your purchase, you can return the product.
Before returning your item, you should learn more about the Ray-Ban return policy. DoNotPay can be your assistant in the process of returning the Ray-Ban glasses you are not satisfied with.
The Ray-Ban Return Policy Explained
Ray-Ban guarantees satisfaction, so its return policy allows you to change your mind even if the product you bought wasn't damaged or faulty.
You can return any item you bought online, except for the two following products:
Physical gift cards
Online gift cards
Ray-Ban also provides an extended 100-day return for products purchased during holidays, from November 4th to December 31st.
The company only accepts product returns for eyewear purchased on its official website, while the items bought in authorized Ray-Ban stores need to be returned to the shop in question. Ray-Ban accepts returns within 60 days of the purchase date.
In case your glasses are damaged, you can also ship the product to Ray-Ban and have them fixed for you. If you choose to send your glasses to Ray-Ban for a repair, the company may impose additional charges. Additional fees will be presented to you via email before shipping the item. When returning the product, you may qualify for a:
Refund
Exchange for a different item
Exchanged products should arrive at the provided address within 15 business days.
Can You Return Customized Ray-Ban Sunglasses?
When you use the Ray-Ban Remix feature to design your sunglasses online, you can't return the item. Customized sunglasses can't be returned as the pair was made especially for you and by your design. Custom-made products are eligible for returns only in case the item is faulty.
How To Return a Ray-Ban Product
You can ship the product to Ray-Ban, and the company will reimburse you for the cost of the shipping fees. To ship the product, follow these steps:
Visit the My Orders page and enter your email address and order number
Follow the prompts to get the return label
Print the return label and authorization form
Pack the product with all the contents in the original case and box
Attach the return label to the box
Ship the box via UPS, USPS, or any other shipping carrier
Contact Customer Service if You Need Help
You can reach out to customer service to have the return label and authorization form created for you so you could print it. To get in touch with a representative, dial the company's toll-free number 866-472-9226. You will need to ship the product yourself once a customer service rep sends your label to you via email.
| | |
| --- | --- |
| Can You Initiate a Return for Ray-Ban Eyewear Via | Yes/No |
| DoNotPay | Yes |
| Phone | Yes |
| Email | No |
| Letter | No |
| Mail | Yes |
| Online | Yes |
Will Ray-Ban Charge a Fee for Returns?
The company reserves the right to charge a fee for returns in case:
The product is not returned in its original package
Some contents, including manuals and special accessories, are missing
The product got damaged in some way during return shipping
Returned eyewear that is damaged in any way may be eligible for a fee charge since these products can't be resold. The shipping for Ray-Ban returns is free as long as the customer follows shipping instructions.
Why Was My Return Request Turned Down?
Your return request may not be accepted if:
You don't have the return label and authorization
The period for submitting a return request expired
The item got damaged in transit
How To Create a Rock-Solid Return Request With DoNotPay
Returning products can be time-consuming and stressful. This is where DoNotPay comes in! Our AI-powered app can help you return any Ray-Ban item you are not entirely satisfied with. We can ease the entire process for you by creating and sending a return request to the company on your behalf.
That's not all! You will also get a free return label so that you don't have to waste time getting it yourself.
To create a return request, follow these short steps:
Access DoNotPay and log in to your account
Go to the Item Return Request feature
Answer a couple of questions regarding your purchase
Specify whether you want a refund or an exchange
Our app will draw up your request and send it to Ray-Ban right away!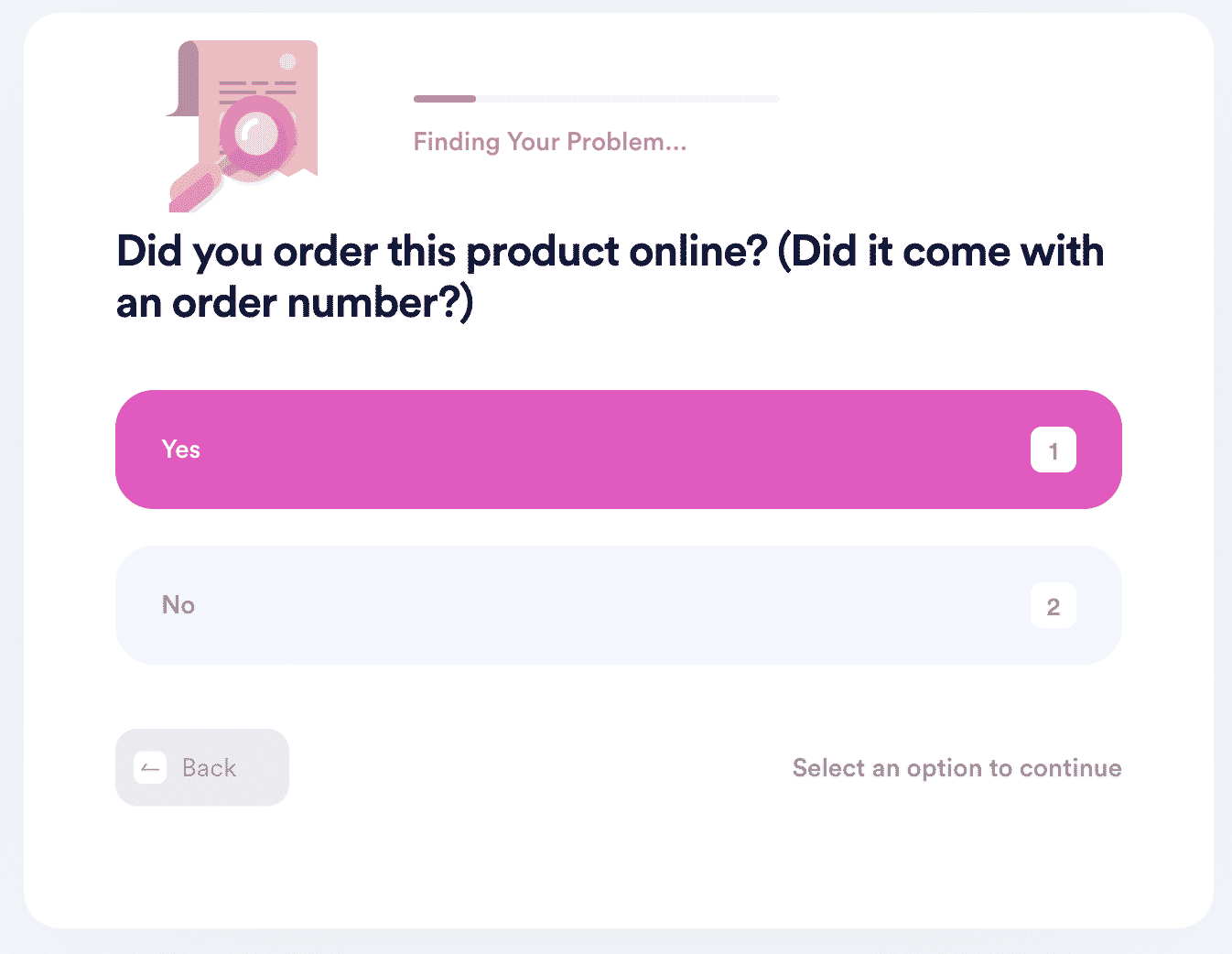 Can You Return Products to Other Companies With DoNotPay's Help?
Do you have more products that you are not satisfied with? DoNotPay can help you create return requests for a refund or an exchange for a great number of companies. Check the table below and get familiar with the return policies of various merchants:
Is the Company Refusing To Cooperate? We Can Help You Get Justice
Is whatever company you're dealing with not being a good sport? Don't worry—the world's first robot lawyer is here to help. Our app can prepare all the necessary paperwork and provide guidance if you want to sue the company in small claims court.
We can also help you draw up any legal document you need for the case, have it notarized by an online notary, and fax it to anyone in a matter of minutes.
If you want to get revenge on tiresome robocalls or report a stalker or harasser, you can rely on DoNotPay.
Anything Else We Can Do for You?
Our AI-powered app is versatile—you can complete many tiresome, daunting tasks that you wouldn't want to tackle by yourself. You can use DoNotPay to:
If you want to get access to all of our nifty products, sign up now!