Get Acquainted With the Finish Line Return Policy
Did your Finish Line merchandise look better in the display window? We created a guide to the Finish Line return policy so you can learn how to request a return in the blink of an eye!
DoNotPay also offers guides on return policies from:
Finish Line Return Policy—The Basics
Here is a list of the general terms of the Finish Line return policy:
Fees for returns and exchanges—Finish Line won't charge you a dime for these services
Time limit—You can return your Finish Line products within 45 days of purchase if you're not satisfied with them
Personal information—The company needs your full name and phone number to process your request because it uses a company-wide database to track and prevent the abuse of its return policy
Exchanges—You will have to visit a Finish Line store to exchange your product because the company doesn't offer exchanges by mail
Sister brands—Products from sister brands, such as Footpatrol and Size?, are not eligible for returns at Finish Line and vice versa
Incomplete or damaged order—The company recommends contacting customer support before attempting to return the products. Explain your issue, and a company representative will propose a solution
How To Secure a Return Request Approval at Finish Line
To ensure that Finish Line accepts your return request:
The products must not be worn, used, altered, or damaged
You have to return shoes in their original box
The items must still have all price tags attached
You need to submit the return request within 45 days of purchase
Can You Return Products to Finish Line Without a Receipt?
Yes, but a company representative will estimate if the return request is warranted. A return without a receipt is only eligible for a store credit, which you can use in any Finish Line location.
The Return Policy of Finish Line Stores Located Within a Macy's
All items you buy at Finish Line stores that are a part of a Macy's store or within the Finish Line section of the Macy's online shop are subject to Macy's return policy. You can't return the items by mail. Instead, you need to return them to a Macy's store.
How Can I Return My Items to Finish Line?
You can opt for one of three ways to return your products to Finish Line:
In store
By mail
With DoNotPay
Initiate a Return Request to Finish Line in Store
To return your Finish Line items in one of the company's stores:
Prepare your products, original form of payment, and proof of purchase
Locate and visit your nearest Finish Line retail store
Approach the checkout counter and ask a staff member to process your return request
Provide all necessary information and reasons for return
Note that you can't return online orders to Finish Line stores located inside Macy's.
Return Your Items to Finish Line by Mail
To initiate a return request and ship your products to Finish Line:
Locate the Returns page on the company's website
Enter your order number and billing ZIP code
Select the items you want to return
Print the return shipping label and attach it to your parcel
Ship the items
If you used Afterpay or Klarna to pay for your purchase, Finish Line encourages you to return your items by mail. The company states that this practice ensures that the return syncs with your account to credit the refund directly.
DoNotPay Makes Returning Your Items to Finish Line As Easy As 1-2-3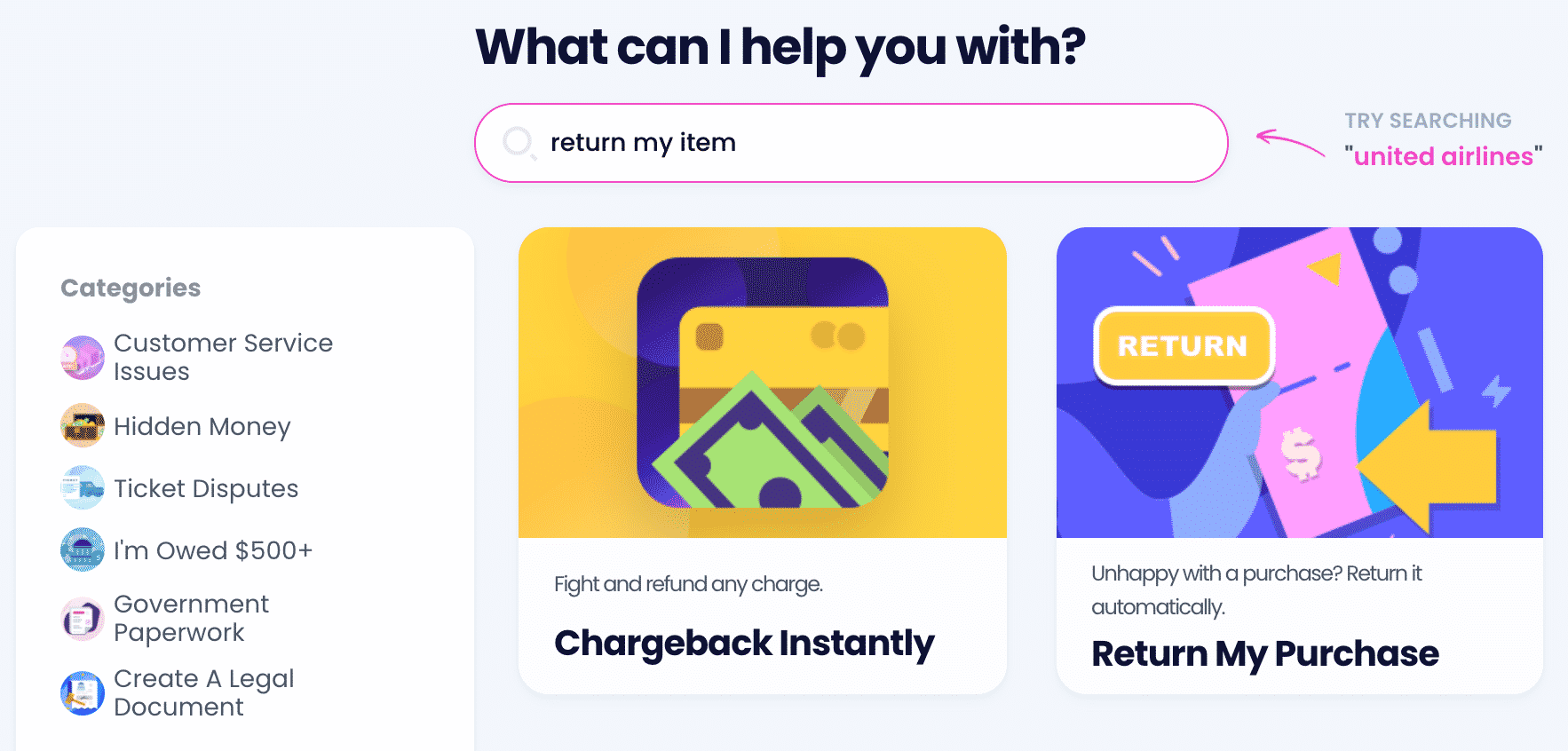 You don't have to waste time on a long and tedious return process. After you , it takes only three steps to submit a return request to Finish Line:
Select the Item Return Request feature
Answer a few brief questions about your Finish Line purchase
Click on the Submit button
We guarantee that Finish Line will process your request as soon as possible because we will include a deadline in the request letter we will generate and send to them. If you're returning your items by mail, we can provide a free return shipping label.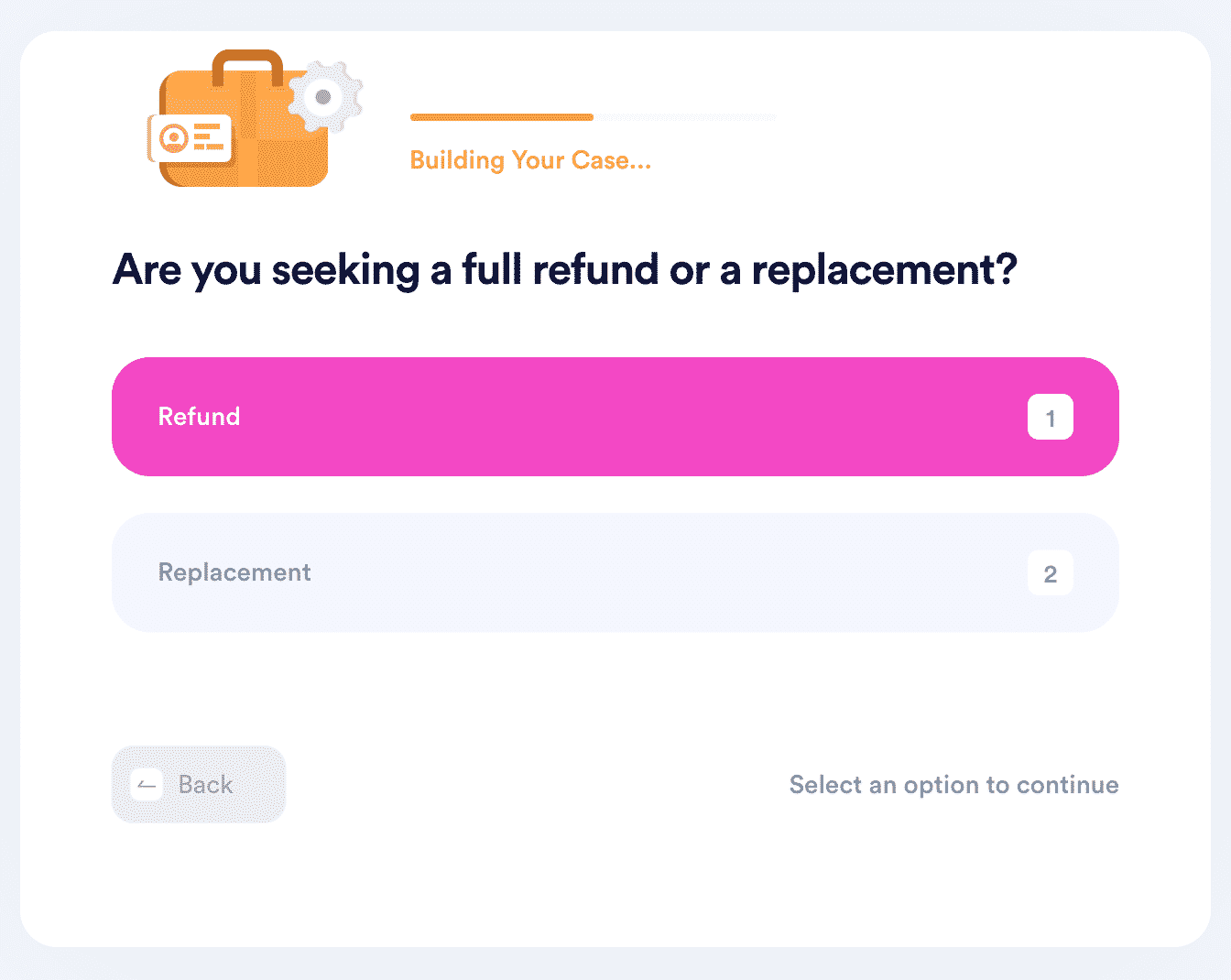 Check out other companies you can return your products to hassle-free:
Demand a Refund From Finish Line in a Flash Using DoNotPay
Get your money back from Finish Line with DoNotPay! To see the finish line of the return process, follow these steps:
in your web browser
Select the File a Chargeback product
Tell us a little more about the refund you're demanding
Click on the Sign and Submit button
Check out more companies we can help you retrieve your money from:
Is the Company Refusing To Cooperate? We Can Help You Get Justice
Is whatever company you're dealing with not being a good sport? Don't worry—the world's first robot lawyer is here to help. Our app can prepare all the necessary paperwork and provide guidance if you want to sue the company in small claims court.
We can also help you draw up any legal document you need for the case, have it notarized by an online notary, and fax it to anyone in a matter of minutes.
If you want to get revenge on tiresome robocalls or report a stalker or harasser, you can rely on DoNotPay.
Anything Else We Can Do for You?
Our AI-powered app is versatile—you can complete many tiresome, daunting tasks that you wouldn't want to tackle by yourself. You can use DoNotPay to:
If you want to get access to all of our nifty products, sign up now!