Break Down the Foot Locker Return Policy With DoNotPay's Help
According to a CI&T report, Foot Locker has been one of the ten leading retailers during the COVID-19 pandemic! Online shopping has been flourishing, but internet-based purchases often lead to return requests. Fortunately, the world's first robot lawyer has your back—our guide offers the ins and outs of the Foot Locker return policy!
We can also assist you in digesting the return policies of other leading retailers, including:
The Foot Locker Return Policy From A to Z
Based on the Foot Locker return policy, you have to return the item within 45 days of the purchase or shipment date. If you fail to return it by that time, the store will deny your request.
The Foot Locker return process varies for online and in-store returns, but the product has to satisfy the following conditions whichever option you choose—it has to:
Be in new condition and unworn
Have the tags attached
Be in the original box
For further instructions, follow one of the procedures below.
The Foot Locker In-Store Return Policy
The in-store returns are allowed for U.S. customers only. You can take the product back to any Foot Locker store countrywide. The store will also demand one of the listed elements:
The invoice
Order confirmation
Shipping confirmation
Call Foot Locker at 800-991-6815 for additional assistance. If you have trouble reaching out to customer service as other customers did, rely on DoNotPay to help you get to the store's support center! We will save your time by calling them, and we'll notify you when a real person picks up. Check out how we connected users with Walmart customer service!
The Foot Locker Online Return Policy
Unlike the Foot Locker store return policy, online returns require some extra steps. To return an item purchased online, follow these instructions:
Take the return form from the reverse side of your original invoice or use the printable form if you misplaced the invoice
Fill out the form and put it in the package with your item
Include a receipt, original invoice copy, or packing slip
Use the SmartLabel attached to the invoice or ship the package via USPS or FedEx to the Foot Locker's address: Return/Exchange Department, Foot Locker, 500 N 72nd Ave, Wausau, WI 54401
If you choose to send it via USPS or FedEx, be sure to track your USPS parcel or FedEx package. If you go for the SmartLabel—a prepaid and pre-addressed return label—here's what you need to do:
Fill out the form and enclose it
Remove the SmartLabel from your invoice
Pack up the item and the Foot Locker return form
Include an original receipt, invoice copy, or packing slip
Attach the SmartLabel to the parcel
Drop off the package at a post office
Note that Foot Locker will charge you a $6.99 SmartLabel fee.
Return a Flawed Foot Locker Item the Easy Way—Consult DoNotPay!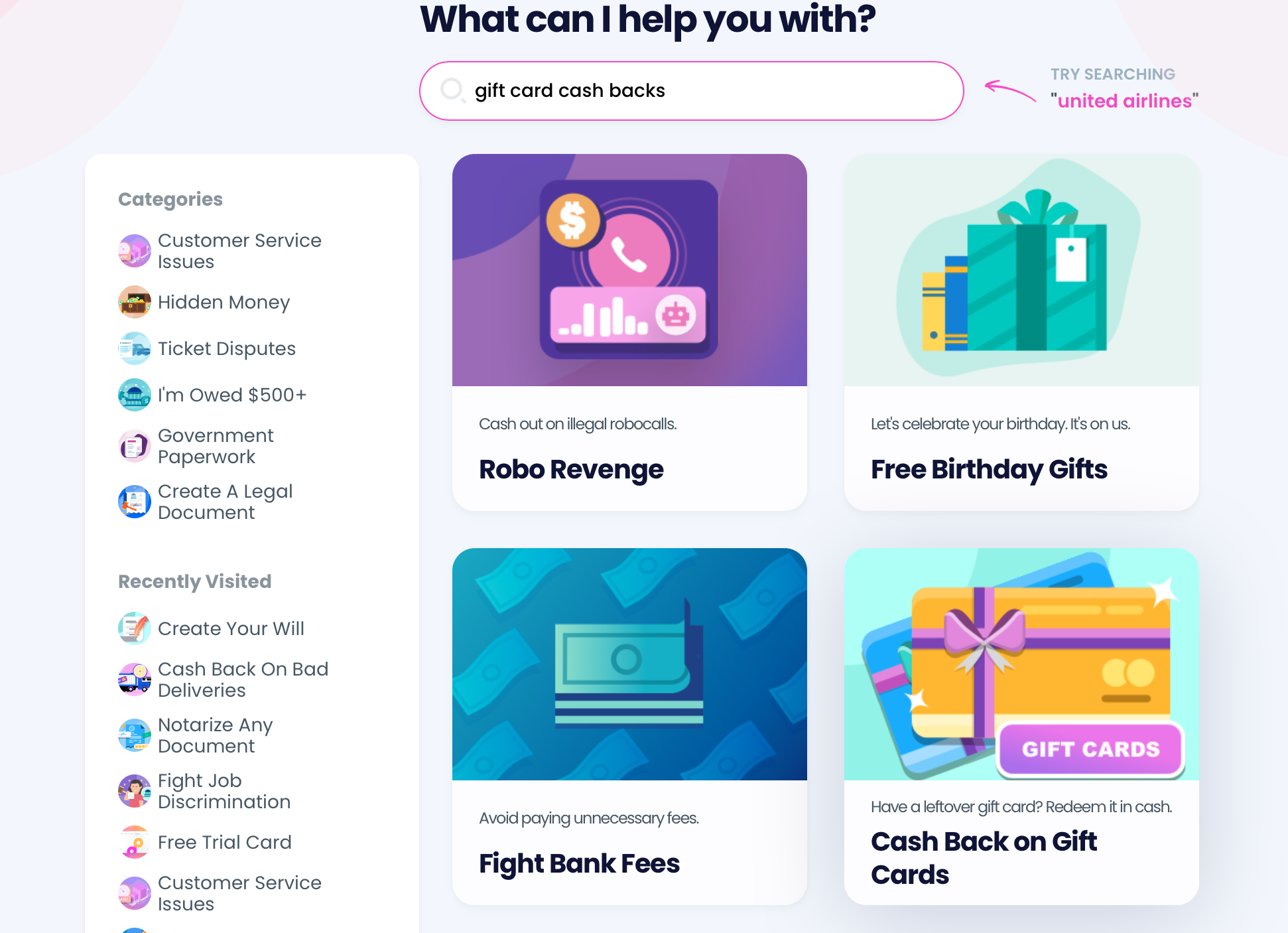 Say goodbye to waiting in phone queues or getting your return requests rejected because of one missing form—use DoNotPay to sail through the Foot Locker return process! Our brilliant feature will guide you through a simpler process that includes only a few steps:
using any web browser
Locate Item Return Request
Answer several questions and add photos if necessary
Submit your request
That's all! DoNotPay will then draft a return request letter and mail it to Foot Locker on your behalf. The letter will include all purchase-related details you provided, your requirements—whether you want a refund or replacement—and a deadline. The deadline will ensure that Foot Locker responds to your request on time. Our time-saving app will save you a few dollars, too—we will send you a return label so that you can ship the package free of charge!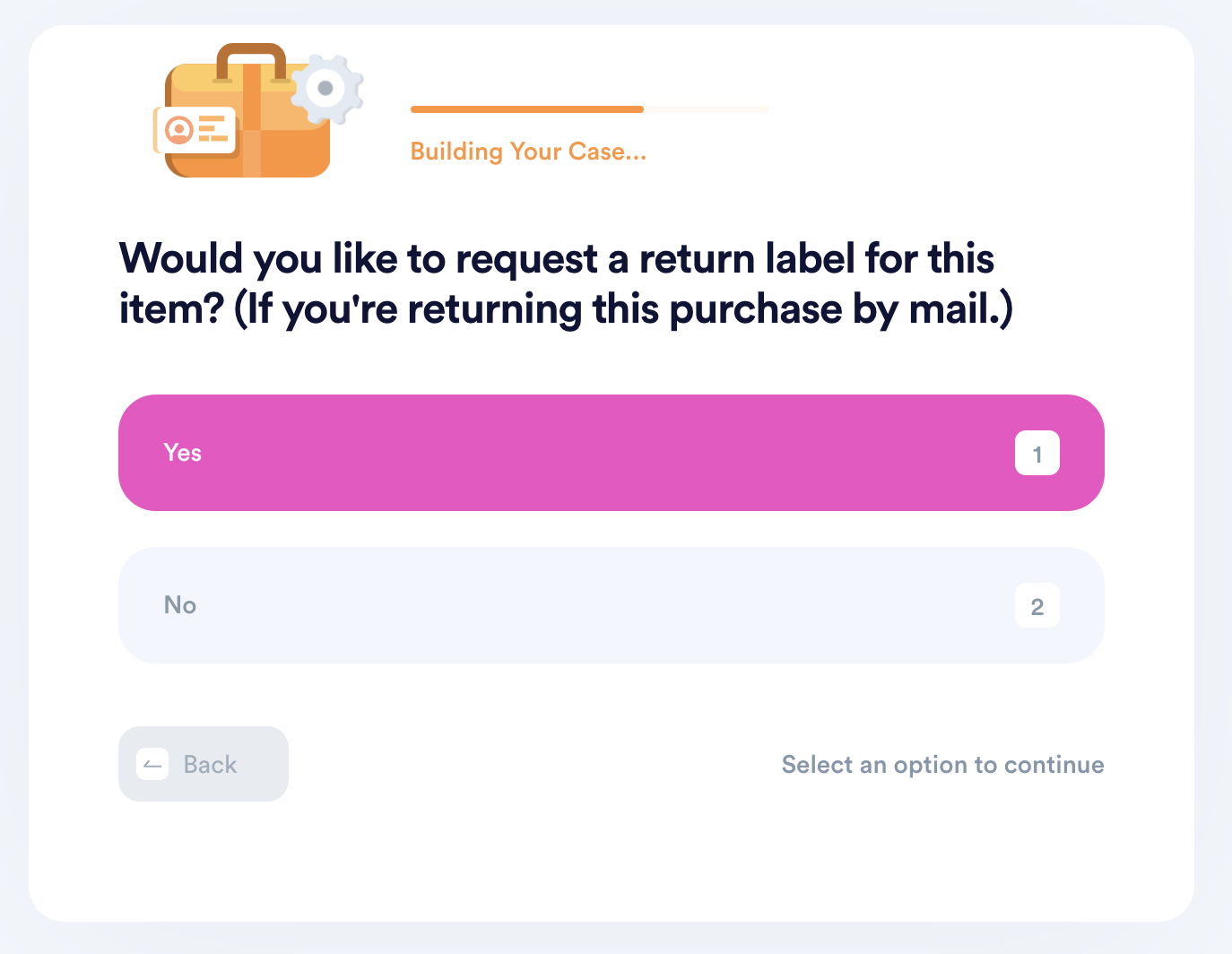 DoNotPay's Feature Can Pave the Way for Any Return Process
Returning any item becomes a breeze when you use DoNotPay! Discover how to decipher the return policy and send a product back to any of the sellers from our list below.
What Is the Foot Locker Refund Policy?
Foot Locker issues refunds in the form of payment that was used for the original purchase. To receive a refund to your credit card, allow one or two billing cycles to pass for it to appear on your statement. Did you pay via PayPal? Foot Locker will send your money back to your account!
If PayPal is your usual payment method for online shopping, be sure to get to know its refund process—check out our guide to understanding PayPal refund policy.
Want To Request a Refund From Foot Locker? DoNotPay Can Help!
Our app can assist you in getting your money back effortlessly! If you have a hard time understanding the Foot Locker refund policy, here's what you need to do to initiate the refund process:
through any web browser
Look for the File a Chargeback option
Click on Get Protected
Reply to a few questions
Tap Sign and Submit
To get the hang of DoNotPay's process, dig into our guides to refund policies of other major sellers, such as:
We can help you get your reimbursement even if a company has a no-refund policy!
Don't Tolerate Corporate Attitudes—Request What's Rightfully Yours
DoNotPay is known for being the champion of customer advocacy because we help our users claim what's rightfully theirs, and we don't tolerate big corporations taking people's hard-earned money.
No matter if you want to request a refund, insurance, extended warranty, or compensation from airlines, our AI-powered lawyer will fight for your right.
If you feel like you're overpaying certain subscription services, we can help you cancel them. Also, if you want to test a subscription before you start paying money for it, don't connect your credit card to the free trial page! You can sign up for free trials using our virtual credit card. That way, companies won't be able to charge you auto-renewal fees because the card has no funds.
Wait! DoNotPay Can Help You in Many Other Ways
DoNotPay has many different areas of expertise—helping you return your faulty items is only one of them.
Check out how our app can assist you in: