Shedding Light on the Lands' End Return Policy
With a wide range of products to choose from, it's no wonder if you end up on a shopping spree at Lands' End—but what to do if you end up with the wrong-size items? Get acquainted with the Lands' End return policy and learn how to solve your problem by initiating a return request in a matter of moments!
The Rundown on the Lands' End Return Policy
Check out the general terms of the Lands' End return policy:
You can return products bought at Lands' End within 90 days of purchase for a full refund on your original payment method
Returns you make after 90 days or without proof of purchase are eligible for refunds in the form of merchandise credit only
Lands' End will issue a full refund only with proof of purchase. If neither you nor the company can find it, Lands' End has sole discretion over the refund amount
Exceptions to the Lands' End Return Policy
Check out the Lands' End return policy for different product categories:
School uniforms—School uniforms without a logo are subject to the general return policy. They need to be returned within 90 days of purchase and are only eligible for merchandise credit as a refund form. Lands' End won't accept any school uniform returns you try initiating after 90 days of purchase
Personalized items—Lands' End considers an item personalized if it underwent the process of embroidery, engraving, heat stamping, or laser printing. The company does not accept returns for customized items except when the item becomes defective during the personalization process. If your customized item is faulty, you can return it to Lands' End in its original packaging and within 90 days of purchase for a full refund
Products from brands other than Lands' End—To find out if a non-Lands'-End item is eligible for a return, visit the product page on the website. The page will contain return terms and guidelines for the product in question. If your items satisfy the return requirements, you have to return them within 90 days of purchase
Oversized items—You can't return mattresses and furniture in a Lands' End store. To initiate a return request and receive further instructions, contact Lands' End customer support by dialing 1-800-960-9417
Lands' End Return Policy Regarding Third-Party Sellers
Lands' End products you bought at a third-party store must be returned to that location. If you bought Lands' End items at Kohl's, check out our Kohl's return policy guide to learn how to return them in no time.
How To Return Your Items to Lands' End
There are three ways you can return your items to Lands' End:
Return your items to a Lands' End store
Mail your return to the Lands' End warehouse
to return your products to Lands' End
Return Your Items to a Lands' End Store
Regardless of whether you ordered online or by phone or shopped in a store, you can return your Lands' End products to any retail location for free. You can do that by following these steps:
Use the Store Locator on the Lands' End homepage to find the store that's closest to your residence, along with the updated working hours
Prepare your products and proof of purchase and visit the store
Approach the checkout and ask a staff member to process your return request
Provide all of the necessary information
While you wait for the staff member to complete the process, you can check out what the store has in offer because Lands' End offers 10% off a purchase made the same day you submit your return.
Mail Your Return to the Lands' End Warehouse
Lands' End allows you to choose your shipper or return your items with the easy returns shipping label. If you opt for the easy returns shipping label, Lands' End will deduct a $6.95 fee from your refund to cover the logistics expenses.
To initiate a return request with Lands' End, follow these steps:
Contact your shipper or send an email to landsend@landsend.com to apply for an easy returns shipping label
Pack your products, including the return form and your proof of purchase
Ship your parcel
The address of the Lands' End Warehouse is:
Lands' End Returns
2 Lands' End Lane
Dodgeville, WI 53595
USA
Note that shipped returns are only eligible for a refund in the form of Lands' End merchandise credit.
Use DoNotPay To Return Your Products to Lands' End—No Shipping Fees Involved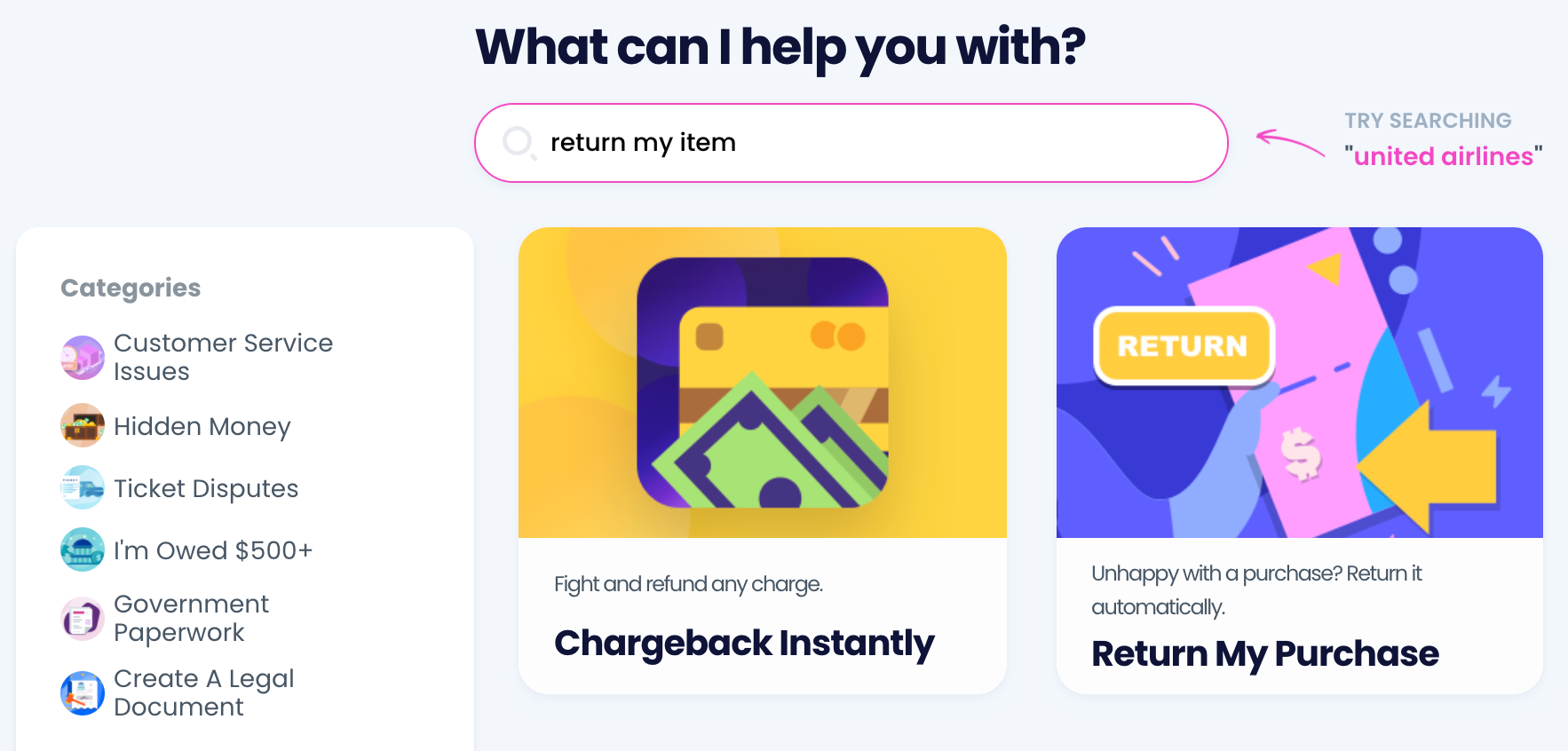 Speedy returns are DoNotPay's specialty! After submitting your request, a free return shipping label will be ready for you to print and use. We will send a letter to Lands' End, in which we will demand that it processes your request by a specific date. This way, DoNotPay ensures that you get your money back as soon as possible.
Follow these few steps to return your items to Lands' End for free:
Open our Item Return Request product
Answer a few short questions about your Lands' End purchase
Submit your request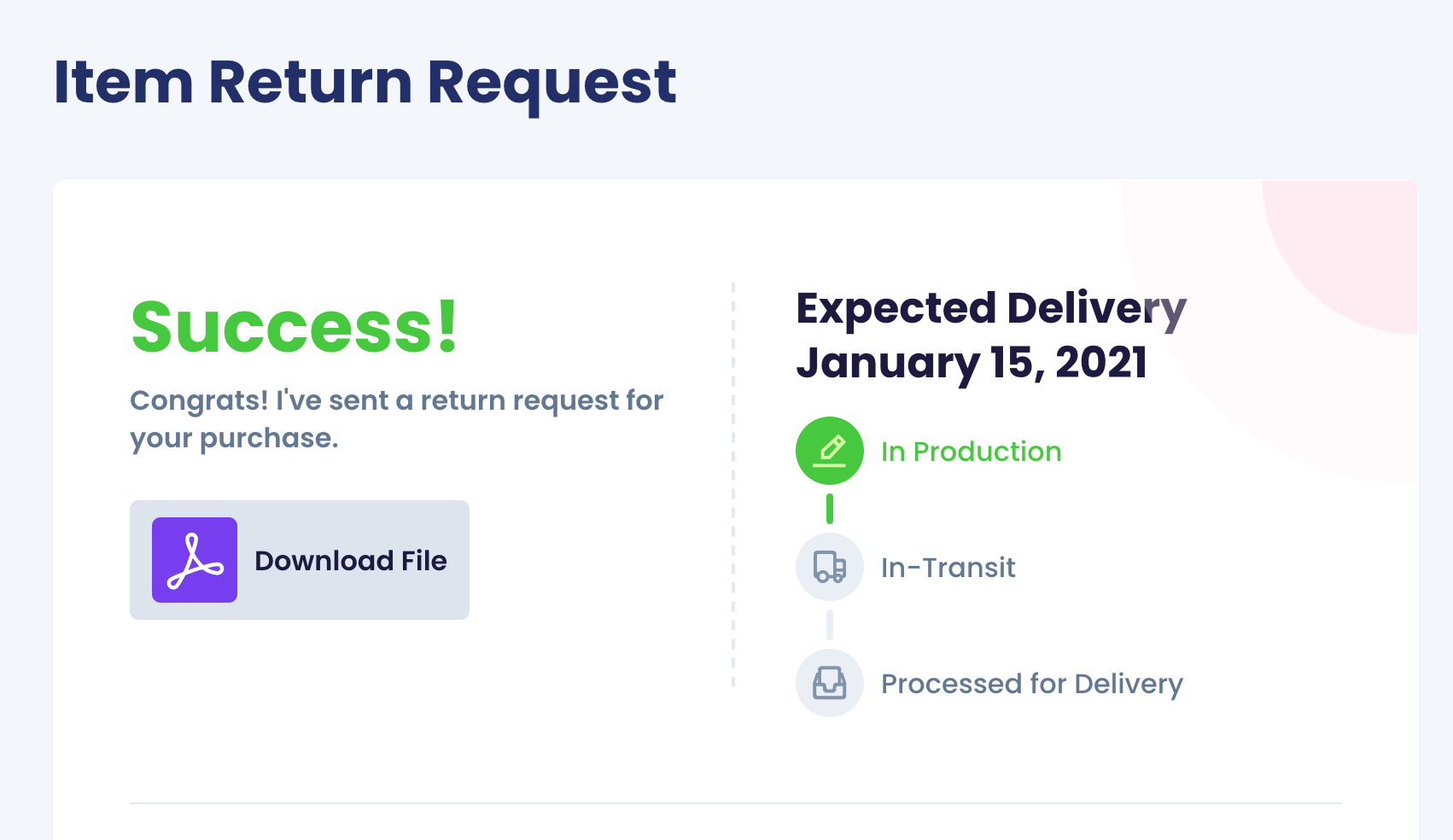 We can assist you with returning your items to many more companies:
Want Your Money Back? Rely on DoNotPay!
The world's first robot lawyer can help you get your hard-earned money back in several ways. Are you dissatisfied with a product or service you paid for and want to request a refund? Do you want to request a late delivery refund? No problem—DoNotPay will do that in your stead! Do you think that you may have missing money and want to claim it? We can assist you in finding it!
No matter the issue, DoNotPay is your shortcut through bureaucratic hurdles. Our AI-driven app can help you dispute your parking tickets, get refunds and compensation from airlines, cancel any subscription service in a flash, and so much more!
What Else Is DoNotPay Capable Of?
Being your personal AI-powered assistant, DoNotPay can help you get rid of:
Are you sick and tired of big companies not taking their customers seriously? Our app will lend you a helping hand in the process of suing them in small claims court.
Do you want to skip waiting in lines at the DMV, jump the phone queue when reaching customer service, get help with paying your bills, or get copyright protection for your work? Sign up for DoNotPay to complete these tasks and so much more!