How To Land a University of Colorado Boulder Scholarship
University of Colorado (CU) Boulder is the flagship university in CU's system, and it sure knows how to make it count—the cost of attendance can go over $60,000. A lot of CU Boulder students can't afford the tuition fees and are forced to look for money elsewhere, with many of them ending up in debts they have to repay years after they get their degrees.
Luckily, students can turn to scholarships and grants as forms of financial aid that will reduce or eliminate personal contributions towards tuition fees.
In this guide, we'll explain how you can obtain a University of Colorado Boulder scholarship and show you:
What types of programs exist
Where you can find them
How the application process goes
How to use DoNotPay to find the best awards with the least effort
University of Colorado Boulder Scholarship Types
University of Colorado Boulder scholarships can come from a variety of sources, as follows:
UC itself
Federal government

Coloradan government and organizations

Companies, private donors, and funds
College award providers want to offer help to students that are in line with their values or field of work. This is why scholarships focus on different groups of students, as shown in the table below:
Scholarships Based On
Student Groups
Student origin
Association with a religious or minority group
Level of study

High school seniors

who are admitted to CU Boulder or have selected the University as their first choice

Undergraduates

(

freshmen

,

sophomores

, and

juniors

)

Field of study
Other specifics

Disabled students

Veterans

Military children
All awards—regardless of the source and student profile—are divided into two types:
Merit-based scholarships
Need-based grants
University of Colorado Boulder Merit Scholarships
Merit awards are reserved for students with academic excellence and personal achievements related to their field of study. These scholarships are more rewarding, but the competition is fiercer—in many cases, meeting the minimum requirements isn't enough to get the award.
To prove high academic performance, students need to submit the following documents:
Take a look at the following table for some examples of University of Colorado merit scholarships:
Eligible Students
Available Programs
Staff-dependent students

Children of Faculty/Staff Scholarship
Faculty/Staff Dependent Endowment Scholarship
Elevations Credit Union Faculty/Staff Dependent Scholarship

In-state freshmen

University of Colorado Boulder Esteemed Scholars Program
Arts & Humanities Merit Scholarship
University of Colorado Boulder Impact Scholarship
Regent Scholarship

Out-of-state freshmen

CU Boulder Chancellor's Achievement Scholarship
Arts & Humanities Merit Scholarship for Nonresidents
CU Boulder Presidential Scholarship

Graduate students

Karen Raforth Scholarship in LGBTQ Studies
Roger Klein Scholarship
Positive Futures Scholarship
Adams Broomfield Bar Association Scholarship 2021
Robert Masur Fellowship in Civil Liberties
LMJ Scholarship
Need-Based University of Colorado Boulder Scholarships
Low-income students that can't meet merit-based criteria can turn to awards that offer aid to students in need. To prove their financial struggles, students have to complete the Free Application for Federal Student Aid (FAFSA) form or create the College Scholarship Service (CSS) Profile.
Grant providers use students' CSS Profiles and FAFSA forms to judge family income. To be eligible for a need-based award, students must have an Expected Family Contribution (EFC) that's lower than the limit set by the program.
Some need-based University of Colorado scholarships include:
Federal Pell Grant
CU Boulder Grant
Federal Supplemental Educational Opportunity Grant (FSEOG)
Colorado Student Grant
CU Promise Grant
Finding a University of Colorado Boulder Scholarship—Where Should You Look?
The biggest issue with securing an award is finding the program for which you meet all the requirements. Information about scholarships is all over the internet, and it's difficult to find what you're looking for without spending weeks of your time doing research—unless you use DoNotPay.
Our app can help you find all available scholarships you're eligible for within five minutes. All you need to do is and answer a few questions to get your custom-made list.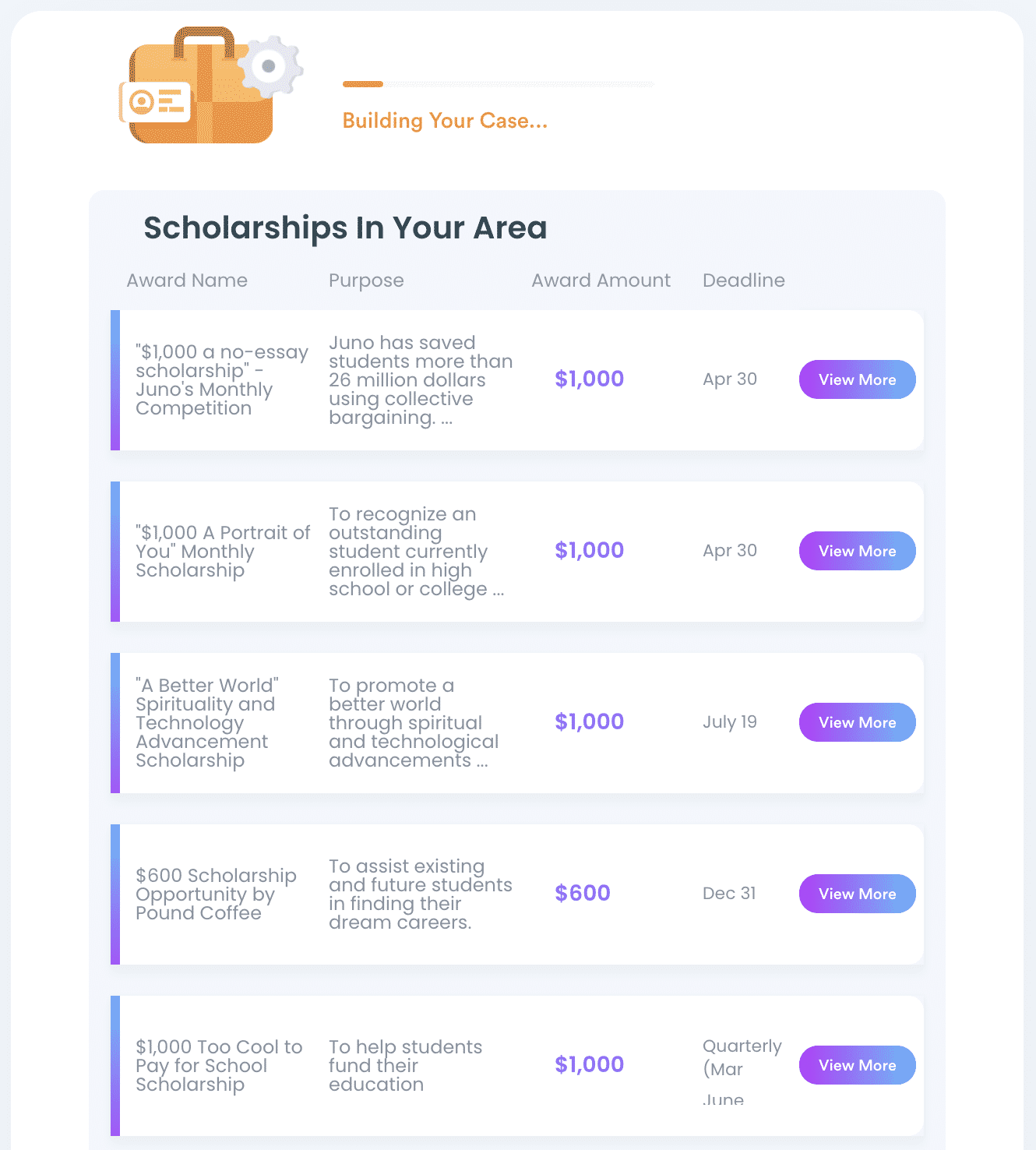 If you still want to conduct your research the old-fashioned way, you can check out the following sources:
How To Apply for University of Colorado Boulder Scholarships
There is no uniform approach to applying since each program has its own set of requirements and necessary paperwork. Before you begin applying, you should make sure you know exactly how the application process goes.
Some steps are always the same, though. To be a successful applicant, you should make sure:
You fulfill all the requirements
The deadline hasn't yet passed
You have all the required documents, such as cover letters, essays, personal statements,

application forms

, etc.
How DoNotPay Can Help You Secure a University of Colorado Boulder Scholarship
Our app is not only there to show you information about scholarships for which you can apply—you can also use DoNotPay to apply for no-essay awards automatically. All you need to do is:
via any browser
Navigate to the Apply for Scholarships product
Answer a few questions about yourself
Choose the type of scholarship you're interested in
With the info you provide, our app will generate a list of all available programs. If the list contains no-essay scholarships, you can apply for them directly within the app by instructing us to complete the whole process on your behalf.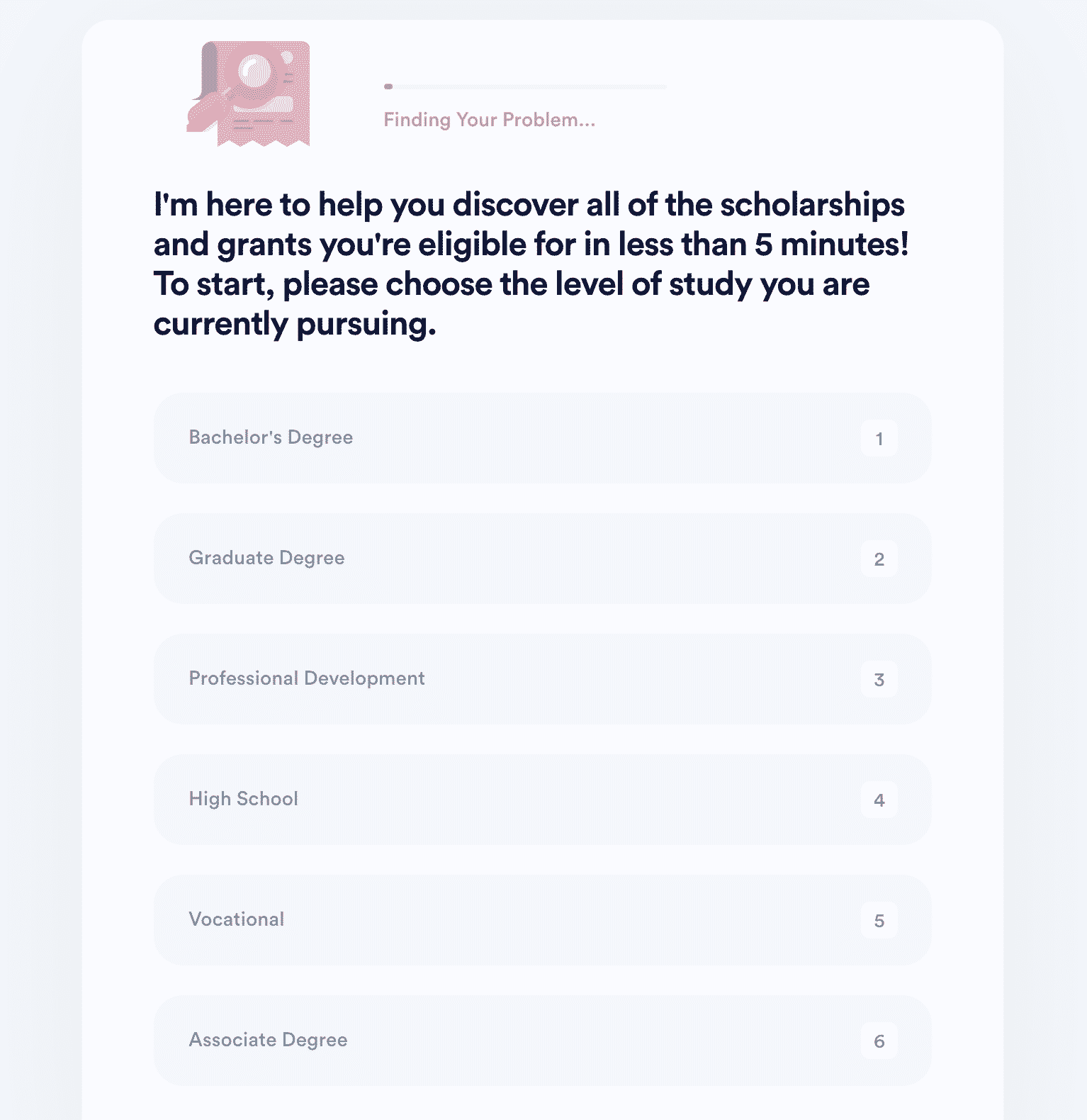 DoNotPay Turns Any Tiring Task Into a Piece of Cake
Are you tired of dealing with bureaucratic or legal matters on your own? You no longer have to—as soon as you subscribe to DoNotPay, we'll take any exhausting task off your plate.
Our app is capable of drawing up legal documents—including marital settlement agreements, child travel consent forms, powers of attorney, defamation demand letters, and affidavits to homeschool—getting them notarized remotely, filing complaints against companies, suing any individual or corporation in small claims court, sending FOIA requests, and so much more.
The World's First Robot Lawyer Offers So Much More
DoNotPay's capabilities don't end there—we can also:
Help you get a tourist visa